Management and Prevention of Saphenous Vein Graft Failure: A Review
Abstract
Coronary artery bypass grafting (CABG) remains a vital treatment for patients with multivessel coronary artery disease (CAD), especially diabetics. The long-term benefit of the internal thoracic artery graft is well established and remains the gold standard for revascularization of severe CAD. It is not always possible to achieve complete revascularization through arterial grafts, necessitating the use of saphenous vein grafts (SVG). Unfortunately, SVGs do not have the same longevity, and their failure is associated with significant adverse cardiac outcomes and mortality. This paper reviews the pathogenesis of SVG failure, highlighting the difference between early, intermediate, and late failure. It also addresses the different surgical techniques that affect the incidence of SVG failure, as well as the medical and percutaneous prevention and treatment options in contemporary practice.
Keywords
Anticoagulation 
Antiplatelet 
Graft failure 
Saphenous vein graft 
Introduction
Coronary artery bypass grafting (CABG) remains the gold standard treatment for revascularization of complex multivessel coronary artery disease (CAD) and has proven long-term survival benefits [1, 2] especially in patients with diabetes [3, 4, 5]. Despite increasing advances in percutaneous coronary intervention (PCI), over 400,000 patients per year in the US still undergo CABG [6]. The main shortcoming of CABG is saphenous vein graft (SVG) failure, which is associated with adverse cardiac events, such as recurrent angina, need for repeated coronary revascularization, myocardial infarction, and death [7, 8].
The use of an internal thoracic artery (ITA) graft has proven prognostic benefits [9] with its patency at 10 years having been quoted as 85–91% [9, 10]. In comparison, rates of SVG failure at 1-year post surgery have been quoted at between 10% and 25% [10, 11]. From 1 to 5 years a further 5% to 10% SVGs will close, and from years 6 to 10 an additional 20–25% will fail, [12] meaning that at 10 years SVG patency rates are approximately 50%, with only half of these atherosclerosis free [13].
Greater use of multiple arterial grafts during CABG has repeatedly been shown to improve event-free survival of patients undergoing multivessel coronary artery bypass grafting [14, 15, 16, 17, 18, 19] including the use of the radial artery as a second arterial graft [20, 21]. Despite this data and support from guideline recommendations, the use of multiple arterial grafts during surgical revascularization has not translated into clinical practice. Only 9% of CABG in North America is performed with multiple arterial grafting [22], meaning the SVG is still the most commonly used conduit in conventional CABG in North America. Interesting a recent RCT comparing single and bilateral internal-thoracic-artery in 3102 patients with there being no difference in mortality or the rates of cardiovascular events at 5 years of follow-up. There were more sternal wound complications with bilateral internal thoracic artery grafting than with single internal thoracic artery grafting. [23].
Treatment of occluded SVGs is challenging, and thus preventing their obstruction is of utmost importance [24]. Here we discuss the known pathogenesis of SVG failure and critically review the medical treatments for prevention of SVG failure.
This article does not contain any new studies with human or animal subjects performed by any of the authors.
Pathogenesis
SVG failure can be divided conceptually into three phases: early, intermediate, and late [25]. Early failure (less than 1 month) is primarily due to technical failure or thrombosis, generally at the site of anastomosis. Several predisposing factors can trigger this through graft endothelial injury. Initial harvesting of the vein disrupts the vasa vasorum and adventitia causing hypoxia in the vessel wall, promoting platelet adhesion and thrombosis [26]. Intraoperative assessment of graft integrity by high pressure distension can further stress the wall [27, 28] exposing the media to proinflammatory and procoagulant reactions, even before graft aortocoronary implantation [29, 30]. Implantation exposes the vein to arterial pressure increasing venous diameter, turbulent blood flow and shear stress [27], which further damages the endothelial layer causing decreased levels of nitric oxide, promoting vasospasm and reducing vessel patency [31].
Intermediate (1 month–1 year) graft failure is caused primarily by progressive neointimal hyperplasia secondary to exposure to arterial pressure and is thought to affect all SVGs to varying degrees [32]. Arterial blood flow damages the endothelium resulting in release of growth factors and cytokines causing platelets and activated macrophages migration, and proliferation of smooth muscle cells. The migrated smooth muscle cells release extracellular matrix resulting in a reduction in intimal cellularity [33]. Reduced levels of endothelial nitric oxide, prostaglandins and adenosine, further contribute to smooth muscle proliferation [34, 35, 36]. Over time continued smooth muscle cell and fibroblast migration and proliferation cause extracellular matrix deposition and fibrotic change leading to development of neointimal hyperplasia, which results in luminal loss and a predisposition towards graft atherosclerosis [37].
Late (beyond 1 year) graft failure is primarily due to progressive atherosclerosis, which occurs over the already injured endothelium. Compared to native coronary artery atheroma, SVG atherosclerosis is more diffuse and concentric, yet less calcified [25]. In addition, SVG are not capable of positive remodelling [38], meaning long-term atherosclerotic lesions are often complicated by aneurysmal dilatation and associated with risk of thrombosis [39]. SVG atherosclerosis occurs at two main sites, aorto-ostial or the main shaft of the graft, with shaft lesions associated with increased rates of death and myocardial infarction, having higher rates of plaque rupture and no-reflow [40, 41].
Factors Predisposing to SVG Failure
Factors linked to SVG failure include patient-related, graft related and surgical related. Patient-related include age, female gender, left ventricular dysfunction, renal insufficiency, diabetes, as well as atherosclerotic risk factors [13, 42, 43, 44, 45]. The graft-related factors include the coronary flow and the specific artery grafted. Reduced flow has been associated with greater neointimal proliferation in SVG and failure [46] and is dependent on inflow, graft diameter, presence of any focal stenoses and the size of the distal perfusion bed. SVGs to the left anterior descending artery have the best patency, followed by those to diagonals, circumflex branches, and the posterior descending artery, with grafts to the main right coronary artery least likely to have long term patency [47, 48].
Surgical factors that predispose patients to thrombosis include graft kinking, size mismatch between the graft and artery, poor distal runoff, and small target vessel diameter. Several surgical techniques have been shown to influence SVG patency.
Assessment for SVG Patency
Routine assessment for SVG failure is not recommended by current guidelines, and thus rates of occlusion are only studied in clinical trials or in clinically driven follow-up. Assessment of SVG patency is generally performed via invasive coronary angiography (ICA), which in addition to being more technically difficult compared to native coronaries, also has rates of complications three times higher [
76
]. More recently, the use of coronary CTA has shown much promise in this regard (Fig. 
1
). Studies from over a decade ago show that evaluation of coronary bypass grafts by CTA is highly accurate in predicting the findings seen on ICA [
77
,
78
,
79
,
80
] with a meta-analysis, of 16- and 64-slice CTAs quoting a sensitivity of 98% and specificity of 97% for graft stenosis or occlusion [
81
]. Newer generation of CT scanners undoubtedly increase diagnostic accuracy, with the use of CTA for post CABG assessment now recommended in clinical guidelines [
82
]. Limitations of CTA assessment including artifact from surgical clips and difficulty in assessing distal anastomoses inserted into heavily calcified native vessels [
83
].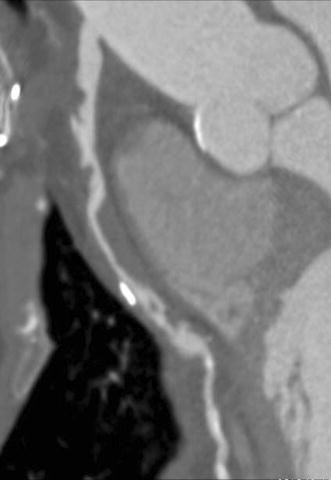 Medical Management for Prevention of SVG Failure
Hypercoagulable states post CABG increase thrombosis and lower overall graft patency rates [84], thus necessitating the need for therapy aimed at reducing thrombotic risk. There have been several studies that have assessed the use of various pharmacologic agents.
Intervention for Graft Failure
PCI on CABG grafts comprises an important subset of interventional cardiology cases, with approximately 5.7% of all PCIs between 2004 and 2009 being SVG PCI [145]. Initial early studies of plain old balloon angioplasty (POBA) on SVGs revealed disheartening results with 46–60% restenosis rates in the first 6 months [146]. The seminal study comparing POBA with bare-metal stents (BMS) was the Saphenous Vein De Novo (SAVED) trial, which compared POBA with BMS in SVG lesions [147]. This demonstrated a higher procedural success rates (97% vs. 86%) with BMS and a better composite outcome of freedom from death, MI, repeat CABG, and target lesion revascularization (TLR) (26% vs. 39%). Similar work also confirmed clinical benefits of BMS compared to POBA with a reduced need for revascularization and significantly higher event-free survival at 1-year follow-up [148]. When drug eluting stents (DES) became available they were also compared to BMS in SVG PCI. The Reduction of Restenosis in Saphenous Vein Grafts With Cypher Sirolimus-Eluting Stent (RRISC) trial randomized 75 patients to either sirolimus-eluting stent or BMS, with a 6 months follow-up [149]. The instent late loss and target lesion revascularization rate was significantly reduced (5.3% vs. 21.6%), but there was no difference in death or infarction. The Stenting of Saphenous Vein Grafts (SOS) trial randomized patients to either paclitaxel-eluting stent or BMS and found a significant reduction in the primary end-point, angiographic restenosis at 12 months (9% vs. 51%) as well as target lesion revascularization target vessel failure, with a trend towards lower mortality (5% vs. 12%, hazard ratio: 1.56; 95% CI 0.72–4.11, P = 0.27) [147, 150]. The Prospective, Randomized Trial of Drug-Eluting Stents Versus Bare Metal Stents for the Reduction of Restenosis in Bypass Grafts (ISAR-CABG) randomized 610 patients with diseased SVGs to DES or BMS, finding that there was a lower rate of the primary endpoint (combined incidence of death, MI, and target lesion revascularisation at 1 year) with DES, driven mostly by reduction in target lesion revascularization (7.2% vs. 13.1%), with no differences in mortality [151]. This theme of improved efficacy with DES over BMS, but without mortality benefit has been also published in meta-analyses, [152, 153] and in real-world situations [154, 155]. The introduction of 2nd generation DES compared to 1st generation, has also not improved mortality outcomes [156, 157, 158] but longer term follow up from larger studies is needed.
After graft failure redo CABG is another revascularization option, although it is associated with substantial risk. Such patients are older, have more comorbidities, more extensive CAD, and reentry of the sternum can be problematic when patent grafts, the aorta, or the right ventricle have adhered to the sternum [159]. It is associated with higher mortality compared with primary CABG, with intraoperative mortality rates are 5.8–9.6% [160]. Other major complications quoted include stroke (1.4–3.2%), non-fatal MI (3.0–9.6%), and post-operative bleeding (2.7–4.4%) [160, 161].
Patients with prior CABG presenting with ACS have a worse prognosis compared to those without [162, 163, 164]. Medical management of such patients has also been showed to be inferior to PCI [165, 166]. Studies comparing redo CABG and PCI are limited. Early work suggested that the use of POBA vs. redo CABG had equivalent 1 and 6 year mortality rates, although POBA had higher a revascularization need [167]. The AWESOME trial randomized ischemic patients with prior history of CABG to redo CABG or PCI finding that in hospital mortality was significantly higher in the CABG arm [168, 169]. Retrospective observational studies have suggested long term mortality of redo CABG vs PCI is similar [170, 171, 172] although this data does not account for contemporary PCI practice.
Hybrid Revascularization
Noting the superior patency rates of internal mammary arterial grafts compared to SVG, as well as the possibility of performing LIMA-LAD bypass grafting via a minimally invasive approach, some investigators have hypothesized that a hybrid revascularization strategy involving contemporary coronary stents as well as a LIMA graft may be superior to conventional CABG. Several reports involving small series of patients have been published [173, 174]. The largest of these was a single center experience of 117 patients which reported 1 year freedom from major adverse events of 85.5% [175]. To date, no randomized controlled trial has been performed comparing hybrid revascularization to conventional CABG.
Conclusions
CABG remains a vital treatment for patients with multivessel CAD, especially in diabetics. Unfortunately, SVG failure limits the long-term benefits of the procedure. In this paper, we review the pathogenesis of and the differences between early, intermediate and late SVG failure. We also address the different surgical techniques and medical options used to preventing neointimal hyperplasia and SVG failure, as well as reviewing the literature regarding novel treatments and PCI in SVGs. Prevention of SVG failure is multifactorial and begins from the moment the grafts have been harvested. It is important for all physicians to recognize the impermanence of SVG and appropriate medical management is essential in maintaining graft patency.
Notes
Acknowledgments
No funding or sponsorship was received for this study or publication of this article. The article processing charges were funded by the authors. All named authors meet the International Committee of Medical Journal Editors (ICMJE) criteria for authorship for this manuscript, take responsibility for the integrity of the work as a whole, and have given final approval for the version to be published.
Open Access
This article is distributed under the terms of the Creative Commons Attribution-NonCommercial 4.0 International License (http://creativecommons.org/licenses/by-nc/4.0/), which permits any noncommercial use, distribution, and reproduction in any medium, provided you give appropriate credit to the original author(s) and the source, provide a link to the Creative Commons license, and indicate if changes were made.
Disclosures
Peter McKavanagh, MMedSc, Bobby Yanagawa, George Zawadowski and Asim Cheema have nothing to disclose.
Compliance with ethics guidelines
This article does not contain any new studies with human or animal subjects performed by any of the authors.