Abstract
In this study, a comparison between alkaline and enzymatic degumming process of hemp fibers has been carried out. Degumming of hemp fibers is essential to remove the lignin content and to segregate the individual fibers for textile grade applications. In this research, optimization of degumming process parameters was carried out to reduce the strength loss in fibers. The percentage weight loss of hemp fibers after the degumming process was studied. Two approaches comprising alkaline and enzymatic methods were used. Hemp fiber diameter was determined along with the single fiber strength before and after the degumming process. Stiffness is directly linked to fiber diameter. Therefore, the fiber diameter was also taken into consideration for optimization of the degumming process. The chemicals used in alkali degumming were sodium hydroxide, magnesium sulfate, hydrogen peroxide, and magnesium chloride. Alkali degumming was the best-suited degumming method for segregating the individual hemp fibers. The optimized parameters obtained for alkali degumming method were heating time 50 min and heating temperature 75 °C. Enzymatic degumming is an eco-friendly method, but the result obtained does not provide a better separation of fibers and fine fiber diameter.
This is a preview of subscription content, log in to check access.
Access options
Buy single article
Instant access to the full article PDF.
US$ 39.95
Price includes VAT for USA
Subscribe to journal
Immediate online access to all issues from 2019. Subscription will auto renew annually.
US$ 99
This is the net price. Taxes to be calculated in checkout.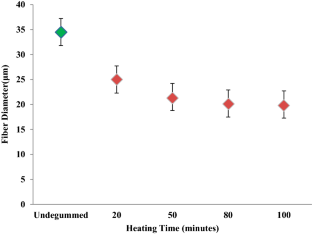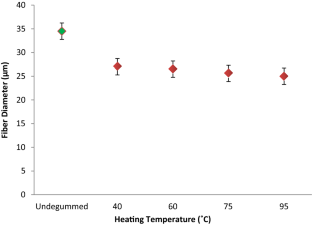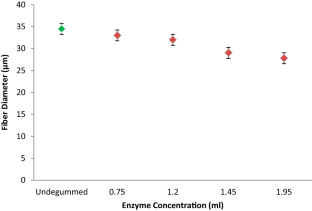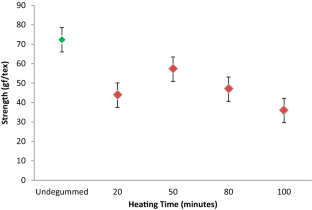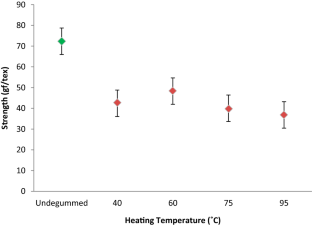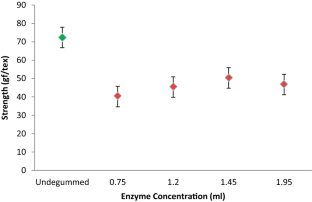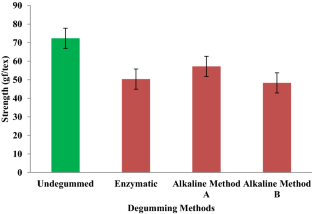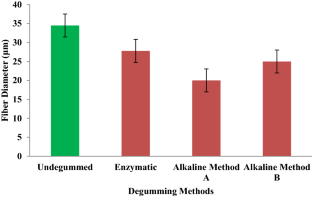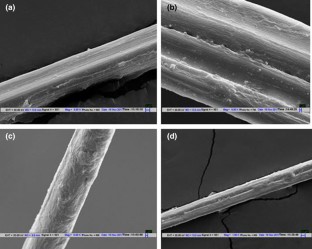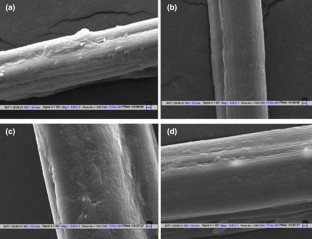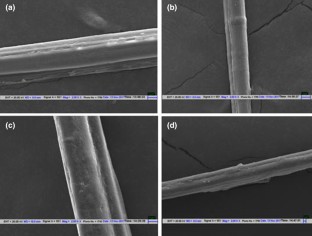 References
1.

H. Zhang, Z. Zhong, L. Feng, Advances in the performance and application of hemp fiber. Int. J. Simul. Syst. Sci. Technol. (2016). https://doi.org/10.5013/ijssst.a.17.09.18

2.

C. Kaiser, C. Cassady, M. Ernst, Industrial hemp production. CCD Crop Profiles (2014). https://doi.org/10.1016/s0921-8009(97)00040-2

3.

D.G. Kraenzel, T. Petry, B. Nelson, M.J. Anderson, D. Mathern, R. Todd, Industrial hemp as an alternative crop in North Dakota (1998). https://doi.org/10.22004/ag.econ.23264

4.

B.A. Khan, J. Wang, P. Warner, H. Wang, Antibacterial properties of hemp hurd powder against E. coli. J. Appl. Polym. Sci. 132, 1–6 (2015). https://doi.org/10.1002/app.41588

5.

N. Cherrett, J. Barrett, A. Clemett, M. Chadwick, M. J. Chadwick, Ecological footprint and water analysis of cotton, hemp and polyester (2005). ISBN 91 975238 2 8

6.

R. Cassano, S. Trombino, T. Ferrarelli, F.P. Nicoletta, M.V. Mauro, C. Giraldi et al., Hemp fiber (Cannabis sativa L.) derivatives with antibacterial and chelating properties. Cellulose 20, 547–557 (2013). https://doi.org/10.1007/s10570-012-9804-3

7.

M. Kostic, B. Pejic, P. Skundric, Quality of chemically modified hemp fibers. Bioresour. Technol. 99, 94–99 (2008). https://doi.org/10.1016/j.biortech.2006.11.050

8.

S.A. Ahmed, S.A. Ross, D. Slade, M.M. Radwan, F. Zulfiqar, M.A. ElSohly, Cannabinoid ester constituents from high-potency Cannabis sativa. J. Nat. Prod. 71, 536–542 (2008). https://doi.org/10.1021/np070454a

9.

B. Dingha, L. Sandler, A. Bhowmik, C. Akotsen-Mensah, L. Jackai, K. Gibson et al., Industrial hemp knowledge and interest among North Carolina organic farmers in the United States. Sustainability 11, 1–17 (2019). https://doi.org/10.3390/su11092691

10.

K. Sacilik, R. Öztürk, R. Keskin, Some physical properties of hemp seed. Biosyst. Eng. 86, 191–198 (2003). https://doi.org/10.1016/S1537-5110(03)00130-2

11.

E. Small, Evolution and classification of Cannabis sativa (Marijuana, Hemp) in relation to human utilization. Bot. Rev. 81, 189–294 (2015). https://doi.org/10.1007/s12229-015-9157-3

12.

X. Feng, J. Chen, H. Zhang, Effect of high temperature alkali cooking on the constituents, structure and thermal degradation of hemp fiber. J. Appl. Polym. Sci. 108, 4058–4064 (2008). https://doi.org/10.1002/app.28002

13.

J. Zhang, H. Zhang, J. Zhang, Effect of alkali treatment on the quality of hemp fiber. J. Eng. Fiber Fabr. 9, 155892501400900 (2014). https://doi.org/10.1177/155892501400900202

14.

M. Li, H.X. Wang, X. Sun, F.P. Lu, Research on alkaline pectinase for hemp degumming. Adv. Mater. Res. 821–822, 355–359 (2013). https://doi.org/10.4028/www.scientific.net/amr.821-822.355

15.

G.R. Nair, D. Lyew, V. Yaylayan, V. Raghavan, Application of microwave energy in degumming of hemp stems for the processing of fibres. Biosyst. Eng. 131, 23–31 (2015). https://doi.org/10.1016/j.biosystemseng.2014.12.012
Additional information
Publisher's Note
Springer Nature remains neutral with regard to jurisdictional claims in published maps and institutional affiliations.
About this article
Cite this article
Rani, K., Ahirwar, M. & Behera, B.K. Comparative Analysis of Alkaline and Enzymatic Degumming Process of Hemp Fibers. J. Inst. Eng. India Ser. E 101, 1–10 (2020). https://doi.org/10.1007/s40034-019-00156-y
Received:

Accepted:

Published:

Issue Date:
Keywords
Industrial hemp

Degumming

Weight loss

Strength loss

Surface morphology