Abstract
Melange cotton yarns possess unique attributes of aesthetics and comfort. The quality of melange yarn is largely influenced by fibre properties, spinning process, dyeing conditions and proportion of grey and dyed fibres. In this study, dyed and grey cotton fibre components were mixed at the blow room to produce melange yarns with three different shade depths. The aim of present work is to investigate the effect of raw material properties and process variables at different shade depths on the properties of cotton melange yarns. Box–Behnken experimental design was used to study effect of three factors: fineness of cotton, noil extraction% and shade depth% on properties of melange yarn. ANOVA analysis shows that there is significant effect of noil extraction and shade depth on all yarn properties. Fibre fineness also shows significant effect on unevenness, tensile, abrasion, yarn metal friction properties except breaking extension and hairiness. Better yarn quality with respect to yarn evenness, imperfections, hairiness, tenacity, breaking extension, yarn metal friction and yarn abrasion resistance RRI is achieved for lower shade depth melange yarn. The properties of melange yarn with higher noil extracted at comber stage are noticeably better in respect of tensile strength, elongation, hairiness, mass irregularity, imperfections and yarn abrasion resistance RRI.
This is a preview of subscription content, log in to check access.
Access options
Buy single article
Instant access to the full article PDF.
US$ 39.95
Price includes VAT for USA
Subscribe to journal
Immediate online access to all issues from 2019. Subscription will auto renew annually.
US$ 99
This is the net price. Taxes to be calculated in checkout.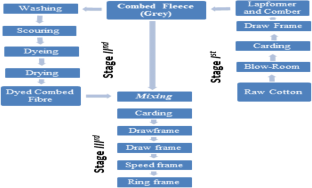 References
1.

R.H. Gong, R.M. Wright, Fancy Yarns—Their Manufacture and Application, vol. 24 (Wood-Head Publishing Ltd, Cambridge, 2002)

2.

W. Klein, New Spinning Systems (The Textile Institute Manual of Textile Technology, MFP Design and Print, Manchester, 1987)

3.

S.M. Ishtiaque, R.S. Rengasamy, A. Ghosh, Optimization of ring frame process parameters for better yam quality and production. Indian J. Fiber Text. Res. 29(2), 190 (2004)

4.

M.L. Regar, A.I. Amjad, N. Aikat, Studies on the properties of ring and compact spun mélange yarn. Int. J. Adv. Res. Innov. Ideas Educ. 3(2), 476 (2017)

5.

S. Ray, A. Ghosh, D. Banerjee, Effect of blending methodologies on cotton mélange yarn quality. Fibers Text. East. Eur. 26(5), 41 (2018). https://doi.org/10.5604/01.3001.0012.2529

6.

S. Ray, A. Ghosh, D. Banerjee, Effect of spinning process parameters on melange yarn quality by Taguchi experimental design. Indian J. Fiber Text. Res. 43, 295 (2018)

7.

S. Ray, A. Ghosh, D. Banerjee, Analyzing the effect of spinning process variables on draw frame blended cotton mélange yarn quality. J. Inst. Eng. (India) Ser. E 99(1), 27 (2018)

8.

S.K. Karim, A.A. Gharehaghaji, H. Tavanaie, A study of the damage caused to dyed cotton fibers and its effects on the properties of rotor and ring spun melange yarns. Fibers Text. East. Eur. 3(62), 63 (2007)

9.

S.M. Ishtiaque, A. Das, Characterization of grey and dyed cotton fibres as well as waste at different stages of rotor spinning. Indian J. Fibre Text. Res. 28(3), 65 (2003)

10.

Z. Zou, Effect of process variables on properties of viscose vortex coloured spun yarn. Indian J. Fiber Text. Res. 39(3), 296 (2014)

11.

H. Memon, A.N. Khoso, S. Memon, Effect of dyeing parameters on physical properties of fibers. Int. J. Appl. Sci. Eng. Res. 4, 401 (2015)

12.

J.G. Koo, J.W. Park, Y.S. Koo, Properties of specialty yarns based on raw and dyed cotton. Text. Res. J. 73(1), 26 (2003)

13.

A.R. Moghassem, Study on the dyed cotton fibers damage in spinning processes and its effect on the cotton mélange yarn properties. Res. J. Text. Appar. 12(1), 71–78 (2008)

14.

I. Frydrych, M. Matusiak, T. Swiech, Cotton maturity and its influence on the nep formation. Text. Res. J. 71, 595 (2001)

15.

H.S.H. Naik, P.N. Bhat, Production of melange yams—a review. Man-Made Text. India 5, 161 (2008)

16.

M.L. Regar, S.K. Sinha, R. Chattopadhyay, Comparative assessment of Eli-Twist and TFO yarns. Indian J. Fibre Text. Res. 43(4), 393 (2018)
Additional information
Publisher's Note
Springer Nature remains neutral with regard to jurisdictional claims in published maps and institutional affiliations.
About this article
Cite this article
Amjad, A.I., Kumar, R. Effect of Fibre Fineness and Noil Extraction on the Different Shade Depths of Melange Yarns. J. Inst. Eng. India Ser. E 101, 33–43 (2020). https://doi.org/10.1007/s40034-019-00155-z
Received:

Accepted:

Published:

Issue Date:
Keywords
Cotton fibre properties

Melange yarn spinning

Shade depth of melange yarn

Ring spun melange yarn

RRI