Abstract
A novel Tungsten inert gas (TIG) welding variant is introduced in this research. The authors studied the tungsten inert gas welding with different wire feeding system such as cold wire, hot wire, cold wire reciprocating, and hot wire reciprocating. Microstructural and mechanical properties of AISI 1035 carbon steel joints using different feeding system have been studied. The reciprocating filler wire system stirs the molten metal of the weld pool before it solidifies during the welding operation. The hot wire reciprocating tungsten inert gas welding has given the best results in terms of tensile properties and hardness of the joint. It also instigated the grain refinement in the weld zone which is attributed not mainly to dendrite fragmentation but impeding of the dendritic growth . The microstructure study of reciprocating wire feeding tungsten inert gas welded joints has shown the small size as well as uniform grains as compared to the conventional TIG welded joints. The reciprocating hot wire feeding tungsten inert gas welding gives a phenomenal improvement in the mechanical properties when compared with conventional TIG welding.
Access options
Buy single article
Instant access to the full article PDF.
US$ 39.95
Tax calculation will be finalised during checkout.
Subscribe to journal
Immediate online access to all issues from 2019. Subscription will auto renew annually.
US$ 79
Tax calculation will be finalised during checkout.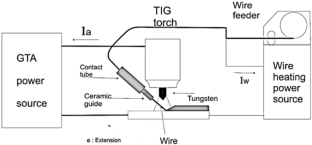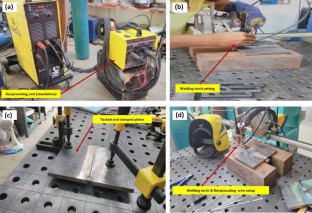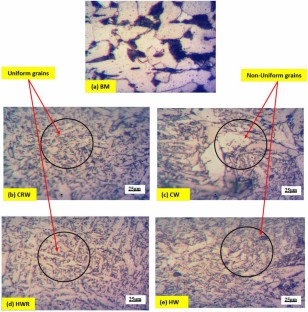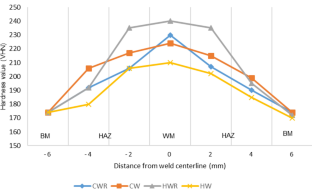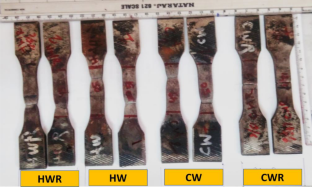 Abbreviations
TIG:

Tungsten inert gas welding

CW:

Continuous cold wire feeding

RCW:

Reciprocating cold wire feeding

HW:

Continuous hot wire feeding

RHW:

Reciprocating hot wire feeding

VHN:

Vickers hardness number

UTS:

Ultimate tensile strength
References
1.

S. Kou, Welding metallurgy, 2nd edn. (John Wiley & Sons, Inc., Hoboken, New Jersey, pp. 3–33, 2003)

2.

V.M. Vergara, Innovation of Equipment and Assessment of the Powder-Fed Transferred-Arc Plasma Process for Out of-Position Welding (Federal University of Santa Catarina, Florianópolis, 2005)

3.

A.F. Manz, Consumable electrode arcless electric working, United States Pat. US3122629A

4.

M.J. Jose, S.S. Kumar, A. Sharma, Vibration assisted welding processes and their influence on quality of welds. Sci. Technol. Weld. Join. 21(4), 243–258 (2016). https://doi.org/10.1179/1362171815Y.0000000088

5.

B.K. Henon, Advances in automatic hot wire GTAW (TIG) welding (Arc Machines Inc, 2011)

6.

S.X. Lv, X.B. Tian, H.T. Wang, S.Q. Yang, Arc heating hot wire assisted arc welding technique for low resistance welding wire. Sci. Technol. Weld. Join. 12(5), 431–435 (2007). https://doi.org/10.1179/174329307X213828

7.

K. Balasubramanian, S. Raghavendran, V. Balusamy, Studies on the effect of mechanical vibration on the microstructure of the weld metal. Int. J. Technol. Eng. Syst. 2(3), 253–256 (2011)

8.

A.R. Hussein, N.A. Abdul Jail, A.R.A. Talib, Improvement of mechanical welding properties by using induced harmonic vibration. JApSc 11(2), 348–353 (2011)

9.

J.S. Chen, Y. Lu, X.R. Li, Y.M. Zhang, Gas tungsten arc welding using an arcing wire. Weld. J. 91(10), 261–269 (2012)
Additional information
Publisher's Note
Springer Nature remains neutral with regard to jurisdictional claims in published maps and institutional affiliations.
About this article
Cite this article
Tanmay, Chandra, M., Sharma, S. et al. Study of Mechanical and Metallurgical Properties of Cold and Hot Reciprocating Wire TIG Welding on AISI 1035 Carbon Steel. J. Inst. Eng. India Ser. D (2021). https://doi.org/10.1007/s40033-021-00249-2
Received:

Accepted:

Published:
Keywords
Cold wire reciprocating

Hot wire reciprocating

TIG welding

Grain refinement

Tensile test