Abstract
Sweet corn is popular due to its distinct taste. It remains extremely perishable due to high moisture content. For inactivation of enzymes, hot water blanching method was used to inactivate the enzyme at temperature differences of 60–100 °C for 30–150 s for sweet corn kernels and effect on various properties of sweet corn was studied. The increase in temperature and duration of treatment reduced residual peroxidase activity in samples. The increase in blanching temperature and increase in time increases length, width, thickness, true density, porosity, colour a*, colour b*, chroma, browning index, total colour difference, pH, moisture content in sweet corn kernels. The bulk density, colour L*, ascorbic acid and total sugar of samples also decreased with increase in blanching temperature and increase in processing time. The minimum time for achieving 95% reduction in peroxidase activity was 90 s at 90 °C, and was therefore recommended for hot water blanching of sweet corn kernels.
Access options
Buy single article
Instant access to the full article PDF.
US$ 39.95
Tax calculation will be finalised during checkout.
Subscribe to journal
Immediate online access to all issues from 2019. Subscription will auto renew annually.
US$ 79
Tax calculation will be finalised during checkout.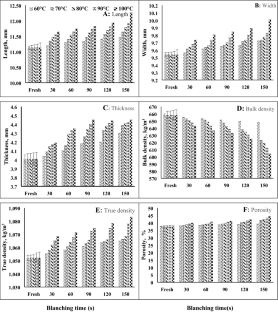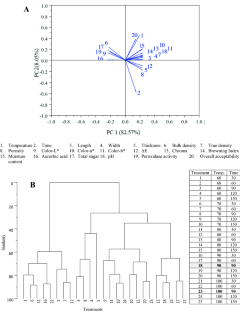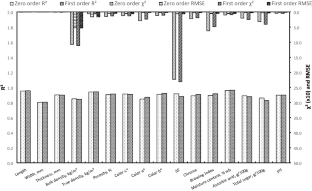 References
1.

C. Vigneault, Y. Gariepy, D. Roussel, B. Goyette, The effect of precooling delay on the quality of stored sweet corn. J. Food. Agric. Environ. 2(2), 71–73 (2004)

2.

F. Azanza, J.A. Juvik, B.P. Klein, Relationships between sensory quality attributes and kernel chemical composition of fresh-frozen sweet corn. J. Food. Quality. 17(2), 159–172 (1994)

3.

J.I.R. De-Corcuera, R.P. Cavalieri, J.R. Powers, Blanching of Foods. Encyclopedia of Agriculture, Food and Biological Engineering (Marcel Dekker, New York, 2004).

4.

P.F. Lam, K.H. Ng, D. Omar, Y. Talib, Physical, physiological and chemical changes of Golek after harvest. Languna, Philippines: In Proc. Workshop on Mango and Rambutan. ASEAN Postharvest Training and Research Center College (1982)

5.

J.K. Brecht, M.E. Saltveit, S.T. Talcott, K.R. Schneider, K. Felkey, J.A. Bartz, Fresh-cut vegetables and fruits. Hortic. Rev. 30, 185–250 (2004)

6.

R.G. McGuire, Concomitant decay reduction when mangoes are treated with heat to control infestations of Caribbean fruit flies. Plant. Dis. 5, 946–949 (1991)

7.

S. Kachhadiya, N. Kumar, N. Seth, Process kinetics on physico-chemical and peroxidase activity for different blanching methods of sweet corn. J. Food. Sci. Technol. 55(12), 4823–4832 (2018)

8.

N.N. Mohsenin, Physical Properties of Plant and Animal Materials (Gordon and Breach science Publishers, New York, 1986).

9.

K.K. Singh, T.K. Gooswami, Physical properties of cumin seed. J. Agri. Eng. Res. 64(2), 93–98 (1996)

10.

A. Lopez-Malo, E. Palou, G.V. Barbosa-Canovas, J. Welti-Chanes, B.G. Swanson, Polyphenoloxidase activity and color changes during storage of high hydrostatic pressure treated avocado puree. Food. Res. Int. 31(8), 549–556 (1998)

11.

AOAC, Official Methods of Analysis. (Association of Official Analytical Chemists, Washington, 2000)

12.

S. Ranganna, Handbook of Analysis and Quality Control for Fruit and Vegetable Products (Tata McGraw-Hill, New Delhi, 1986).

13.

S.C. Sheu, A.O. Chen, Lipoxygenase as blanching index for frozen vegetable soybean. J. Food Sci. 56(2), 448–451 (1991)

14.

A. Ganjloo, R.A. Rahman, J. Bakar, A. Osman, M. Bimakr, Modelling the kinetics of peroxidase inactivation and color changes of seedless guava (Psidium guajava L.) during thermal treatments. World. Appl. Sci J. 7(1), 105–112 (2009)

15.

M.S. Brewer, S. Begum, A. Bozeman, Microwave and conventional blanching effects on chemical, sensory, and color characteristics of frozen broccoli. J. Food. Quality. 18(6), 479–493 (1995)

16.

D.M. Barrett, E.L. Garcia, G.F. Russell, E. Ramirez, A. Shirazi, Blanch time and cultivar effect on quality of frozen and stored com and broccoli. J. Food. Sci. 65(3), 534–540 (2000)

17.

M.R. Macdaniel, M.W. Montgomery, D. Latham, D.S. Lundhal, Evaluation of high temperature short time blanched frozen sweet corn. J. Food. Sci. 53(3), 760–764 (1988)

18.

C. Severini, R. Giuliani, A.D. Filippis, A. Derossi, D. Pilli, Influence of different blanching methods on color, ascorbic acid and phenolics content of broccoli. J. Food. Sci. Technol. 53(1), 501–510 (2016)

19.

C. Arroqui, T.R. Rumsey, A. Lopez, P. Virseda, Effect of different soluble solids in the water on the ascorbic acid losses during water blanching of potato tissue. J. Food. Eng. 47(2), 123–126 (2001)

20.

F. Vallejo, F. Tomas-Barberan, C. Garcia-Vuguera, Glucosinolates and vitamin C content in edible parts of broccoli florets after domestic cooking. Eur. Food. Res. Technol. 215(4), 310–316 (2002)

21.

J.W. Park, Surimi gel colors as affected by moisture content and physical conditions. J. Food. Sci. 60(1), 15–18 (1995)

22.

J. Song, L. Chunquan, L. Dajing, L. Meng, Effect of cooking methods on total phenolic and carotenoid amounts and DPPH radical scavenging activity of fresh and frozen sweet com kernels. Czech. J. Food. Sci. 31(6), 607–612 (2013)

23.

K. Trongpanich, S. Stonsoavapak, D. Hengsawadi, N. Lowitoon, A comparative study on pretreatment processes of canned whole kernel sweet corn. Kasetsart. J. 36, 63–68 (2002)

24.

K.S. Bahçeci, A. Serpen, V. Gokmen, J. Acar, Study of lipoxygenase and peroxidase as indicator enzymes in green beans: change of enzyme activity, ascorbic acid and chlorophylls during frozen storage. J. Food. Eng. 66(2), 187–192 (2005)

25.

N. Kumar, B.C. Sarkar, H.K. Sharma, S.K. Jha, Colour kinetics and storage characteristics of carrot, pulse and rice by-product based extrudates. Brit. Food. J. 114(9), 1279–1296 (2012)
Additional information
Publisher's Note
Springer Nature remains neutral with regard to jurisdictional claims in published maps and institutional affiliations.
About this article
Cite this article
Popalia, C., Kumar, N. Effect of Temperature and Processing Time on Physico-Chemical Characteristics in Hot Water Blanching of Sweet Corn Kernels. J. Inst. Eng. India Ser. A (2021). https://doi.org/10.1007/s40030-021-00508-1
Received:

Accepted:

Published:
Keywords
Sweet corn kernels

Hot water blanching

Blanching temperature

Physico-chemical properties

Peroxidase activity