Abstract
This paper presents a brief review on carbonation depth prediction models. The prediction models are classified into different ways, namely empirical and physical models; and probabilistic and deterministic models. In this paper, empirical and physical models for natural carbonation depth prediction have been reviewed. As a parametric study, carbonation depths are predicted using empirical and physical models for buildings within CSIR-Structural Engineering Research Centre, Chennai campus. From the parametric study, Fib model code, Ekolu's model, Kokubu's and Hakkinen's models showed good correlation (R2 = 0.94) with the measured carbonation depths. Carbonation depths are predicted using Ekolu's model for ordinary, standard and high-strength concretes for exposure periods of 25, 50 and 100 years at various key locations such as rural areas, sea coast regions, urban settings, industrial areas and tunnels. Carbonation depth is higher in tunnels than coastal region due to increased CO2 concentration and low relative humidity. Therefore, the cover depth required to be provided for corrosion against carbonation is more for tunnels, followed by industrial sites and urban areas.
This is a preview of subscription content, log in to check access.
Access options
Buy single article
Instant access to the full article PDF.
US$ 39.95
Price includes VAT for USA
Subscribe to journal
Immediate online access to all issues from 2019. Subscription will auto renew annually.
US$ 99
This is the net price. Taxes to be calculated in checkout.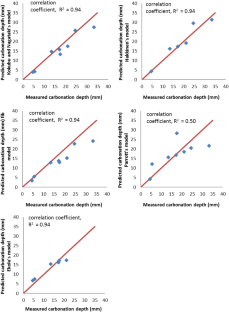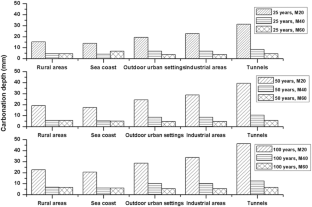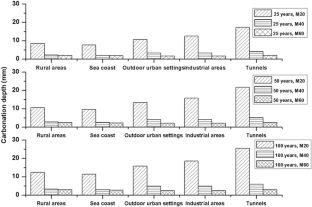 References
1.

E. Roziere, A. Loukili, F. Cussigh, Constr. Build. Mater. 23(1), 190–199 (2009)

2.

L. Jiang, B. Lin, Y. Cai, Cem. Concr. Res. 30(5), 699–702 (2000)

3.

K. Simsomphon, L. Franke, Cem. Concr. Res. 37, 1047–1058 (2007)

4.

P. Sulapha, S.F. Wong, T.H. Wee, S. Swaddiwudhipong, J. Mater. Civ. Eng. 15, 2 (2003)

5.

V.G. Papadakis, C.G. Vayenas, M.N. Fardis, J. AIChE 35, 10 (1989)

6.

V.G. Papadakis, C.G. Vayenas, M.N. Fardis, ACI Mater. 88, 363–373 (1991)

7.

V.G. Papadakis, C.G. Vayenas, M.N. Fardis, ACI Mater. 8, 2 (1991)

8.

M.G. Alexander, M. Santhanam, Y. Ballim, Int. J. Adv. Eng. Sci. Appl. Math. 2(3), 95–105 (2010)

9.

M. Kokubu, S. Nagataki, ACI-SP 114, 315–329 (1989)

10.

T. Hakkinen, Pub. No. 141, Technical Research Centre, Espoo, Finland (1993)

11.

ASTM C 173, ASTM International, West Conshohocken, PA, USA (1993)

12.

L. Parrott, in Proceedings of Third CANMET-ACI International Conference (ACI SP-145), ed. by M. Malhotra, pp. 283–298 (1994)

13.

R.Torrent, G. Frenzer, Federal Office for Roads (VSS Report No. 516, Bern, Switzerland, 1995), p. 106

14.

Fib Model Code 2010 Final Draft, vols. 1 and 2 (Fib Bulletin N. 65 and 66, Lausanne, 2012)

15.

Fib Bulletin 34, (Fib bulletin, Lausanne, 2006), pp. 126. ISBN: 978-2-88394-074-1

16.

S. Ekolu, Cem. Concr. Comput. 36, 688–696 (2018)

17.

L. Czarnecki, P. Woyciechowski, Bull. Pol. Acad. Sci. 61(1), 173–181 (2013)

18.

M. Thiery, G. Villain, P. Dangla, G. Platret, Cem. Concr. Comput. 37, 1047–1058 (2007)

19.

H. Cui, W. Tang, W. Liu, Z. Dong, F. Xiang, Constn. Build. Mater. 93, 258–265 (2015)

20.

V.G. Papadakis, Cem. Concr. Res. 30, 1031–1036 (2000)

21.

C. Abha, G. Ankit, Curr. Sci. 112, 12 (2017)

22.

S. Ekolu, Constr. Build. Mater. 127, 306–320 (2016)

23.

IS 456:2000, Bureau of Indian Standards (BIS), New Delhi (2005)
Additional information
Publisher's Note
Springer Nature remains neutral with regard to jurisdictional claims in published maps and institutional affiliations.
About this article
Cite this article
Gopal, R., Sangoju, B. Carbonation-Induced Corrosion: A Brief Review on Prediction Models. J. Inst. Eng. India Ser. A 101, 247–257 (2020). https://doi.org/10.1007/s40030-020-00434-8
Received:

Accepted:

Published:

Issue Date:
Keywords
Reinforced concrete

Durability

Carbonation

Corrosion

Prediction models