Abstract
Morphological assessment of arbuscular mycorrhizal (AM) fungal diversity in rhizosphere soils may not reflect the AM fungal species colonizing the roots. Recently, DNA-based molecular approaches offer a wide range of advantages in understanding the AM fungal abundance both in soil and root systems. In this study, the community composition of native AM fungi in the soil and roots of aromatic black rice (Oryza sativa L. cv. Chakhao amubi) during the flowering stage in the terrace farming system was evaluated. AM fungal spore density ranged between 72 and 110 spores per 100 g shade-dried soil and varied significantly with rice terraces. All examined root fragments were colonized by AM fungi. However, the root length containing different AM fungal structures did not vary significantly compared to total root length colonization. The genomic DNA from rice roots was amplified with AM fungal specific primers using nested PCR and sequenced thereafter. Results of 18S rDNA partial region sequences revealed the presence of seven AM fungal species in roots, whereas in rhizosphere soils ten AM fungal spore morphotypes were recorded. Such dissimilarity in species richness of AMF between rhizosphere soil and the roots implied that some indigenous AMF species were adapted to specific soil environments that could colonize the paddy crop roots and suggests that the conditions can be suitable for some AMF species which have an important function in traditional terrace rice cultivation of hilly tracts in North-East India.
Access options
Buy single article
Instant access to the full article PDF.
US$ 39.95
Tax calculation will be finalised during checkout.
Subscribe to journal
Immediate online access to all issues from 2019. Subscription will auto renew annually.
US$ 79
Tax calculation will be finalised during checkout.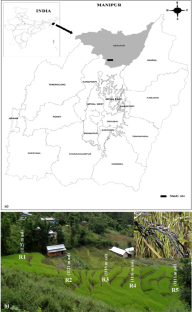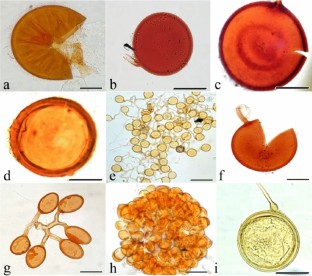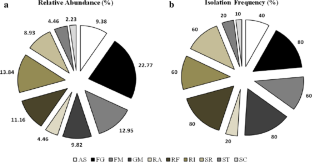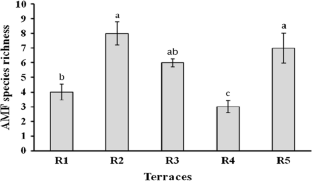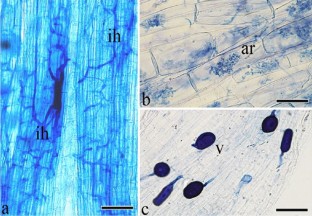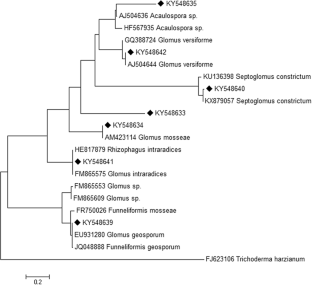 References
1.

Bernaola L, Cange G, Way MO, Gore J, Hardke J, Stout M (2018) Natural colonization of rice by arbuscular mycorrhizal fungi in different production areas. Rice Sci 25(3):169–174

2.

Lakshmipathy R, Balakrishna AN, Bagyaraj DJ, Ashwin R (2019) Arbuscular mycorrhizal fungi for sustainable agriculture. J Soil Biol Ecol 39:132–140

3.

Martins WFX, Rodrigues BF (2020) Identification of dominant arbuscular mycorrhizal fungi in different rice ecosystems. Agric Res 9:46–55

4.

Surendirakumar K, Pandey RR, Muthukumar T (2019) Influence of indigenous arbuscular mycorrhizal fungus and bacterial bioinoculants on growth and yield of Capsicum chinense cultivated in non-sterilized soil. J Agric Sci 157:31–44

5.

Dickson S (2004) The Arum-Paris continuum of mycorrhizal symbioses. New Phytol 163:187–200

6.

Muthukumar T, Tamilselvi V (2010) Occurrence and morphology of endorrhizal fungi in crop species. J Agron Trop Subtrop Agroecosyst 12:593–604

7.

Muthayya S, Sugimoto JD, Montgomery S, Maberly GF (2014) An overview of global rice production, supply, trade, and consumption. Ann New York Acad Sci 1324:7–14

8.

Jackson MB, Ram PC (2003) Physiological and molecular basis of susceptibility and tolerance of rice plants to complete submergence. Ann Bot 91:227–241

9.

Roy S, Banerjee A, Mawkhlieng B, Misra AK, Pattanayak A, Harish GD, Singh SK, Ngachan SV, Bansal KC (2015) Genetic diversity and population structure in aromatic and quality rice (Oryza sativa L.) landraces from North-Eastern India. PLoS ONE 10:e0129607. https://doi.org/10.1371/journal.pone.0129607

10.

Khoh MA, Das AK (2017) Design intervention for terrace cultivation in the hilly region of North Eastern India. In: Chakrabarti A, Chakrabarti D (eds) Research into design for communities. Smart innovation systems and technologies. Springer, Singapore, pp 763–773

11.

Pathak K, Rathi S, Sarma RN, Baishya S (2016) Assessment of physical, chemical and anti oxidant properties of few pigmented glutinous rice grown in North East India. Ind J Plant Physiol 21(3):287–299

12.

Asem ID, Imotomba RK, Mazumder PB, Laishram JM (2015) Anthocyanin content in the black scented rice (Chakhao): its impact on human health and plant defense. Symbiosis 66(1):47–54

13.

Maiti D, Variar M, Saha J (1995) Colonization of upland rice by native VAM under rainfed monocropped ecosystem. In: Roy AK, Sinha KK (eds) Recent advances in phytopathological research. MD Publication, New Delhi, pp 45–51

14.

Chen XW, Wu FY, Li H, Chan WF, Wu SC, Wong MH (2017) Mycorrhizal colonization status of lowland rice (Oryza sativa L.) in the southeastern region of China. Environ Sci Pollut Res 24(6):5268–5276

15.

Wang Y, Li T, Li Y, Björn LO, Rosendahl S, Olsson PA, Li S, Fu X (2015) Community dynamics of arbuscular mycorrhizal fungi in high-input and intensively irrigated rice cultivation systems. Appl Environ Microbiol 81:2958–2965

16.

Miller S (2000) Arbuscular mycorrhizal colonization of semi aquatic grasses along a wide hydrological gradient. New Phytol 145(1):145–155

17.

Bhattacharjee S, Sharma GD (2011) The vesicular arbuscular mycorrhiza associated with three cultivars of rice (Oryza sativa L.). Ind J Microbiol 51(3):377–383

18.

Pandey RR, Chongtham I, Muthukumar T (2016) Influence of season and edaphic factors on endorhizal fungal associations in subtropical plantation forest trees of Northeastern India. Flora 222:1–12

19.

Galván GA, Parádi I, Burger K, Baar J, Kuyper TW, Scholten OE, Kik C (2009) Molecular diversity of arbuscular mycorrhizal fungi in onion roots from organic and conventional farming systems in the Netherlands. Mycorrhiza 19(5):317–328

20.

Redecker D (2000) Specific PCR primers to identify arbuscular mycorrhizal fungi within colonized roots. Mycorrhiza 10:73–80

21.

Daniell TJ, Husband R, Fitter AH, Young JPW (2001) Molecular diversity of arbuscular mycorrhizal fungi colonizing arable crops. FEMS Microbiol Ecol 36(2–3):203–209

22.

Thilagar G, Anshu BR, Bagyaraj DJ, Mathimaran N, Jawali N (2018) Tracing an inoculated arbuscular mycorrhizal fungus, Funneliformis mosseae, in a field experiment using molecular tools. Curr Res Environ Appl Mycol 8(2):183–193

23.

Allen SE, Grimshaw HM, Parkinson JA, Quarmby C (1974) Chemical analysis of ecological materials. Blackwell, Oxford

24.

Walkley A, Black IA (1934) An examination of the Det Jareff method for determining soil organic matter, and a proposed modification of the chromic acid titration method. Soil Sci 37:29–38

25.

Jackson ML (1971) Soil chemical analysis. Prentice Hall, New Delhi

26.

Dandan Z, Zhiwei Z (2007) Biodiversity of arbuscular mycorrhizal fungi in the hot dry valley of the Jinsha River, southwest China. Appl Soil Ecol 37:118–128

27.

McGonigle TP, Miller MH, Evans DG, Fairchild GL, Swan JL (1990) A new method which gives an objective measure of colonization of roots by vesicular-arbuscular mycorrhizal fungi. New Phytol 115:495–501

28.

Diédhiou AG, Borges WL, Sadio O, Miana de Faria S (2014) Assessment of DNA extraction methods for detection of arbuscular mycorrhizal fungi in plant roots by nested-PCR. Acta Sci Biol Sci 36(4):433–441

29.

White TJ, Bruns T, Lee S, Taylor J (1990) Amplification and direct sequencing of fungal ribosomal RNA genes for phylogenetics. In: Innis MA, Gelfand DH, Sninsky JJ, White TJ (eds) PCR protocols: a guide to methods and applications. Academic Press, San Diego, pp 315–322

30.

Tamura K, Dudley J, Nei M, Kumar S (2007) MEGA4: molecular evolutionary genetics analysis (MEGA) software version 4.0. Mol Biol Evol 24:1596–1599
Acknowledgements
The authors gratefully acknowledge the financial assistance from Network Project on Application of Microorganisms in Agriculture and Allied Sector (AMAAS), sponsored by Indian Council of Agricultural Research, New Delhi.
Ethics declarations
Conflict of interest
The authors declare that they have no conflict of interest.
Additional information
Publisher's Note
Springer Nature remains neutral with regard to jurisdictional claims in published maps and institutional affiliations.
Significance Statement
This study reveals the AM fungal colonization patterns differing with altitudes and species diversity of AM fungi in both rhizosphere soil and colonized roots of aromatic black rice cv. Chakhao amubi under terrace farming system of NE India.
Supporting Information
Below is the link to the electronic supplementary material.
About this article
Cite this article
Surendirakumar, K., Pandey, R.R. & Muthukumar, T. Arbuscular Mycorrhizal Fungi in Roots and Rhizosphere of Black Rice in Terrace Fields of North-East India. Proc. Natl. Acad. Sci., India, Sect. B Biol. Sci. (2021). https://doi.org/10.1007/s40011-020-01221-y
Received:

Revised:

Accepted:

Published:
Keywords
AMF diversity

Root colonization

Nested PCR

Indigenous paddy cultivar