Abstract
Euphorbia wallichii locally known as Kaali Heerbi is used as a folk medicine for the treatment of various dreadful diseases. A study was carried out to examine the seed germination pattern and propagation strategies of Euphorbia wallichii. The seeds show cryptocotylar development, i.e. two cotyledons remain halted in the endosperm except for their petioles. The cotyledon excised from the endosperm consists of plumule, ecophylls, radicle and hypocotyl. The present results reveal that Euphorbia wallichii has a very low percentage of seed germination. The highest percentage germination (20 ± 5.0), highest seed survival (53.3 ± 7.6) and seed vigour index (1.4) were found in 300 ppm thiourea. Vegetative propagation through rhizomes is one of the potential means of propagation for Euphorbia wallichii. The highest percentage survival was observed in the cuttings treated with 200 ppm GA3 (72.4 ± 4.0), 100 ppm GA3 (58.3 ± 8.7) and 50 ppm IBA (21.9 ± 9.9). Maximum sprouting occurs in 200 ppm GA3 (89 ± 12.42), and maximum rooting occurs in 50 ppm IBA (75 ± 0). The studies on agro-techniques reveal that maximum sprouting (75 ± 0) occurs in sandy soil followed by sandy loam (68.75 ± 12.5) and loam soil (62.5 ± 14.4). These findings reveal that better results are obtained in more sandy soils. This information, in turn, helps in restoring the natural populations and to supply raw materials to the drug industry on a sustainable basis.
Access options
Buy single article
Instant access to the full article PDF.
US$ 39.95
Tax calculation will be finalised during checkout.
Subscribe to journal
Immediate online access to all issues from 2019. Subscription will auto renew annually.
US$ 79
Tax calculation will be finalised during checkout.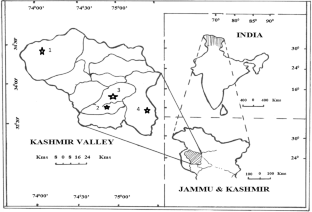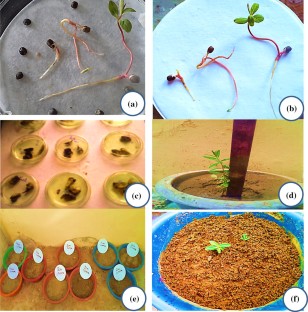 References
1.

Izquierdo N, Benech Arnold R, Batlla D, Belo RG, Tognetti J (2017) Seed composition in oil crops: its impact on seed germination performance. Oilseed crops: yield and adaptations under environmental stress. Wiley, Hoboken, pp 34–51

2.

Savage WE, Leubner-Metzger G (2006) Seed dormancy and the control of germination. New Phytol 171(3):501–523

3.

Baskin CC, Baskin JM (2014) Seeds: ecology, biogeography, and evolution of dormancy and germination, 2nd edn. Academic Press, London

4.

Willis C, Baskin CC, Baskin JM (2014) The evolution of seed dormancy: environmental cues, evolutionary hubs, and diversification of the seed plants. New Phytol 203:300–309

5.

Walck JL, Hidayati SN, Dixon KW, Thompson K, Poschlod P (2011) Climate change and plant regeneration from seed. Glob Change Biol 17:2145–2161

6.

Dalgleish HJ, Koons DN, Adler PB (2010) Can life-history traits predict the response of forb populations to changes in climate variability? J Ecol 98:209–217

7.

Fenner M, Thompson K (2005) The ecology of seeds. Cambridge University Press, Cambridge

8.

Silvertown JW, Charlesworth D (2001) Introduction to plant population biology, 4th edn. Blackwell, London

9.

Bradbeer JW (2013) Seed dormancy and germination. Springer, Berlin, p 146

10.

Murdoch AJ, Ellis RH (2000) Dormancy, viability and longevity. In: Fenner M (ed) Seeds: the ecology of regeneration in plant communities, 2nd edn. CABI, Wallingford, pp 183–214

11.

Balakrishnan NP, Chakrabarty T (2007) The family Euphorbiaceae in India: a synopsis of its profile, taxonomy and bibliography. Bishen Singh Mahendra Pal Singh, Dehra Dun, p 500 ISBN 812110579X En Many new taxa. Geog.6

12.

Wagner B, Morawetz JJ, Riina R, Berry PE, Becker R, Moller A (2011) Euphorbia seed atlas part 5. Euphorbia World 7:11

13.

Pahlevani AH, Liede-Schumann S, Akhani H (2015) Seed and capsule morphology of Iranian perennial species of Euphorbia (Euphorbiaceae) and its phylogenetic application. Bot J Linn Soc 177:335–377

14.

Salmaki Y, Zarre S, Esser HJ, Heubl G (2011) Seed and gland morphology in Euphorbia (Euphorbiaceae) with focus on their systematic and phylogenetic importance, a case study in Iranian highlands. Flora 206(11):957–973. https://doi.org/10.1016/j.flora.2011.07.005

15.

Webster G (1967) The genera of Euphorbiaceae in the southeastern United States. J Arnold Arbor 48:303–430

16.

Carter S, Radcliffe-Smith A (1988) Euphorbiaceae. In: Polhill RM (ed) Flora of tropical East Africa. Balkema, Rotterdam, pp 409–567

17.

Park K, Ahn B, Lee K (1999) Reexamination of sectional classification in Far Eastern Euphorbia subgenus Esula (Euphorbiaceae) using morphological and phenolic data. J Plant Biol 42:199–204

18.

Peirson JA, Bruyns PV, Riina R, Morawetz JJ, Berry PE (2013) A molecular phylogeny and classification of the largely succulent and mainly African Euphorbia subg. Athymalus (Euphorbiaceae). Taxon 62:1178–1199

19.

Richardson J (1968) The genus Euphorbia of the high plains and prairie plains of Kansas, Nebraska, South and North Dakota. Univ Kans Sci Bull 48:45–112

20.

Haq I, Ullah N, Bibi G, Kanwal S, Ahmad MS, Mirza B (2012) Antioxidant and cytotoxic activities and phytochemical analysis of Euphorbia wallichii root extract and its fractions. Iran J Pharm Res 11:241–249

21.

Pan L, Zhou P, Zhang X, Peng S, Ding L, Qiu SX (2006) Skeleton-rearranged pentacyclic diterpenoids possessing a cyclobutane ring from Euphorbia wallichii. Org Lett 8(13):2775–2778

22.

Ali MS, Ahmed S, Saleem M (2008) Spirowallichiione: a rearranged multiflorane from Euphorbia wallichii Hook F. (Euphorbiaceae). Molecules 13(2):405–411

23.

Akhtar N, Rashid A, Murad W, Bergmeier E (2013) Diversity and use of ethnomedicinal plants in the region of Swat, North Pakistan. J Ethnobiol Ethnomed 9(1):1

24.

Farooq U, Abas G, Saggoo MIS, Dar MA (2014) Ethno botany of some selected Monochlamydeae plant species from the Kashmir Himalaya, India. J Med Plants Res 8(23):834–839

25.

Xu WH, Shen YH, Liang Q, Zhao P (2015) New coumarin derivative from Euphorbia wallichii. Nat Prod Res 29(19):1860–1864

26.

Yaqoob U, Nawchoo IA (2017) Conservation and cultivation of Ferula jaeschkeana Vatke: a species with deep complex morpho physiological dormancy. PNAS B Biol Sci 87(2):315–325

27.

Hartman HT, Kester DE (1989) Plant propagation—principle and practice. Prentice Hall, New Delhi, p 727

28.

Abdul-Baki A, Anderson JD (1973) Vigor determination in Soyabean seed by multiple criteria. Crop Sci 13:630–633

29.

Nautiyal MC, Nautiyal BP (2004) Agrotechniques of high altitude medicinal and aromatic plants. Bishen Singh Mahendra Pal Singh, Dehradun

30.

Mozer TJ (1980) Control of protein synthesis in barley aleurone layers by the plant hormones gibberellic acid and abscisic acid. Cell 20(2):479–485

31.

Kant V, Vashist DP (1998) Effect of GA3 and storage on germination of Nardostachys jatamansi seeds. J Hill Res 11:202–206

32.

Rao VS, Braun JW, Khan AA (1976) Promotive effects of organic solvents and Kinetin on dark germination of lettuce seeds. Plant Physiol 3:446–449

33.

Chiwocha SDS, Cutter AJ, Abrams SR, Ambrose SJ, Yang J, Ross ARS, Kermode AR (2005) The entr1-2 mutation in Arabidopsis thaliana affects the abscisic acid, auxin, cytokinin and gibberellin metabolic pathways during maintenance of seed dormancy moist chilling and germination. Plant J 42:35–48

34.

Yamauchi Y, Ogawa M, Kuwahara A, Hanada A, Kamiya Y, Yamaguchi S (2004) Activation of gibberellin biosynthesis and response pathways by low temperature during imbibition of Arabidopsis thaliana seeds. Plant Cell 16(2):367–378

35.

Bewley JD (1997) Seed germination and dormancy. Plant Cell 9(7):1055–1066

36.

da Silva EA, Toorop PE, Nijsse J, Bewley JD, Hilhorst HW (2005) Exogenous gibberellins inhibit coffee (Coffea arabica cv. Rubi) seed germination and cause cell death in the embryo. J Exp Bot 56(413):1029–1038

37.

Pandey H, Nandi SK, Nadeem M, Palni LMS (2000) Chemical stimulation of seed germination in Aconitum heterophyllum Wall and A. balfourii Stapf: important Himalayan species of medicinal value. Seed Sci Technol 28:39–48

38.

Khan MA, Ungar IA, Gul B (2004) Alleviation of salinity-enforced seed dormancy in Atriplex prostrata. Pak J Bot 35(5; SPI):917–924

39.

Hartmann HT, Kester DE (1975) Plant propagation: principles and practices. Prentice-Hall, Upper Saddle River

40.

Cetinbas M, Koyuncu F (2006) Improving germination of Prunus avium L. seeds by gibberellic acid, potassium nitrate and thiourea. Hortic Sci 33(3):119–123

41.

Manjkhola S, Dhar U, Rawal RS (2003) Treatments to improve seed germination of Arnebia benthamii: an endangered medicinal herb of high altitude Himalaya. Seed Sci Technol 31(3):571–577

42.

Shabir PA, Nawchoo IA, Wani AA (2010) Development of vegetative and sexual multiplication protocol for commercialization of Inula racemosa Hook.f.—a critically endangered medicinal plant of N. W. Himalaya. Nat Sci 8(10):246–252

43.

Lê CL (1985) La micro propagation. Rev Suisse Vitic Arboric Hortic 17(6):347–349

44.

Nemeth G (1986) Induction of rooting. In: Bajaj YPS (ed) Trees. Springer, Berlin, pp 49–64

45.

Gray DJ, Benton CM (1991) In vitro micro propagation and plant establishment of muscadine grape cultivars (Vitis rotundifolia). Plant Cell Tissue Organ Cult 27(1):7–14

46.

Aminah H, Dick JM, Leakey RRB, Grace J, Smith RI (1995) Effect of indole butyric acid (IBA) on stem cuttings of Shorea leprosula. For Ecol Manag 72(2–3):199–206

47.

Wiesman Z, Lavee S (1995) Enhancement of IBA stimulatory effect on rooting of olive cultivar stem cuttings. Sci Hortic 62(3):189–198

48.

Sharma S, Kamal B, Rathi N, Chauhan S, Jadon V, Vats N, Arya S (2010) In vitro rapid and mass multiplication of highly valuable medicinal plant Bacopa monnieri (L.) Wettst. Afr J Biotechnol 9(49):8318–8322

49.

Kuniyal CP (1999) Multiplication and Conservation of Aconitum atrox (Bruhl) Muk. using conventional and tissue culture methods. Ph.D. thesis, HNB Garhwal University, Srinagar-Garhwal

50.

Somashekhar BS, Manju S (2002) Propagation techniques of commercially important medicinal plants. Training manual. FRLHT, Bangalore, p 118

51.

Negash L (2003) Vegetative propagation of the threatened African wild olive [Olea europaea L. subsp. cuspidata (Wall. ex DC.) Ciffieri]. New For 26(2):137–146

52.

Danu K, Adhikari RS, Pande V, Singh MK, Rawal P (2015) Vegetative propagation of an endangered medicinal plant of Himalayan region, Paris polyphylla Smith. Int J Curr Microbiol Appl Sci 4(6):660–665

53.

Deepak KGK, Suneetha G, Surekha C (2016) A simple and effective method for vegetative propagation of an endangered medicinal plant Salacia oblonga Wall. J Nat Med 70(1):115–119

54.

Tamta S, Palni LMS, Nandi SK (2007) Adventitious root formation in shoot cuttings of Himalayan Cedar (Cedrus deodara Roxb. Ex. Lamb) G. Don under mist chamber conditions. J Non Timber For Prod 14(3):231–238

55.

Ganaie KA, Aslam S, Nawchoo IA (2010) Development of agro-technology for the cultivation and conservation of Arnebia benthamii—a critically endangered medicinal plant of North West Himalaya. J Am Sci 6(10):1133–1141

56.

Ken F (2014) Senna obtusifolia. Useful tropical plants database

57.

Valdés-Rodríguez OA, Sánchez-Sánchez O, Pérez-Vázquez A (2013) Effects of soil texture on germination and survival of non-toxic Jatropha curcas seeds. Biomass Bioenergy 48:167–170

58.

Devkota A, Jha PK (2009) Variation in growth of Centella asiatica along different soil composition. Bot Res Int 2(1):55–60

59.

Butola JS, Badola HK (2007) Vegetative propagation of Angelica glauca and Heracleum candicans. J Trop Med Plants 8(1):85–91

60.

Banday A, Nawchoo IA, Kaloo ZA, Shabir PA, Rather AA (2014) Efficient propagation of an endangered medicinal plant Jurinea dolomiaea Boiss in the North Western Himalaya using rhizome cuttings under ex situ conditions. J Plant Breed Crop Sci 6(9):114–118
Acknowledgements
The authors are highly thankful to the Department of Botany, University of Kashmir, Srinagar for providing them with all the necessary facilities.
Ethics declarations
Conflict of interest
The authors declare that they have no conflict of interest.
Additional information
Publisher's Note
Springer Nature remains neutral with regard to jurisdictional claims in published maps and institutional affiliations.
Significance Statement This work helps in restoring the natural populations, their management and to supply raw materials to the drug industry on a sustainable basis. The authors also revealed the occurrence of cryptocotylar seed development in this species.
About this article
Cite this article
Hassan, A., Nawchoo, I.A., Yaqoob, U. et al. Conservation Strategies of Euphorbia wallichii Hook. f—A Species with Cryptocotylar Seeds. Proc. Natl. Acad. Sci., India, Sect. B Biol. Sci. 90, 1067–1074 (2020). https://doi.org/10.1007/s40011-020-01177-z
Received:

Revised:

Accepted:

Published:

Issue Date:
Keywords
Euphorbia wallichii

Cryptocotylar

Thiourea

Conservation