Abstract
P. cirrhifolium, P. multiflorum and P. verticillatum are important medicinal herb of genus Polygonatum found in Himalaya and are used in many ayurvedic formulations including Chyavanprash. However, a comparative account on their biochemical attributes in Himalaya is still lacking. Therefore, the present attempt was made to explore the polyphenolics and antioxidant activity in targeted species. Result revealed a varied range of polyphenolics (i.e., phenolics 1.90–6.12; tannins 1.57–3.78; flavonols 1.30–8.59; flavonoids 1.83–7.32 mg/g dry weight, respectively) and antioxidant activity (ABTS 3.22–6.11; DPPH 0.99–1.70; FRAP 0.35–2.32 mM AAE/100 g dry weight). Results are indicative that P. verticillatum possesses higher polyphenolic activity and P. cirrhifolium is rich in DPPH and FRAP activity. However, P. verticillatum and P. cirrhifolium are threatened in wild and hence, P. multiflorum with maximum total flavonoids and total antioxidant ABTS activity can be prioritized and used as a substitute to reduce pressure on these species.
Access options
Buy single article
Instant access to the full article PDF.
US$ 39.95
Tax calculation will be finalised during checkout.
Subscribe to journal
Immediate online access to all issues from 2019. Subscription will auto renew annually.
US$ 79
Tax calculation will be finalised during checkout.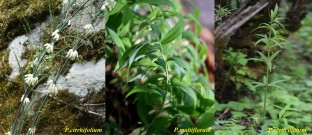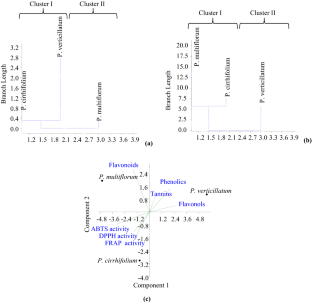 References
1.

Guo C, Li C, Yu Y, Chen W, Ma T, Zhou Z (2016) Antihyperglycemic and antihyperlipidemic activities of protodioscin in a high-fat diet and streptozotocin-induced diabetic rats. RSC Adv 6:88640–88646

2.

Wang SY, Yu QJ, Bao JK, Liu B (2011) Polygonatum cyrtonema lectin, a potential antineoplastic drug targeting programmed cell death pathways. Biochem Bioph Res Co 406:497–500

3.

Suyal R, Rawat S, Rawal RS, Bhatt ID (2019) Variability in morphology, phytochemicals and antioxidants in Polygonatum verticillatum (L) all populations under different altitudes and habitat conditions in Western Himalaya. India. Environ Monit Assess. 191:783

4.

Balkrishna A, Srivastava A, Mishra RK, Patel SP, Vashistha RK, Singh A, Jadon V, Saxena P (2012) Astavarga plants-threatened medicinal herbs of the North-West Himalaya. Int J Med Arom Plants 2:661–676

5.

Ballabh B, Chaurasia OP, Ahmed Z, Singh SB (2008) Traditional medicinal plants of cold desert Ladakh-used against kidney and urinary disorders. J Ethnopharmacol 118:331–339

6.

Suyal R, Bhatt D, Rawal RS, Tewari LM (2019) Status of two threatened Astavarga herbs, Polygonatum cirrhifolium and Malaxis muscifera, in West Himalaya: conservation implications. Proc Natl Acad Sci India Sect B Biol Sci. https://doi.org/10.1007/s40011-019-01144-3

7.

Ved DK, Kinhal GA, Ravikumar K, Prabhakaran V, Ghate U, Sankar V, Indresha JH (2003) Conservation assessment and management prioritization for the medicinal plants of Himachal Pradesh, Jammu & Kashmir and Uttaranchal. Proceedings of the workshop held at Shimla during 19–24 May, 2003. Foundation for Revitalization of Local Health Tradition spp. 1–24. Unpublished report

8.

Singleton VL, Orthofer R, Lamuela-Raventos RM (1999) Analysis of total phenols and other oxidation substrates and antioxidants by means of Folin-Ciocalteu reagent. Methods Enzymol 299:152–178

9.

Suyal R, Bahukhandi A, Rawal RS, Upadhyay S (2020) Polyphenolics and antioxidant activity of Mahonia jaunsarensis Ahrendt: a narrow endemic to West Himalaya. Natl Acad Sci Lett. https://doi.org/10.1007/s40009-020-00916-0

10.

Bahukhandi A, Barola A, Bhatt ID (2020) Impact of solvent system on polyphenolics and antioxidant activity of Gloriosa superba L.: herbaceous species of Western Himalaya. Natl Acad Sci Lett. https://doi.org/10.1007/s40009-020-00950-y
Acknowledgment
The authors thank Director, G.B. Pant National Institute of Himalayan Environment, Almora, for extending the facilities. Financial support of Ministry of Environment, Forest & Climate Change, Govt. of India under its Botanical Garden scheme (F.N. BSI-290/6/2013-Tech; Date- 29/09/2013) is gratefully acknowledged.
Additional information
Publisher's Note
Springer Nature remains neutral with regard to jurisdictional claims in published maps and institutional affiliations.
About this article
Cite this article
Suyal, R., Bahukhandi, A., Bhatt, I.D. et al. Comparative Analysis of Biochemical Attributes of Genus Polygonatum in Western Himalaya. Natl. Acad. Sci. Lett. (2021). https://doi.org/10.1007/s40009-020-01028-5
Received:

Revised:

Accepted:

Published:
Keywords
Polygonatum

Threatened medicinal herb

Antioxidant activity

Western Himalaya