Abstract
A partial mycoheterotrophic orchid Cymbidium macrorhizon Lindl. is collected for the first time from Darhal forests in district Rajouri, Jammu and Kashmir (J&K). The species was seen growing on the decomposed litter on ground in the deciduous oak forest between 900 and 1800 m above msl. The species is processed for herbarium deposition as per the standard protocols and preserved in the Herbarium cum Museum of Department of Botany (HBJU), University of Jammu, Jammu. The species is photographed, worked out for detailed taxonomic description and illustrations which are provided in the manuscript.
This is a preview of subscription content, log in to check access.
Access options
Buy single article
Instant access to the full article PDF.
US$ 39.95
Price includes VAT for USA
Subscribe to journal
Immediate online access to all issues from 2019. Subscription will auto renew annually.
US$ 99
This is the net price. Taxes to be calculated in checkout.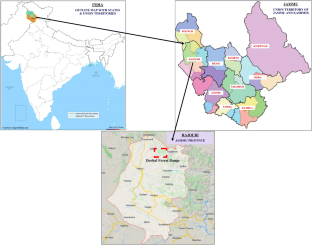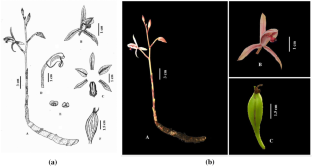 References
1.

Akhter C, Khuroo AA, Dar GH, Khan ZS, Akhtar Malik H (2011) An updated checklist of orchids in the Indian Himalayan State of Jammu and Kashmir. Pleione 5(1):1–9

2.

Bharti U (2017) Cytogenetics of some species of Artemisia L. Ph. D. thesis submitted to University of Jammu

3.

Gonneau CJ, Jersakova AE, de Tredern I, Till-Bottraud K, Saarinen M, Sauve Roy M (2014) Photosynthesis in perennial mixotrophic Epipactis spp. (Orchidaceae) contributes more to shoot and fruit biomass than to hypogeous survival. J Ecol 102:1183–1194

4.

Hooker JD (1890) The flora of British India, vol 6. L. Reeve and Co., London, pp 1–792

5.

Jalal JS, Jayanthi J (2015) An annotated checklist of the orchids of Western Himalaya, India. Lankesteriana 15(1):7–50

6.

Kant S, Chander H (2004) Orchids of Jammu Province (Jammu and Kashmir). In: Kamili AN, Yousuf AR (eds) Bioresources concern and conservation- proceedings of national seminar on recent research trends in life sciences, CORD, The University of Kashmir, Srinagar pp 17–22

7.

McCormick MK, Whigham DF, O'Neill J (2004) Mycorrhizal diversity in photosynthetic terrestrial orchids. New Phytol 163:425–438

8.

Misra S (2004) Orchids of Orissa. Bishen Singh Mahendra Pal Singh, Dehra Dun, pp 1–774

9.

Misra S (2014) Orchids of Odisha: A handbook. Bishen Singh Mahendra Pal Singh, Dehra Dun, pp 1–424

10.

Misra S (2017) Orchids of India: A glimpse. Bishen Singh Mahendra Pal Singh, Dehra Dun, pp 1–402

11.

Motomura H, Selosse MA, Martos F, Kagawa A, Yukawa T (2010) Mycoheterotrophy evolved from mixotrophic ancestors: evidence in Cymbidium (Orchidaceae). Ann Bot 106:573–581

12.

Roy M, Gonneau C, Rocheteau A, Berveiller D, Thomas JC, Damesin C, Selosse MA (2013) Why do mixotrophic plants stay green? A comparison between green and achlorophyllous orchid individuals in situ. Eco Mono 83:95–117

13.

Sharma I, Sharma V, Khan A, Kumar P, Rai E, Bamezai RNK, Vilar M, Sharma S (2018) Ancient Human Migrations to and through Jammu Kashmir- India were not of Males Exclusively. Sci Rep 8:851

14.

Suetsugu KT, Ohta T, Tayasu I (2018) Partial mycoheterotrophy in the leafless orchid Cymbidium macrorhizon. Am J Bot 105(9):1595–1600

15.

Mandal KK, Khora SS, Kar T (2018) Cymbidium macrorhizon (Orchidaceae): A new record for the Flora of Odisha, India. Ann Plant Sci 7(9):2415–2417

16.

Barik S, Tiwari ON, Adhikari D, Singh PP (2018) Geographic distribution pattern of threatened plants of India and steps taken for their conservation. Curr Sci 114(3):470–503
Acknowledgements
The authors are thankful to UGC (University Grants Commission), New Delhi for providing travel grant under Special Assistance Programme, (Departmental Research Support-II) to conduct this botanical exploration. Thanks are due to the Director, CSIR-Indian Institute of Integrative Medicine, Jammu and Head, Department of Botany, University of Jammu for providing necessary herbarium facilities.
Ethics declarations
Conflict of interest
The authors do not have any conflict of interest to declare.
Additional information
Publisher's Note
Springer Nature remains neutral with regard to jurisdictional claims in published maps and institutional affiliations.
Significance Statement As the orchids are among the RET species, therefore difficult to locate in the field. The present study discusses the presence of Cymbidium macrorhizon Lindl. from Jammu and Kashmir.
About this article
Cite this article
Thakur, S., Dutt, H.C. Cymbidium macrorhizon Lindl. (Orchidaceae): A New Record for Flora of Jammu and Kashmir, India. Natl. Acad. Sci. Lett. (2020). https://doi.org/10.1007/s40009-020-00985-1
Received:

Revised:

Accepted:

Published:
Keywords
Orchidaceae

Cymbidium macrorhizon

Jammu

Mycoheterotrophic

Boat orchid