Abstract
Ghingaru also known as Indian Hawthorn (Pyracantha crenulata) is an economically important wild edible, medicinal shrub of Rosaceae family endemic to temperate Himalaya. Fruits of the plant have cardiotonic properties and useful in myocardial weakness and hypertension. Ghingaru plant being hardy, no major insect pests and disease are reported to cause economic damage till recently. However, during the month of July 2016 and in subsequent years, heavy infestation by larvae of an insect pest taxonomically identified as Agalope javana was observed in the border district of Pithoragarh in Uttarakhand. The larvae voraciously fed initially on leaves and then on fruits leading to complete loss of foliage and fruits from the infested plants. The larvae were reared inside laboratory to study complete life cycle of the insect. Review of published scientific literature suggests that the present correspondence is the first report on infestation by the insect larvae on Ghingaru and other plants in Western Himalaya. It is necessary to investigate the reasons for the insect pest outbreak on the economically important medicinal plant. Further integrated pest management system needs to be developed for sustainable management of the insect.
Access options
Buy single article
Instant access to the full article PDF.
US$ 39.95
Tax calculation will be finalised during checkout.
Subscribe to journal
Immediate online access to all issues from 2019. Subscription will auto renew annually.
US$ 79
Tax calculation will be finalised during checkout.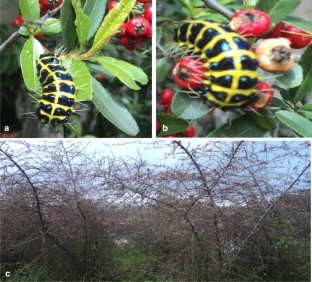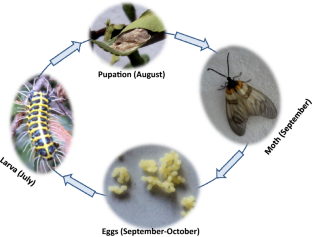 References
1.

Singh R, Negi PS, Dwivedi SK (2018) Indian hawthorn (Pyracantha crenulata). In: Singh B, Peter K (eds) New age herbals. Springer, Singapore, pp 135–149

2.

Saklani S, Chandra S (2014) In vitro antimicrobial activity, nutritional value, antinutritional value and phytochemical screening of Pyracantha crenulata fruit. Int J Pharm Sci Rev Res 26:1–5

3.

Pal RS, Arun Kumar R, Agrawal PK, Bhatt JC (2013) Antioxidant capacity and related phytochemicals analysis of methanolic extract of two wild edible fruits from north western indian Himalaya. Int J Pharm Bio Sci 4:113–123

4.

Negi PS, Singh R, Dwivedi SK (2018) Evaluation of antihypertensive effect of fruit beverage of Crataegus crenulata Roxb.: a wild shrub of Himalayan hills. Def Life Sci J 3:146–150
Acknowledgements
Authors thank Dr. Sudhir Singh, Scientist, Forest Research Institute, Dehradun, for taxonomic identification of the insect species. Authors are grateful to Defence Research & Development Organisation, New Delhi, for the financial support.
Additional information
Publisher's Note
Springer Nature remains neutral with regard to jurisdictional claims in published maps and institutional affiliations.
About this article
Cite this article
Patade, V.Y., Singh, N. & Bala, M. Agalope javana: Threat for Ghingaru (Pyracantha crenulata), An Economically Important Himalayan Medicinal Plant. Natl. Acad. Sci. Lett. 44, 67–69 (2021). https://doi.org/10.1007/s40009-020-00960-w
Received:

Revised:

Accepted:

Published:

Issue Date:
Keywords
Ghingaru

Himalaya

Medicinal Plant

Insect Pest