Abstract
Silene incurvifolia Kar. & Kir., collected from Hanuman Chatti area of Chamoli, Uttarakhand, after critical study was found to be a new record for India. It is being described along with illustration, photograph and identification key.
Access options
Buy single article
Instant access to the full article PDF.
US$ 39.95
Tax calculation will be finalised during checkout.
Subscribe to journal
Immediate online access to all issues from 2019. Subscription will auto renew annually.
US$ 79
Tax calculation will be finalised during checkout.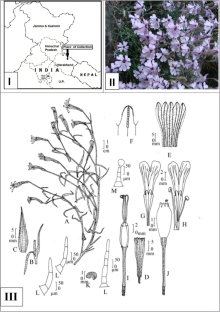 References
1.

Aydin Z, Ertekin AS, Langstrom E, Oxelman B (2014) A new section of Silene (Caryophyllaceae) including a new species from South Anatolia, Turkey. Phytotaxa 178(2):98–112

2.

Mabberley DJ (2017) Mabberley's plant-book: a portable dictionary of plants, their classifications, and uses, 4th edn. Cambridge University Press, Cambridge

3.

Majumdar NC (1993) Caryophyllaceae. In: Sharma BD, Balakrishnan NP (eds) Flora of India, vol 2. Botanical Survey of India, Calcutta, pp 503–595

4.

Pusalkar PK, Singh DK, Lakshminarasimhan P (2004) Silene gangotriana (Caryophyllaceae): a new species from Western Himalaya, India. Kew Bull 59:621–624

5.

Rajbhandari KR, Suzuki M (2008) Distribution map of Silene (Caryophyllaceae) in Nepal (l). Bull Tohoku Univ Museum 8:9–28

6.

Grierson AJC (1984) Caryophyllaceae. In: Grierson AJC, Long DG (eds) Flora of Bhutan. Royal Botanical Garden Edinburgh, Edinburgh, pp 197–216

7.

Royle JF (1834) Ilustrations of the botany and other branches of the natural history of the Himalayan Mountains: and of the flora of Cashmere, vol 1. Wm H Allen Publishers, London

8.

Lihua Z, Zhengyi W, Liden M, Oxelman B (2001) Silene L. In: Wu Z, Raven PH (ed) Flora of China (Caryophyllaceae through Lardizabalaceae), vol 6. Science Press Beijing, China, and Missouri Botanical Garden Press, St. Louis, Missouri, USA. http://www.efloras.org/florataxon.aspx?flora_id=2&taxon_id=110972. Accessed 16 Apr 2017

9.

Karelin GS, Kirilov J (1841) Enumaratio plantarum anno 1840 in regionibus Altaicis. Bull Soc Imp Naturalistes Moscou 14(3):370–528

10.

Schischkin BK (1936) Caryophyllaceae Juss. In: Schischkin BK (ed) Flora of the USSR, vol 6. Centrospermae, Translated by Dr. N. Landau (Translated from Russian Israel program for scientific Translations) Jerusalem 1970, pp 296–688

11.

Ghazanfar S, Nasir YJ (1974) Caryophyllaceae. In: Nasir E, Ali SI (ed) Flora of Pakistan. http://www.efloras.org/florataxon.aspx?floraid¼5&taxon_id¼102519. Accessed 7 Apr 2017

12.

Chowdhuri PK (1957) Studies in the genus Silene. Notes R Bot Gard Edinb 22:221–278
Acknowledgements
Funding was provided by Govind Ballabh Pant University of Agriculture and Technology, Pantnagar, India. The authors are thankful to the Board of Trustees of the Royal Botanic Garden, Kew (K); National Museum of Natural History, Paris (P); Chinese National Herbarium, Beijing (PE); and Gray Herbarium, Harward University, Cambridge, USA, for providing online access to their herbaria. Authors further extend their thanks to the authorities of Botanical Survey of India, Northern Regional Center Dehradun for providing access to herbarium and library. The inspiration received from Dr K.N. Gandhi (GH) and suggestions from anonymous reviewers are thankfully acknowledged.
Additional information
Publisher's Note
Springer Nature remains neutral with regard to jurisdictional claims in published maps and institutional affiliations.
About this article
Cite this article
Chandra, S., Rawat, D.S. Silene incurvifolia Kar. & Kir. (Caryophyllaceae): A New Record to the Flora of India. Natl. Acad. Sci. Lett. 44, 51–53 (2021). https://doi.org/10.1007/s40009-020-00945-9
Received:

Revised:

Accepted:

Published:

Issue Date:
Keywords
New record

Silene incurvifolia

Uttarakhand