Zusammenfassung
Ausgehend von der Theorie der 5-Elementen-Lehre im alten China werden die verschiedenen Aspekte des Funktionskreises Herz mit seinen physiologischen Grundlagen nach TCM-Vorstellung sowie die entsprechenden Syndrome vor dem Hintergrund der Yin-Qi- und Yang-Qi-Disharmonien des Herzens und insbesondere der Störungen des Shen sowie auch die Disharmonien des Dünndarms und die entsprechenden Maßnahmen zur Akupunkturbehandlung erläutert.
Summary
Considering fire element in the five elements theory in ancient China the different syndromes and the role of the shen are described. The physiological basics of the TCM theory as well as patterns related to deficiencies of heart yin qi and heart yang qi, shen and small bowel and the acupuncture treatment are explained.
This is a preview of subscription content, log in to check access.
Access options
Buy single article
Instant access to the full article PDF.
US$ 39.95
Price includes VAT for USA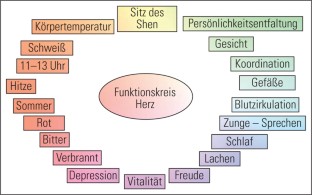 Literatur
[1]

Bahr F et al.: Das große Buch der Körperakupunktur. München: Elsevier GmbH; 2013.

[2]

Bahr F et al.: Klassische chinesische Akupunktur für Fortgeschrittene. Copyright 2008–2010.

[3]

Bahr F, Sa R: Dynamik der Organe und Elemente. Copyright 2004.

[4]

Maciocia G: Grundlagen der Chinesischen Medizin. München: Elsevier Urban & Fischer; 2008.

[5]

Platsch KD: Die 5 Wandlungsphasen. München: Elsevier Urban & Fischer; 2005.

[6]

Kleber J: Traditionelle Chinesische Medizin. München: Müller & Steinicke; 1989.

[7]

Ross J: Zang Fu 3– Die Organsysteme der traditionellen chinesischen Medizin. Uelzen: Mediz. Verlagsgesellschaft mbH; 1990.
About this article
Cite this article
Reis, A. DAS ELEMENT FEUER — DER FUNKTIONSKREIS HERZ. Akupunkt Aurikulomed 45, 11–20 (2019). https://doi.org/10.1007/s15009-019-5581-5
Schlüsselwörter
Element Feuer

Feuer-Typ

Herz-Yin-Qi-Mangel

Herz-Yang-Qi-Mangel

Geist-Seele Shen

Shen Störungen

Dünndarm-Disharmonien

Chinesische Akupunktur
Keywords
Element fire

five elements theory

heart yin deficiency

heart yang deficiency patterns

shen patterns

small bowel patterns

chinese acupuncture