Zusammenfassung
Integrative abdominelle Akupunktur (IAA) entsteht durch die Synthese zweier voneinander unabhängiger, in den Bauchdecken gelegener Somatotope mit einer berührungslosen, lasergestützten, pulskontrollierten Technik der Punktlokalisierung. Es handelt sich um das 1991 von Zhiyun Bo vorgestellte neue abdominelle Mikrosystem mit Form einer Schildröte und das Abdominale Dentale Somatotop (ADS) nach M. Grandjean, welches sich um den Schildkrötenkopf quer über den Oberbauch erstreckt. In ihm repräsentieren sich Unter- und Oberkiefer und die Nasennebenhöhlen. Dieses ist für den Ausgleich von Regulationsstörungen von eminenter Bedeutung, denn diese sind nach Ansicht des Autors bis zu 90 % hier lokalisiert. Nach deren Ausschaltung sind nachhaltige und extrem schnelle therapeutische Erfolge durch Behandlung im Schildkröten-Somatotop die Regel. Am Beispiel eines Patienten mit Stammhirninsult wird diese neue Form der Akupunkturstimulation durch Laserlicht innerhalb der Bauchwand demonstriert.
Summary
Integrative Abdominal Acupuncture (IAA) is the synthesis of two independent somatotopes (microsystems) situated on the abdominal wall and a technique to locate points which is without touch, laser based and pulse controlled. One abdominal microsystem was presented 1991 by Zhiyun Bo in the shape of a turtle, the other is the Abdominal Dental Somatotope (ADS) according to M. Grandjean. It is situated above the turtles head across the upper abdomen and contains upper and lower jaw and the sinusses. The ADS is of utmost importance to eliminate foci (blockages to healing) or to regulate disturbances, because according to the author up to 90 % are located there.
After their elimination by treating the turtle somatotope sustainable and extremely fast therapeutic success is very common. This new form of acupuncture stimulation by laserlight inside the abdominal wall is demonstrated.
This is a preview of subscription content, log in to check access.
Access options
Buy single article
Instant access to the full article PDF.
US$ 39.95
Price includes VAT for USA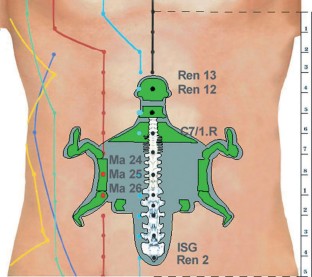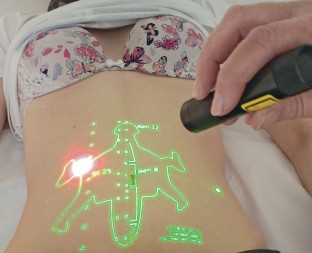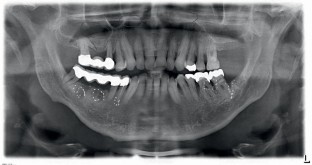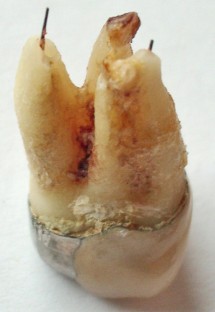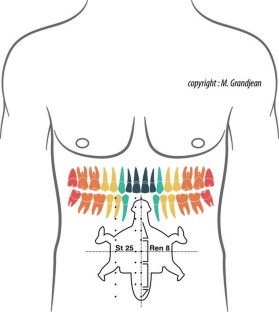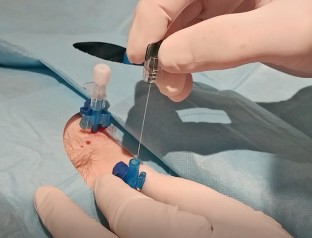 Literatur
[1]

Grandjean M: NAAP Neue Abdominelle Akupunktur. Akupunktur und Schmerz 2010; 3: 133–136.

[2]

Grandjean M: New Abdominal Acupuncture: Description With Clinical Examples. Medical Acupuncture 2010; 22: 197–201.

[3]

Bo Z, Fu Z, Liao R: Abdominal Acupuncture. Beijing, China: Beijing Science & Technology Publishing Press; 1999.

[4]

Wen W, Yang L, Liu S et al.: Reporting quality and effect size comparison in randomized controlled trials of bo's abdominal acupuncture using CONSORT statement and STRICTA. J Tradit Chin Med 2016; 36: 382–391.
About this article
Cite this article
Grandjean, M. INTEGRATIVE ABDOMINELLE AKUPUNKTUR (IAA). Akupunkt Aurikulomed 43, 32–35 (2017). https://doi.org/10.1007/s15009-017-5461-9
Schlüsselwörter
Neue Abdominelle Akupunktur

Zhiyun Bo-Abdominelle Akupunktur

lasergestützte Punktlokalisation

Regulationsstörungen

Zahnstörfelder

Entstörung

Stammhirninsult

schnelle und nachhaltige Wirkung

schnelle Erlernbarkeit
Keywords
New abdominal acupuncture

Zhiyun Bo-abdominal acupuncture

laser-based location of points

disturbance of regulation

dental foci

treatment of foci

brainstem-stroke patient

fast and sustainable efficacy

easy to learn