Zusammenfassung
Diese Studie wurde durchgeführt, um die Effekte der Liquidakupunktur in 63 PatientInnen mit unterschiedlichen Schmerzsyndromen zu untersuchen. 32 Frauen und 31 Männer mit einem mittleren Alter von 58,4 ± 16,6 Jahren wurden in die Studie eingeschlossen. Der Schmerz wurde mithilfe der VAS (visuellen Analogskala) quantifiziert und vor und nach der Liquidakupunktur verifiziert. Es zeigte sich eine hochsignifikante Reduktion (p < 0,001) bei den VAS-Werten nach Liquidakupunktur (vor 7,2 ± 2,2; nach 2,7 ± 2,1). Der Beitrag beinhaltet ferner einen aktuellen Überblick über die vorhandenen Publikationen und wissenschaftlichen Ergebnisse in Bezug auf die Liquid-(Ohr-)Akupunktur.
Summary
This study was performed to observe the effect of liquid acupuncture in 63 patients with different pain syndromes. 32 female and 31 male patients with a mean age of 58,4 ± 16,6 years were enrolled in the study. Pain was quantified by VAS (visual analog score) before and after liquid acupuncture. There was a highly significant decrease (p < 0,001) in VAS after liquid acupuncture (before 7,2 ± 2,2; after 2,7 ± 2,1). Furthermore the article presents a current overview of the existing publications and scientific results regarding liquid (ear) acupuncture.
This is a preview of subscription content, log in to check access.
Access options
Buy single article
Instant access to the full article PDF.
US$ 39.95
Price includes VAT for USA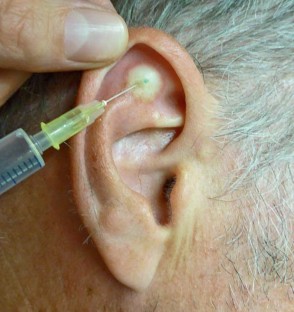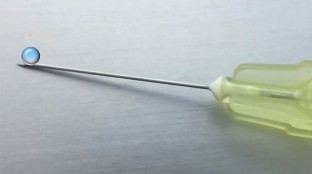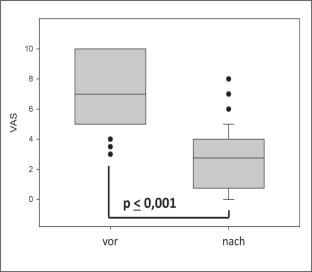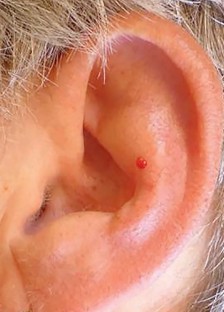 Literatur
[1]

Ramme B: Verblüffend schnelle Hilfe bei Schmerzen: Die Liquidakupunktur. Akupunktur. Deutsche Akademie für Akupunktur 2014; 4: 3–7.

[2]

Nogier P: Treatise of Auriculotherapy. Moulins-les-Metz: Maisonneuve; 1969.

[3]

Bahr F, Strittmatter B: Das große Buch der Ohrakupunktur. Stuttgart: Haug; 2014.

[4]

Borutta D: Schmerzbehandlung durch Injektionsakupunktur — Homöosiniatrie. http://www.praxis-fuer-naturheilkunde-borutta.de/schmerzbehandlung-durch-injektionsakupunktur/. 10.2.2016.

[5]

Sydneycbdacupuncture. The usefulness of liquid acupuncture. http://www.sydneycbdacupuncture.com.au/the-usefulness-of-liquid-acupuncture/. 10.2.2016.

[6]

Lee TN: Lidocaine injection of auricular points in the treatment of insomnia. Am J Chin Med 1977; 5: 71–77.

[7]

Grobglas A, Levy J: Traité d'acupuncture auriculaire. Paris: Editions Publi Réal; 1975.

[8]

Fleck FG: Sekundenphänomen-Akupunktur. Krefeld: Dr. Münks-Verlag; 1977.

[9]

Lange G: Akupunktur der Ohrmuschel. Schorndorf: WBW Biologisch-Medizinische Verlagsges. MBH & Co; 1987.

[10]

Landel G: Traitement des points d'Auriculothérapie par injection avec de la lidocaïne a 2%. Proceedings of the V. Symposium International of Auriculotherapy and Auriculomedicine, pag. 200–206, Lyon (France), 8.–9. Oktober 2006.

[11]

Chen H: Recent studies on auriculoacupuncture and its mechanism. J Tradit Chin Med 1993; 13: 129–143.

[12]

Litscher D, Litscher G, Kang DI: Korean pharmacopuncture meets Austrian high-tech acupuncture - A short review — article including a bibliometric analysis in pharmacopuncture from the last 15 years — Pharmacopuncture and Europe. J Pharmacopuncture 2013; 16: 7–11. doi:10.3831/KPI.2013.16.004.

[13]

Litscher D: Pharmakopunktur. Diplomarbeit. Karl-Franzens Universität Graz; 2013.

[14]

Romoli M, Allais G, Airola G et al.: Ear acupuncture and fMRI: a pilot study for assessing the specificity of auricular points. Neurol Sci 2014; 35 (Suppl. 1): 189–193. doi: 10.1007/s10072-014-1768-7.

[15]

Wang DQ: Clinical observation on effect of auricular point injection combined with superficial anesthesia for nasal endoscopy surgery. Zhongguo Zhen Jiu 2009; 29: 663–665.

[16]

Zhang SH, Liu YF, Liu B et al.: Prevention of procedural pain in dressing changes of burn wounds by auricular injection of small-dose fentanyl. Zhongguo Zhen Jiu 2014; 34: 972–974.

[17]

Sauer H: Additive treatment for central vestibular vertigo. HNO 2004; 52: 1009–1013.

[18]

Yang C, Hu L, Zhu F et al.: 268 cases of myopia treated with injection and pellet pressure at auriculoacupoints. J Tradit Chin Med 1993; 13: 196–198.

[19]

Ren YH, Ma BQ, Li J. Auricular points injection for 76 cases of chloasma. Zhongguo Zhen Jiu 2014; 34: 1122.

[20]

ProDOPA® Raucherentwöhnung. Konzeption der ProDopa-Therapie. http://www.prodopa.de/de/fuer_fachleute/. 10.2.2016.

[21]

Fumexan® — Die Raucherentwöhnung per Spritze ins Ohr. Raucherentwöhnungstherapie, entwickelt von Heilpraktiker Patrik Kohl aus dem Saarland. http://fumexan.de/. 10.2.2016.

[22]

Ramme B: Liquidakupunktur — Schnell gegen Schmerzen — 1-Tages-Ausbildung für rasche Anwendung in der Praxis. Deutsche Akademie für Akupunktur. https://www.akupunktur-seminare.de/kurse/liquid.html. 10.2.2016.

[23]

Litscher D, Litscher G: The history of liquid ear acupuncture and the current scientific state of the art. J Pharmacopuncture 2016; 19: 109–113.
About this article
Cite this article
Litscher, D., Ramme, B. & Litscher, G. DIE LIQUIDAKUPUNKTUR: ERSTE SYSTEMATISCHE EUROPÄISCHE KLINISCHE ERGEBNISSE EINER EFFEKTIVEN SCHMERZTHERAPIE. Akupunkt Aurikulomed 42, 12–20 (2016). https://doi.org/10.1007/s15009-016-5420-x
Schlüsselwörter
Liquidakupunktur

Akupunktur

Ohr

Pharmakopunktur

Schmerz

klinische Ergebnisse
Keywords
Liquid acupuncture

acupuncture

ear

pharmacopuncture

pain

clinical results