Zusammenfassung
Im gesamten Bereich der Lasermedizin sind in den letzten Jahren enorme Fortschritte zu verzeichnen. Eine weitere Innovation stellt die sogenannte Laseruhr dar. Dabei handelt es sich um ein System, das nur unwesentlich größer ist als eine herkömmliche Armbanduhr. Die Laseruhr wird am Handgelenk angebracht, und man kann damit simultan und kontinuierlich sowohl eine Akupunkturpunkt- als auch Blutbestrahlung mit Laserlicht durchführen. Daraus ergeben sich nun neue vielversprechende Therapieansätze bei unterschiedlichen Krankheitsbildern. Im vorliegenden Artikel werden erste Pilotmessungen zur Laseruhrstimulation vorgestellt und kurz diskutiert. Bevor die Laseruhr eine weite Verbreitung erfährt, sind jedoch nach Meinung der Autoren weitere Forschungsarbeiten unerlässlich.
Summary
Laser medicine in general has experienced enormous progress over the last years. The latest innovation is a so called laser watch, a system only slightly larger than a wrist watch. The laser watch is applied at the wrist where simultaneous and continuous acupuncture point or blood irradiation using laser light can be performed. This results in new promising therapeutic approaches for different diseases. This article introduces and discusses briefly first pilot measurements with regard to the laser watch. Before the laser watch will be widely used, however, in the authors' opinion further research is absolutely necessary.
This is a preview of subscription content, log in to check access.
Access options
Buy single article
Instant access to the full article PDF.
US$ 39.95
Price includes VAT for USA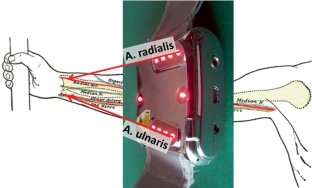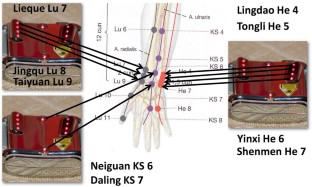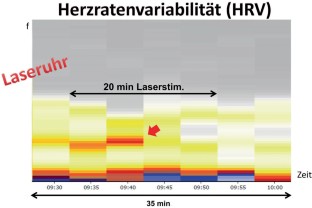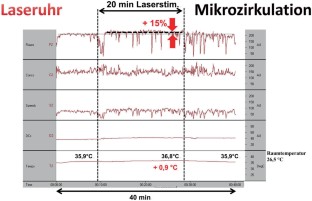 Literatur
[1]

Bahr F, Litscher G: Laserakupunktur und innovative Lasermedizin. Elsevier Urban & Fischer, München, 2015.

[2]

Daily home health medical laser watch acupuncture point detector. http://hbboshi.en.alibaba.com/product/60145497260-800520475/Daily_home_health_medical_laser_watch_acupuncture_point_detector.html. Abgerufen am 02.09.2015.

[3]

Painless energy saving medical laser watch Laser acupuncture machine http://hbboshi.en.alibaba.com/product/60139617662-800832888/Painless_ernegy_saving_medical_laser_watch_Laser_acupuncture_machine.html. Abgerufen am 02.09.2015.

[4]

Watch Type Laser Therapeutic Equipment (HY30-D). http://whhnc8.en.made-in-china.com/product/rosJFTKjrCcm/China-Watch-Type-Laser-Therapeutic-Equipment-HY30-D-.html. Abgerufen am 29.09.2015.

[5]

Bahr F, Dorfer L, Jost F, Litscher G, Ramme B, Suwanda S, Zeitler H: Das große Buch der klassischen Akupunktur. Elsevier Urban & Fischer, München, 2. Auflage, 2014.

[6]

Litscher G, Wang L, Wang X, Gaischek I: Laser Acupuncture: Two Acupoints (Baihui, Neiguan) and Two Modalities of Laser (658 nm, 405 nm) Induce Different Effects in Neurovegetative Parameters. Evid Based Complement Alternat Med. 2013;2013:432764.

[7]

Litscher G, Bahr F, Litscher D: Gelbe Laserstimulation am Schädel - Erster Nachweis mikrozirkulatorischer Veränderungen im Labor. Akupunktur und Aurikulomedizin. 2015;41(1): 33–36.

[8]

Litscher G: Effects of popliteal illumination on cerebral nearinfrared spectroscopy. Neurol Res 2011;23:807–809.
About this article
Cite this article
Litscher, D., Litscher, G. LASERUHR – SIMULTANE LASERAKUPUNKTUR UND LASERBLUTBESTRAHLUNG AM HANDGELENK. Akupunkt Aurikulomed 41, 32–36 (2015). https://doi.org/10.1007/s15009-015-5362-8
Schlüsselwörter
Laser

Uhr

Laserakupunktur

Laserblutbestrahlung
Keywords
Laser

watch

laser acupuncture

laser blood irradiation