Zusammenfassung
Ziel der Studie war es, den Effekt der Akupunktur bei Mammakarzinom-Patientinnen mit laufender antihormoneller Therapie zu untersuchen. In die Studie wurden 25 Patientinnen inkludiert, welche im Jahr 2014 an der Abteilung für Komplementärmedizin Krankenhaus F. Tappeiner Meran (Italien) während der antihormonellen Therapie Akupunkturbehandlungen erhalten haben. Unsere Daten zeigen, dass nach Beendigung der Therapie 96,15 % der Patienten eine Verbesserung der Nebenwirkungen der antihormonellen Therapie durch die Akupunktur in Hinblick auf Hitzewallungen, Gelenksschmerzen, Schlafstörungen, Stimmungsschwankungen und Schweißausbrüche verspürten (p < 0,001). Besonders die Gelenkschmerzen, welche vor allem eine Nebenwirkung in den ersten Therapiemonaten von Aromataseinhibitoren sind, konnten bei einem Großteil der Patientinnen um mehr als 50 % verbessert werden. Zusammenfassend erweitert die vorliegende Studie die aktuelle Datenlage zur additiven Akupunkturbehandlung beim Mammakarzinom und zeigt den positiven Effekt der Akupunktur auf unerwünschte Nebenwirkungen der antihormoneller Therapie beim Mammakarzinom.
Summary
The aim of the study was to investigate the effect of acupuncture in breast cancer patients with ongoing antihormonal therapy. 25 patients who received acupuncture treatments in 2014 at the Department of Complementary Medicine Hospital F. Tappeiner Merano (Italy) during antihormonal therapy were included in this prospective study.
Our data show that after completion of therapy 96.15 % of patients observed an improvement of side effects of antihormonal therapy through acupuncture regarding hot flashes, joint pain, sleep problems, mood swings and sweats (p < 0.001). In particular, joint pain, which is a predominant side effect during the first months of therapy with aromatase inhibitors, was improved more than 50 % in a majority of patients.
In summary, this study expands the current data for additive acupuncture treatment for breast cancer and shows the positive effect of acupuncture on side effects of hormone therapy in breast cancer.
This is a preview of subscription content, log in to check access.
Access options
Buy single article
Instant access to the full article PDF.
US$ 39.95
Price includes VAT for USA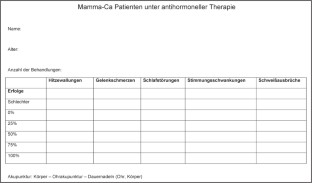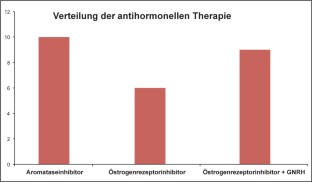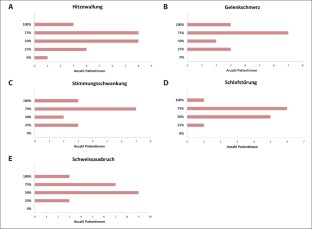 Literatur
[1]

Dobos G, Tao I: The model of Western integrative medicine: the role of Chinese medicine. Chin J Integr Med. 2011 Jan; 17(1):11–20.

[2]

Garcia MK, McQuade J, Haddad R, Patel S, Lee R, Yang P, Palmer JL, Cohen L.J: Systematic review of acupuncture in cancer care: a synthesis of the evidence. Clin Oncol. 2013 Mar 1;31(7):952–60.

[3]

Molassiotis A, Bardy J, Finnegan-John J, Mackereth P, Ryder DW, Filshie J, Ream E, Richardson A: Acupuncture for cancerrelated fatigue in patients with breast cancer: a pragmatic randomized controlled trial. J Clin Oncol. 2012 Dec 20; 30(36):4470–629.

[4]

Crew K D, Capodice JL, Greenlee H, Brafman L, Fuentes D, Awad D, Yann Tsai W, Hershman DL: Randomized, blinded, sham-controlled trial of acupuncture for the management of aromatase inhibitor-associated joint symptoms in women with early-stage breast cancer. J Clin Oncol. 2010 Mar 1; 28(7):1154–60.

[5]

Bao T, Cai L, Giles JT et al: A dual-center randomized controlled double blind trial assessing the effect of acupuncture in reducing musculoskeletal symptoms in breast cancer patients taking aromatase inhibitors. Breast Cancer Res Treat 2013; 138: 167–174.

[6]

Bokmand S, Flyger H: Acupuncture relieves menopausal discomfort in breast cancer patients: a prospective, double blinded, randomized study. Breast. 2013 Jun;22(3):320–3.

[7]

Deng G, Vickers A, Yeung S, D'Andrea GM, Xiao H, Heerdt AS, Sugarman S, Troso-Sandoval T, Seidman AD, Hudis CA, Cassileth B.: Randomized, controlled trial of acupuncture for the treatment of hot flashes in breast cancer patients. J Clin Oncol. 2007 Dec 10; 25(35):5584–90.

[8]

Hervik J, Mjåland O: Acupuncture for the treatment of hot flashes in breast cancer patients, a randomized, controlled trial. Breast Cancer Res Treat. 2009 Jul;116(2):311.

[9]

Lee MS, Kim KH, Choi SM, Ernst E: Acupuncture for treating hot flashes in breast cancer patients: a systematic review. Breast Cancer Res Treat. 2009 Jun;115(3):497–503.

[10]

Walker EM, Rodriguez AI, Kohn B, Ball RM, Pegg J, Pocock JR, Nunez R, Peterson E, Jakary S, Levine RA.: Acupuncture versus venlafaxine for the management of vasomotor symptoms in patients with hormone receptor-positive breast cancer: a randomized controlled trial. J Clin Oncol. 2010 Feb 1;28(4):634–40.
About this article
Cite this article
Zeisel, H., Heidegger, H. & Thuile, C. AKUPUNKTUR VERBESSERT DIE NEBENWIRKUNGEN VON ANTIHORMONELLEN THERAPIEN BEIM BRUSTKREBS. Akupunkt Aurikulomed 41, 16–20 (2015). https://doi.org/10.1007/s15009-015-5359-3
Schlüsselwörter
Mammakarzinom

antihormonelle Therapie

Akupunktur

Nebenwirkungen
Keywords
Breast cancer

antihormonal treatment

acupuncture

side effects