Zusammenfassung
Im Rahmen dieser Pilotmessung konnte erstmals gezeigt werden, dass der gelbe Laser (589 nm, 50 mW, 500 µm) bei transkranieller Anwendung im Stande ist, mikrozirkulatorische Veränderungen im menschlichen Gewebe hervorzurufen. Die Ergebnisse sind für zukünftige Anwendungen des gelben Lasers im Bereich unterschiedlicher neurologischer Erkrankungen bedeutsam. Weitere Untersuchungen hinsichtlich der Optimierung der technischen Parameter sind erforderlich.
Summary
Within this pilot study it could be shown for the first time that transcranial yellow laser stimulation (589 nm, 50 mW, 500 µm) is able to induce microcirculatory changes in human tissue. The results are important for future applications of yellow laser in the field of different neurological diseases. Further investigations concerning the optimal technical parameters are necessary.
This is a preview of subscription content, log in to check access.
Access options
Buy single article
Instant access to the full article PDF.
US$ 39.95
Price includes VAT for USA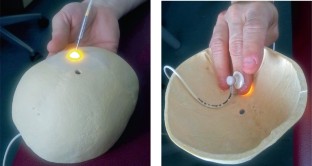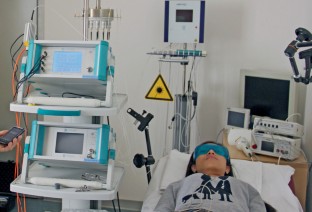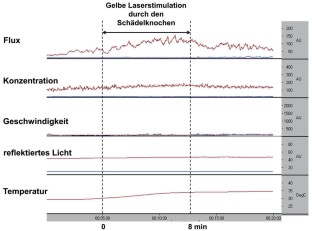 Literatur
[1]

Litscher G: Wissenschaftliche Grundlagen der Akupunktur. In: Bahr F, Dorfer L, Jost F, Litscher G, Ramme B, Suwanda S, Zeitler H: Das große Buch der klassischen Akupunktur. 2 Auflage. Elsevier Urban & Fischer, München, 2014, SS. 6–28

[2]

Bahr F, Litscher G: Laserakupunktur und innovative Lasermedizin. Elsevier, München, 2015; in press

[3]

Litscher D, Wang GJ, Gaischek I, Wang L, Litscher G: Yellow laser acupuncture for prevention and early intervention of lifestyle-related diseases: A randomized, placebo-controlled trial in volunteers. Laser Therapy, Feb 2015, submitted

[4]

Litscher D, Litscher G: Laser Therapy and Stroke: Quantification of Methodological Requirements in Consideration of Yellow Laser. Int J Photoenergy 2013; 2013: 575798

[5]

Litscher D, Litscher G: Laser Therapy and Dementia: A Database Analysis and Future Aspects on LED-Based Systems. Int J Photoenergy 2014; 2014: 268354

[6]

Litscher D, Litscher G: Lasertherapie und Schlaganfall - Quantifizierung von methodischen Voraussetzungen unter Berücksichtigung des gelben Lasers. Akupunktur & Aurikulomedizin 2014; 1: 25–29

[7]

Litscher D, Litscher G: Lasertherapie und Demenz: Eine Datenbank-Analyse und Zukunftsaspekte von LED-basierten Systemen. Akupunktur & Aurikulomedizin 2014; 2: 17–23

[8]

Litscher G: Bioengineering assessment of acupuncture, part 2: monitoring of microcirculation. Crit Rev Biomed Eng 2006; 34(4):273–293
About this article
Cite this article
Litscher, G., Litscher, D. & Bahr, F.R. GELBE LASERSTIMULATION AM SCHÄDEL – ERSTER NACHWEIS MIKROZIRKULATORISCHER VERÄNDERUNGEN IM LABOR. Akupunkt Aurikulomed 41, 33–36 (2015). https://doi.org/10.1007/s15009-015-5319-y
Schlüsselwörter
Gelber Laser

Mikrozirkulation

Grundlagenforschung

Laser Doppler Flowmetrie
Keywords
Yellow laser

microcirculation

basic research

laser Doppler flowmetry