Zusammenfassung
Der RAC (Reflex Auriculo-Cardiac) stellt eine wichtige, allerdings derzeit mehrheitlich wissenschaftlich noch nicht anerkannte Methode im Bereich der Aurikulomedizin dar. Im vorliegenden Bericht wird erstmals eine neue methodische Strategie zur Erfassung und Objektivierung des RAC beschrieben. Mit hochauflösenden Darstellungen von pulsatorischen Oberflächenveränderungen könnte der RAC erstmals reproduzierbar quantifiziert werden. Die Methodik besteht aus einer Kombination eines innovativen Mikroskopsystems der Medizinischen Universität Graz, einer Videosoftwareanalyse und speziellen Bildverarbeitungsprogrammen der Beijing University of Science and Technology. Erste Testmessungen sollen die Realisierung des neuen Methodenansatzes dokumentieren.
Summary
The RAC (reflex auriculo-cardiac) or internationally called VAS (Vascular Autonomic Signal) is an important yet hitherto scientifically not fully acknowledged method in auricular medicine. The present report for the first time describes a new methodological strategy for detecting and objectifying the RAC/VAS. Using high-resolution imaging of pulsatory surface changes, the RAC/VAS might be quantified reproducibly for the first time. The method consists of a combination of an innovative microscope system at the Medical University of Graz, video software analysis, and special image processing software from the Beijing University of Science and Technology. Pilot measurements document the realization of the new methodical approach.
This is a preview of subscription content, log in to check access.
Access options
Buy single article
Instant access to the full article PDF.
US$ 39.95
Price includes VAT for USA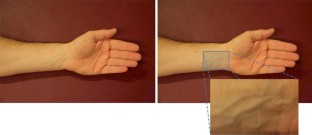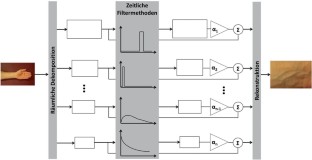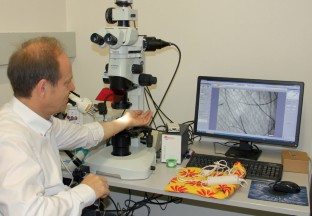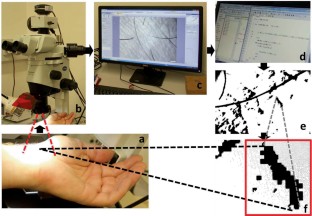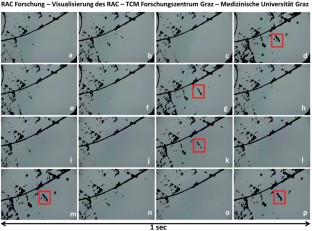 Literatur
[1]

Helling R, Feldmeier M: Aurikulomedizin nach Nogier. Hippokrates, Stuttgart, 1999

[2]

Bahr F., Strittmatter B.: Das große Buch der Ohrakupunktur, Haug Verlag, 2. Auflg., Stuttgart 2014

[3]

Oleson T: Auriculotherapy stimulation for neuro-rehabilitation. NeuroRehabilitation 2002; 17(1):49–62

[4]

Gori L, Firenzuoli F: Ear acupuncture in European traditional medicine. Evid Based Complement Alternat Med 2007; 4 (Suppl 1):13–16

[5]

Gao XY, Wang L, Gaischek I, Michenthaler Y, Zhu B, Litscher G: Brain-modulated effects of auricular acupressure on the regulation of autonomic function in healthy volunteers. Evid Based Complement Alternat Med 2012; 2012:714391

[6]

Rabischong P, Terral C: Scientific basis of auriculotherapy: State of the art. Med Acupunct 2014; 26(2):84–96

[7]

Videotechnologie macht menschlichen Puls sichtbar. http://www.focus.de/wissen/videos/roentgenblick-wie-superman-videotechnologie-macht-menschlichen-puls-sichtbar_vid_31711.html (10. Februar 2015)

[8]

Zhang M, Min LQ, Zhang Q, Liu S: Matting algorithm and application based on Mahalanobis distance and the fuzzy C-means clustering algorithm. Journal of University of Science and Technology Beijing 2014; 36(5):688–694

[9]

Nogier R: Einführung in die Aurikulomedizin. Karl F. Haug, Heidelberg, 1994

[10]

Nogier R: Aurikulomedizin-Website. http://auriculo.biz/flash_d/auriculomedecine.php (9. Februar 2015)

[11]

Moser M, Dorfer L, Muhry F, Messerschmidt D, Frühwirth M, Bahr F: Untersuchungen zur Physiologie des Nogier-Reflexes. Akupunktur & Aurikulomedizin 1998;2:3–13
Additional information
Univ.-Prof. Prof. h.c. DI Dr. techn. Dr. scient.med. Gerhard Litscher
Leiter der Forschungseinheit für biomedizinische Technik in Anästhesie und Intensivmedizin, der Forschungseinheit für komplementäre und integrative Lasermedizin und des TCM Forschungszentrums Graz
About this article
Cite this article
Litscher, G., Litscher, D. & Bahr, F.R. NEUE STRATEGIEN IN DER RAC ("REFLEX AURICULO-CARDIAC") FORSCHUNG – HOCHAUFLÖSENDE DARSTELLUNGEN VON PULSATORISCHEN OBERFLÄCHENVERÄNDERUNGEN IM LABOR. Akupunkt Aurikulomed 41, 27–32 (2015). https://doi.org/10.1007/s15009-015-5318-z
Schlüsselwörter
RAC

reflex auriculo-cardiac

neue Methode

Ohrakupunktur

Bildanalyse
Keywords
RAC

VAS

reflex auriculo-cardiac

new method

ear acupuncture

image recognition