Zusammenfassung
An 35 österreichischen Fleckviehkühen mit Hypokalzämie post partum wurden elektrische Potentialmessungen zwischen ausgewählten Akupunkturpunkten und unspezifischen Nichtakupunkturpunkten mit und ohne Stimulation durchgeführt. 84 000 Einzelmesswerte wurden verarbeitet.
Es konnte festgestellt werden, dass Akupunkturpunkte ein höheres Grundpotential zeigen als Nicht-Akupunkturpunkte. Es gibt jedoch Unterschiede zwischen den Grundpotentialen verschiedener Akupunkturpunkte innerhalb eines Meridians.
In dieser Arbeit wurden Potentiale zwischen LG 3 und LG 2 sowie zwischen LG 3 und LG 2 im Vergleich zu Nicht-Akupunkturpunkten gemessen.
Durch die Laserstimulation am Akupunkturpunkt konnte das Grundpotential der gemessenen Akupunkturpunkte deutlich angehoben werden. Stimulierte Akupunkturpunkte können das niedrige Grundpotential im Bereich von Nicht-Akupunkturpunkten anheben, was den Einfluss von Akupunkturpunkten auf definierte Körperregionen gemäß der TCM Indikationen sichtbar macht. Daraus ergeben sich interessante weitere Forschungsmöglichkeiten.
Die Ergebnisse der Untersuchungen werden in Tabellen und Diagrammen dargestellt.
Summary
This study was performed on 35 Austrian Simmental cows with hypocalcemia post partum. Electrical potential-measurements between selected acupuncture points and non-specific points were performed with and without stimulation. 84,000 single readings were recorded, calculated and stored.
In this research work we found an increased basic potential in acupuncture points compared to non-acupuncture points. We also found potential differences of the potentials of acupuncturepoints within one meridian, concerning the basic potential as well as the potential with laserstimulation.
We measured potentials between acupuncturepoints — DU 3 and DU 2 — within one meridian and acupuncturepoints compared to non-acupuncturepoints. Laserstimulation increased the basic potential of acupuncturepoints significantly. Stimulated acupuncturepoints can increase the basic potential of non-acupuncturepoints in their area of influence according to TCM indications.
Based on those observations new interesting research works could emerge.
All study results are presented in tables and diagrams.
This is a preview of subscription content, log in to check access.
Access options
Buy single article
Instant access to the full article PDF.
US$ 39.95
Price includes VAT for USA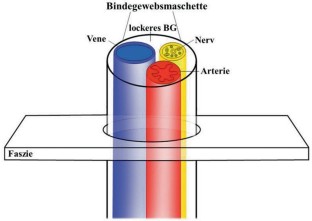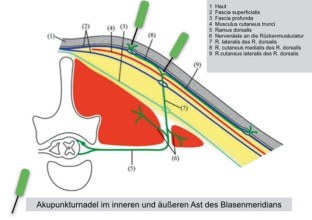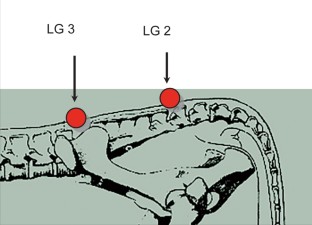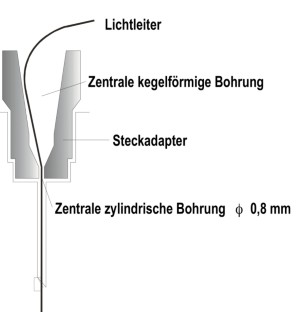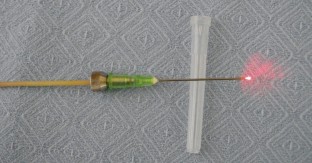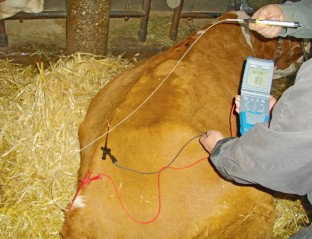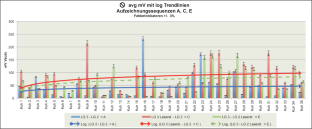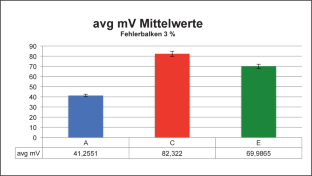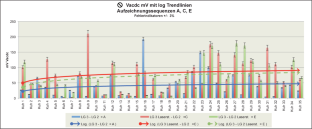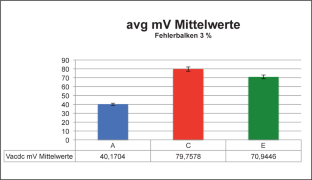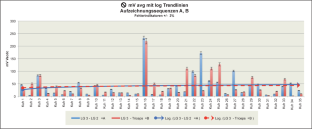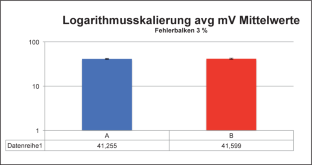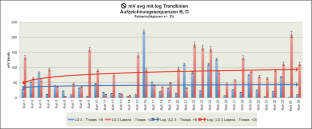 Abbreviations
ANOVA::

analysis of variance = Varianzanalyse

AS::

Aufzeichnungssequenz

avg::

average = Durchschnitt, Mittelwert

DC::

direct current = Gleichstrom

Gb::

Gallenblasenmeridian

Hz::

Hertz

KHz::

Kilohertz

LG::

Lenkergefäßmeridian

LSD-Test::

Fisher-LSD-Test; Post-Hoc-Test (multipler Vergleichstest) lässt sich im Rahmen einer Varianzanalyse zur Bestimmung von signifikanten Unterschieden zwischen Gruppenmittelwerten einsetzen.

MAX::

Maximalwert

MEM::

Speichermodus

MIN::

Minimalwert

mV::

Millivolt

mW::

Milliwatt

nm::

Nanometer

W::

griech. Omega = Ohm

SPSS::

ursprünglich — Statistical Package for the Social Sciences; seit 2009 IBM-Software für ein modular aufgebautes Programmpaket zur statistischen Analyse von Daten.

SURV::

Überwachungsmodus

TRMS::

True Root Mean Square = ist der Effektivwert der Spannung und entspricht mathematisch der Wurzel aus dem Mittelwert über das Quadrat der Spannungs- bzw. Stromfunktion während einer definierten ganzen Zahl von Perioden.

t-Test::

Zweistichproben-t-Test ist ein Signifikanztest der Statistik. Er prüft anhand der Mittelwerte zweier Stichproben, ob die Mittelwerte zweier Grundgesamtheiten einander gleich sind, ggf. gegen die Alternative, dass einer der Mittelwerte kleiner ist als der andere.

VAC::

Volts Alternating Current = effektive Wechselspannung

Vacdc::

effektiver Wechselstrom mit seinem Gleichstromanteil

ZNS::

Zentralnervensystem
Literatur
[1]

Bahr F. et al.: Das große Buch der klassischen Akupunktur. Urban & Fischer, Elsevier, 1. Auflage, 2007

[2]

Baker A.T., Jaffe L.F., Vanable Jr. JW.: The glabrous epidermis of cavies contains a powerful battery. American Journal of Physiology-Regulatory, Integrative and Comparative Physiology. 1 March 1982 Vol. 242 no. R 358 - R 36, 1982

[3]

Bernigau N.: Neue Aspekte der segmentalen Neuroanatomie des Lendenbereiches beim Hund. Dissertation aus dem Veterinär- Anatomischen Institut der Veterinärmedizinischen Fakultät der Universität Leipzig, 2013

[4]

Bonani G., JVY S. D., Hajdas J., Niklaus T. R., Suter M.: AMS 14C Age determinations of tissue, bone and grass samples from the Ötztal ice man. Radiocarbon, Vol. 36, No. 2 1994, 247–250, 1994

[5]

Croley T. E., Carlson M.: Histology of the acupuncture point. Am. J. Acup. 19, 247–253, 1991

[6]

Dorfer L., Moser M., Bahr F., Spindler K., Egartner-Vigl E., Giull'n S., Dohr G., Kenner T.: A medical report from the stone age?. In: The Lancet. 354 Nr. 9183, September 1999, 1023–1025, 1999

[7]

Egerbacher M.: Veterinärakupunktur. Anatomische und histologische Struktur ausgewählter Akupunkturpunkte bei Rind und Hund. Dt. Zschr. f Akup. 1993; 36 (4): 75–80, 1993

[8]

Ellenberger W., Baum H.: Handbuch der vergleichenden Anatomie der Haustiere. 18. Auflage, Reprint 1974. Springer- Verlag Berlin Heidelberg New York, 15, 1974

[9]

Gong C.: The Physiology of Acupuncture: Three Key Scientific Discoveries. International Journal of Clinical Acupuncture 14 (3), 153–155, 2005

[10]

Heine H.: Anatomical structure of acupoints. J. Tradit. Chin. Med. 1988 Sept; 8 (3): 207–212, Pub Med PMID: 3216666, 1988

[11]

Kellner G.: Zur Histochemie der Narbe. Hippokrates 36, 777–785, 1965

[12]

Kothbauer O.: Über die Analgesierung einer Euterzitze des Rindes mittels Akupunktur. Österreichische Ärzteztg. 28, 1037–1039, 1973

[13]

Kothbauer O.: Über die Druckpunktdiagnose und Neuraltherapie bei Tieren. Wiener Tieräztl. Mschr. 1961; 48: 282–293, 1961

[14]

Kothbauer O.: Ein Kaiserschnitt bei einer Kuh unter Akupunkturanalgesie. Wien. tierärztl. Mschr. 62 (10), 394–396, 1975

[15]

Kothbauer O., Steingassner H. M.,: Goldimplantationen: Ein elektrophysikalisches Phänomen zur Therapie von schmerzhaften Gelenkserkrankungen bei Tieren - Auswertungen von Versuchsmessungen. Dt. Zeitschr. f. Akup. 53, 1/2010, 54–58, 2010

[16]

Kothbauer O.: Über die Wirkung per Hand stimulierter chinesischer Stahl-Akupunkturnadeln zur Operationsanalgesie bei Tieren - ein Messversuch. Dt. Zeitschr. f. Akup. 54, 1/2011, 45–47, 2011

[17]

Muxeneder R.: Laserakupunktur: Eine neue invasive Form der Low-Level-Laser (LLL) Anwendung. Praktischer Tierarzt 818, 664–673, 2000

[18]

Litscher G.: Biomedical assessment of acupuncture, part 1. Thermography. Crit Rev Biomed Eng 2006; 34, 1–22, 2006

[19]

Pischinger A.: Über die Zellen des weichen Bindegewebes. Wiener klin. Wochenschr. 71, 73-77, 1959

[20]

Popp F. A.: Zur Situation der Akupunktur. Allgemeine und spezielle Akupunktur (Ringvorlesung), Hrsg.: Sonnabend M. - München Mediscript, 94-99, 1983

[21]

Riecke E., Grabke H.J.: Technische Forschung Stahl. Gebrauchseigenschaften und Betriebsverhalten. Einflüsse von Legierungs- und Begleitelementen auf die Korrosion und Wasserstoffaufnahme von Stählen. Abschlussbericht. Max- Planck-Institut für Eisenforschung GmbH Postfach 140 260, D-4000 Düsseldorf 1, Bericht EUR 9965 DE, 1-152, 1985

[22]

Rogers P. A. M.: Acupuncture in equine practice; a brief review. Irish Veterin. J. 33, 19–27, 1979

[23]

Rosenblatt S. L.: Electroencephalogram correlates of acupuncture. Am. J. Acup. 10, 47–52, 1982

[24]

Thoresen A. S.: Equine acupuncture based on twelve points: an effective diagnostic and therapeutic method of veterinarians with no acupuncture knowledge. Am. J. Acup. 17, 160–170, 1989

[25]

Zhang O., Zhu L.: Correspondence between acupoints and dermatome. Int. J. Clin. Acupunct. 1998; 9 (2): 127–131, 1998

[26]

Zhu Zongxiang et al.: The observation of low impedance line along meridian of rat., Sec. Natl. Symp. Acup. & Moxib. & Acup.Anesth. - Beijing, Abstract Nr. 306, 1984
About this article
Cite this article
Muxeneder, R. VERGLEICHENDE MESSUNGEN ELEKTRISCHER POTENTIALE AN AKUPUNKTURPUNKTEN OHNE UND MIT LASERSTIMULATION AN DER KUH. Akupunkt Aurikulomed 40, 20–31 (2014). https://doi.org/10.1007/s15009-014-5302-z
Schlüsselwörter
Akupunktur

Laserstimulation

elektrische Potentialmessung
Keywords
Acupuncture

laser stimulation

electrical potential-measurements