Bei HIV-Infektion können verschiedene psychische Komorbiditäten auftreten, insbesondere wenn die Erkrankung nicht ausreichend therapiert wird. Darüber hinaus sind psychische Erkrankungen in der Vorgeschichte zu erfragen, da einzelne HIV-Medikamente diese verschlechtern können.
This is a preview of subscription content, log in to check access.
Access options
Buy single article
Instant access to the full article PDF.
US$ 39.95
Price includes VAT for USA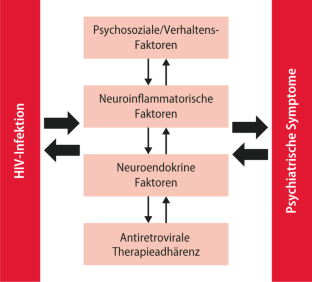 Literatur
1.

Meade CS, Kershaw TS, Hansen NB, Sikkema KJ (2009): Longterm correlates of childhood abuse among adults with severe mental illness: adult victimization, substance abuse, and HIV sexual risk behavior. AIDS and behavior. 13:207–216.

2.

Rosenberg SD, Goodman LA, Osher FC, Swartz MS, Essock SM, Butterfeld MI, et al. (2001): Prevalence of HIV, hepatitis B, and hepatitis C in people with severe mental illness. American journal of public health. 91:31–37.

3.

Basu S, Chwastiak LA, Bruce RD (2005): Clinical management of depression and anxiety in HIV-infected adults. AIDS (London, England). 19:2057–2067.

4.

Celesia BM, Nigro L, Pinzone MR, Coco C, La Rosa R, Bisicchia F, et al. (2013): High prevalence of undiagnosed anxiety symptoms among HIV-positive individuals on cART: a cross-sectional study. European review for medical and pharmacological sciences. 17:2040–2046.

5.

Shacham E, Morgan JC, Onen NF, Taniguchi T, Overton ET (2012): Screening anxiety in the HIV clinic. AIDS and behavior. 16:2407–2413.

6.

Del Guerra FB, Fonseca JL, Figueiredo VM, Zif EB, Konkiewitz EC (2013): Human immunodefciency virus-associated depression: contributions of immuno-infammatory, monoaminergic, neurodegenerative, and neurotrophic pathways. Journal of neurovirology. 19:314–327.

7.

Neigh GN, Rhodes ST, Valdez A, Jovanovic T (2016): PTSD comorbid with HIV: Separate but equal, or two parts of a whole? Neurobiology of disease. 92:116–123.

8.

Owe-Larsson B, Sall L, Salamon E, Allgulander C (2009): HIV infection and psychiatric illness. African journal of psychiatry. 12:115–128.

9.

Heaton RK, Franklin DR, Ellis RJ, McCutchan JA, Letendre SL, Leblanc S, et al. (2011): HIV-associated neurocognitive disorders before and during the era of combination antiretroviral therapy: diferences in rates, nature, and predictors. Journal of neurovirology. 17:3–16.

10.

Heaton RK, Marcotte TD, Mindt MR, Sadek J, Moore DJ, Bentley H, et al. (2004): The impact of HIV-associated neuropsychological impairment on everyday functioning. Journal of the International Neuropsychological Society: JINS. 10:317–331.

11.

Reger M, Welsh R, Razani J, Martin DJ, Boone KB (2002): A meta-analysis of the neuropsychological sequelae of HIV infection. Journal of the International Neuropsychological Society: JINS. 8:410–424.

12.

Protopopescu C, Raf F, Brunet-Francois C, Salmon D, Verdon R, Reboud P, et al. (2012): Incidence, medical and socio-behavioural predictors of psychiatric events in an 11-year follow-up of HIV-infected patients on antiretroviral therapy. Antiviral therapy. 17:1079–1083.

13.

Schumacher JE, McCullumsmith C, Mugavero MJ, Ingle-Pang PE, Raper JL, Willig JH, et al. (2013): Routine depression screening in an HIV clinic cohort identifes patients with complex psychiatric co-morbidities who show signifcant response to treatment. AIDS and behavior. 17:2781–2791.

14.

Marks G, Gardner LI, Craw J, Giordano TP, Mugavero MJ, Keruly JC, et al. (2011): The spectrum of engagement in HIV care: do more than 19% of HIV-infected persons in the US have undetectable viral load? Clinical infectious diseases: an ofcial publication of the Infectious Diseases Society of America. 53:1168–1169; author's reply 1169-1170.

15.

Dimsdale JE, Dantzer R (2007): A biological substrate for somatoform disorders: importance of pathophysiology. Psychosom Med. 69:850–854.

16.

Hammoud DA, Endres CJ, Hammond E, Uzuner O, Brown A, Nath A, et al. (2010): Imaging serotonergic transmission with [11C]DASB-PET in depressed and non-depressed patients infected with HIV. NeuroImage. 49:2588–2595.

17.

Aloysius I, Barber TJ (2018): Non-infective complications in HIV patients. Medicine.46:362–364.

18.

Rueda S, Mitra S, Chen S, Gogolishvili D, Globerman J, Chambers L, et al. (2016): Examining the associations between HIV-related stigma and health outcomes in people living with HIV/AIDS: a series of meta-analyses. BMJ open. 6:e011453.

19.

Leserman J (2008): Role of depression, stress, and trauma in HIV disease progression. Psychosom Med. 70:539–545.

20.

Rendina HJ, Weaver L, Millar BM, Lopez-Matos J, Parsons JT (2019): Psychosocial Well-Being and HIV-Related Immune Health Outcomes among HIV-Positive Older Adults: Support for a Biopsychosocial Model of HIV Stigma and Health. Journal of the International Association of Providers of AIDS Care. 18:2325958219888462.

21.

Kaestner F, Anneken K, Mostert C, Reichelt D, Rothermundt M, Evers S, et al. (2012): Depression associated with antiretroviral drug therapy in HIV: case report and overview. International journal of STD & AIDS. 23:e14–19.

22.

Mollan KR, Smurzynski M, Eron JJ, Daar ES, Campbell TB, Sax PE, et al. (2014): Association between efavirenz as initial therapy for HIV-1 infection and increased risk for suicidal ideation or attempted or completed suicide: an analysis of trial data. Ann Intern Med. 161:1–10.

23.

Rihs TA, Begley K, Smith DE, Sarangapany J, Callaghan A, Kelly M, et al. (2006): Efavirenz and chronic neuropsychiatric symptoms: a cross-sectional case control study. HIV medicine. 7:544–548.

24.

Asahi T, Tsutsui M, Wakasugi M, Tange D, Takahashi C, Tokui K, et al. (2009): Valacyclovir neurotoxicity: clinical experience and review of the literature. Eur J Neurol. 16:457–460.

25.

Reboli AC, Mandler HD (1992): Encephalopathy and psychoses associated with sulfadiazine in two patients with AIDS and CNS toxoplasmosis. Clinical infectious diseases: an ofcial publication of the Infectious Diseases Society of America. 15:556–557.

26.

Southworth MR, Dunlap SH (2000): Psychotic symptoms and confusion associated with intravenous ganciclovir in a heart transplant recipient. Pharmacotherapy. 20:479–483.

27.

Nedelcovych MT, Manning AA, Semenova S, Gamaldo C, Haughey NJ, Slusher BS (2017): The Psychiatric Impact of HIV. ACS chemical neuroscience. 8:1432–1434.
Additional information
This article is part of a supplement not sponsored by the industry.
About this article
Cite this article
Künzel, H. HIV und Psyche: Enge Verzahnung und diverse Wechselwirkungen. MMW - Fortschritte der Medizin 162, 34–37 (2020). https://doi.org/10.1007/s15006-020-0643-0
Keywords