Access options
Buy single article
Instant access to the full article PDF.
US$ 39.95
Tax calculation will be finalised during checkout.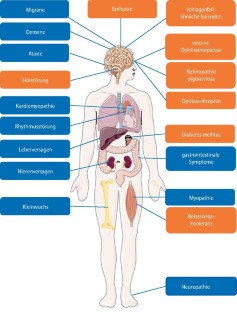 Literatur
1.

Gorman GS, Schaefer AM, Ng Y et al. Prevalence of nuclear and mitochondrial DNA mutations related to adult mitochondrial disease. Ann Neurol 2015; 77: 753-9

2.

Tan J, Wagner M, Stenton SL et al. Lifetime risk of autosomal recessive mitochondrial disorders calculated from genetic databases. EBioMedicine 2020; 54: 102730

3.

Munnich A, Rotig A, Chretien D et al. Clinical presentation of mitochondrial disorders in childhood. J Inherit Metab Dis 1996; 19: 521-7

4.

Altmann J, Buchner B, Nadaj-Pakleza A et al. Expanded phenotypic spectrum of the m.8344A>G "MERRF" mutation: data from the German mitoNET registry. J Neurol 2016; 263: 961-72

5.

Stendel C, Neuhofer C, Floride E et al. Delineating MT-ATP6-associated disease: From isolated neuropathy to early onset neurodegeneration. Neurol Genet 2020; 6: e393

6.

Yu Wai Man CY, Smith T, Chinnery PF et al. Assessment of visual function in chronic progressive external ophthalmoplegia. Eye (Lond) 2006; 20: 564-8

7.

Orsucci D, Angelini C, Bertini E et al. Revisiting mitochondrial ocular myopathies: a study from the Italian Network. J Neurol 2017; 264: 1777-84

8.

Ng YS, Bindoff LA, Gorman GS et al. Consensus-based statements for the management of mitochondrial stroke-like episodes. Wellcome Open Res 2019; 4: 201

9.

Nesbitt V, Pitceathly RD, Turnbull DM et al. The UK MRC Mitochondrial Disease Patient Cohort Study: clinical phenotypes associated with the m.3243A>G mutation--implications for diagnosis and management. J Neurol Neurosurg Psychiatry 2013; 84: 936-8

10.

Priglinger C, Klopstock T, Rudolph G et al. Leber΄sche hereditäre Optikusneuropathie [Leber's Hereditary Optic Neuropathy]. Klin Monbl Augenheilkd 2019; 236: 1271-82

11.

Klopstock T, Yu-Wai-Man P, Dimitriadis K et al. A randomized placebo-controlled trial of idebenone in Leber's hereditary optic neuropathy. Brain 2011; 134: 2677-86

12.

Catarino CB, von Livonius B, Priglinger C et al. Real-World Clinical Experience With Idebenone in the Treatment of Leber Hereditary Optic Neuropathy. J Neuroophthalmol 2020 Dec;40(4):558-565

13.

Yu-Wai-Man P, Newman NJ, Carelli V et al. Bilateral visual improvement with unilateral gene therapy injection for Leber hereditary optic neuropathy. Sci Transl Med 2020 Dec 9;12(573):eaaz7423

14.

Stenton SL, Prokisch H. Genetics of mitochondrial diseases: Identifying mutations to help diagnosis. EBioMedicine 2020; 56: 102784

15.

Schlieben LD, Prokisch H. The Dimensions of Primary Mitochondrial Disorders. Front Cell Dev Biol 2020; 8: 600079

16.

Prasun P. Multiple Acyl-CoA Dehydrogenase Deficiency. In: Adam MP, Ardinger HH, Pagon RA, Wallace SE, Bean LJH, Stephens K, Amemiya A, (Hrsg.). GeneReviews((R)). Seattle (WA), 1993

17.

Horvath R. Update on clinical aspects and treatment of selected vitamin-responsive disorders II (riboflavin and CoQ 10). J Inherit Metab Dis 2012; 35: 679-87

18.

Distelmaier F, Haack TB, Wortmann SB, Mayr JA, Prokisch H. Treatable mitochondrial diseases: cofactor metabolism and beyond. Brain 2017; 140: e11

19.

Almannai M, El-Hattab AW, Ali M, Soler-Alfonso C, Scaglia F. Clinical trials in mitochondrial disorders, an update. Mol Genet Metab 2020; 131: 1-13

20.

Russell OM, Gorman GS, Lightowlers RN et al. Mitochondrial Diseases: Hope for the Future. Cell 2020; 181: 168-88

21.

Viscomi C, Zeviani M. Strategies for fighting mitochondrial diseases. J Intern Med 2020; 287: 665-84
Ethics declarations
Der Autor erklärt, dass er sich bei der Erstellung des Beitrags von keinen wirtschaftlichen Interessen hat leiten lassen. T. Klopstock erhielt Studienunterstützung von Santhera Pharmaceuticals, GenSight Biologics, Stealth BioTherapeutics, Retrophin Inc. und ApoPharma Inc. Zudem erhielt er persönliche Honorare für Vorträge und Beratungen sowie Reisekostenerstattungen von Santhera Pharmaceuticals, Chiesi GmbH, Retrophin Inc. und ApoPharma Inc. Der Autor und das Deutsche Netzwerk für mitochondriale Erkrankungen (mitoNET) wird gefördert vom Bundesministerium für Bildung und Forschung (BMBF), Förderkennzeichen 01GM1906A.
Der Verlag erklärt, dass die inhaltliche Qualität des Beitrags von zwei unabhängigen Gutachtern geprüft wurde. Werbung in dieser Zeitschriftenausgabe hat keinen Bezug zur CME-Fortbildung. Der Verlag garantiert, dass die CME-Fortbildung sowie die CME-Fragen frei sind von werblichen Aussagen und keinerlei Produktempfehlungen enthalten. Dies gilt insbesondere für Präparate, die zur Therapie des dargestellten Krankheitsbildes geeignet sind.
About this article
Cite this article
Klopstock, T. Mitochondriale Erkrankungen: Was Sie für die Praxis wissen müssen. InFo Neurologie 23, 28–37 (2021). https://doi.org/10.1007/s15005-021-1821-z