Abstract
Oil spills have provoked negative environmental impacts for decades. To combat such accidental pollutions, the exploiting of the low-cost sorbents is of real interest. We report herein the valorization of coarse grade wool fibers (biomass waste) as sorbents for the uptake of oily products. Response surface methodology was employed for modeling and optimization of the oil-uptake process. The optimal conditions were found to be (1) the sorbent dosage of 2.80 g/dm2; (2) the initial thickness of the oil layer of 3.0 mm (on the water surface), and (3) the dripping time equal to 10 s. The established optimal conditions yielded the maximum oil removal efficiency of 98.28%. In addition, the microscopy investigations revealed that the oil can be retained by the wool fibers as (1) adhered films, (2) ellipsoidal droplets, and (3) oil-bridges filling the voids between fibers. Kinetic data of liquids retention and dripping were modeled using the unsteady-state retention theory. According to the model parameters, the maximum sorption capacities of wool fibers were found to be 6.65, 17.86, and 22.54 g/g for the uptake of dodecane, motor oil 5 W, and 15 W, respectively. The desorption isotherm of cyclohexane disclosed the predominant role of the capillary phenomena in the retention of liquids. Ultimately, the used sorbents were centrifuged in order to recovery the oily liquids in an advanced mode (98.33 ± 0.42%—recovery efficiency).
Graphic abstract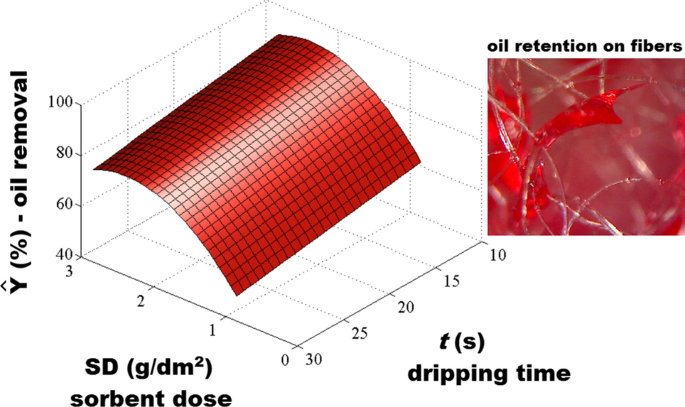 Access options
Buy single article
Instant access to the full article PDF.
US$ 39.95
Tax calculation will be finalised during checkout.
Subscribe to journal
Immediate online access to all issues from 2019. Subscription will auto renew annually.
US$ 79
Tax calculation will be finalised during checkout.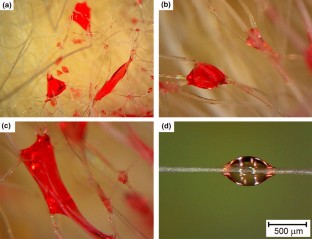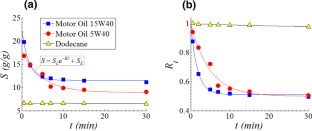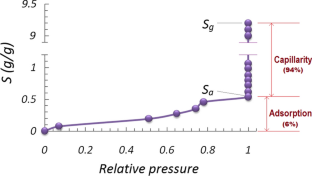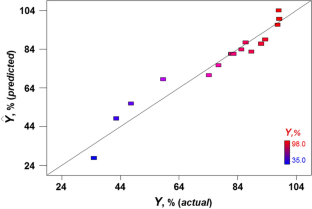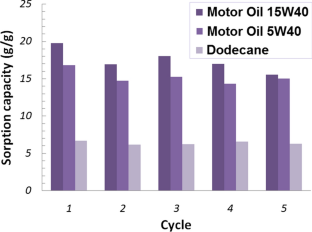 References
Abdullah MA, Rahmah AU, Man Z (2010) Physicochemical and sorption characteristics of Malaysian Ceiba pentandra (L.) Gaertn. as a natural oil sorbent. J Hazard Mater 177:683–691. https://doi.org/10.1016/j.jhazmat.2009.12.085

AlAmeri K, Giwa A, Yousef L et al (2019) Sorption and removal of crude oil spills from seawater using peat-derived biochar: An optimization study. J Environ Manage 250:109465. https://doi.org/10.1016/j.jenvman.2019.109465

Annunciado TR, Sydenstricker THD, Amico SC (2005) Experimental investigation of various vegetable fibers as sorbent materials for oil spills. Mar Pollut Bull 50:1340–1346. https://doi.org/10.1016/j.marpolbul.2005.04.043

Bandura L, Franus M, Józefaciuk G, Franus W (2015) Synthetic zeolites from fly ash as effective mineral sorbents for land-based petroleum spills cleanup. Fuel 147:100–107. https://doi.org/10.1016/j.fuel.2015.01.067

Bazargan A, Sadeghi H, Garcia-Mayoral R, McKay G (2015a) An unsteady state retention model for fluid desorption from sorbents. J Colloid Interface Sci 450:127–134. https://doi.org/10.1016/j.jcis.2015.02.036

Bazargan A, Tan J, McKay G (2015b) Standardization of oil sorbent performance testing. J Test Eval 43:1271–1278. https://doi.org/10.1520/JTE20140227

Bezerra MA, Santelli RE, Oliveira EP et al (2008) Response surface methodology (RSM) as a tool for optimization in analytical chemistry. Talanta 76:965–977. https://doi.org/10.1016/j.talanta.2008.05.019

Ciufu AG, Al Janabi AAA, Parvulescu OC et al (2018) Romanian merino wool sorbent for oil spill cleanup. Rev Chim; 69:2585–2587. https://doi.org/10.37358/rc.18.9.6580

Cojocaru C, Macoveanu M, Cretescu I (2011) Peat-based sorbents for the removal of oil spills from water surface: application of artificial neural network modeling. Colloids Surfaces A Physicochem Eng Asp 384:675–684. https://doi.org/10.1016/j.colsurfa.2011.05.036

Cojocaru C, Dorneanu PP, Airinei A et al (2017a) Design and evaluation of electrospun polysulfone fibers and polysulfone/NiFe2O4 nanostructured composite as sorbents for oil spill cleanup. J Taiwan Inst Chem Eng 70:267–281. https://doi.org/10.1016/j.jtice.2016.11.005

Cojocaru C, Pricop L, Samoila P et al (2017b) Surface hydrophobization of polyester fibers with poly(methylhydro-dimethyl)siloxane copolymers: experimental design for testing of modified nonwoven materials as oil spill sorbents. Polym Test 59:377–389. https://doi.org/10.1016/j.polymertesting.2017.02.024

Davoodi SM, Taheran M, Brar SK et al (2019) Hydrophobic dolomite sorbent for oil spill clean-ups: kinetic modeling and isotherm study. Fuel 251:57–72. https://doi.org/10.1016/j.fuel.2019.04.033

Dickman BH, Gilman MJ (1989) Monte Carlo Optimization. J Optim Theory Appl 60:149–157. https://doi.org/10.1007/BF00938806

Dong T, Xu G, Wang F (2015) Oil spill cleanup by structured natural sorbents made from cattail fibers. Ind Crops Prod 76:25–33. https://doi.org/10.1016/j.indcrop.2015.06.034

Dorneanu PP, Cojocaru C, Olaru N et al (2017) Electrospun PVDF fibers and a novel PVDF/CoFe 2 O 4 fibrous composite as nanostructured sorbent materials for oil spill cleanup. Appl Surf Sci 424:389–396. https://doi.org/10.1016/j.apsusc.2017.01.177

Guselnikova O, Barras A, Addad A et al (2020) Magnetic polyurethane sponge for efficient oil adsorption and separation of oil from oil-in-water emulsions. Sep Purif Technol 240:116627. https://doi.org/10.1016/j.seppur.2020.116627

Ibrahim S, Wang S, Ang HM (2010) Removal of emulsified oil from oily wastewater using agricultural waste barley straw. Biochem Eng J 49:78–83. https://doi.org/10.1016/j.bej.2009.11.013

Ifelebuegu AO, Anh Nguyen TV, Ukotije-Ikwut P, Momoh Z (2015) Liquid-phase sorption characteristics of human hair as a natural oil spill sorbent. J Environ Chem Eng 3:938–943. https://doi.org/10.1016/j.jece.2015.02.015

Karakasi OK, Moutsatsou A (2010) Surface modification of high calcium fly ash for its application in oil spill clean up. Fuel 89:3966–3970. https://doi.org/10.1016/j.fuel.2010.06.029

Husseien M, Amer AA, El-Maghraby A, Taha NA (2009) Availability of barley straw application on oil spill clean up availability of barley straw application on oil spill clean up. Int J Environ Sci Technol 6:123–130. https://doi.org/10.1007/BF03326066

Mäkelä M (2017) Experimental design and response surface methodology in energy applications: a tutorial review. Energy Convers Manag 151:630–640. https://doi.org/10.1016/j.enconman.2017.09.021

March JG, Gual M, Ramonell J (2005) A kinetic model for chlorine consumption in grey water. Desalination 181:267–273. https://doi.org/10.1016/j.desal.2005.04.007

Moriwaki H, Kitajima S, Kurashima M et al (2009) Utilization of silkworm cocoon waste as a sorbent for the removal of oil from water. J Hazard Mater 165:266–270. https://doi.org/10.1016/j.jhazmat.2008.09.116

Ngaini Z, Noh F, Wahi R (2018) Facile sorbent from esterified cellulosic sago waste for engine oil removal in marine environment. Int J Environ Sci Technol 15:341–348. https://doi.org/10.1007/s13762-017-1389-9

Oribayo O, Feng X, Rempel GL, Pan Q (2017) Modification of formaldehyde-melamine-sodium bisulfite copolymer foam and its application as effective sorbents for clean up of oil spills. Chem Eng Sci 160:384–395. https://doi.org/10.1016/j.ces.2016.11.035

Periolatto M, Gozzelino G (2015) Greasy raw wool for clean-up process of marine oil spill: From laboratory test to scaled prototype. Chem Eng Trans 43:2269–2274. https://doi.org/10.3303/CET1543379

Radetic M, Ilic V, Radojevic D et al (2008) Efficiency of recycled wool-based nonwoven material for the removal of oils from water. Chemosphere 70:525–530. https://doi.org/10.1016/j.chemosphere.2007.07.005

Radetić MM, Jocić DM, Jovančić PM et al (2003) Recycled wool-based nonwoven material as an oil sorbent. Environ Sci Technol 37:1008–1012. https://doi.org/10.1021/es0201303

Rajabinejad H, Buciscanu I-I, Maier SS (2019) Current approaches for raw wool waste management and unconventional valorization: a review . Environ Eng Manag Journal; Vol 18, No 7

Rao SS (2009) Engineering optimization theory and practice, 4th edn. John Wiley and Sons, New Jersey

Rotaru A, Cojocaru C, Cretescu I et al (2014) Performances of clay aerogel polymer composites for oil spill sorption: experimental design and modeling. Sep Purif Technol 133:260–275. https://doi.org/10.1016/j.seppur.2014.06.059

Said AEAA, Ludwick AG, Aglan HA (2009) Usefulness of raw bagasse for oil absorption: a comparison of raw and acylated bagasse and their components. Bioresour Technol 100:2219–2222. https://doi.org/10.1016/j.biortech.2008.09.060

Saleem J, Adil Riaz M, Gordon M (2018) Oil sorbents from plastic wastes and polymers: A review. J Hazard Mater 341:424–437. https://doi.org/10.1016/j.jhazmat.2017.07.072

Salisu ZM, Ishiaku SU, Abdullahi D et al (2019) Development of kenaf shive bio–mop via surface deposit technique for water remediation from crude oil spill contamination. Results Eng 3:100020. https://doi.org/10.1016/j.rineng.2019.100020

Song B, Zhu J, Fan H (2017) Magnetic fibrous sorbent for remote and efficient oil adsorption. Mar Pollut Bull 120:159–164. https://doi.org/10.1016/j.marpolbul.2017.05.011

Tesfaye T, Sithole B, Ramjugernath D (2018) Valorisation of waste chicken feathers: green oil sorbent. Int J Chem Sci; 16:1–13. https://doi.org/10.21767/0972-768x.1000282

Wang J, Zheng Y, Wang A (2013) Coated kapok fiber for removal of spilled oil. Mar Pollut Bull 69:91–96. https://doi.org/10.1016/j.marpolbul.2013.01.007

Wei QF, Mather RR, Fotheringham AF, Yang RD (2003) Evaluation of nonwoven polypropylene oil sorbents in marine oil-spill recovery. Mar Pollut Bull 46:780–783. https://doi.org/10.1016/S0025-326X(03)00042-0
Acknowledgment
The authors MI, PS and CC acknowledge for the support by a grant of Romanian Ministry of Research and Innovation, CNCS—UEFISCDI, project number PN-III-P1-1.1-TE-2016-0805, within PNCDI III.
Ethics declarations
Conflict of interest
The authors declare that they have no known competing financial interests or personal relationships that could have appeared to influence the work reported in this paper.
Additional information
Editorial responsibility: Samareh Mirkia.
Supplementary Information
Below is the link to the electronic supplementary material.
About this article
Cite this article
Condurache, BC., Cojocaru, C., Samoila, P. et al. Data-driven modeling and optimization of oil spill sorption by wool fibers: retention kinetics and recovery by centrifugation. Int. J. Environ. Sci. Technol. (2021). https://doi.org/10.1007/s13762-021-03176-7
Received:

Revised:

Accepted:

Published:
Keywords
Design of experiments

Oil spill sorbents

Response surface methodology

Single-objective optimization

Unsteady-state kinetics