Abstract
The study at hand presents for the first time the use of pyrophyllite as adsorbent for nitrate removal from soil and artificial fertilizers. A series of column and batch adsorption experiments were conducted to examine the effects of the adsorbent's various parameters, the contact time, pH of the solution, the initial concentration of nitrate, concentration and adsorbent granulometry. Pyrophyllite fractions of 0.25, 0.50 and 1.00 mm had very similar pH values of aqueous suspensions and were in the weakly basic range. Nitrate adsorption capacity on pyrophyllite expressed by recovery factor values ranges from 93.14 to 99.77%. High recovery factor values from 90.44 to 97.45% for 1, 3, 5 and 8 mL min−1 flow rates were obtained using all pyrophyllite fractions. Nitrate removal was very effective by the contact time of 1 and 2 h, and the recovery factor values were in the range of 90.38–91.47% and 92.15–93.18% for a contact time of 1 h and 2 h, respectively. In addition, elution of nitrate from pyrophyllite was performed using the following solution with different pH values: 1.70 (synthetic gastric juice), 6.40 (rainwater), 7.70 (distilled water), 9.30 and 12.50 (NaOH solution). Elution was very low for all used solutions and was the highest at the pH 9.30. The results show that the use of pyrophyllite for removal of nitrate from artificial fertilizers and soil was an adequate approach because it has a high nitrate adsorption capacity, while the nitrate elution from the pyrophyllite was very low.
Access options
Buy single article
Instant access to the full article PDF.
US$ 39.95
Tax calculation will be finalised during checkout.
Subscribe to journal
Immediate online access to all issues from 2019. Subscription will auto renew annually.
US$ 79
Tax calculation will be finalised during checkout.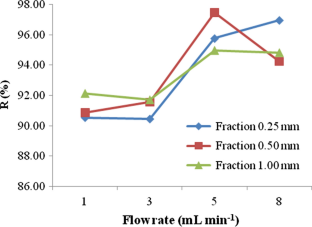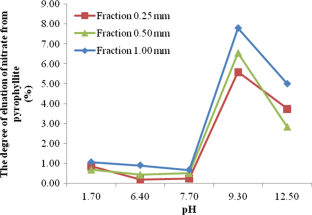 References
Afkhami A, Madrakian T, Karimi Z (2007) The effect of acid treatment of carbon cloth on the adsorption of nitrite and nitrate ions. J Hazard Mater 144(1,2):427–431. https://doi.org/10.1016/j.jhazmat.2006.10.062

Angelini MM, Garrard RJ, Rosen SJ, Hinrichs RZ (2007) Heterogeneous reactions of gaseous HNO3 and NO2 on the clay minerals kaolinite and pyrophyllite. J Phys Chem A 111:3326–3335. https://doi.org/10.1021/jp0672656

Arora M, Eddy KN, Mumford AK, Baba Y, Perera MJ, Stevens WG (2010) Surface modification of natural zeolite by chitosan and its use for nitrate removal in cold regions. Cold Reg Sci Technol 62(2,3):92–97. https://doi.org/10.1016/j.coldregions.2010.03.002

Battas A, Gaidoumi AE, Ksakas A, Kherbeche A (2019) Adsorption study for the removal of nitrate from water using local clay. Sci World J 2019:1–10. https://doi.org/10.1155/2019/9529618

Bhatnagar A, Sillanpää M (2011) A review of emerging adsorbents for nitrate removal from water. Chem Eng J 168(2):493–504. https://doi.org/10.1016/j.cej.2011.01.103

Das B, Mohanty JK (2009) Mineralogical characterization and benefication studies of pyrophyllite from Orissa, India. J Miner Mater Char Eng 8(4):329–338

Dehghani M, Haidari E, Shahsavani S, Shamsedini N (2015) Removal of nitrate in the aqueous phase using granular ferric hydroxide. Jundishapur J Health Sci 7(2):e26419. https://doi.org/10.5812/jjhs.7(2)2015.26419

Dinnes DL, Karlen DL, Jaynes DB, Kaspar TC, Hatfield JL, Colvin TS, Cambardella CA (2002) Nitrogen management strategies to reduce nitrate leaching in tile-drained midwestern soils. Agron J 94:153–171. https://doi.org/10.2134/agronj2002.1530

El Ouardi M, Qourzal S, Alahiane S, Assabbane A, Douch J (2015) Effective removal of nitrates ions from aqueous solution using new clay as potential low-cost adsorbent. J Encap Adsorpt Sci 5(4):178–190. https://doi.org/10.4236/jeas.2015.54015

Fan J, Hao M, Malh SS (2010) Accumulation of nitrate-N in the soil profile and it simplications for the environment under dry land agriculture in northern China: a review. Can J Soil Sci 90:429–440. https://doi.org/10.4141/CJSS09105

Giles M, Morley N, Baggs EM, Daniell TJ (2012) Soil nitrate reducing processes—drivers, mechanisms for spatial variation, and significance for nitrous oxide production. Front Microbiol 3:1–16. https://doi.org/10.3389/fmicb.2012.00407

Gruber N, Galloway J (2008) An Earth-system perspective of the global nitrogen cycle. Nature 451:293–296. https://doi.org/10.1038/nature06592

Gulnaz O, Kaya A, Matyar F, Arikan B (2004) Sorption of basic dyes from aqueous solution by activated sludge. J Hazard Mater 108(3):183–188. https://doi.org/10.1016/j.jhazmat.2004.02.012

ISO (International Organization for Standardization) 7890-3:1988, Water quality, determination of nitrate, Part 3: Spectrometric method using sulfosalicylic acid, Geneva, Switzerland

Keren R, Grossl PR, Sparks DL (1994) Equilibrium and kinetics of borate adsorption-desorption on pyrophyllite in aqueous suspensions. Soil Sci Soc Am J 58:1116–1122. https://doi.org/10.2136/sssaj1994.03615995005800040016x

Lin YF, Jing SR, Lee DY, Chang YF, Shih KC (2007) Nitrate removal and denitrification affected by soil characteristics in nitrate treatment wet lands. J Environ Sci Health A 42:471–479. https://doi.org/10.1080/10934520601187690

Liu X, Bai M (2017) Effect of chemical composition on the surface charge property and flotation behavior of pyrophyllite particles. Adv Powder Technol 28(3):836–841. https://doi.org/10.1016/j.apt.2016.12.009

Liu X, Wu Y, Sun R, Hu S, Qiao Z, Wang S, Mi X (2020) NH4+-N/NO3–N ratio controlling nitrogen transformation accompanied with NO2–N accumulation in the oxic-anoxic transition zone. Environ Res 189:109962. https://doi.org/10.1016/j.envres.2020.109962

Mansouri A, Lurie AA (1993) Concise review: methemoglobinemia. Am J Hematol 42:7–12. https://doi.org/10.1002/ajh.2830420104

Nabizadeh R, Jahangiri-rad M, Rafiee M (2014) Counterion effects on nitrate adsorption from aqueous solution onto functionalized polyacrylonitrile coated with iron oxide nanoparticles. Res J Environ Sci 8:287–293. https://doi.org/10.3923/rjes.2014.287.293

Novikova L, Belchinskaya L (2016) Adsorption of industrial pollutants by natural and modified aluminosilicates. In: Do Nascimento GM (ed) Clays, clay minerals and ceramic materials based on clay minerals. IntechOpen. https://doi.org/https://doi.org/10.5772/61678

Olgun A, Atar N, Wang S (2013) Batch and column studies of phosphate and nitrate adsorption on waste solids containing boron impurity. Chem Eng J 222:108–119. https://doi.org/10.1016/j.cej.2013.02.029

Öztürk N, Bektaş TE (2004) Nitrate removal from aqueous solution by adsorption onto various materials. J Hazard Mater 112(1–2):155–162. https://doi.org/10.1016/j.jhazmat.2004.05.001

Parmelee CW, Barrett LR (2006) Some pyrochemical properties of pyrophyllite. J Am Ceram Soc 21(11):388–393. https://doi.org/10.1111/j.1151-2916.1938.tb15739.x

Qiao Z, Wu Y, Qian J, Hu S, Chan J, Liu X, Sun R, Wang W, Zhou B (2020) A lab-scale study on heterotrophic nitrification-aerobic denitrification for nitrogen control in aquatic ecosystem. Environ Sci Pollut Res 27:9307–9317. https://doi.org/10.1007/s11356-019-07551-3

Riley WJ, Ortiz-Monasterio I, Matson PA (2001) Nitrogen leaching and soil nitrate, nitrite, and ammonium levels under irrigated wheat in Northern Mexico. Nutr Cycl Agroecosys 61:223–236. https://doi.org/10.1023/A:1013758116346

Šabanović E, Memić M, Sulejmanović J, Huremović J (2016) Sorption of Metals on Pulverized Pumpkin (Cucurbita pepo L.) Peels. Anal Lett 49(15):2446–2460. https://doi.org/10.1080/00032719.2016.1152580

Saxena S, Prasad M, Amritphale SS, Chandra N (2001) Adsorption of cyanide from aqueous solutions at pyrophyllite surface. Sep Purif Technol 24(1,2):263–270. https://doi.org/10.1016/S1383-5866(01)00131-9

Soaresa M, Vale M, Vasconcelos V (2011) Effects of nitrate reduction on the eutrophication of an urban man-made lake (Palácio De Cristal, Porto, Portugal). Environ Technol 32(9–10):1009–1015. https://doi.org/10.1080/09593330.2010.523437

Strebel O, Duynisveld WHM, Bottcher J (1989) Nitrate pollution of groundwater in western Europe. Agric Ecosyst Environ 26:189–214. https://doi.org/10.1016/0167-8809(89)90013-3

Thomson TS (2001) Nitrate concentration in private rural drinking water supplies in Saskatchewan. Canada. Bull Environ Contam Toxicol 66:6470. https://doi.org/10.1007/s0012800206

Uygun A, Solakoġlu E (2002) Geology and origin of the pyrophyllite—deposits in Thepϋtϋtge massif (Malatya—Eastern Turkey). Miner Res Expl Bul 123–124:13–19

Vatrenjak-Velagić V (1997) Analitička kontrola kvalita. Studentska štamparija Univerziteta u Sarajevu, Sarajevo

Žero S, Huremović J, Memić M, Muhić-Šarac T (2017) Determination of total and bioaccessible metals in airborne particulate matter from an urban and a rural area at Sarajevo. Toxicol Environ Chem 99(4):641–651. https://doi.org/10.1080/02772248.2016.1207173

Zhang S-Y, Zhang H-F (2020) Genesis of the Baiyun pyrophyllite deposit in the central Taihang Mountain, China: Implications for gold mineralization in wall rocks. Ore Geol Rev 120:103313. https://doi.org/10.1016/j.oregeorev.2020.103313

Zhang J, Lü F, Shao L, He P (2014) The use of biochar-amended composting to improve the humification and degradation of sewage sludge. Bioresour Technol 168:252–258. https://doi.org/10.1016/j.biortech.2014.02.080

Zhang J, Zhou Y, Jiang M, Li J, Sheng J (2015) Removal of methylene blue from aqueous solution by adsorption on pyrophyllite. J Mol Liq 209:267–271. https://doi.org/10.1016/j.molliq.2015.05.056

Zhang Y, Sui B, Shen H, Wang Z (2018) Estimating temporal changes in soil pH in the black soil region of Northeast China using remote sensing. Comput Electron Agric 154:204–212. https://doi.org/10.1016/j.compag.2018.09.005
Acknowledgements
Authors are very grateful for the pyrophyllite provided by Parsovići pyrophyllite deposit near Konjic, Bosnia and Herzegovina, as well as AD Harbi d.o.o. Sarajevo, Bosnia and Herzegovina.
Ethics declarations
Conflict of interest
On behalf of all authors, the corresponding author states that there is no conflict of interest.
Ethical approval
This article does not contain any studies with human participants or animals performed by any of the authors.
Additional information
Editorial responsibility: Samareh Mirkia.
About this article
Cite this article
Hasanbegović, E., Huremović, J. & Žero, S. Adsorption capacity of nitrate from artificial fertilizers and soil on pyrophyllite. Int. J. Environ. Sci. Technol. (2021). https://doi.org/10.1007/s13762-021-03135-2
Received:

Revised:

Accepted:

Published:
Keywords
Adsorption

Artificial fertilizers

Nitrate

Pyrophyllite

Soil