Abstract
Formaldehyde is one of the hazardous indoor air pollutants which have harmful effects on humans, domestic animals, and environmental health. The goal of this study was to synthesize a Pt/Al2O3 coated on granular activated carbon (GAC), which is easily recoverable and can be used as an absorbent for formaldehyde removal from polluted indoor air. Moreover, the Pt/Al2O3 catalyst could achieve complete and stable HCHO oxidation at ambient temperature. The characteristic properties of the Pt/Al2O3/GAC sample were analyzed using scanning electron microscopy, energy-dispersive spectrometer, Fourier-transform infrared spectroscopy, and Brunauer–Emmett–Teller techniques. The Pt/Al2O3/GAC catalyst was investigated to determine the catalytic performance with regard to formaldehyde (HCHO) oxidation under different face velocity and initial formaldehyde concentration applicable to a building environment. It was revealed that the removal capacity of Pt/Al2O3 catalyst reached a maximum of 2.23 mg g−1 during 0.1 m s−1 face velocity and 0.75 ppm HCHO inlet concentration. Among zero-, first- and second-order reaction kinetic model, the correlation coefficient of the first-order reaction kinetic model (0.7948 < R2 < 0.9249) and second-order reaction kinetic model (0.6056 < R2 < 0.8146) is lower than zero-order reaction kinetic model (0.9352 < R2 < 0.9921) of Pt/Al2O3 catalyst. The oxidation kinetic of HCHO was well fitted with the zero-order reaction for Pt/Al2O3 catalyst. This study provides some instructions for the design and manufacture of environmentally harmless and cost-effective catalysts with excellent catalytic oxidation properties to remove HCHO at room temperature.
Access options
Buy single article
Instant access to the full article PDF.
US$ 39.95
Tax calculation will be finalised during checkout.
Subscribe to journal
Immediate online access to all issues from 2019. Subscription will auto renew annually.
US$ 79
Tax calculation will be finalised during checkout.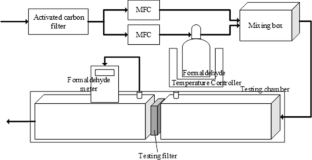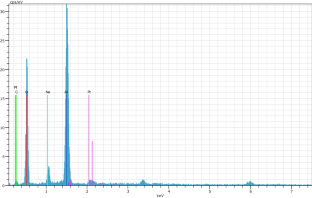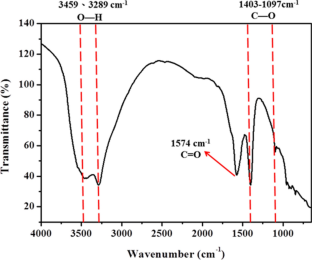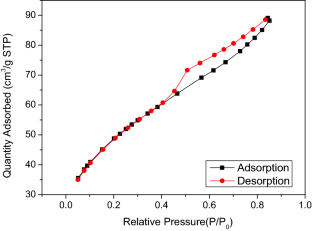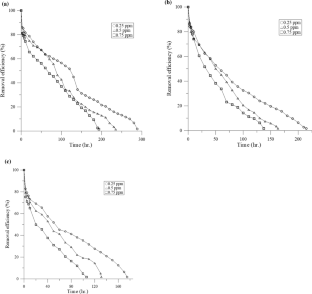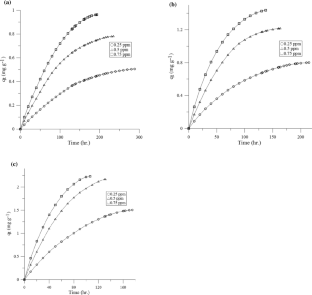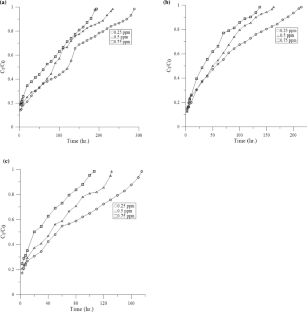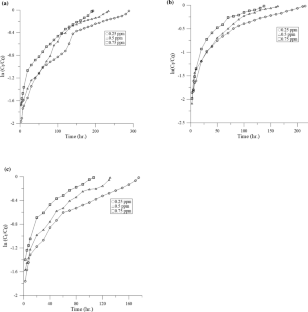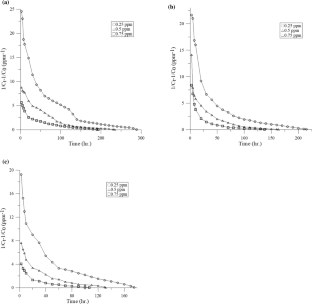 References
An NH, Zhang WL, Yuan XL, Pan B, Liu G, Jia MJ, Yan WF, Zhang WX (2013) Catalytic oxidation of formaldehyde over different silica supported platinum catalysts. Chem Eng J 215–216:1–6

Bai Q, Li D, He L, Xiao HL, Sui N, Liu MH (2015) Solvent-free selective hydrogenation of o-chloronitrobenzene to o-chloroaniline over alumina supported Pt nanoparticles. Prog Nat Sci Mater Int 25:179–184

Chen X, Xu L, Liu LL, Zhao LS, Chen CP, Zhang Y, Wang XC (2017) Adsorption of formaldehyde molecule on the pristine and transition metal doped graphene: first principles study. Appl Surf Sci 396:1020–1025

Danilevich EV, Ya G, Popova IA, Zolotarskii IA, Ermakova A, Andrushkevich TV (2010) Kinetics of formaldehyde oxidation on a vanadia-titania catalyst. Catal Ind 2(4):320–328

Hu SC, Chen YC, Lin XZ, Shiue A, Huang PH, Chen YC, Chang SM, Tseng CH, Zhou B (2018) Characterization and adsorption capacity of potassium permanganate used to modify activated carbon filter media for indoor formaldehyde removal. DOI, Environ Sci Pollut Res. https://doi.org/10.1007/s11356-018-2681-z

Huang HB, Leung DYC (2011) Complete oxidation of formaldehyde at room temperature using TiO2 supported metallic Pd nanoparticles. ACS Catal 1:348–354

Huang HB, Leung DYC, DYC, (2011) Complete elimination of indoor formaldehyde over supported Pt catalysts with extremely low Pt content at ambient temperature. J Catal 280:60–67

IARC (2014) Agents classified by the IARC monographs, vol 1–109. The International Agency for Research on Cancer, World Health Organization, Lyon. http://monographs.iarc.fr/ENG/Classification/ClassificationsGroupOrder.pdf.

Jin WT, Chen GD, Duan XY, Yin Y, Ye HG, Wang D, Yu JY, Mei XS, Wu YL (2017) Adsorption behavior of formaldehyde on ZnO (10(1)over-bar0) surface: a first principles study. Appl Surf Sci 423:451–456

Li JW, Pan KL, Yu SJ, Yan SY, Chang MB (2014) Removal of formaldehyde over MnxCe1−xO2 catalysts: Thermal catalytic oxidation versus ozone catalytic oxidation. J Environ Sci 26:2546–2553

Li J, Zhao WH, Wang J, Song SX, Wu XY, Zhang GK (2018) Noble metal-free modified ultrathin carbon nitride with promoted molecular oxygen activation for photocatalytic formaldehyde oxidization and DFT study. Appl Surf Sci 458:59–69

Lu L, Tian H, He J, Yang Q (2016) Graphene–MnO2 hybrid nanostructure as a new catalyst for formaldehyde oxidation. J Phys Chem C 120:23660–23668

Ma LY, Liu CX, Guan QX, Li W (2019) Relationship between Pt particle size and catalyst activity for catalytic oxidation of ultrahigh-concentration formaldehyde. Appl Organ Chem 33:e5217

Miao H, He J, Liu T, Cao Y (2018) A comparison of the catalytic oxidation of formaldehyde over three types of catalysts at ambient temperature: the effects of superficial velocity. Appl Ecol Environ Res 16(4):5059–5069

Nie LH, Meng AY, Yu JG, Jaroniec MT (2013) Hierarchically macro- mesoporous Pt/γ-Al2O3 composite microspheres for efficient formaldehyde oxidation at room temperature. Sci Rep 3:3215

Nie LH, Yu JG, Jaroniec MT, Tao FLF (2016) Room-temperature catalytic oxidation of formaldehyde on catalysts. Catal Sci Technol 6:3649–3669

Park SJ, Bae IW, Nam IS, Cho BK, Jung SM, Lee JH (2012) Oxidation of formaldehyde over Pd/Beta catalyst. Chem Eng J 195–196:392–402

Pei J, Zhang JS (2011) Critical review of catalytic oxidization and chemisorption methods for indoor formaldehyde removal. Hvac&R Res 17(4):476–503

Qin DC, Guo B, Zhou J, Cheng HM, Chen XK (2020) Indoor air formaldehyde (HCHO) pollution of urban coach cabins. Sci Rep 10:332

Rong SP, Zhang PY, Wang JL, Liu F, Yang YJ, Yang GL, S. Liu S, (2016) Ultrathin manganese dioxide nanosheets for formaldehyde removal and regeneration performance. Chem Eng J 306:1172–1179

Shi JL, Chen Y, Liu TC, Liang HB (2020) Preparation of mesoporous γ-Al2O3 catalysts by dual template method. J Dispers Sci Technol 41(10):1471–1479

Shie JL, Lee CH, Chiou CS, Chang CT, Chang CC, Chang CY (2008) Photodegradation kinetics of formaldehyde using light sources of UVA, UVC and UVLED in the presence of composed silver titanium oxide photocatalyst. J Hazardous Mater 155(1–2):164–172

Shiue A, Kang YH, Hu SC et al (2010) Vapor adsorption characteristics of toluene in an activated carbon adsorbent-loaded non-woven fabric media for chemical filters applied to cleanrooms. Build Environ 45:2123–2131

Shiue A, Hu SC, Tseng CH, Chuang CM, Leggett G (2018) Assessment of adsorptive filter for removal of formaldehyde from indoor air. Aerosol Air Quality Res 18:3147–3164

Thommes M, Kaneko K, Neimark AV, Olivier JP, Rodriguez-Reinoso F, Rouquerol J, Sing KSW (2015) Physisorption of gases, with Special Reference to the evaluation of surface area and pore size distribution (IUPAC Technical Report). Pure Appl Chem 87(9–10):1051–1069

Wan YJ, Fan X, Zhu TL (2011) Removal of low-concentration formaldehyde in air by DC corona discharge plasma. Chem Eng J 171:314–319

Wang JL, Li J, Zhang PY, G.K. Zhang GK, (2018a) Understanding the "seesaw effect" of interlayered K+ with different structure in manganese oxides for the enhanced formaldehyde oxidation. Appl Catal B Environ 224:863–870

Wang QY, Zhang CL, Shi L, Zeng GF, Zhang H, Li SG, Wu P, Zhang YL, Fan YQ, Liu GJ, Jiang Z, Liu Z, Sun YH (2018b) Ultralow Pt catalyst for formaldehyde removal: the determinant role of support. iScience 9: 487–501.

Wei RC, Chen HL, Zhang XM, Suo JH (2013) Removal of high concentrations of formaldehyde in industrial exhaust by catalytic oxidation. Chin J Catal 34:1945–1950

Xu B, Shang J, Zhu T, Tang X (2011) Heterogeneous reaction of formaldehyde on the surface of γ-Al2O3 particles. Atmosph Environ 45:3569–3575

Yan Z, Xu Z, Yu J, Jaroniec M (2015) Highly active mesoporous ferrihydrite supported Pt catalyst for formaldehyde removal at room temperature. Environ Sci Technol 49(11):6637–6644

Yu J, Li XY, Xu ZH, Xiao W (2013a) NaOH-Modified ceramic honeycomb with enhanced formaldehyde adsorption and removal performance. Environ Sci Technol 47(17):9928–9933

Yu J, Wang S, Low J, Xiao W (2013b) Enhanced photocatalytic performance of direct Z-scheme γ-C3N4–TiO2 photocatalysts for the decomposition of formaldehyde in air. Phys Chem Chem Phys 15:16883–16890

Zhang YP, Mo JH, Li YG, Sundell J, Wargocki P, Zhang JS, Little JC, Corsi R, Deng QH, MHKLeung, Fang L, Chen WH, JinguangLi JG, Sunj YX, (2011) Can commonly-used fan-driven air cleaning technologies improve indoor air quality? A literature review Atmosph Environ 45(26):4329–4343

Zhang C, Liu F, Zhai Y, Ariga H, Yi N, Liu Y, Asakura K, Flytzani-Stephanopoulos M, He H (2012) Alkali-metal-promoted Pt/TiO2 opens a more efficient pathway to formaldehyde oxidation at ambient temperatures. Angewandte Chem Int Edition 51:9628–9632

Zhang CB, Li YB, Wang YF, He H (2014) Sodium-promoted Pd/TiO2 for catalytic oxidation of formaldehyde at ambient temperature. Environ Sci Technol 48:5816–5822

Zhang GX, Sun ZM, Duan YW, Ma RX, S.L. Zheng SL, (2017) Synthesis of nano-TiO2/diatomite composite and its photocatalytic degradation of gaseous formaldehyde. Appl Surf Sci 412:105–112

Zhou J, Qin LF, Xiao W, Zeng C, Li N, Lv T, Zhu H (2017) Oriented growth of layered-MnO2 nanosheets over α-MnO2 nanotubes for enhanced room-temperature HCHO oxidation. Appl Catal B Environ 207:233–243

Zhou J, Qin LF, Xiao W, Zeng C, Li N, Lv T, Zhu H (2017) Oriented growth of layered-MnO2 nanosheets over α-MnO2 nanotubes for enhanced room-temperature HCHO Oxidation. Appl Catal Environ 207:233–243

Zhu XB, Xiang Gao X, Qin R, Zeng YX, Qu RY, Zheng CH, Tu X (2015) Plasma-catalytic removal of formaldehyde over Cu–Ce catalysts in a dielectric barrier discharge reactor. Appl Catal B Environ 170:292–300

Zhu X, Cheng B, Yu J, Ho W (2016) Halogen poisoning effect of Pt-TiO2 for formaldehyde catalytic oxidation performance at room temperature. Appl Surf Sci 364:808–814

Zhu XF, Yu JG, Jiang CJ, Cheng B (2017) Catalytic decomposition and mechanism of formaldehyde over Pt-Al2O3 molecular sieves at room temperature. Phys Chem Chem Phys 19:6957–6963

Zhu XF, Yu JG, Jiang CJ, Cheng B (2017) Enhanced room-temperature HCHO decomposition activity of highly-dispersed Pt/Al2O3 hierarchical microspheres with exposed 110 facets. J Ind Eng Chem 45:197–205
Acknowledgements
The authors would like to acknowledge the supports from the Ministry of Science and Technology with contract number 107-3011-F-027-001, National Taipei University of Technology with contract number NTUT-USTB-108-07, and University of Science and Technology Beijing with contract number USTB-NTUT Joint Research Program No. TW2019004.
Ethics declarations
Conflict of interest
The authors declare that they have no conflict of interest.
Additional information
Editorial responsibility: Fatih ŞEN.
About this article
Cite this article
Tseng, CH., Chang, SM., Hu, SC. et al. Platinum-supported aluminum oxide on activated carbon filter media for removal of formaldehyde in the indoor condition. Int. J. Environ. Sci. Technol. (2021). https://doi.org/10.1007/s13762-021-03130-7
Received:

Revised:

Accepted:

Published:
Keywords
Pt/al2O3 catalyst

Reaction kinetic model

Formaldehyde

Air cleaner