Abstract
The construction industry and the implementation of civil projects are considered to be one of the causes of environmental pollution. Given the impacts and pollution created by the implementation of projects, it is necessary to identify the environmental impacts in order to reduce their effects. The purpose of this paper is to present a discrete time–cost–quality–environmental impacts trade-off problem for the construction industry with multiple execution modes for project activities in order to reduce the environmental impacts of the project implementation. A multi-objective planning model was developed in this problem to address the four objectives of minimizing time, cost, and environmental impacts and maximizing quality of the project implementation. Then, the problem was modeled as a single-objective programming model by converting the objective function to a constraint. The Leopold matrix method was used to evaluate environmental impacts. Finally, part of a rural water supply project was used as a practical example to demonstrate the applicability and efficiency of the model. The results of this study showed that the proposed method to optimize the aforementioned objectives is highly efficient, and planning and decision making in the early stages of a project to choose the method of doing the project activities will result in reducing costs, time, environmental impacts, and enhancing the quality of the project. By calculating the environmental impacts of project activities in each execution mode, project managers and stakeholders can take into account the environment around them, along with pursuing the economic, time, and quality objectives of the project, and minimize the project overall negative environmental impacts as a measurable amount. This research can help project managers choose the most appropriate method to execute their activities so that the project will ultimately be delivered with the least amount of time, cost, and environmental impact, and with the highest quality.
Access options
Buy single article
Instant access to the full article PDF.
US$ 39.95
Tax calculation will be finalised during checkout.
Subscribe to journal
Immediate online access to all issues from 2019. Subscription will auto renew annually.
US$ 79
Tax calculation will be finalised during checkout.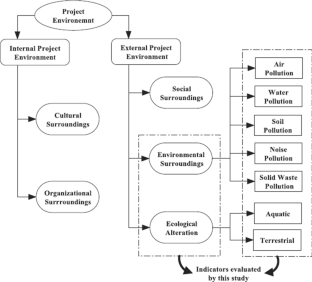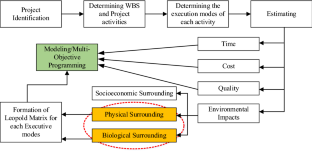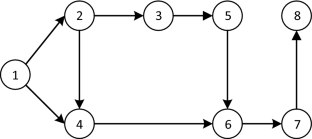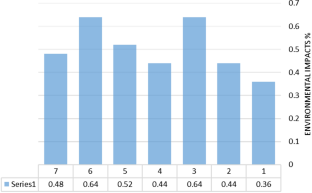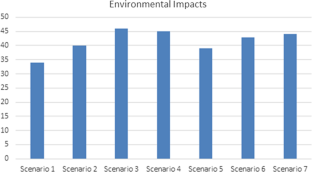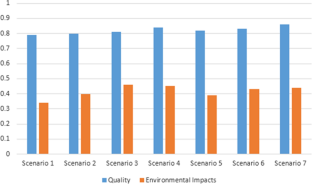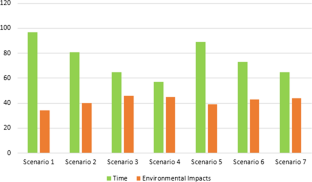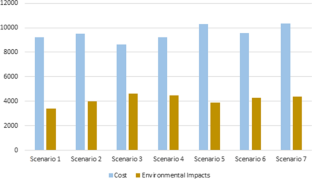 References
Agrawal KK, Jain S, Jain AK, Dahiya S (2014) Assessment of greenhouse gas emissions from coal and natural gas thermal power plants using life cycle approach. Int J Environ Sci Technol 11:1157–1164. https://doi.org/10.1007/s13762-013-0420-z

Ahn T, Erenguc SS (1998) The resource constrained project scheduling problem with multiple crashable modes: a heuristic procedure. Eur J Oper Res 107(2):250–259. https://doi.org/10.1016/S0377-2217(97)00331-7

Ashofteh PS, Bozorg-Haddad O (2019) Environmental impact assessment of irrigation network implementation on triple environments. J Civ Environ Eng 48 4(93):91–101

Barzehkar M, Kargari N, Mobarghaee Dinan N (2016) Investigation and comparison capabilities of common methods of environmental impact assessment and ELECTRE-TRI multi-criteria decision method. J Hum Environ 14(1):43–54

Celauro C, Corriere F, Guerrieri M, Casto BL, Rizzo A (2017) Environmental analysis of different construction techniques and maintenance activities for a typical local road. J Clean Prod 142:3482–3489. https://doi.org/10.1016/j.jclepro.2016.10.119

Chiang CM, Lai CM (2002) A study on the comprehensive indicator of indoor environment assessment for occupants' health in Taiwan. Build Environ 37(4):387–392. https://doi.org/10.1016/S0360-1323(01)00034-8

Cianciarullo MI (2019) Green construction–reduction in environmental impact through alternative pipeline water crossing installation. J Clean Prod 223:1042–1049. https://doi.org/10.1016/j.jclepro.2019.03.131

Ding GK (2008) Sustainable construction-the role of environmental assessment tools. J Environ Manag 86(3):451–464. https://doi.org/10.1016/j.jenvman.2006.12.025

Dirckinck-Holmfeld K (2015) The options of local authorities for addressing climate change and energy efficiency through environmental regulation of companies. J Clean Prod 98:175–184. https://doi.org/10.1016/j.jclepro.2014.12.067

Dong YH, Ng ST (2015) A life cycle assessment model for evaluating the environmental impacts of building construction in Hong Kong. Build Environ 89:183–191. https://doi.org/10.1016/j.buildenv.2015.02.020

Environmental Protection Agency. Environmental Impact Assessment Guidelines (2007) Available at: https://www.epa.qld.gov.au/environmental_management/ impact_assessment/environmental_impact_assessment_guidelines/ bon-line 24 July 2008

Golchubi-Diva SH, Salehi E (2019) Environmental impact assessment of urban recreation (Case Study: Morvarid Tourism Area of Neka). Urban Tourism 5(3):101–115. https://doi.org/10.22059/jut.2018.255297.467

Harvey RT, Patterson JH (1979) An implicit enumeration algorithm for the time/cost tradeoff problem in project network analysis. Found Contr Eng 4(2):107–117

Hashemkhani Zolfani S, Pourhossein M, Yazdani M, Zavadskas EK (2018) Evaluating construction projects of hotels based on environmental sustainability with MCDM framework. Alex Eng J 57(1):357–365. https://doi.org/10.1016/j.aej.2016.11.002

Hindelang TJ, Muth JF (1979) A dynamic programming algorithm for decision CPM networks. Oper Res 27(2):225–241. https://doi.org/10.1287/opre.27.2.225

Hu W, He X (2014) An innovative time-cost-quality tradeoff modeling of building construction project based on resource allocation. Sci World J. https://doi.org/10.1155/2014/673248

Ke H, Ma J (2014) Modeling project time–cost trade-off in fuzzy random environment. Appl Soft Comput 19:80–85. https://doi.org/10.1016/j.asoc.2014.01.040

Khang DB, Myint YM (1999) Time, cost and quality trade-off in project management: a case study. Int J Proj Manag 17(4):249–256. https://doi.org/10.1016/S0263-7863(98)00043-X

Khatami S (2008) Investigation of environmental assessment reports of development plans and projects of the country. J Environ Dev 1(2):55–62

Leopold LB (1971) A procedure for evaluating environmental impact 28(2): US Dept. of the Interior

Liang TF (2010) Applying fuzzy goal programming to project management decisions with multiple goals in uncertain environments. Expert Syst Appl 37(12):8499–8507. https://doi.org/10.1016/j.eswa.2010.05.026

Liu D, Li H, Wang H, Qi C, Rose T (2020) Discrete symbiotic organisms search method for solving large-scale time-cost trade-off problem in construction scheduling. Expert Syst Appl 148:113230. https://doi.org/10.1016/j.eswa.2020.113230

Liu S, Tao R, Tam CM (2013) Optimizing cost and CO2 emission for construction projects using particle swarm optimization. Habitat Int 37:155–162. https://doi.org/10.1016/j.habitatint.2011.12.012

Marzouk M, Madany M, Abou-Zied A, El-said M (2008) Handling construction pollutions using multi-objective optimization. Construct Manag Econ 26(10):1113–1125. https://doi.org/10.1080/01446190802400779

Molenaar AAA (2013) Durable and sustainable road constructions for developing countries. Procedia Eng 54:69–81. https://doi.org/10.1016/j.proeng.2013.03.007

Moretti L, Mandrone VADA, D'Andrea A, Caro S (2018) Evaluation of the environmental and human health impact of road construction activities. J Clean Prod 172:1004–1013. https://doi.org/10.1016/j.jclepro.2017.10.250

Najjar M, Figueiredo K, Hammad AW, Haddad A (2019) Integrated optimization with building information modeling and life cycle assessment for generating energy efficient buildings. Appl Energ 250:1366–1382. https://doi.org/10.1016/j.apenergy.2019.05.101

Ossa A, García JL, Botero E (2016) Use of recycled construction and demolition waste (CDW) aggregates: a sustainable alternative for the pavement construction industry. J Clean Prod 135:379–386. https://doi.org/10.1016/j.jclepro.2016.06.088

Ozcan-Deniz G, Zhu Y (2017) Multi-objective optimization of greenhouse gas emissions in highway construction projects. Sustain Cities Soc 28:162–171. https://doi.org/10.1016/j.scs.2016.09.009

Ozcan-Deniz G, Zhu Y, Ceron V (2012) Time, cost, and environmental impact analysis on construction operation optimization using genetic algorithms. J Manag Eng 28(3):265–272. https://doi.org/10.1061/(ASCE)ME.1943-5479.0000098

Rooshdi RRRM, Rahman NA, Baki NZU, Majid MZA, Ismail F (2014) An evaluation of sustainable design and construction criteria for green highway. Procedia Environ Sci 20:180–186. https://doi.org/10.1016/j.proenv.2014.03.024

Sandanayake M, Luo W, Zhang G (2019) Direct and indirect impact assessment in off-site construction—a case study in China. Sustain Cities Soc 48:101520. https://doi.org/10.1016/j.scs.2019.101520

Sandanayake M, Zhang G, Setunge S, Luo W, Li CQ (2017) Estimation and comparison of environmental emissions and impacts at foundation and structure construction stages of a building—a case study. J Clean Prod 151:319–329. https://doi.org/10.1016/j.jclepro.2017.03.041

Švajlenka J, Kozlovská M (2020) Evaluation of the efficiency and sustainability of timber-based construction. J Clean Prod 259:120835. https://doi.org/10.1016/j.jclepro.2020.120835

Švajlenka J, Kozlovská M, Pošiváková T (2018) Analysis of selected building constructions used in industrial construction in terms of sustainability benefits. Sustain 10(12):4394. https://doi.org/10.3390/su10124394

Tareghian HR, Taheri SH (2006) On the discrete time, cost and quality trade-off problem. Appl Math Comput 181(2):1305–1312. https://doi.org/10.1016/j.amc.2006.02.029

Tavana M, Abtahi AR, Khalili-Damghani K (2014) A new multi-objective multi-mode model for solving preemptive time–cost–quality trade-off project scheduling problems. Expert Syst Appl 41(4):1830–1846. https://doi.org/10.1016/j.eswa.2013.08.081

Tavakoli H, Barkdoll BD (2020) Sustainability-based optimization algorithm. Int J Environ Sci Technol 17:1537–1550. https://doi.org/10.1007/s13762-019-02535-9

Toğan V, Eirgash MA (2019) Time-cost trade-off optimization of construction projects using teaching learning based optimization. KSCE J Civ Eng 23(1):10–20. https://doi.org/10.1007/s12205-018-1670-6

Vanhoucke M (2005) New computational results for the discrete time/cost trade-off problem with time-switch constraints. Eur J Oper Res 165(2):359–374. https://doi.org/10.1016/j.ejor.2004.04.007

Wang Y, Morgan RK, Cashmore M (2003) Environmental impact assessment of projects in the People's Republic of China: new law, old problems. Environ Impact Assess Rev 23(5):543–579. https://doi.org/10.1016/S0195-9255(03)00071-4

Wu HJ, Yuan ZW, Zhang L, Bi J (2012) Life cycle energy consumption and CO2 emission of an office building in China. Int J Life Cycle Ass 17(2):105–118. https://doi.org/10.1007/s11367-011-0342-2

Wu L, Ye K, Gong P, Xing J (2019) Perceptions of governments towards mitigating the environmental impacts of expressway construction projects: a case of China. J Clean Prod 236:117704. https://doi.org/10.1016/j.jclepro.2019.117704

Xu J, Zheng H, Zeng Z, Wu S, Shen M (2012) Discrete time–cost–environment trade-off problem for large-scale construction systems with multiple modes under fuzzy uncertainty and its application to Jinping-II Hydroelectric Project. Int J Proj Manag 30(8):950–966. https://doi.org/10.1016/j.ijproman.2012.01.019

Yu S, Zheng S, Zhang X, Gong C, Cheng J (2018) Realizing China's goals on energy saving and pollution reduction: industrial structure multi-objective optimization approach. Energy Policy 122:300–312. https://doi.org/10.1016/j.enpol.2018.07.034

Zahedi Sh (2013) Sustainable development. SAMT Press, Tehran

Zhang H, Xing F (2010) Fuzzy-multi-objective particle swarm optimization for time–cost–quality tradeoff in construction. Automat Constr 19(8):1067–1075. https://doi.org/10.1016/j.autcon.2010.07.014

Zhaojian L, Yi J (2006) Pondering over the situation of domestic generalized building energy consumption. J Archit 7:30–33

Zolfagharian S, Nourbakhsh M, Irizarry J, Ressang A, Gheisari M (2012) Environmental impacts assessment on construction sites. In Construction Research Congress 2012: Construction Challenges in a Flat World, pp 1750–1759
Acknowledgements
This research is based on the results of a doctoral thesis supported by Islamic Azad University of Science and Research of Tehran. The authors also need to acknowledge and thank the Department of Environment of South Khorasan for their support and guidance on the environmental impact assessment of the project under consideration.
Additional information
Editorial responsibility: Agnieszka Galuszka.
About this article
Cite this article
Banihashemi, S.A., Khalilzadeh, M., Shahraki, A. et al. Optimization of environmental impacts of construction projects: a time–cost–quality trade-off approach. Int. J. Environ. Sci. Technol. 18, 631–646 (2021). https://doi.org/10.1007/s13762-020-02838-2
Received:

Revised:

Accepted:

Published:

Issue Date:
Keywords
Time–cost–quality–environmental impacts trade-off'

Construction projects

Environmental impacts assessment

Leopold matrix

Multi-objective planning