Abstract
Shallow lakes are highly sensitive to respond wind dynamics. The phytoplankton biomass production and distribution scenarios vary annually and seasonally in shallow lakes. The present study investigated the impact of long-term wind dynamics to phytoplankton biomass at Lake Taihu. The response of phytoplankton taxonomic groups to annual and seasonal wind dynamics using generalized additive model showed significant correlation. The critical annual and seasonal wind speed was 2.2 m/s showing the highest correlation with phytoplankton biomass whereas, wind speed declined by 0.02 m/s annually from Jan 2000 to Dec 2016 at Lake Taihu. The lower to medium wind speeds with frequent directional switching toward shore areas developed higher mixing scenarios which helped in reduction of water temperatures, distribution and colony formation of phytoplankton near the Meiliang Bay. The onshore winds were most frequent winds with low wind speeds whereas, offshore winds have been observed with medium to higher wind speeds. The results of generalized additive model well described the wind impacts on phytoplankton biomass and successfully modeled the response of phytoplankton to wind speed. Therefore, it has been concluded that long-term wind dynamic control the movement, mixing and colony formation processes of phytoplankton at Lake Taihu. The fundamental mechanism found in the present study was the long-term higher variations (annual and seasonal) of the wind-induced phytoplankton biomass changes which has been considered as the major physical factor regulating the phytoplankton blooms formation in the large shallow lake Taihu.
Graphical abstract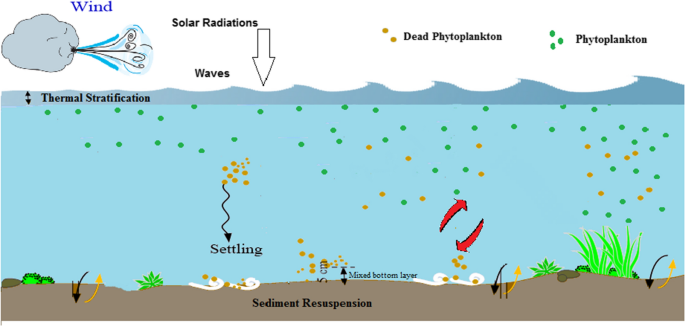 Access options
Buy single article
Instant access to the full article PDF.
US$ 39.95
Tax calculation will be finalised during checkout.
Subscribe to journal
Immediate online access to all issues from 2019. Subscription will auto renew annually.
US$ 79
Tax calculation will be finalised during checkout.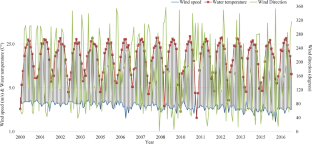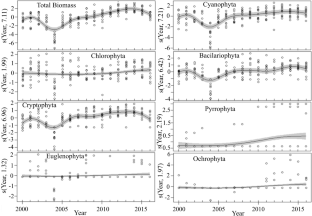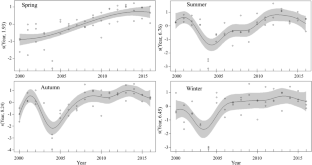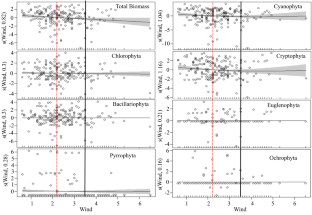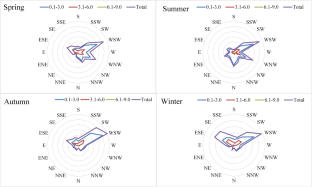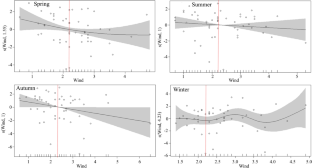 References
Carpenter SR, Cole JJ, Kitchell JF, Pace ML (1998) Impact of dissolved organic carbon, phosphorus, and grazing on phytoplankton biomass and production in experimental lakes. Limnol Oceanogr 43:73–80

Chen Y, Qin B, Teubner K, Dokulil MT (2003) Long-term dynamics of phytoplankton assemblages: microcystis-domination in Lake Taihu, a large shallow lake in China. J Plankton Res 25:445–453

Chen Y-Y, Hu G-X, Yang S-Y, Li Y-P (2012) Study on wind-driven flow under the influence of water freezing in winter in a northern shallow lake. Adv Water Sci 23:837–843

Cloern JE, Jassby AD (2010) Patterns and scales of phytoplankton variability in estuarine–coastal ecosystems. Estuaries Coasts 33:230–241

Hillebrand H, Dürselen CD, Kirschtel D, Pollingher U, Zohary T (1999) Biovolume calculation for pelagic and benthic microalgae. J Phycol 35:403–424

Huang J, Gao J, Hörmann G, Fohrer N (2014) Modeling the effects of environmental variables on short-term spatial changes in phytoplankton biomass in a large shallow lake, Lake Taihu. Environ Earth Sci 72:3609–3621. https://doi.org/10.1007/s12665-014-3272-z

Jalil A, Li Y, Du W, Wang J, Gao X, Wang W, Acharya K (2017) Wind-induced flow velocity effects on nutrient concentrations at Eastern Bay of Lake Taihu, China. Environ Sci Pollut Res 24:17900–17911

Jalil A et al (2018) The role of wind field induced flow velocities in destratification and hypoxia reduction at Meiling Bay of large shallow Lake Taihu, China. Environ Pollut 232:591–602

Jochimsen MC, Kümmerlin R, Straile D (2013) Compensatory dynamics and the stability of phytoplankton biomass during four decades of eutrophication and oligotrophication. Ecol Lett 16:81–89

Liu X, Lu X, Chen Y (2011) The effects of temperature and nutrient ratios on Microcystis blooms in Lake Taihu, China: an 11-year investigation. Harmful Algae 10:337–343

Liu S, Ye Q, Wu S, Stive MJ (2020) Wind effects on the water age in a large shallow lake. Water 12:1246

Longo S, Liang D, Chiapponi L, Jiménez LA (2012) Turbulent flow structure in experimental laboratory wind-generated gravity waves. Coast Eng 64:1–15

Noges P, Mischke U, Laugaste R, Solimini AG (2010) Analysis of changes over 44 years in the phytoplankton of Lake Võrtsjärv (Estonia): the effect of nutrients, climate and the investigator on phytoplankton-based water quality indices. Hydrobiologia 646:33–48

Padisák J, László G, Rajczy M (1990) Stir-up effect of wind on a more-or-less stratified shallow lake phytoplankton community, Lake Balaton, Hungary. Hydrobiologia 191:249–254

Paerl HW, Huisman J (2008) Blooms like it hot. Science 320:57–58

Pomati F, Matthews B, Jokela J, Schildknecht A, Ibelings BW (2012) Effects of re-oligotrophication and climate warming on plankton richness and community stability in a deep mesotrophic lake. Oikos 121:1317–1327

Qin B, Xu P, Wu Q, Luo L, Zhang Y (2007) Environmental issues of lake Taihu, China. In: Eutrophication of shallow lakes with special reference to Lake Taihu, China. Springer, pp 3–14

Qin B, Zhu G, Gao G, Zhang Y, Li W, Paerl HW, Carmichael WW (2010) A drinking water crisis in Lake Taihu, China: linkage to climatic variability and lake management. Environ Manage 45:105–112

Rigosi A, Carey CC, Ibelings BW, Brookes JD (2014) The interaction between climate warming and eutrophication to promote cyanobacteria is dependent on trophic state and varies among taxa. Limnol Oceanogr 59:99–114

Rowe MD et al (2019) Coastal upwelling influences hypoxia spatial patterns and nearshore dynamics in Lake Erie. J Geophys Res Oceans 124:6154–6175. https://doi.org/10.1029/2019jc015192

Ruggiu D, Morabito G, Panzani P, Pugnetti A (1998) Trends and relations among basic phytoplankton characteristics in the course of the long-term oligotrophication of Lake Maggiore (Italy). In: Phytoplankton and trophic gradients. Springer, pp 243–257

Salmaso N (2010) Long-term phytoplankton community changes in a deep subalpine lake: responses to nutrient availability and climatic fluctuations. Freshw Biol 55:825–846

Schindler DE, Eby LA (1997) Stoichiometry of fishes and their prey: implications for nutrient recycling. Ecology 78:1816–1831

Smith VH (1990) Phytoplankton response to eutrophication in inland waters. Introduction to applied phycology, pp 231–249

Wagner C, Adrian R (2009) Cyanobacteria dominance: quantifying the effects of climate change. Limnol Oceanogr 54:2460–2468

Wang SH, Wang WW, Jiang X (2012) The process of algal bloom formation and the effects of wind—an enclosure experiment and in situ investigation in a large hyper-eutrophic shallow lake in China. Adv Mater Res 518–523:4303–4314. https://doi.org/10.4028/www.scientific.net/AMR.518-523.4303

Winder M, Cloern JE (2010) The annual cycles of phytoplankton biomass. Philos Trans R Soc Lond B Biol Sci 365:3215–3226

Wood S, Wood MS (2007) The mgcv package www r-project org

Yang J, Tang H, Zhang X, Zhu X, Huang Y, Yang Z (2018) High temperature and pH favor Microcystis aeruginosa to outcompete Scenedesmus obliquus. Environ Sci Pollut Res 25:4794–4802

Zhang M, Kong F, Wu X, Xing P (2008) Different photochemical responses of phytoplankters from the large shallow Taihu Lake of subtropical China in relation to light and mixing. Hydrobiologia 603:267–278

Zhang M, Yu Y, Yang Z, Shi X, Kong F (2012) The distribution of phytoplankton along trophic gradients and its mediation by available light in the pelagic zone of large eutrophic lakes. Can J Fish Aquat Sci 69:1935–1946

Zhang M, Shi X, Yang Z, Yu Y, Shi L, Qin B (2018) Long-term dynamics and drivers of phytoplankton biomass in eutrophic Lake Taihu. Sci Total Environ 645:876–886

Zhao Q, Sun J, Zhu G (2012) Simulation and exploration of the mechanisms underlying the spatiotemporal distribution of surface mixed layer depth in a large shallow lake. Adv Atmos Sci 29:1360–1373

Zhou J, Liang Z, Liu Y, Guo H, He D, Zhao L (2015) Six-decade temporal change and seasonal decomposition of climate variables in Lake Dianchi watershed (China): stable trend or abrupt shift? Theoret Appl Climatol 119:181–191
Acknowledgements
The current study was supported by National science foundation of China (NSFC) (41772378), a National basic research program of China (NBRPC) (2017YFA0605200) and "One hundred Talent Program" of Chinese Academy of Science (Y6SL011001).
Ethics declarations
Conflict of interest
Authors have no conflict of interest regarding this manuscript.
Additional information
Editorial responsibility: Jing Chen.
Electronic supplementary material
Below is the link to the electronic supplementary material.
About this article
Cite this article
Jalil, A., Zhang, K., Qi, L. et al. Phytoplankton response to long-term wind dynamics at large shallow Lake Taihu (shallow lake phytoplankton response to long-term wind dynamics). Int. J. Environ. Sci. Technol. 18, 341–352 (2021). https://doi.org/10.1007/s13762-020-02827-5
Received:

Revised:

Accepted:

Published:

Issue Date:
Keywords
Generalized additive model

Lake Taihu

Microcystis

Phytoplankton

Wind dynamics