Abstract
The aim of this study was to determine the potential of white-rot fungi, namely Pycnoporus cinnabarinus, Pleurotus ostreatus and Trametes hirsuta, for the mono azo dye Allura Red AC (AR) removal from aqueous solutions. AR belongs to the hardly degradable xenobiotic associated with a neurotoxic effect on humans and animals. Our results suggested that degradation processes driven by the activity of laccases were not involved in the process of AR removal and the predominant mechanism of dye elimination was biosorption. The surface of fungal biomass was analyzed by Fourier transform infrared spectroscopy (FTIR) and Langmuir and Freundlich models of absorption isotherms were applied to describe the biosorption isotherms. Langmuir model fitted the equilibrium data better than Freundlich isotherm according to the corrected Akaike Information Criterion (AICc). From Langmuir model, dead biomass of P. ostreatus modified by heat was the most suitable biosorbent with the maximum sorption capacity of 118.3 ± 9.9 mg/g dried biomass. Obtained results suggest that biomass of white-rot fungi can be used as a suitable and low-cost biosorbent for the removal of azo dyes from contaminated waters.
This is a preview of subscription content, log in to check access.
Access options
Buy single article
Instant access to the full article PDF.
US$ 39.95
Price includes VAT for USA
Subscribe to journal
Immediate online access to all issues from 2019. Subscription will auto renew annually.
US$ 99
This is the net price. Taxes to be calculated in checkout.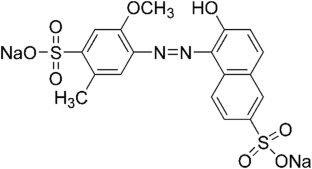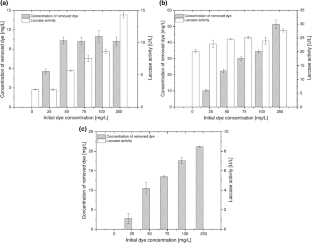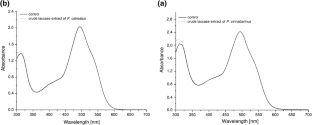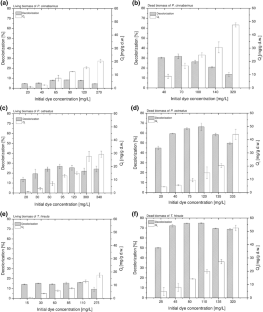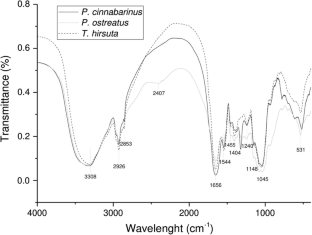 References
Akaike H (1974) A new look at the statistical model identification. IEEE Trans Autom Control 19:716–723. https://doi.org/10.1109/TAC.1974.1100705

Akar T, Arslan S, Tunali Akar S (2013) Utilization of Thamnidium elegans fungal culture in environmental cleanup: a reactive dye biosorption study. Ecol Eng 58:363–370. https://doi.org/10.1016/j.ecoleng.2013.06.026

Akpa OM, Unuabonah EI (2011) Small-sample corrected Akaike information criterion: an appropriate statistical tool for ranking of adsorption isotherm models. Desalination 272:20–26. https://doi.org/10.1016/j.desal.2010.12.057

Aksu Z, İdil Tatlı A, Tunç Ö (2008) A comparative adsorption/biosorption study of Acid Blue 161: effect of temperature on equilibrium and kinetic parameters. Chem Eng J 142:23–29. https://doi.org/10.1016/j.cej.2007.11.005

Aksu Z, Ertuğrul S, Dönmez G (2010) Methylene Blue biosorption by Rhizopus arrhizus: effect of SDS (sodium dodecylsulfate) surfactant on biosorption properties. Chem Eng J 158:474–481. https://doi.org/10.1016/j.cej.2010.01.029

Alver E, Metin AÜ (2012) Anionic dye removal from aqueous solutions using modified zeolite: adsorption kinetics and isotherm studies. Chem Eng J 200–202:59–67. https://doi.org/10.1016/j.cej.2012.06.038

Arica MY, Bayramoğlu G (2007) Biosorption of Reactive Red-120 dye from aqueous solution by native and modified fungus biomass preparations of Lentinus sajor-caju. J Hazard Mater 149:499–507. https://doi.org/10.1016/j.jhazmat.2007.04.021

Bouras HD, Yeddou AR, Bouras N, Hellel D, Holtz MD, Sabaou N, Chergui A, Nadjemi B (2017) Biosorption of Congo red dye by Aspergillus carbonarius M333 and Penicillium glabrum Pg1: kinetics, equilibrium and thermodynamic studies. J Taiwan Inst Chem Eng 80:915–923. https://doi.org/10.1016/j.jtice.2017.08.002

Chakraborty S, Basak B, Dutta S, Bhunia B, Dey A (2013) Decolorization and biodegradation of Congo Red dye by a novel white rot fungus Alternaria alternata CMERI F6. Bioresour Technol 147:662–666. https://doi.org/10.1016/j.biortech.2013.08.117

Chen SH, Cheow YL, Ng SL, Ting ASY (2019) Removal of triphenylmethane dyes in single-dye and dye-metal mixtures by live and dead cells of metal-tolerant Penicillium simplicissimum. Sep Sci Technolog e21086196. https://doi.org/10.1080/01496395.2019.1626422

Crominski da Silva DC, de Abreu Teixeira, Pietrobelli JM (2019) Residual biomass of chia seeds (Salvia hispanica) oil extraction as low cost and eco-friendly biosorbent for effective reactive yellow B2R textile dye removal: characterization, kinetic, thermodynamic and isotherm studies. J Environ Chem Eng 7:103008. https://doi.org/10.1016/j.jece.2019.103008

Forgacs E, Cserháti T, Oros G (2004) Removal of synthetic dyes from wastewaters: a review. Environ Int 30:953–971. https://doi.org/10.1016/j.envint.2004.02.001

Freitag M, Morell JJ (1992) Decolorization of the polymeric dye poly R-478 by wood-inhabiting fungi. Can J Microbiol 38:811–822. https://doi.org/10.1139/m92-133

Freundlich H (1906) Über die adsorption in lösungen. Z Phys Chem 57U:385–470. https://doi.org/10.1515/zpch-1907-5723

Garzillo AM, Colao MC, Buonocore V, Oliva R, Falcigno L, Saviano M, Santoro AM, Zappala R, Bonomo RF, Bianco C, Giardina P, Palmieri G, Sannia G (2001) Structural and kinetic characterization of native laccases from Pleurotus ostreatus, Rigidoporus lignosus, and Trametes trogii. J Protein Chem 20:191–201. https://doi.org/10.1023/a:1010954812955

Ghariani B, Hadrich B, Louati I, Mtibaà R, Daâssi D, Rodriguez-Couto S, Nasri M, Mechichi T (2019) Porous heat-treated fungal biomass: preparation, characterization and application for removal of textile dyes from aqueous solutions. J Porous Mater 26:1475–1488. https://doi.org/10.1007/s10934-019-00746-6

Gopinathan R, Kanhere J, Banerjee J (2015) Effect of malachite green toxicity on non target soil organisms. Chemosphere 120:637–644. https://doi.org/10.1016/j.chemosphere.2014.09.043

Hasan HA, Abdullah RSR, Kofli NT, Kamarudin SK (2012) Isotherm equilibria of Mn2+ biosorption in drinking water treatment by locally isolated Bacillus species and sewage activated sludge. J Environ Manage 111:34–43. https://doi.org/10.1016/j.jenvman.2012.06.027

Hazuchová M, Chmelová D, Ondrejovič M (2017) The optimization of propagation medium for the increase of laccase production by the white-rot fungus Pleurotus ostreatus. Nova Biotechnol Chim 16:113–123. https://doi.org/10.1515/nbec-2017-0016

Hsueh CC, Chen BY, Yen CY (2009) Understanding effects of chemical structure on azo dye decolorization characteristics by Aeromonas hydrophila. J Hazard Mater 167:995–1001. https://doi.org/10.1016/j.jhazmat.2009.01.077

Huang J, Liu D, Lu J, Wang H, Wei X, Liu J (2016) Biosorption of reactive black 5 by modified Aspergillus versicolor biomass: kinetics, capacity and mechanism studies. Colloids Surf A Physicochem Eng Asp 492:242–248. https://doi.org/10.1016/j.colsurfa.2015.11.071

Jain SY, Gogate PR (2017) Adsorptive removal of acid violet 17 dye from wastewater using biosorbent obtained from NaOH and H2SO4 activation of fallen leaves of Ficus racemose. J Mol Liq 243:132–143. https://doi.org/10.1016/j.molliq.2017.08.009

Jain SY, Gogate PR (2018) Efficient removal of Acid Green 25 dye from wastewater using activated Prunus Dulcis as biosorbent: batch and column studied. J Environ Manage 210:226–238. https://doi.org/10.1016/j.jenvman.2018.01.008

Kaushik P, Malik A (2009) Fungal dye decolourization: recent advances and future potential. Environ Int 35:127–141. https://doi.org/10.1016/j.envint.2008.05.010

Kumar R, Negi S, Sharma P, Prasher IB, Chaudhary S, Dhau JS, Umar A (2018) Wastewater cleanup using Phlebia acerina fungi: an insight into mycoremediation. J Environ Manage 228:130–139. https://doi.org/10.1016/j.jenvman.2018.07.091

Langmuir I (1918) The adsorption of gases on plane surfaces of glass, mica and platinum. J Am Chem Soc 40:1361–1403. https://doi.org/10.1021/ja02242a004

Legerská B, Chmelová D, Ondrejovič M (2016) Degradation of synthetic dyes by laccases—a mini-review. Nova Biotechnol Chim 15:90–106. https://doi.org/10.1515/nbec-2016-0010

Legerská B, Chmelová D, Ondrejovič M (2018) Decolourization and detoxification of monoazo dyes by laccase from the white-rot fungus Trametes versicolor. J Biotechnol 285:84–90. https://doi.org/10.1016/j.jbiotec.2018.08.011

Lei DY, Li B, Wang Q, Wu B, Ma L, Xu H (2014) Removal of Neutral Red from aqueous solution using Pleurotus ostreatus nanoparticles by response surface methodology. Desalin Water Treat 54:1–12. https://doi.org/10.1080/19443994.2014.904817

Levasseur A, Lomascolo A, Chabrol O, Ruiz-Dueñas FJ, Boukhris-Uzan E, Piumi F, Kües U, Ram AFJ, Murat C, Haon M, Benoit I, Arfi Y, Chevret D, Drula E, Kwon MJ, Gouret P, Lesage-Meessen L, Lombard V, Mariette J, Noirot C, Park J, Patyshakuliyeva A, Sigoillot JC, Wiebenga A, Wösten HAB, Martin F, Coutinho FP, de Vries RP, Martínez AT, Klopp C, Pontarotti P, Henrissat B, Record E (2014) The genome of the white-rot fungus Pycnoporus cinnabarinus: a basidiomycete model with a versatile arsenal for lignocellulosic biomass breakdown. BMC Genom 15:486. https://doi.org/10.1186/1471-2164-15-486

Li K, Xu F, Eriksson KEL (1999) Comparison of fungal laccases and redox mediators in oxidation of a nonphenolic lignin model compound. Appl Environ Microbiol 65:2654–2660

Marcharchand S, Ting ASY (2017) Trichoderma asperellum cultured in reduced concentrations of synthetic medium retained dye decolourization efficacy. J Environ Manage 203:542–549. https://doi.org/10.1016/j.jenvman.2017.06.068

McCann D, Barrett A, Cooper A, Crumpler D, Dalen L, Grimshaw K, Kitchin E, Lok K, Porteous L, Prince E, Sonuga-Barke E, Warner JO, Stevenson J (2007) Food additives and hyperactive behaviour in 3-year-old and 8/9-year-old children in the community: a randomised, double-blinded, placebo-controlled trial. Lancet 370:1560–1567. https://doi.org/10.1016/S0140-6736(07)61306-3

Moiseenko KV, Vasina DV, Farukshina KT, Savinova OS, Glazunova OA, Fedorova TV, Tyazhelova TV (2018) Orchestration of the expression of the laccase multigene family in white-rot basidiomycete Trametes hirsuta 072: evidences of transcription level subfunctionalization. Fungal Biol 122:353–362. https://doi.org/10.1016/j.funbio.2018.02.006(1878-6146)

Nath PP, Sarkar K, Modal M, Paul G (2015) Metanil Yellow impairs the estrous cycle physiology and ovarian folliculogenesis in female rats. Environ Toxicol 31:2057–2067. https://doi.org/10.1002/tox.22205

Nguyen TA, Juang RS (2013) Treatment of waters and wastewaters containing sulphur dyes: a review. Chem Eng J 219:109–117. https://doi.org/10.1016/j.cej.2012.12.102

Nie M, Luo J, Xiao M, Chen J, Bao K, Zhang W, Li B (2007) Structural differences between Fusarium strains investigated by FT-IR spectroscopy. Biochem (Moscow) 72:61–67. https://doi.org/10.1134/S0006297907010075

Noorafshan A, Hashemia M, Karbalay-Dousta S, Karimi F (2018) High dose Allura Red, rather than the ADI dose, induces structural and behavioral changes in the medial prefrontal cortex of rats and taurine can protect it. Acta Histochem 120:586–594. https://doi.org/10.1016/j.acthis.2018.07.004

Patel R, Suresh S (2008) Kinetic and equilibrium studies on the biosorption of reactive black 5 dye by Aspergillus foetidus. Bioresour Technol 99:51–58. https://doi.org/10.1016/j.biortech.2006.12.003

Pecková V, Chmelová D (2019) Potential of white-rot fungi on azo dye decolorization. In: Sokol J, Ondrejovič M, Chmelová D (eds) Applied natural sciences: a young scientists journal, 1st edn. Výzkumný ústav pivovařský a sladařský, Brno, pp 59–60

Pecková V, Chmelová D, Ondrejovič M (2018) Decolorization of monoazo dyes by Pleurotus ostreatus. In: MMK 2018: International Masaryk conference for Ph.D. students and young researchers, Hradec Králové, Czech Republic, December 17–21, 2018. Proceedings, pp 1080–1087

Polak J, Wilkolazka JA (2012) Fungal laccases as green catalysts for dye synthesis. Process Biochem 47:1295–1307. https://doi.org/10.1016/j.procbio.2012.05.006

Przystaś W, Zabłocka-Godlewska E, Grabińska-Sota E (2018) Efficiency of decolorization of different dyes using fungal biomass immobilized on different solid supports. Braz J Microbiol 49:285–295. https://doi.org/10.1016/j.bjm.2017.06.010

Ramírez-Montoya LA, Hernandéz-Montoya V, Montes-Morán MA, Jáuregei-Rincón J, Cervantes FJ (2015) Decolorization of dyes with different molecular properties using free and immobilized laccases from Trametes versicolor. J Mol Liq 212:30–37. https://doi.org/10.1016/j.molliq.2015.08.040

Robati D, Mirza B, Rajabi M, Moradi O, Tyagi I, Agarwal S, Gupta VK (2016) Removal of hazardous dyes—BR 12 and methyl orange using graphene oxide as an adsorbent from aqueous phase. Chem Eng J 284:687–697. https://doi.org/10.1016/j.cej.2015.08.131

Rybczyńska-Tkaczyk K, Korniłłowicz-Kowalska T (2016) Biosorption optimization and equilibrium isotherm of industrial dye compounds in novel strains of microscopic fungi. Int J Environ Sci Technol 13:2837–2846. https://doi.org/10.1007/s13762-016-1111-3

Sabantina L, Kinzel F, Hauser T, Többer A, Klöcker M, Döpke C, Böttjer R, Wehlage D, Rattenholl A, Ehrmann A (2019) Comparative study of Pleurotus ostreatus mushroom grown on modified PAN nanofiber mats. Nanomaterials (Basel) 9:E475. https://doi.org/10.3390/nano9030475

Saeed A, Iqbal M, Zafar SI (2009) Immobilization of Trichoderma viride for enhanced methylene blue biosorption: batch and column studies. J Hazard Mater 168:406–415. https://doi.org/10.1016/j.jhazmat.2009.02.058

Saratale RG, Saratale GD, Chang JS, Govindwar SP (2011) Bacterial decolorization and degradation of azo dyes: a review. J Taiwan Inst Chem Eng 42:138–157. https://doi.org/10.1016/j.jtice.2010.06.006

Sen KA, Raut S, Bandyopadhyay P, Raut S (2016) Fungal decolouration and degradation of azo dyes: a review. Fungal Biol Rev 30:112–133. https://doi.org/10.1016/j.fbr.2016.06.003

Sharma KP, Sharma S, Sharma S, Singh PK, Kumar S, Grover R, Sharma PK (2007) A comparative study on characterization of textile wastewaters (untreated and treated) toxicity by chemical and biological tests. Chemosphere 69:48–54. https://doi.org/10.1016/j.chemosphere.2007.04.086

Shleev S, Christenson A, Serezhenkov V, Burbaev D, Yaropolov A, Gorton L, Ruzgas T (2005) Electrochemical redox transformations of T1 and T2 copper sites in native Trametes hirsuta laccase at gold electrode. Biochem J 385:745–754. https://doi.org/10.1042/BJ20041015

Si J, Yuan TQ, Cui BK (2014) Exploring strategies for adsorption of azo dye Congo Red using free and immobilized biomasses of Trametes pubescens. Ann Microbiol 65:411–421. https://doi.org/10.1007/s13213-014-0874-3

Solís M, Solis A, Pérez HI, Manjarrez N, Flores M (2012) Microbial decolourization of azo dyes: a review. Process Biochem 47:1723–1748. https://doi.org/10.1016/j.procbio.2012.08.014

Srivastava VC, Mall ID, Mishra IM (2007) Adsorption thermodynamics and isosteric heat of adsorption of toxic metal ions onto bagasse fly ash (BFA) and rice husk ash (RHA). Chem Eng J 132:267–278. https://doi.org/10.1016/j.cej.2007.01.007

Szeghalmi A, Kaminskyj S, Gough KM (2007) A synchrotron FTIR microspectroscopy investigation of fungal hyphae grown under optimal and stressed conditions. Anal Bioanal Chem 387:1779–1789. https://doi.org/10.1007/s00216-006-0850-2

Taha M, Adetutu EM, Shahsavari E, Smith AT, Ball AS (2014) Azo and anthraquinone dye mixture decolourization at elevated temperature and concentration by a newly isolated thermophilic fungus, Thermomucor indicae-seudaticae. J Environ Chem Eng 2:415–423. https://doi.org/10.1016/j.jece.2014.01.015

Thiam A, Sirés I, Centellas F, Cabot PL, Brillas E (2015a) Decolorization and mineralization of Allura Red AC azo dye by solar photoelectro-Fenton: identification of intermediates. Chemosphere 136:1–8. https://doi.org/10.1016/j.chemosphere.2015.03.047

Thiam A, Sirés I, Garrido JA, Rodríguez RM, Brillas E (2015b) Decolorization and mineralization of Allura Red AC aqueous solutions by electrochemical advanced oxidation processes. J Hazard Mater 290:34–42. https://doi.org/10.1016/j.jhazmat.2015.02.050

Vanhulle S, Trovaslet M, Enaud E, Lucas M, Taghavi S, van der Lelie D, van Aken B, Foret M, Onderwater RCA, Wesenberg D, Agathos SN, Schneider YJ, Corbisier AM (2008) Decolorization, cytotoxicity and genotoxicity reduction during a combined ozonation/fungal treatment of dye contaminated wastewater. Environ Sci Technol 42:584–589. https://doi.org/10.1021/es071300k

Xin B, Zhang Y, Liu C, Chen S, Wu B (2012) Comparison of specific adsorption capacity of different forms of fungal pellets for removal of Acid Brilliant Red B from aqueous solution and mechanisms exploration. Process Biochem 47:1197–1201. https://doi.org/10.1016/j.procbio.2012.03.016

Yang H, Feng Q (2010) Characterization of pore-expanded amino-functionalized mesoporous silicas directly synthesized with dimethyldecylamine and its application for decolorization of sulphonated azo dyes. J Hazard Mater 180:106–114. https://doi.org/10.1016/j.jhazmat.2010.03.116

Yang Y, Jin D, Wang G, Liu D, Jia X, Zhao Y (2011) Biosorption of Acid Blue 25 by unmodified and CPC-modified biomass of Penicillium YW01: kinetic study, equilibrium isotherm and FTIR analysis. Colloids Surf B Biointerfaces 88:521–526. https://doi.org/10.1016/j.colsurfb.2011.07.047

Yang J, Yang X, Lin Y, Ng TB, Lin J, Ye X (2015) Laccase-catalyzed decolorization of malachite green: performance optimization and degradation mechanism. PLoS ONE 28:1–14. https://doi.org/10.1371/journal.pone.0127714

Yang P, Shi W, Wang H, Liu H (2016) Screening of fresh water fungi for decolorizing multiple synthetic dyes. Braz J Microbiol 47:828–834. https://doi.org/10.1016/j.bjm.2016.06.010

Zahria C, Suteu D (2012) Textile Organic Dyes—characteristics, polluting effects and separation/elimination procedures from industrial effluents—a critical overview. In: Puzyn T, Mostrag-Szlichtyng A (eds) Organic pollutants 10 years after the Stockholm convention- environmental and analytical update. InTech, Rijeka pp 55–86. https://doi.org/10.5772/32373

Zeroual Y, Kim BS, Kim CS, Blaghen M, Lee KM (2006) Biosorption of bromophenol blue from aqueous solutions by Rhizopus stolonifer biomass. Water Air Soil Pollut 177:135–146. https://doi.org/10.1007/s11270-006-9112-3

Zerva A, Simić S, Topakas E, Nikodinovic-Runic J (2019) Applications of microbial laccases: patent review of the past decade (2009–2019). Catalysts 9:e1023. https://doi.org/10.3390/catal9121023

Zhao X, Hardin IR, Hwang HM (2006) Biodegradation of a model azo disperse dye by the white rot fungus Pleurotus ostreatus. Int Biodeterior 57:1–6. https://doi.org/10.1016/j.ibiod.2005.10.008
Acknowledgements
This work was supported by research grant of the Slovak Research and Development Agency APVV-18-0154.
Ethics declarations
Conflict of interest
There is no conflict of interest for the authors.
Additional information
Editorial responsibility: M. Abbaspour.
About this article
Cite this article
Pecková, V., Legerská, B., Chmelová, D. et al. Comparison of efficiency for monoazo dye removal by different species of white-rot fungi. Int. J. Environ. Sci. Technol. (2020). https://doi.org/10.1007/s13762-020-02806-w
Received:

Revised:

Accepted:

Published:
Keywords
Removal

Biosorption

Azo dye

Biomass

White-rot fungi

Adsorption isotherms