Abstract
The goal of this research is to model the level of carbon dioxide flowing from soil to sky using various methods. The methods of multiple linear regression (MLR) and artificial neural networks (ANN) beside two different hybrid models were exploited to achieve this objective. These hybrid models were arranged as the prior two methods with principal component analysis (PCA). For the ANN, 36 different structures were used with different transfer (logsig–logsig, tansig–tansig, pureline–pureline, logsig–tansig, logsig–pureline and tansig–pureline)—learning functions (Levenberg–Marquardt and Gradient Descent with Momentum) and neuron numbers (10, 20 and 30). The manure norm, soil type, soil temperature, soil moisture content, soil depth, and photosynthetically active radiation values were taken into account as input parameters while CO2 flux was output parameter. According to the research conducted, the best results were obtained from the ANN method. This method was followed by PCA + ANN, MLR and PCA + MLR methods. The R2 value of the network established in the ANN method was determined as 0.98. In this ANN model, Levenberg–Marquardt and tansig–pureline with 30 neurons were used as transfer and learning functions, respectively. Besides, when principal components were used as input parameters, the lower R2 values were obtained with both the MLR and ANN methods.
This is a preview of subscription content,
to check access.
Access this article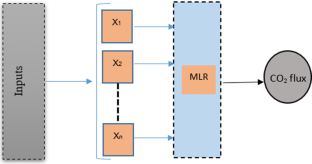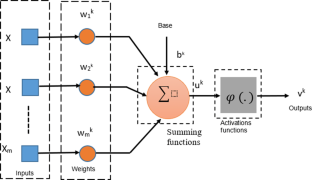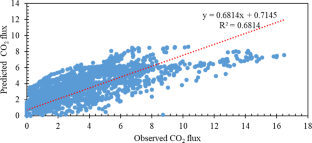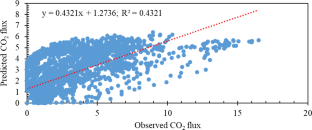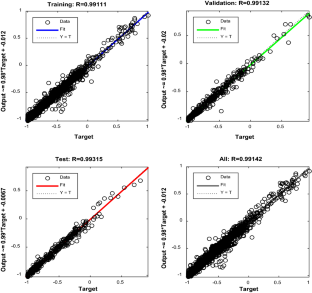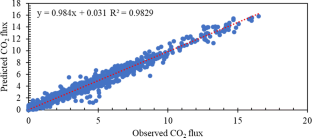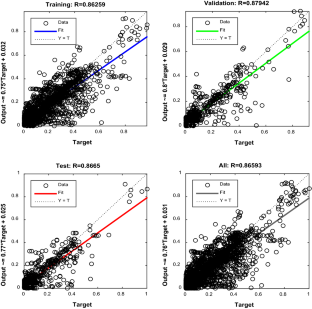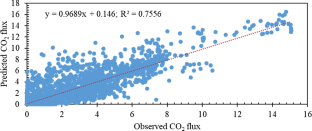 Similar content being viewed by others
References
Aversano G, Bellemans A, Li Z, Coussement A, Gicquel O, Parente A (2019) Application of reduced-order models based on PCA & Kriging for the development of digital twins of reacting flow applications. Comput Chem Eng 121:422–441

Banja M, Papanastasiou DK, Poupkou A, Melas D (2012) Development of a short–term ozone prediction tool in Tirana area based on meteorological variables. Atmos Pollut Res 3:32–38

Bond-Lamberty B, Thomson A (2010) Temperature-associated increases in the global soil respiration record. Nature 464:579–582

Chen S, Huang Y, Xie W, Zou J, Lu Y, Hu Z (2013) A new estimate of global soil respiration from 1970 to 2008. Chin Sci Bull 58:4153–4160

Droulia F, Lykoudis S, Tsiros I, Alvertos N, Akylas E, Garofalakis I (2009) Ground temperature estimations using simplified analytical and semi-empirical approaches. Sol Energy 83:211–219

Elangasinghe MA, Singhal N, Dirks KN, Salmond JA (2014) Development of an ANN–based air pollution forecasting system with explicit knowledge through sensitivity analysis. Atmos Pollut Res 5:696–708

Fangueiro D, Senbayran M, Trindade H, Chadwick D (2008) Cattle slurry treatment by screw press separation and chemically enhanced settling: effect on greenhouse gas emissions after land spreading and grass yield. Bioresour Tech 99:7132–7142

Fender AC, Gansert D, Jungkunst HF, Fiedler S, Beyer F, Schutzenmeister K, Thiele B, Polle VK, Leuschner C (2013) Root-induced tree species effects on the source/sink strength for greenhouse gases (CH4, N2O and CO2) of a temperate deciduous forest soil. Soil Biol Biochem 57:587–597

Franch LJ, Panigrahi S (1997) Artificial neural network models of wheat leaf wetness. Agric For Meteorol 88:57–65

Gardner MW, Dorling SR (1998) Artificial neural networks (the multilayer perceptron): a review of applications in the atmospheric science. Atmos Environ 32:2627–2636

Hagen SC, Braswell BH, Linder E, Frolking S, Richardson AD, Hollinger DY (2006) Statistical uncertainty of eddy flux-based estimates of gross ecosystem carbon exchange at Howland Forest, Maine. J Geophys Res Atmos 111:1–12

Huebnerova Z, Michalek J (2014) Analysis of daily average PM10 predictions by generalized linear models in Brno, Czech Republic. Atmos Pollut Res 5:471–476

Hutchinson GL, Livingston GP (2001) Vents and seals in nonsteady state chambers used for measuring gas exchange between soil and the atmosphere. Eur J Soil Sci 52:675–682

Hutchinson GL, Livingston GP, Healy RW, Striegl RG (2000) Chamber measurement of surface-atmosphere trace gas exchange: numerical evaluation of dependence on soil, interfacial layer, and source/sink properties. J Geophys Res 105(D7):8865–8875

Ibarra-Berastegi G, Elias A, Barona A, Saenz J, Ezcurra A, de Argandona JD (2008) From diagnosis to prognosis for forecasting air pollution using neural networks: air pollution monitoring in Bilbao. Environ Model Softw 23:622–637

Jiang Q, Yan X (2018) Parallel PCA–KPCA for nonlinear process monitoring. Control Eng Pract 80:17–25

Johnson RA, Wichern DW (2002) Applied multivariate statistical analysis, 5th edn. Prentice Hall, Upper Saddle River

Kirschbaum MUF (1995) The temperature dependence of soil organic matter decomposition, and the effect of global warming on soil organic C storage. Soil Biol Biochem 27:753–760

Kurt A, Oktay AB (2010) Forecasting air pollutant indicator levels with geographic models 3 days in advance using neural networks. Expert Syst Appl 37:7986–7992

Kuzyakov Y (2002) Review: factors affecting rhizosphere priming effects. J Plant Nutr Soil Sci 165:382–396

Lee LC, Liong CY, Osman K, Jemain AA (2016) Comparison of several variants of principal component analysis (PCA) on forensic analysis of paper based on IR spectrum. In: AIP conference proceedings, AIP Publishing, vol 1750, pp 1–6. https://aip.scitation.org/doi/pdf/10.1063/1.4954617?class=pdf. Accessed 22 Dec 2019

Li P, Peng C, Wang M, Li W, Zhao P, Wang K, Yang Y, Zhu Q (2017) Quantification of the response of global terrestrial net primary production to multifactor global change. Ecol Indicat 76:245–255

Liu WM, Chang CI (2007) Variants of principal components analysis. IEEE, 1-4244-1212-9/07. https://ieeexplore.ieee.org/stamp/stamp.jsp?tp=&arnumber=4422989. Accessed 22 Dec 2019

Lou YS, Li Z, Zhang TL (2003) Soil CO2 flux in relation to dissolved organic carbon, soil temperature and moisture in a subtropical arable soil of China. J Environ Sci 15(5):715–720

Lu X, Cheng G, Xiao F, Fan J (2008) Modeling effects of temperature and precipitation on carbon characteristics and GHGs emissions in Abies fabric forest of subalpine. J Environ Sci 20(3):339–346

Oprea M, Iliadis L (2011) An artificial intelligence–based environment quality analysis system. In: Engineering applications of neural networks, Pt I, vol 363, pp 499–508. https://link.springer.com/content/pdf/10.1007%2F978-3-642-23957-1_55.pdf. Accessed 22 Dec 2019

Panosso AR, Marques Júnior J, Milor DMBP, Ferraudo AS, Barbieri M, Pereira GT, La Scala N (2011) Soil CO2 emission and its relation to soil properties in sugarcane areas under Slash-and-burn and Green harvest. Soil Tillage Res 111:190–196

Papale D, Valentini R (2003) A new assessment of European forests carbon exchanges by eddy fluxes and artificial neural network spatialization. Global Change Biol 9:525–535

Pedersen AR (2000) Estimating the nitrous oxide emission rate from the soil surface by means of a diffusion model. Scand J Stat 27:385–403

Pedersen AR, Petersen SO, Vinther FP (2001) Stochastic diffusion model fro estimating trace gas emissions with static chambers. Soil Sci Soc Am J 65:49–58

Risk D, Kellman L, Beltrami H (2002) Carbon dioxide in soil profiles: production and temperature dependence. Geophys Res Lett 29(6):11–14

Rustad LE, Campbell JL, Marion GM (2001) A metaanalysis of the response of soil respiration, net nitrogen mineralization, and aboveground plant growth to experimental ecosystem warming. Oecologia 126:543–562

Shao C, Chen J, Li L (2013) Grazing alters the biophysical regulation of carbon fluxes in a desert steppe. Environ Res Lett 8(2):025012

Somaratne S, Seneviratne G, Coomaraswamy U (2005) Prediction of soil organic carbon across different land-use patterns: a neural network approach. Soil Sci Soc Am J 69:1580–1589

Song X, Peng C, Zhao Z, Zheng Z, Guo B, Wang W, Jiang H, Zhu Q (2014) Quantification of soil respiration in forest ecosystems across China. Atmos Environ 9:546–551

Van Wijk MT, Bouten Verstraten JM (2002) Comparison of different modeling strategies for simulating gas exchange of a Douglas-fir forest. Ecol Model 158:63–81

Welles JM, Demetriades-Shah TH, McDermitt DK (2001) Considerations for measuring ground CO2 effluxes with chambers. Chem Geol 177:3–13

Wen X, Zhao Z, Deng X, Xiang W, Tian D, Yan W, Zhou X, Peng C (2014) Applying an artificial neural network to simulate and predict Chinese fir (Cunninghamia lanceolata) plantation carbon flux in subtropical China. Ecol Model 294:19–26

William T, Peterjon J, Melilio M, Paul A, Steudler A, Kathleen M (1994) Response of trace gas fluxes and N availability to experimentally elevated soil temperatures. Ecol Appl 4(3):617–625

Yan L, Chen S, Huang J, Lin G (2010) Differential responses of auto-and heterotrophic soil respiration to water and nitrogen addition in a semiarid temperate steppe. Glob Chang Biol 16:2345–2357

Zhuang Q, Lu Y, Chen M (2012) An inventory of global N2O emissions from the soils of natural terrestrial ecosystems. Atmos Environ 47:66–75
Acknowledgements
This research was supported by the scientific research project unit of Iğdır University. The authors are thankful to the University of Igdir for providing the laboratory facilities.
Ethics declarations
Conflict of interest
The authors declare that they have no conflict of interest.
Additional information
Editorial responsibility: Parveen Fatemeh Rupani.
About this article
Cite this article
Altikat, S., Gulbe, A., Kucukerdem, H.K. et al. Applications of artificial neural networks and hybrid models for predicting CO2 flux from soil to atmosphere. Int. J. Environ. Sci. Technol. 17, 4719–4732 (2020). https://doi.org/10.1007/s13762-020-02799-6
Received:

Revised:

Accepted:

Published:

Issue Date:

DOI: https://doi.org/10.1007/s13762-020-02799-6
Keywords