Abstract
This study was performed to explore the contents and stability of heavy metals and metalloids in Tajan River water. Water chemistry software (HSC model) was applied to obtain Eh–pH diagrams. The correlation between various parameters and cluster analysis were carried out by the MVSP software. According to the results, the contents of heavy metals were relatively low and in the prescribed limits of surface water standards. pH was slightly alkaline, and redox values ranged from 142 to 201 mV. Cobalt, Cr, Ni, Cu, Zn, Pb, Fe and Th had similar behaviors, and Eh played an effective role in controlling them. Barium and As were governed by salinity. The studied elements are present in the forms of oxide, hydroxide and as free ions.
Access options
Buy single article
Instant access to the full article PDF.
US$ 39.95
Tax calculation will be finalised during checkout.
Subscribe to journal
Immediate online access to all issues from 2019. Subscription will auto renew annually.
US$ 79
Tax calculation will be finalised during checkout.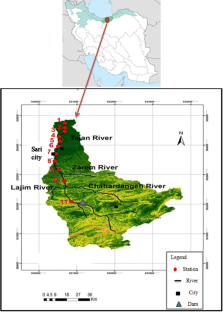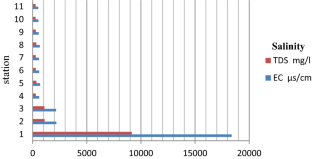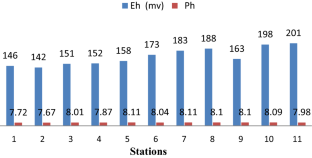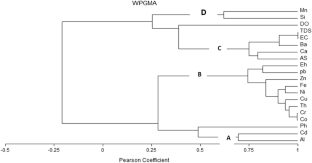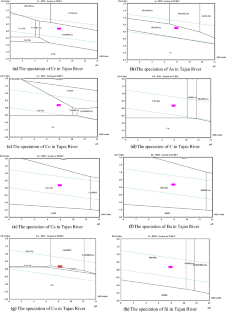 References
Adekola FA, Eletta OAA (2007) A study of heavy metal pollution of Asa River, Ilorin, Nigeria; Trace metal monitoring and geochemistry. Environ Monit Assess 125:157–163

Agarwal SK (2009) Heavy metals pollution. APH Publishing, New Delhi

Ahmadi M, Khorasani N, Rafiee G (2011) Investigation of pollution sources and water quality of Tajan River. J Nat Environ 63:317–327

Barbosa F Jr (2017) Toxicology of metals and metalloids: promising issues for future studies in environmental health and toxicology. J Toxicol Environ Heath A 80:137–144

Best GA, Bogacka T, Niemirycz E (1997) International river water quality: pollution and restoration. Chapman and Hall, London

Campbell PGC (2000) Interactions between trace metals and aquatic organisms: a critique of the free-ion activity model, 3rd edn. Wiley, New York

Demirel Z, Özer Z, Özer O (2011) Investigation and modeling of water quality of Göksu River (Cleadnos) in an international protected area by using GIS. J Geog Sci 21:429–440

Heyvart AC, Reuter JE, Sloton DG, Goldman CR (2000) Paleo-limnological reconstruction of historical atmospheric lead and Hg deposition at lake Tahoe, California, Nevada. Environ Sci Technol 34:3588–3597

Jain CK (2004) Metal fractionation study on bed sediments of river Yamuna, India. Water Res 38:569–578

Jain AK (2009) River pollution. APH Publishing, New Delhi

Jain CK, Sharma CK (2001) Distribution of trace metals in the Hindon river system, India. J Hydrol 253:81–90

Jain CK, Singhal DC, Sharma UK (2005) Metal pollution assessment of sediment and water in the river Hindon, India. Environ Monit Assess 105:193–207

Jonnalagadda SB, Mhere G (2001) Water quality of the odzi river in the eastern highlands of zimbabwe. Water Res 35:2371–2376

Kannel PR, Lee S, Lee YS, Kanel SR, Pelletier GJ (2007) Application of automated QUAL2Kw for water quality modeling and management in the Bagmati River, Nepal. Ecol Model 202:503–517

Karbassi AR, Biati A (2012) Guidelines for sampling and toxicological analysis of sediment. University of Tehran, Tehran

Karbassi AR, Heidari M (2015) An investigation on role of salinity, pH and DO on heavy metals elimination throughout estuarial mixture. Glob J Environ Sci Manag 1(1):41–46

Karbassi AR, Tajziehchi S, Khoshghalb H (2018) Speciation of heavy metals in coastal water of Qeshm Island in the Persian Gulf. Glob J Environ Sci Manag 4(1):91–98

Li Y, Yu Z, Song X, Mu Q (2006) Trace metal concentrations in suspended particles, sediments and clams from Jiaozhou Bay of China. Environ Monit Assess 121:491–501

Marofi S, Maryanaji Z (2007) Stream water quality in the western regions of Iran. Afr J Biotechnol 6:1728–1731

Paul D (2017) Research on heavy metal pollution of river Ganga: a review. Ann Agrar Sci 15:278–286

Reyes ES, Henao JJA, Kornobis KM, Hanning RM, Majowicz SE, Liber K, Stark KD, Low G, Swanson HK, Laird BD (2017) Associations between omega-3 fatty acids, selenium content, and mercury levels in wild-harvested fish from the Dehcho Region, Northwest Territories, Canada. J Toxicol Environ Heath A 80:18–31

Rivett MO, Ellis PA, Mackay R (2011) Urban groundwater base flow influence upon inorganic river-water quality: the River Tame headwaters catchment in the City of Birmingham, UK. J Hydrol 400:206–222

Singh LB (2007) River pollution. APH Publishing, New Delhi

Tiwari MK, Bajpai S, Dewangan UK, Tamrakar RK (2015) Assessment of heavy metal concentrations in surface water sources in an industrial region of central India. Karbala Int J Mod Sci 1:9–14

Wolff S, Brown G, Chen J, Meals K, Thornton C, Brewer ST, Cizdziel JV, Willett KL (2016) Mercury concentrations in fish from three major lakes in north Mississippi: spatial and temporal differences and human health risk assessment. J Toxicol Environ Heath A 79:894–904

Yang H, Rose NL (2003) Distribution of Hg in the lake sediments across the UK. Sci Total Environ 304:391–404
Acknowledgements
We are thankful to the University of Tehran for providing us with the laboratory facilities. Also we acknowledge the support received from the Syrian Ministry of Higher Education.
Additional information
Editorial responsibility: M. Abbaspour.
About this article
Cite this article
Kasem, R., Karbassi, A.R., Omidvar, B. et al. Stability and speciation of heavy metals and metalloids in Tajan River water, North of Iran. Int. J. Environ. Sci. Technol. 17, 1899–1906 (2020). https://doi.org/10.1007/s13762-019-02500-6
Received:

Revised:

Accepted:

Published:

Issue Date:
Keywords
Eh–pH

Element species

Heavy metals

Heat capacity

Tajan River

Multivariate statistical package