Abstract
Landscape quality assessment is a complex and multidimensional process that is influenced by various variables and spatial patterns. This study aimed to investigate the interactions between the ecological and visual criteria for landscape assessment and determine the correlation of aesthetic values and spatial indices in Gharasoo watershed of Golestan Province, north of Iran. Firstly, the interactions and weightings of the criteria were determined using analytic network process and decision-making trial and evaluation laboratory approaches. Then, technique for order preference by similarity to ideal solution was used to assess the aesthetic quality of the watershed. Subsequently, Pearson correlation was applied to determine the relationship of the aesthetic quality and spatial indices. The results revealed that the criteria slope, elevation, vegetation type and vegetation density have the highest interactions and impacts in aesthetic quality assessment. The highest weights were also attributed to vegetation type, vegetation density, river visibility and waterfall visibility, respectively. The results showed that the southern areas of the watershed have a higher aesthetic quality than the northern parts. The Pearson analysis revealed positive correlation between aesthetic quality and normalized difference vegetation index, patch compactness and vegetation diversity indices and negative correlation with fragmentation index and land use diversity. Conclusively, landscape metrics can be used to assess and monitor the aesthetic quality of the region. In addition, considering the interactions of aesthetic quality and landscape pattern can facilitate the understanding of this process as well as increasing the awareness of land managers to improve conservation measurements.
This is a preview of subscription content, log in to check access.
Access options
Buy single article
Instant access to the full article PDF.
US$ 39.95
Price includes VAT for USA
Subscribe to journal
Immediate online access to all issues from 2019. Subscription will auto renew annually.
US$ 99
This is the net price. Taxes to be calculated in checkout.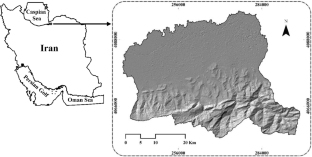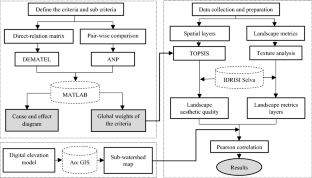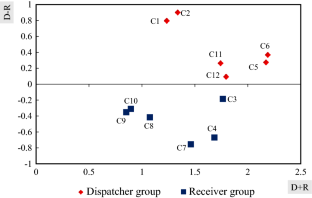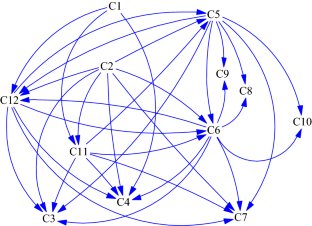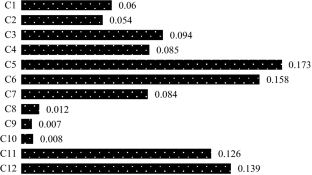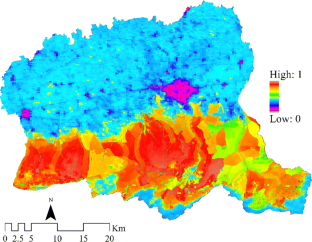 References
Acar C, Sakici C (2008) Assessing landscape perception of urban rocky habitats. Build Environ 43(6):1153–1170

Ahmadi Mirghaed F, Souri B, Mohammadzadeh M, Salmanmahiny A, Mirkarimi SH (2018) Evaluation of the relationship between soil erosion and landscape metrics across Gorgan Watershed in northern Iran. Environ Monit Assess 190(11):643

Aires URV, Santos BSM, Coelho CD, da Silva DD, Calijuri ML (2018) Changes in land use and land cover as a result of the failure of a mining tailings dam in Mariana, MG, Brazil. Land Use Policy 70:63–70

Akinci H, Ozalp AY, Turgut B (2013) Agricultural land use suitability analysis using GIS and AHP technique. Comput Electron Agric 97:71–82

Aminzadeh B, Ghoreyshi S (2007) Scenic landscape quality and recreational activities in natural forest parks. Int J Environ Res 1(1):5–13

Anfuso G, Williams AT, Hernandez JA, Pranzini E (2014) Coastal scenic assessment and tourism management in western Cuba. Tour Manag 42:307–320

Arriaza M, Canas-Ortega JF, Canas-Madueno JA, Ruiz-Aviles P (2004) Assessing the visual quality of rural landscapes. Landsc Urban Plan 69:115–125

Azizi A, Malekmohammadi B, Jafari HR, Nasiri H, Parsa VA (2014) Land suitability assessment for wind power plant site selection using ANP–DEMATEL in a GIS environment: case study of Ardabil province, Iran. Environ Monit Assess 186(10):6695–6709

Beza BB (2010) The aesthetic value of a mountain landscape: A study of the Mt. Everest Trek. Landsc Urban Plan 97:306–317

Buyukozkan G, Guleryuz S (2016) An integrated DEMATEL–ANP approach for renewable energy resources selection in Turkey. Int J Prod Econ 182:435–448

Daniel TC, Vining J (1983) Methodological issues in the assessment of landscape quality. In: Altman I, Wohwill JF (eds) Behaviour and the natural environment. Plenum Press, New York, pp 39–83

De Val GDLF, Muhlhauser SH (2014) Visual quality: an examination of a South American Mediterranean landscape, Andean foothills east of Santiago (Chile). Urban For Urban Green 13:261–271

De Val GDLF, Atauri JA, De Lucio JV (2006) Relationship between landscape visual attributes and spatial pattern indices: a test study in Mediterranean-climate landscapes. Landsc Urban Plan 77:393–407

Domingo-Santos JM, de Villaran RF, Rapp-Arraras I, De Provens ECP (2011) The visual exposure in forest and rural landscapes: an algorithm and a GIS tool. Landsc Urban Plan 101:52–58

Dramstad WE, Tveit MS, Fjellstad WJ, Fry GLA (2006) Relationships between visual landscape preferences and map-based indicators of landscape structure. Landsc Urban Plan 78:465–474

Dronova I (2017) Environmental heterogeneity as a bridge between ecosystem service and visual quality objectives in management, planning and design. Landsc Urban Plan 163:90–106

Eastman JR (2012) IDRISI selva manual. Clark University, Worcester

Fadafan FK, Danehkar A, Pourebrahim S (2018) Developing a non-compensatory approach to identify suitable zones for intensive tourism in an environmentally sensitive landscape. Ecol Ind 87:152–166

Falconer L, Hunter DC, Telfer TC, Ross LG (2013) Visual, seascape and landscape analysis to support coastal aquaculture site selection. Land Use Policy 34:1–10

Felix G, Marenzi RC, Polette M, Netto SA (2016) Landscape visual quality and Meiofauna biodiversity on sandy beaches. Environ Manag 58:682–693

Ferretti V, Pomarico S (2013) Ecological land suitability analysis through spatial indicators: an application of the analytic network process technique and ordered weighted average approach. Ecol Ind 34:507–519

Frank S, Furst C, Koschke L, Witt A, Makeschin F (2013) Assessment of landscape aesthetics—validation of a landscape metrics-based assessment by visual estimate of scenic beauty. Ecol Ind 32:222–231

Fry G, Tveit MS, Ode A, Velarde MD (2009) The ecology of visual landscapes: exploring the conceptual common ground of visual and ecological landscape indicators. Ecol Ind 9:933–947

Gavrilidis AA, Ciocanea CM, Nita MR, Onose DA, Nastase II (2016) Urban Landscape Quality Index—planning tool for evaluating urban landscapes and improving the quality of life. Proc Environ Sci 32:155–167

Gillespie TW, Ostermann-Kelm S, Dong C, Willis KS, Okin GS, MacDonald GM (2018) Monitoring changes of NDVI in protected areas of southern California. Ecol Ind 88:485–494

GUASNR (Gorgan University of Agricultural Sciences and Natural Resources) (2015) Land use planning project of Golestan Province. Management and Planning Organization of Golestan Province, vol 24–27

Hanine M, Boutkhoum O, Tikniouine A, Agouti T (2017) An application of OLAP/GIS-Fuzzy AHP–TOPSIS methodology for decision making: location selection for landfill of industrial wastes as a case study. KSCE J Civ Eng 21(6):2074–2084

Hartig T (1993) Nature experience in transactional perspective. Landsc Urban Plan 25:17–36

He C, Han Q, de Vries B, Wang X, Guochao Z (2017) Evaluation of sustainable land management in urban area: a case study of Shanghai, China. Ecol Ind 80:106–113

Jellema A, Stobbelaar DJ, Groot JCJ, Rossing WAH (2009) Landscape character assessment using region growing techniques in geographical information systems. J Environ Manag 90(2):S161–S174

Lillesand TM, Kiefer RW, Chipman JW (2004) Remote sensing and image interpretation. Wiley, New York

Liu KM, Lin SH, Hsieh JC, Tzeng GH (2018) Improving the food waste composting facilities site selection for sustainable development using a hybrid modified MADM model. Waste Manag 75:44–59

Lustig A, Stouffer DB, Roigé M, Worner SP (2015) Towards more predictable and consistent landscape metrics across spatial scales. Ecol Ind 57:11–21

Malczewski J (1999) GIS and multi criteria decision analysis. Wiley, New York

Martin B, Ortega E, Otero I, Arce R (2016) Landscape character assessment with GIS using map-based indicators and photographs in the relationship between landscape and roads. J Environ Manag 180:324–334

Millennium Ecosystem Assessment (2005) Ecosystems and human well-being: synthesis. Island Press, World Resources Institute Washington, Washington

Montgomery B, Dragićević S, Dujmović J, Schmidt M (2016) A GIS-based logic scoring of preference method for evaluation of land capability and suitability for agriculture. Comput Electron Agric 124:340–353

Ode A, Tveit MS, Fry G (2010) Advantages of using different data sources in assessment of landscape change and its effect on visual scale. Ecol Ind 10:24–31

Othman N, Mohamed N, Ariffin MH (2015) Landscape aesthetic values and visiting performance in natural outdoor environment. Proc Soc Behav Sci 202:330–339

Pastor IO, Martinez MAC, Canalejoa AE, Mariño PE (2007) Landscape evaluation: comparison of evaluation methods in a region of Spain. J Environ Manag 85(1):204–214

Peng J, Wang Y, Zhang Y, Wu J, Li W, Li Y (2010) Evaluating the effectiveness of landscape metrics in quantifying spatial patterns. Ecol Ind 10:217–223

Pilehforooshha P, Karimi M, Taleai M (2014) A GIS-based agricultural land-use allocation model coupling increase and decrease in land demand. Agric Syst 130:116–125

Polat AT, Akay A (2015) Relationships between the visual preferences of urban recreation area users and various landscape design elements. Urban For Urban Green 14:573–582

Purcell AT (1992) Abstract and specific physical attributes and the experience of landscape. J Environ Manag 34:159–177

Saaty TL (1980) The analytic hierarchy process. Mc Graw Hill Inc., New York

Saeidi S, Mohammadzadeh M, Salmanmahiny A, Mirkarimi SH (2017) Performance evaluation of multiple methods for landscape aesthetic suitability mapping: a comparative study between multi-criteria evaluation, logistic regression and multi-layer perceptron neural network. Land Use Policy 67:1–12

Sahraoui Y, Clauzel C, Foltete JC (2016) Spatial modelling of landscape aesthetic potential in urban-rural fringes. J Environ Manag 181:623–636

Sanchez-Lozano JM, García-Cascales MS, Lamata MT (2016) Comparative TOPSIS-ELECTRE TRI methods for optimal sites for photovoltaic solar farms, Case study in Spain. J Clean Prod 127:387–398

Seyedmohammadi J, Sarmadian F, Jafarzadeh AA, Ghorbani MA, Shahbazi F (2018) Application of SAW, TOPSIS and fuzzy TOPSIS models in cultivation priority planning for maize, rapeseed and soybean crops. Geoderma 310:178–190

Shelby B, Thompson J, Brunson M, Johnson J (2003) Changes in scenic quality after harvest: a decade of ratings for six silviculture treatments. J For 101(2):30–35

Sowinska-Swierkosz BN, Chmielewski TJ (2016) A new approach to the identification of Landscape Quality Objectives (LQOs) as a set of indicators. J Environ Manag 184:596–608

Tveit MS (2009) Indicators of visual scale as predictors of landscape preference: a comparison between groups. J Environ Manag 90:2882–2888

Tveit M, Ode A, Fry G (2006) Key visual concepts in a framework for analyzing visual landscape character. Landsc Res 31:229–255

Tyrväinen L, Silvennoinen H, Hallikainen V (2017) Effect of the season and forest management on the visual quality of the nature-based tourism environment: a case from Finnish Lapland. Scandinavian J For Res 32(4):349–359

Ungaro F, Hafner K, Zasada I, Piorr A (2016) Mapping cultural ecosystem services: connecting visual landscape quality to cost estimations for enhanced services provision. Land Use Policy 54:399–412

Van Zanten BT, Zasada I, Koetse MJ, Ungaro F, Häfner K, Verburg PH (2016) A comparative approach to assess the contribution of landscape features to aesthetic and recreational values in agricultural landscapes. Ecosyst Serv 17:87–98

Vouligny E, Domon G, Ruiz J (2009) An assessment of ordinary landscapes by an expert and by its residents: landscape values in areas of intensive agricultural use. Land Use Policy 26(4):890–900

Wang R, Zhao J (2017) Demographic groups' differences in visual preference for vegetated landscapes in urban green space. Sustain Cities Soc 28:350–357

Yang B, Brown TC (1992) A cross-cultural comparison of preferences for landscape styles and landscape elements. Environ Behav 24:471–507

Yao Y, Zhu X, Xu Y, Yang H, Wu X, Li Y, Zhang Y (2012) Assessing the visual quality of green landscaping in rural residential areas: the case of Changzhou, China. Environ Monit Assess 184(2):951–967

Yu D, Xie P, Dong X, Su B, Hu X, Wang K, Xu S (2018) The development of land use planning scenarios based on land suitability and its influences on eco-hydrological responses in the upstream of the Huaihe River basin. Ecol Model 373:53–67

Zhao J, Wang R, Luo P, Xing L, Sun T (2017) Visual ecology: exploring the relationships between ecological quality and aesthetic preference. Landsc Ecol Eng 13:107–118
Acknowledgements
This work was funded by Iran National Science Foundation (INSF, Grant No. 96000310). We are grateful to Gorgan University of Agricultural Sciences and Natural Resources (GUASNR) for sharing the required data, and we would like to express our appreciation to the anonymous reviewers and editors for their constructive comments and suggestions.
Additional information
Editorial responsibility: Parveen Fatemeh Rupani.
About this article
Cite this article
Ahmadi Mirghaed, F., Mohammadzadeh, M., Salmanmahiny, A. et al. Assessing the interactions between landscape aesthetic quality and spatial indices in Gharasoo watershed, North of Iran. Int. J. Environ. Sci. Technol. 17, 231–242 (2020). https://doi.org/10.1007/s13762-019-02342-2
Received:

Revised:

Accepted:

Published:

Issue Date:
Keywords
Landscape assessment

Landscape metrics

Aesthetic quality

ANP–DEMATEL

TOPSIS