Abstract
Earthquakes can lead to different levels of damages and subsequently produce significant volume of debris. Management of such huge amount of debris needs special attention. Thus, it is vital to develop a comprehensive and cost-effective management plan. The present study was carried out to estimate post-earthquake debris volume in the 22 districts of Tehran under various earthquake scenarios [magnitudes of 5, 6.5, and 7.5 on the moment magnitude (M W) scale]. Subsequently, required machineries and manpower and equipment for removal of debris were calculated. Finally, best practical methods for reduction and recycling were also examined. The shortest routes for transportation of post-earthquake to disposal sites were also proposed using network analysis. Results showed that about 83, 321 and 4802 million cubic meters of debris will be generated at 5, 6.5 and 7.5 M W, respectively. Disposal site of about 13 km2 is marked within the area of study for the management of debris. Preparedness, emergency operations, rehabilitation and reconstruction are among the main activities that can reduce the earthquake-induced damages.
This is a preview of subscription content,
to check access.
Access this article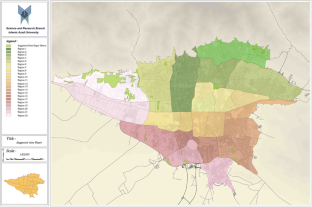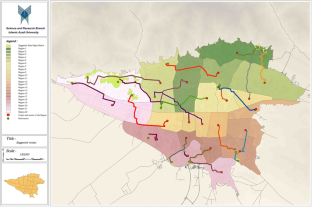 References
Abbasi MR, Farbod Y (2009) Faulting and folding in quaternary deposits of Tehran's Piedmont (Iran). J Asian Earth Sci 34:522–531

Amiri M, Chaman R, Raei M, Shirvani SDN, Afkar A (2013) Preparedness of hospitals in north of Iran to deal with disasters. Iran Red Crescent Med J 15(6):519–521

Asnafi AR, Pakdaman Naeini M (2012) Buin-Zahra earthquake: an archival approach. Res Bull Seismol Earthq Eng 15(2):47–55 (Special Issue)

Berberian M, Qorashi M, Jackson JA, Priestley K, Wallace T (1992) The Rudbar-Tarom earthquake of 20 June 1990 in NW Persia: preliminary field and seismological observations, and its tectonic significance. Bull Seismol Soc Am 82(4):1726–1755

Bird JF, Bommer JJ (2004) Earthquake losses due to ground failure. Eng Geol 75(2):147–179

Brown Ch, Milke M, Seville E (2011) Disaster waste management: a review article. Waste Manag 31(6):1085–1098

Campbell KW, Bozorgnia Y (1994) Empirical analysis of strong motion from the 1992 Landers, California, earthquake. Bull Seismol Soc Am 84(3):573–588

Chang L, Elnashai AS, Spencer BF Jr (2012) Post-earthquake modelling of transportation networks. Struct Infrastruct Eng 8(10):893–911

Coronado M, Dosal E, Coz A, Viguri JR, Andres A (2011) Estimatiom of construction and demolition waste(C&DW) generation and multicriteria analysis of C&DW management alternatives: a case study in Spain. Waste Biomass Valor 2:209–225

Edrissi A, Poorzahedy H, Nassiri H, Nourinejad M (2013) A multi-agent optimization formulation of earthquake disaster prevention and management. Eur J Oper Res 229(1):261–275

Erdik M, Rashidov T, Safak E, Turdukulov A (2005) Assessment of seismic risk in Tashkent, Uzbekistan and Bishkek, Kyrgyz Republic. Soil Dyn Earthq Eng 25(7–10):473–486

Fetter G, Rakes T (2012) Incorporating recycling into post-disaster debris disposal. Socio-Econ Plan Sci 46(1):14–22

Ghodrati Amiri G, Mahdavian A, Dana FM (2007) Attenuation relationships for Iran. J Earthq Eng 11(4):469–492

Hekimoglu Y, Melez IE, Canturk G, Erkol Z, Canturk N, Dizdar MG, Melez DO, Guler OM (2013) Evaluation of the deaths secondary to entrapment under the debris in the Van earthquake. Egypt J Forensic Sci 3(2):44–47

Hu Z-H, Sheu J-B (2013) Post-disaster debris reverse logistics management under psychological cost minimization. Transp Res Part B Methodol 55:118–141

Inui T, Yasutaka T, Endo K, Katsumi T (2012) Geo-environmental issues induced by the 2011 off the Pacific Coast of Tohoku Earthquake and tsunami. Soils Found 52(5):856–871

Karunasena G, Amaratunga D, Haigh R (2012) Post-disaster construction & demolition debris management: a Sri Lanka case study. J Civ Eng Manag 18(4):457–468

Khademi MH (2002) Attenuation of peak and spectral accelerations in the Persian plateau. In: Proceedings of Twelfth European Conference on Earthquake Engineering. Barbican Centre, London

Manafpour AR (2008) Ban Earthquake, Iran: Lessons on the seismic behavior of building structures. In: The 14th World Conference on Earthquake Engineering, Beijing, 12–17 Oct 2008

Mikoš M, Fazarinc R, Ribičič M (2006) Sediment production and delivery from recent large landslides and earthquake-induced rock falls in the Upper Soča River Valley. Slov Eng Geol 86(2–3):198–210

National Institute of Building Science (NIBS) (2012) HAZUS 99 technical and user's manual, Washington DC, USA, Federal Emergency Management Agency (FEMA)

Omidvar B, Golestaneh M, Abdollahi Y (2014) A framework for post-earthquake rapid damage assessment of hospitals. Case study: Rasoul-e-Akram Hospital (Tehran, Iran). Environ Hazards 13(2):133–160

Ozdamar L, Tuzun AD, Erguneş B (2014) Coordinating debris cleanup operations in post disaster road networks. Socio-Econ Plan Sci 48(4):249–262

Pakdaman NM, Asnafi AR (2012) Buin-Zahra earthquake: an archival approach. Res Bull Seismol Earthq Eng 15(2):47–55

Pramudita A, Taniguchi E (2014) Model of debris collection operation after disasters and its application in urban area. Int J Urban Sci 18(2):2168–2243

Pramudita A, Taniguchi E, Qureshi AG (2014) Location and routing problems of debris collection operation after disasters with realistic case study. Soc Behav Sci 125:445–458

Rafee N, Karbassi AR, Nouri J, Safari E, Mehrdadi M (2008) Strategic management of municipal debris aftermath of an earthquake. Int J Environ Res 2(2):205–214

Shoja-Taheri J, Naserieh S, Ghofrani H (2007) ML and MW scalein the Iranian Pelateau base on the strong motion records. Bull Seism Soc Am 97(2):661–669

Veneziano D, Sussman JM, Gupta U, Kunnumkal SM (2002) Earthquake loss under limited transportation capacity: assessment, sensitivity and remediation. In: 7th US National Conference on Earthquake Engineering, Boston, MA, EERI

Wang CY, Hu SR (2005) A study on emergency evacuation and rescue network reconstruction for natural disasters with multi-class travel behavior constraints. J East Asian Soc Transp Stud 6:4269–4284

Werner SD, Taylor CE (2002) Component vulnerability modeling issues for analysis of seismic risks to transportation lifeline systems. In: Werner SD, Taylor CE (eds) Acceptable risk processes: lifelines and natural hazards, Monograph No. 21, Technical Council on Lifeline Earthquake Engineering, ASCE, Reston

Xiao J, Xie H, Zhang Ch (2012) Investigation on building waste and reclaim in Wenchuan earthquake disaster area. Resour Conserv Recycl 61:109–117

Xu J, Nyerges TL, Nie G (2014) Modeling and representation for earthquake emergency response knowledge: perspective for working with geo-ontology. Int J Geogr Inf Sci 28(1):185–205
Acknowledgments
We greatly thank municipality of Tehran for supporting the Ph.D. student under the Fund No. MUP.Ph.D.12.
About this article
Cite this article
Askarizadeh, L., Karbassi, A.R., Ghalibaf, M.B. et al. Management of post-earthquake construction debris in Tehran Metropolitan. Int. J. Environ. Sci. Technol. 13, 639–648 (2016). https://doi.org/10.1007/s13762-015-0893-z
Received:

Revised:

Accepted:

Published:

Issue Date:

DOI: https://doi.org/10.1007/s13762-015-0893-z
Keywords