Abstract
In evaluating international treaties, in particular, the United Nations Framework on Climate Change Convention, this paper shows that necessary preparations have not been made to protect the rights of individuals who are refugees or have been forced to migrate from their homeland. Immigrants are deprived of the most essential human rights, such as language, culture, and having a right to a healthy living environment. The current legal administration has not made the necessary contingencies for responding to the environmental consequences of immigration and is extremely inefficient in expanding this phenomenon. This paper seeks to address the question of to what extent existing forms of legal and operational protection can apply in climate change-related displacement in general and cross-border displacement in particular. In this work some strategies have been proposed for dealing with these existing gaps. It is expected that analyzing these gaps and determining the international community's duties and commitments (governments and international organizations) can result in efficient management of this crisis and prevent the outbreak of chaos across the globe.
This is a preview of subscription content, log in to check access.
Access options
Buy single article
Instant access to the full article PDF.
US$ 39.95
Price includes VAT for USA
Subscribe to journal
Immediate online access to all issues from 2019. Subscription will auto renew annually.
US$ 99
This is the net price. Taxes to be calculated in checkout.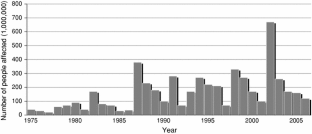 References
Ammer M (2009) Climate change and human rights: the status of climate refugees in Europe, Ludwig Boltzmann Institute of Human Rights (BIM), Austria, Research project on climate change

Barnett J (2003) Security and climate change. Glob Environ Change 13(1):7–17

Barnett L (2002) Global governance and the evolution of the international refugee regime. Int J Refugee Law 14(2–3):238–262

Bates D (2002) Environmental refugees? classifying human migrations caused by environmental change. Popul Environ 23(5):465–477

Beniston M (2004) Issues relating to environmental change and population migrations. A Climatologist's Perspective 20(12):1–24

Boyed S, Roach R (2006) Feeling the heat. A report from Tearfund

Cartagena Declaration on Refugees (1984) Colloquium on the international protection of refugees in Central America, Mexico and Panama, Columbia, 19–22 November 1984

Convention de Genève (1951) du 28 juillet 1951, relative au statut des réfugiés entrée en vigueur le 22 avril 1954 Préambule

EJF (2009) No place like home: climate refugees. Report of The Environmental Justice Foundation

EM-DAT (2006) The OFDA/CRED International disaster database (Center for Research on the Epidemiology of Disasters)

Friends of Earth Australia (2007) A citizens guide to climate refugees. Revised and Updated version

Holmes J (2008) Opening remarks at the Dubai International Humanitarian Aid and Development Conference and DIDHA 2008 Conference

Hyogo Declaration on Disaster Reduction (2005) World Conference on Disaster Reduction in Kobe, Japan

International Covenant on Civil and Political Rights (1966)

IOM (2010) Climate change and international migration. Background paper WMR

Kolmannskog V (2008) Future floods of refugees: a comment on climate change, conflict and forced migration. Norwegian Refugee Council

Meyers N (2001) Environmental refugee: a growing phenomenon of the 21 st country. R Soc Lond B2002(357):609–613

Nazari H (1999) Group refugee increasing. Politic Econ J 1(8):14–18

Preston et al (2006) The Commonwealth scientific and industrial report. Climate change in the Asia Pacific region

Reuveny R (2007) Climate Change- induced migration and violent conflict. J Polegeo 26(23):656–673

Safaie J (1995) Statues of refugees in international law. IRIB Foreign Ministry publishing

Salehyan I (2003) Human security and climate change. An international workshop, Oslo, 21–23 June

UNDP (2008) Fighting climate change: Human solidarity in a divided world. Human Development Report 2007/2008

UNOCHA (2009) Monitoring disaster displacement in the context of climate change, findings of a study by the United Nations Office for the Coordination of Humanitarian Affairs and the Internal Displacement Monitoring Centre GH-1211 Geneva 10, Switzerland
Acknowledgments
The authors are thankful to Dr. Yousef Hojjat (Tarbiat Modares University) and Dr. Farhad Dabiri (Islamic Azad University) for their valuable remarks and suggestions, which have contributed to this paper significantly.
About this article
Cite this article
Pourhashemi, S.A., Khoshmaneshzadeh, B., Soltanieh, M. et al. Analyzing the individual and social rights condition of climate refugees from the international environmental law perspective. Int. J. Environ. Sci. Technol. 9, 57–67 (2012). https://doi.org/10.1007/s13762-011-0017-3
Received:

Revised:

Accepted:

Published:

Issue Date:
Keywords
Convention

Environmental law

Global warming

Semi natural disasters