Abstract
Purpose
Conventional magnetic resonance imaging (MRI) technics are insufficient in the differentiation of tumor progression from post-treatment changes in patients with treated glioblastoma. Previous studies have suggested that histogram analysis is a useful tool in the assessment of treatment response in different cancer types. The aim of the study was to to evaluate the effectiveness of MRI histogram analysis in the differentiation of tumor progression from pseudoprogression in patients with treated glioblastoma.
Methods
Forty-six patients with glioblastoma who newly developed enhancing lesions following chemoradiation treatment were included in this retrospective study. Histogram analysis was performed from new enhancing lesions on T1-weighted contrast-enhanced MRI. Histogram analysis findings of patients with progression (23) and pseudoprogression (23) were compared.
Results
Mean, minimum, median, maximum, standard deviation, variance, entropy, skewness, uniformity values were found to be significantly higher in progressive disease (p < 0.05). A receiver-operating characteristic (ROC) curve analysis was performed for mean value, and area under the curve (AUC) was found as 0.975. When the threshold value was selected as 528.86, two groups could be differentiated with 95.7% sensitivity and 87.0% specificity.
Conclusion
MRI histogram analysis can be used for the differentiation of progressive disease from pseudoprogression.
Access options
Buy single article
Instant access to the full article PDF.
US$ 39.95
Tax calculation will be finalised during checkout.
Subscribe to journal
Immediate online access to all issues from 2019. Subscription will auto renew annually.
US$ 79
Tax calculation will be finalised during checkout.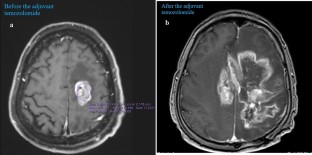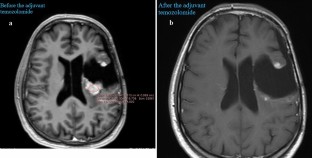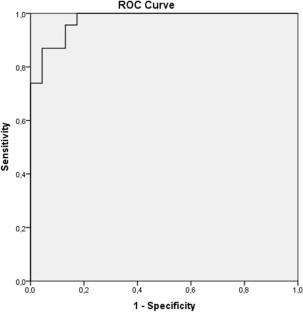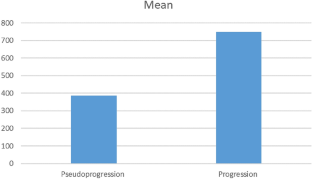 Ethics declarations
Conflict of interest
All authors declare that they have no confict of interest.
Ethical approval
All procedures performed in studies involving human participants were in accordance with the ethical standards of the institutional research committee and with the 1964 Helsinki Declaration and its later amendments or comparable ethical standards.
Informed consent
Informed consent was obtained from all individual participants included in the study.
Additional information
Publisher's Note
Springer Nature remains neutral with regard to jurisdictional claims in published maps and institutional affiliations.
About this article
Cite this article
Yildirim, M., Baykara, M. Differentiation of progressive disease from pseudoprogression using MRI histogram analysis in patients with treated glioblastoma. Acta Neurol Belg (2021). https://doi.org/10.1007/s13760-021-01607-3
Received:

Accepted:

Published:
Keywords
Glioblastoma

Progression

Pseudoprogression

Histogram analysis