Abstract
Neurodegenerative disorders include a group of severe diseases that share a core including a gradual loss of previously acquired motor, sensory and cognitive functions. In pediatric age, the main diagnostic issues are the discrimination between the loss of previously acquired competencies and the lack of achievement of specific developmental milestones. An ideal classification of these disorders could be based on the combination of genetic, clinical and neuroimaging features. Diagnostic workup should be organized with a special attention to the few diseases with an available and effective therapeutic treatment. The present paper reports a proposal of classification that is based on the prominently involved structure and summarizes the hallmarks for clinical approach and therapeutic management.
This is a preview of subscription content, log in to check access.
Access options
Buy single article
Instant access to the full article PDF.
US$ 39.95
Tax calculation will be finalised during checkout.
Subscribe to journal
Immediate online access to all issues from 2019. Subscription will auto renew annually.
US$ 99
Tax calculation will be finalised during checkout.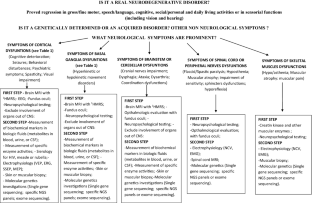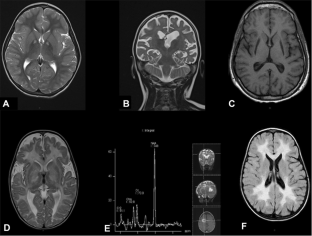 References
1.

Kovacs GG (2017) Concepts and classification of neurodegenerative diseases. Handb Clin Neurol 145:301–307

2.

Jan MM (2002) Clinical approach to children with suspected neurodegenerative disorders. Neurosciences (Riyadh) 7:2–6

3.

Waldman AT (2018) Leukodystrophies. Continuum (Minneap Minn) 24:130–149

4.

Pierre G (2013) Neurodegenerative disorders and metabolic disease. Arch Dis Child 98:618–624

5.

van der Knaap MS, Bugiani M (2017) Leukodystrophies: a proposed classification system based on pathological changes and pathogenetic mechanisms. Acta Neuropathol 134:351–382

6.

Parikh S, Bernard G, Leventer RJ, van der Knaap MS, van Hove J, Pizzino A et al (2015) A clinical approach to the diagnosis of patients with leukodystrophies and genetic leukoencephalopathies. Mol Genet Metab 114:501–515

7.

Bonkowsky JL, Nelson C, Kingston JL, Filloux FM, Mundorff MB, Srivastava R (2010) The burden of inherited leukodystrophies in children. Neurology 75:718–725

8.

Charzewska A, Wierzba J, Iżycka-Świeszewska E, Bekiesińska-Figatowska M, Jurek M, Gintowt A et al (2016) Hypomyelinating leukodystrophies—a molecular insight into the white matter pathology. Clin Genet 90:293–304

9.

Zhou P, He N, Zhang JW, Lin ZJ, Wang J, Yan LM et al (2018) Novel mutations and phenotypes of epilepsy-associated genes in epileptic encephalopathies. Genes Brain Behav. https://doi.org/10.1111/gbb.12456

10.

Helbig I, von Deimling M, Marsh ED (2017) Epileptic encephalopathies as neurodegenerative disorders. Adv Neurobiol 15:295–315

11.

Scheffer IE, Berkovic S, Capovilla G, Connolly MB, French J, Guilhoto L et al (2017) ILAE classification of the epilepsies: position paper of the ILAE commission for classification and terminology. Epilepsia 58:512–521

12.

Parrini E, Marini C, Mei D, Galuppi A, Cellini E, Pucatti D et al (2017) Diagnostic targeted resequencing in 349 patients with drug-resistant pediatric epilepsies identifies causative mutations in 30 different genes. Hum Mutat 38:216–222

13.

Gokben S, Onay H, Yilmaz S, Atik T, Serdaroglu G, Tekin H et al (2017) Targeted next generation sequencing: the diagnostic value in early-onset epileptic encephalopathy. Acta Neurol Belg 117:131–138

14.

Schulz A, Kohlschütter A, Mink J, Simonati A, Williams R (2013) NCL diseases—clinical perspectives. Biochim Biophys Acta 1832(11):1801–1806

15.

Geberhiwot T, Moro A, Dardis A, Ramaswami U, Sirrs S, Marfa MP et al (2018) International Niemann-Pick Disease Registry (INPDR). Consensus clinical management guidelines for Niemann-Pick disease type C. Orphanet J Rare Dis 13:50

16.

Cao J, Wu H, Li Z (2018) Recent perspectives of pediatric mitochondrial diseases. Exp Ther Med 15:13–18

17.

Mizuguchi T, Nakashima M, Kato M, Yamada K, Okanishi T, Ekhilevitch N et al (2017) PARS2 and NARS2 mutations in infantile-onset neurodegenerative disorder. J Hum Genet 62:525–529

18.

Flor-de-Lima F, Sampaio M, Nahavandi N, Fernandes S, Leão M (2014) Alsin related disorders: literature review and case study with novel mutations. Case Rep Genet 691515

19.

de Souza PVS, de Rezende Pinto WBV, de Rezende Batistella GN, Bortholin T, Oliveira ASB (2017) Hereditary spastic paraplegia: clinical and genetic hallmarks. Cerebellum 16:525–551

20.

Lo Giudice T, Lombardi F, Santorelli FM, Kawarai T, Orlacchio A (2014) Hereditary spastic paraplegia: clinical-genetic characteristics and evolving molecular mechanisms. Exp Neurol 261:518–539

21.

Di Meo I, Tiranti V (2018) Classification and molecular pathogenesis of NBIA syndromes. Eur J Paediatr Neurol 22:272–284

22.

Salomão RP, Pedroso JL, Gama MT, Dutra LA, Maciel RH, Godeiro-Junior C et al (2016) A diagnostic approach for neurodegeneration with brain iron accumulation: clinical features, genetics and brain imaging. Arq Neuropsiquiatr 74:587–596

23.

Inge A (2018) Meijer and Toni Pearson, the twists of pediatric dystonia: phenomenology, classification, and genetics. Semin Pediatr Neurol 25:65–74

24.

Kim SD, Fung VS (2014) An update on Huntington's disease: from the gene to the clinic. Curr Opin Neurol 27:477–483

25.

Peikert K, Danek A, Hermann A (2017) Current state of knowledge in Chorea-Acanthocytosis as core Neuroacanthocytosis syndrome. Eur J Med Genet S1769–7212(17):30591–30598

26.

Lal D, Becker K, Motameny S, Altmüller J, Thiele H, Nürnberg P et al (2013) Homozygous missense mutation of NDUFV1 as the cause of infantile bilateral striatal necrosis. Neurogenetics 14:85–87

27.

Baertling F, Rodenburg RJ, Schaper J, Smeitink JA, Koopman WJ et al (2014) A guide to diagnosis and treatment of Leigh syndrome. J Neurol Neurosurg Psychiatry 85:257–265

28.

Namavar Y, Barth PG, Poll-The BT, Baas F (2011) Classification, diagnosis and potential mechanisms in pontocerebellar hypoplasia. Orphanet J Rare Dis 6:50

29.

Venkatesh SD, Kandasamy M, Moily NS, Vaidyanathan R, Kota LN, Adhikarla S et al (2018) Genetic testing for clinically suspected spinocerebellar ataxias: report from a tertiary referral centre in India. J Genet 97:219–224

30.

Bodensteiner JB (2014) Friedreich ataxia. Semin Pediatr Neurol 21:72

31.

Whitehouse WP (2017) Multidisciplinary care of children and young people with ataxia-telangiectasia. Dev Med Child Neurol 59:670

32.

Krieger M, Roos A, Stendel C, Claeys KG, Sonmez FM, Baudis M et al (2013) SIL1 mutations and clinical spectrum in patients with Marinesco-Sjogren syndrome. Brain 136(Pt 12):3634–3644

33.

Mercuri E, Finkel RS, Muntoni F, Wirth B, Montes J, Main M et al (2018) Diagnosis and management of spinal muscular atrophy: part 1: recommendations for diagnosis, rehabilitation, orthopedic and nutritional care. Neuromuscul Disord 28:103–115

34.

Baets J, Deconinck T, De Vriendt E et al (2011) Genetic spectrum of hereditary neuropathies with onset in the first year of life. Brain 134(Pt 9):2664–2676

35.

Orssaud C, Robert MP, Bremond Gignac D (2018) Hereditary optic neuropathies in pediatric ophthalmology. J Fr Ophtalmol 41(5):402–406

36.

Carter JC, Sheehan DW, Prochoroff A, Birnkrant DJ (2018) Muscular dystrophies. Clin Chest Med 39:377–389

37.

Gutierrez J, Issacson RS, Koppel BS (2010) Subacute sclerosing panencephalitis: an update. Dev Med Child Neurol 52:901–907

38.

Wilmshurst JM, Hammond CK, Donald K, Hoare J, Cohen K, Eley B (2018) NeuroAIDS in children. Handb Clin Neurol 152:99–116

39.

Thompson AJ, Baranzini SE, Geurts J, Hemmer B, Ciccarelli O (2018) Multiple sclerosis. Lancet 391:1622–1636

40.

Granata T, Andermann F (2013) Rasmussen encephalitis. Handb Clin Neurol 111:511–519

41.

Berry-Kravis E, Chin J, Hoffmann A, Winston A, Stoner R, LaGorio L et al (2018) Long-term treatment of Niemann-Pick type C1 disease with intrathecal 2-hydroxypropyl-β-cyclodextrin. Pediatr Neurol 80:24–34

42.

Maljevic S, Reid CA, Petrou S (2017) Models for discovery of targeted therapy in genetic epileptic encephalopathies. J Neurochem 143(1):30–48

43.

Schulz A, Ajayi T, Specchio N, de Los Reyes E, Gissen P, Ballon D et al (2018) CLN2 Study Group. Study of intraventricular cerliponase alfa for CLN2 disease. N Engl J Med 378:1898–1907

44.

Chessa L, Leuzzi V, Plebani A, Soresina A, Micheli R, D'Agnano D et al (2014) Intra-erythrocyte infusion of dexamethasone reduces neurological symptoms in ataxia telangiectasia patients: results of a phase 2 trial. Orphanet J Rare Dis 9:5

45.

Leuzzi V, Micheli R, D'Agnano D, Molinaro A, Venturi T, Plebani A et al (2015) Positive effect of erythrocyte-delivered dexamethasone in ataxia-telangiectasia. Neurol Neuroimmunol Neuroinflamm 2(3):e98

46.

Biffi A, Montini E, Lorioli L, Cesani M, Fumagalli F, Plati T et al (2013) Lentiviral hematopoietic stem cell gene therapy benefits metachromatic leukodystrophy. Science 341:1233158

47.

Gordon-Lipkin E, Fatemi A (2018) Current therapeutic approaches in leukodystrophies: a review. J Child Neurol 33:861–868

48.

Bailey RM, Armao D, Nagabhushan Kalburgi S, Gray SJ (2018) Development of intrathecal AAV9 gene therapy for giant axonal neuropathy. Mol Ther Methods Clin Dev 9:160–171

49.

Georgiou E, Sidiropoulou K, Richter J, Papaneophytou C, Sargiannidou I, Kagiava A et al (2017) Gene therapy targeting oligodendrocytes provides therapeutic benefit in a leukodystrophy model. Brain 140(3):599–616

50.

Finkel RS, Mercuri E, Darras BT, Connolly AM, Kuntz NL, Kirschner J et al (2017) ENDEAR Study Group. Nusinersen versus sham control in infantile-onset spinal muscular atrophy. N Engl J Med 377:1723–1732

51.

McDonald CM, Campbell C, Torricelli RE, Finkel RS, Flanigan KM, Goemans N et al (2017) Ataluren in patients with nonsense mutation Duchenne muscular dystrophy (ACT DMD): a multicentre, randomised, double-blind, placebo-controlled, phase 3 trial. Lancet 390(10101):1489–1498

52.

Charleston JS, Schnell FJ, Dworzak J, Donoghue C, Lewis S, Chen L et al (2018) Eteplirsen treatment for Duchenne muscular dystrophy: exon skipping and dystrophin production. Neurology 90:e2146–e2154

53.

Hagemann TL, Powers B, Mazur C, Kim A, Wheeler S, Hung G et al (2018) Antisense suppression of glial fibrillary acidic protein as a treatment for Alexander disease. Ann Neurol 83(1):27–39

54.

Tabrizi SJ, Leavitt BR, Landwehrmeyer GB, Wild EJ, Saft C, Barker RA et al (2019) Targeting Huntingtin expression in patients with Huntington's Disease. N Engl J Med 1:1. https://doi.org/10.1056/nejmoa1900907

55.

Hughes MP, Smith DA, Morris L, Fletcher C, Colaco A, Huebecker M et al (2018) AAV9 intracerebroventricular gene therapy improves lifespan, locomotor function and pathologyin a mouse model of Niemann-Pick type C1 disease. Hum Mol Genet 27:3079–3098

56.

Zhang Y, Tian Z, Yuan J, Liu C, Liu HL, Ma SQ et al (2017) The progress of gene therapy for Leber's optic hereditary neuropathy. Curr Gene Ther 17:320–326
Ethics declarations
Conflict of interest
The author has no funding or conflict of interest to declare. This article does not contain any studies with human participants or animals performed by the author. The MRIs in Fig. 2 were realized during an ordinary diagnostic workup of the involved patients and a parental informed consent for their publication was obtained for each one of them.
Additional information
Publisher's Note
Springer Nature remains neutral with regard to jurisdictional claims in published maps and institutional affiliations.
About this article
Cite this article
Mastrangelo, M. Clinical approach to neurodegenerative disorders in childhood: an updated overview. Acta Neurol Belg 119, 511–521 (2019). https://doi.org/10.1007/s13760-019-01160-0
Received:

Accepted:

Published:

Issue Date:
Keywords
Leukoencephalopathies

Neuronal ceroid lipofuscinosis

Lysosomal storage diseases

Epileptic encephalopathies

Ponto-cerebellar hypoplasia

Spinal muscular atrophy