Abstract
Nesomesochorinae is a rather small subfamily of Darwin wasps (Insecta: Hymenoptera: Ichneumonidae), only with three described genera. We recognize a fourth nesomesochorine genus from Perú and describe it as a new genus, Bina Shimizu & Alvarado gen. nov. The new genus is distinguished from previously described genera of Nesomesochorinae by the following combination of character states: mandible parallel-sided proximally and abruptly strongly narrowed ventroapically so that its lower apical tooth is much smaller and sharper than upper tooth; propodeum with lateromedian longitudinal carinae between anterior and posterior transverse carinae developed on more than posterior 0.9 so that the area superomedia is more or less enclosed; thyridium of 2nd metasomal tergite sometimes very large; 1st metasomal tergite stout and arched; body highly shiny. Binagen. nov. comprises two species also described as new to science: B. huayrurae Shimizu & Alvarado sp. nov. (type species of Binagen. nov.) and B. nigra Shimizu & Alvarado sp. nov. Identification keys to genera of Nesomesochorinae and to species of Binagen. nov. are provided.
This is a preview of subscription content, log in to check access.
Access options
Buy single article
Instant access to the full article PDF.
US$ 39.95
Price includes VAT for USA
Subscribe to journal
Immediate online access to all issues from 2019. Subscription will auto renew annually.
US$ 99
This is the net price. Taxes to be calculated in checkout.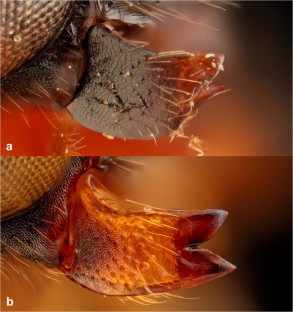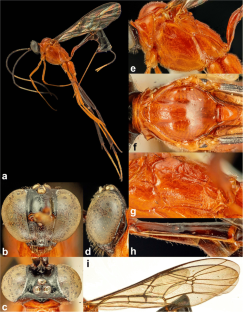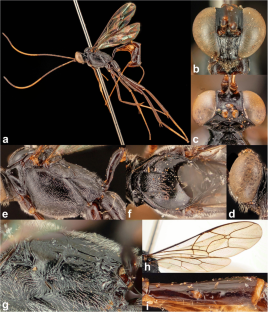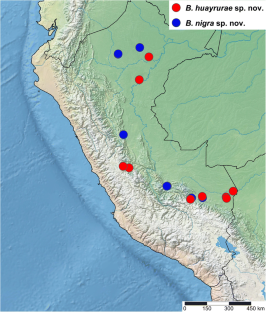 References
Bennett AMR, Cardinal S, Gauld ID, Wahl DB (2019) Phylogeny of the subfamilies of Ichneumonidae (Hymenoptera). J Hymenopt Res 71:1–156. https://doi.org/10.3897/jhr.71.32375

Betrem JG (1932) Eine merkwürdige Ichneumonidengattung Klutiana nov. gen. Tijdschrift voor Entomologie 75:89–96

Broad GR, Shaw MR, Fitton MG (2018) Ichneumonid wasps (Hymenoptera: Ichneumonidae): their classification and biology. Handbooks for the Identification of British Insects 7(12):1–418

Cresson ET (1874) Descriptions of Mexican Ichneumonidae. Proc Acad Natl Sci Phila 1873:374–413

Förster A (1869) Synopsis der Familien und Gattungen der Ichneumonen. Verhandlungen des Naturhistorischen Vereins der Preussischen Rheinlande und Westfalens 25:135–221

Klopfstein S, Santos BF, Shaw MR, Alvarado M, Bennett AMR, Dal Pos D, Giannotta M, Herrera Florez AF, Karlsson D, Khalaim AI, Lima AR, Mikó I, Sääksjärvi IE, Shimizu S, Spasojevic T, van Noort S, Vilhelmsen L, Broad GR (2019) Darwin wasps: new name heralds renewed efforts to unravel evolutionary history of Ichneumonidae. Entomological Communications 1:ec01006. https://doi.org/10.37486/2675-1305.ec01006

Miah MI, Bhuiya BA (2001) The relationship of subfamily Campopleginae (Hymenoptera: Ichneumonidae) with its related subfamilies: a cladistic assesment. Proceedings of the Zoological Society of Calcutta 54:27–37

Quicke DLJ, Fitton MG, Broad GR, Crocker B, Laurenne NM, Miah MI (2005) The parasitic wasp genera Skiapus, Hellwigia, Nonnus, Chriodes, and Klutiana (Hymenoptera, Ichneumonidae): recognition of the Nesomesochorinae stat. rev. and Nonninae stat. n. and transfer of Skiapus and Hellwigia to the Ophioninae. J Nat Hist 39:2559–2578. https://doi.org/10.1080/00222930500102546

Quicke DLJ, Laurenne NM, Fitton MG, Broad GR (2009) A thousand and one wasps: a 28S rDNA and morphological phylogeny of the Ichneumonidae (Insecta: Hymenoptera) with an investigation into alignment parameter space and elision. J Nat Hist 43:1305–1421. https://doi.org/10.1080/00222930902807783

Sääksjärvi IE, Haataja S, Neuvonen S, Gauld ID, Jussila R, Salo J, Marmol Burgos A (2004) High local species richness of parasitic wasps (Hymenoptera: Ichneumonidae; Pimplinae and Rhyssinae) from the lowland rainforests of Peruvian Amazonia. Ecological Entomology 29:735–743. https://doi.org/10.1111/j.0307-6946.2004.00656.x

Shimizu S, Lima A (2018) Taxonomic revision of the genus Stauropoctonus Brauns, 1889 (Hymenoptera: Ichneumonidae: Ophioninae) in Japan. Entomological Science 21:34–47. https://doi.org/10.1111/ens.12279

Shimizu S, Bennett AMR, Ito M, Maeto K (2019) A systematic revision of the Japanese species of the genus Therion Curtis, 1829 (Hymenoptera: Ichneumonidae: Anomaloninae). Insect Systematics & Evolution 50:36–66. https://doi.org/10.1163/1876312X-00002180

Shorthouse DP (2010) SimpleMappr, an online tool to produce publication-quality point maps http://wwwsimplemapprnet Accessed 20 Feb 2020

Townes HK (1970) The genera of Ichneumonidae, part 3. Memoirs of the American Entomological Institute 13:1–307

Yu DSK, Achterberg C van, Horstmann K (2016) Taxapad 2016, Ichneumonoidea 2015. Database on flash-drive, Nepean, Ontario, Canada. www.taxapad.com
Acknowledgments
We would like to thank Gavin Broad (NHMUK) for commenting on an early draft of this paper and supporting our investigation at NHMUK; Gerardo Lamas (MUSM) for his support at MUSM; Zoltán Vas (Hungarian Natural History Museum, Budapest, Hungary) for providing useful information of Szépligeti's types of the Neotropical Nesomesochorinae. This work has been partially carried out under project "Discovery new species and Amazon Cam," co-financed by the "Programa Nacional de Innovación para la Competitividad y Productividad – Innóvate Perú" and TRees-Peru. Collecting permits were issued by the Peruvian Ministry of Agriculture and Irrigation (No. 055 c/c-2008-INRENA-IANP, RDG No. 0124-2015-SERFOR-DGGSPFFS, No. 301-2015/019-2017/SERFOR / DGGSPFFS).
Author Contribution Statement
SS conceived and designed this study, performed measurements, taken photos, and drafted the manuscript. MA participated in the design of the study, carried out field work, performed measurements, and helped to draft the manuscript. SS and MA contributed in the form of discussions and approved the final manuscript.
Funding
This work was supported by the Grant-in-Aid for JSPS Fellows (Grant Number 18J20333) from the Japan Society for the Promotion of Science for SS and the JSPS Overseas Challenge Program for Young Researchers to carry out SS's research at NHMUK.
Additional information
Publisher's Note
Springer Nature remains neutral with regard to jurisdictional claims in published maps and institutional affiliations.
Edited by Douglas Zeppelini – UEPB
About this article
Cite this article
Shimizu, S., Alvarado, M. A New Genus and Two New Species of the Subfamily Nesomesochorinae Ashmead (Insecta: Hymenoptera: Ichneumonidae). Neotrop Entomol (2020). https://doi.org/10.1007/s13744-020-00778-7
Received:

Accepted:

Published:
Keywords
Darwin wasps

identification key

Neotropical

Ophioniformes

parasitoid wasps

taxonomy