Abstract
An ecofriendly one-pot three-component reaction of 1,3-dicarbonyl compounds, aromatic aldehydes and malononitrile was carried out in deep eutectic solvent (DES) based on choline chloride, to synthesize highly functionalized pyran derivatives under moderate conditions. The main advantages of this approach are mild reaction conditions, high yields, relaxed workup without chromatographic purification steps or extraction and easily reusable of DES's. Then, these compounds were evaluated for anti-mycobacterium activity against Mycobacterium bovis (Bacillus Calmette–Guerin). The preliminary results indicated that most of the tested compounds showed relatively good activity against the test organism. The compounds 4a, 4c, 4e, 4n demonstrated the high activities against Mycobacterium (0.044–0.084 μM/mL) and 4k showed highest activity (0.033 μM/mL). The commonalities of these compounds are having a chlorine atom on the ring which is located on position 4 of the 4H-pyran structures.
Graphic abstract

Access options
Buy single article
Instant access to the full article PDF.
US$ 39.95
Tax calculation will be finalised during checkout.
Subscribe to journal
Immediate online access to all issues from 2019. Subscription will auto renew annually.
US$ 119
Tax calculation will be finalised during checkout.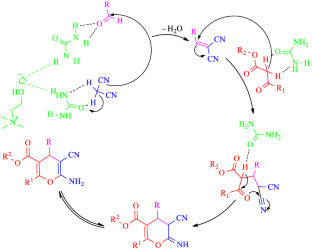 References
1.

https://www.webmd.com/lung/copd/news/20060525/top-10-causes-death-worldwide. Accessed 25 May 2006.

2.

https://www.weforum.org/agenda/2020/09/covid-19-deaths-global-killers-comparison. Accessed 29 Sep. 2020.

3.

M.C. Raviglione, J.P. Narain, A. Kochi, B World Health Organ. 70, 515 (1992)

4.

A. Rattan, A. Kalia, N. Ahmad, Emerg. Infect. Dis. 4, 195 (1998)

5.

https://www.who.int/news-room/fact-sheets/detail/the-top-10-causes-of-death. Accessed 9 Dec 2020.

6.

N.E. Leadbeater, Chem. Commun. 2881 (2005).

7.

C.B. Rao, B. Chinnababu, Y. Venkateswarlu, J. Org. Chem. 74, 8856 (2009)

8.

P.T. Anastas, T.C. Williamson, Green Chemistry: Frontiers in Benign Chemical Syntheses and Processes (Oxford University Press, Oxford, 1998).

9.

A.P. Abbott, G. Capper, D.L. Davies, R.K. Rasheed, V. Tambyrajah, Chem. Commun. 70 (2003)

10.

A.P. Abbott, D. Boothby, G. Capper, D.L. Davies, R.K. Rasheed, J. Am. Chem. Soc. 126, 9142 (2004)

11.

X.-J. Huang, L. Aldous, A.M. O'Mahony, F.J. del Campo, R.G. Compton, Anal. Chem. 82, 5238 (2010)

12.

F.S. Oliveira, A.B. Pereiro, L.P. Rebelo, I.M. Marrucho, Green Chem. 15, 1326 (2013)

13.

M. Hayyan, M.A. Hashim, A. Hayyan, M.A. Al-Saadi, I.M. Al-Nashef, M.E. Mirghani, O.K. Saheed, Chemosphere 90, 2193 (2013)

14.

Z. Maugeri, P.D. de María, RSC Adv. 2, 421 (2012)

15.

A.P. Abbott, R.C. Harris, K.S. Ryder, C. D'Agostino, L.F. Gladden, M.D. Mantle, Green Chem. 13, 82 (2011)

16.

Z. Chen, W. Zhu, Z. Zheng, X. Zou, J. Fluorine Chem. 131, 340 (2010)

17.

M. Francisco, A. van den Bruinhorst, M.C. Kroon, Angew. Chem. Int. Ed. 52, 3074 (2013)

18.

C. Ruß, B. König, Green Chem. 14, 2969 (2012)

19.

Z. Chen, B. Zhou, H. Cai, W. Zhu, X. Zou, Green Chem. 11, 275 (2009)

20.

S.S.Y. Tan, D.R. MacFarlane, Ionic Liquids in Biomass Processing (Springer, Berlin, 2009), p. 311

21.

D.A. Fort, R.C. Remsing, R.P. Swatloski, P. Moyna, G. Moyna, R.D. Rogers, Green Chem. 9, 63 (2007)

22.

P. Li, F. Ma, P. Wang, Z. Zhang, Chin. J. Chem. 31, 757 (2013)

23.

S. Gore, S. Baskaran, B. Koenig, Adv. Synth. Catal. 354, 2368 (2012)

24.

A.L. Lazzeri, E. Lapi, Boll. chim. farm. 99, 583 (1960)

25.

L. Bonsignore, G. Loy, D. Secci, A. Calignano, Eur. J. Med. Chem. 28, 517 (1993)

26.

E. Witte, P. Neubert, A. Roesch, Chem. Abstr. 104, 224915f (1986)

27.

N.J. Thumar, M.P. Patel, Arkivoc 13, 363 (2009)

28.

C. Konkoy, D. Fick, S. Cai, N. Lan, J. Keana, Chem. Abstr. 134, 29313a (2001)

29.

D. Armesto, W.M. Horspool, N. Martin, A. Ramos, C. Seoane, J. Org. Chem. 54, 3069 (1989)

30.

E.A.A. Hafez, M.H. Elnagdi, A.G.A. Elagamey, F.M.A.A. El-taweel, Heterocycles 26, 903 (1987)

31.

S. Hatakeyama, N. Ochi, H. Numata, S. Takano, J. Chem. Soc, Chem. Commun. 1202 (1988)

32.

J. Zhu, Eur. J. Org. Chem. 68, 1133 (2003)

33.

A.H. Rezayan, S. Hariri, P. Azerang, G. Ghavami, I. Portugal, S. Sardari, Iran. J. Pharm. Res 16, 745 (2017)

34.

S.M. Shahcheragh, A. Habibi, S. Khosravi, Tetrahedron Lett. 58, 855 (2017)

35.

A. Habibi, E. Ghanbari, I. Yavari, J. Iran. Chem. Soc. 16, 2519 (2019)

36.

N. Azizi, S. Dezfooli, M. Khajeh, M.M. Hashemi, J. Mol. Liq. 186, 76 (2013)
About this article
Cite this article
Hakiminasab, S., Habibi, A., Shahcheragh, S.M. et al. Efficient pyran derivatives synthesis in DES medium and their antimicrobial evaluation as inhibitors of mycobacterium bovis (BCG). J IRAN CHEM SOC (2021). https://doi.org/10.1007/s13738-021-02209-9
Received:

Accepted:

Published:
Keywords
Three-component reaction

Choline chloride

Deep eutectic solvent

Mycobacterium bovis