Abstract
Two new Schiff bases (E)-1-(3-((2-hydroxy-3-methylbenzylidene)amino)phenyl)ethan-1-one (1) and (E)-2-(((3-chloro-4-(4-chlorophenoxy)phenyl)imino)methyl)-6-methylphenol (2) were synthesized by already reported method on reflux. Characterization of targeted compounds was performed by spectroscopic techniques and X-ray diffraction analysis. Single-crystal X-ray diffraction studies showed that compound 1 is orthorhombic, while 2 is triclinic. In the crystalline molecules, intermolecular interactions have been observed by using the Hirshfeld surface analysis along 2D interactions. Molecular Operating Environment software was used for the docking studies which administer the potential appliance of the targeted compounds against AChE and BChE. Results of the docking study depicted that compound 1 is less active than that of compound 2 across both enzymes. To perform the optimization of the Schiff base, 6-31G(d,p) basis set and B3LYP method were used. DFT calculations were used to measure the associated energies of the orbitals and also correlate the bond angle and bong length of the synthesized compounds with the experimental values. It was seen from results that experimental and DFT calculation are in close agreement. In order to check the therapeutic properties, in silico ADMET model was adopted which revealed that the different properties of the synthesized molecules are drug-like.
Access options
Buy single article
Instant access to the full article PDF.
US$ 39.95
Tax calculation will be finalised during checkout.
Subscribe to journal
Immediate online access to all issues from 2019. Subscription will auto renew annually.
US$ 119
Tax calculation will be finalised during checkout.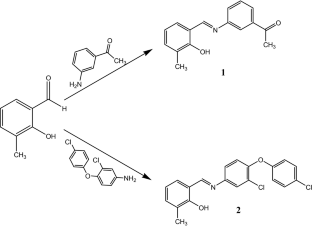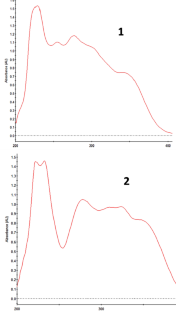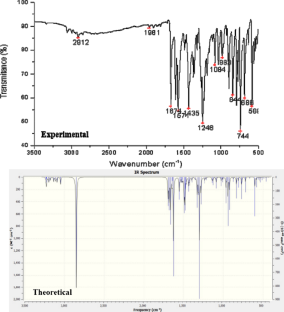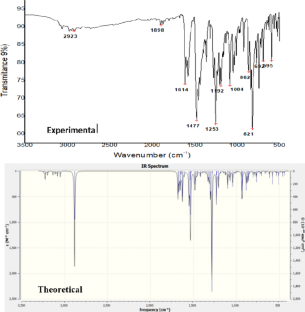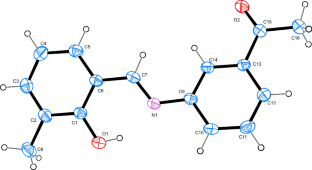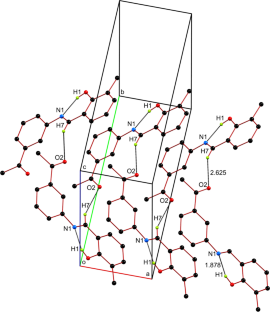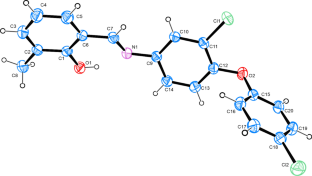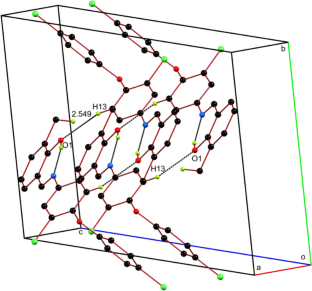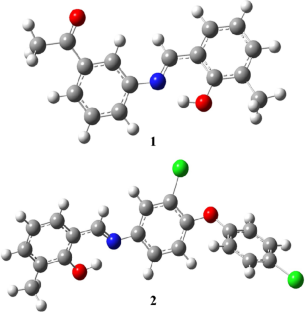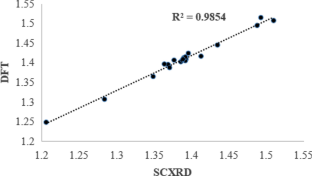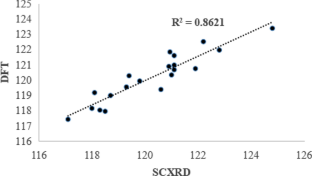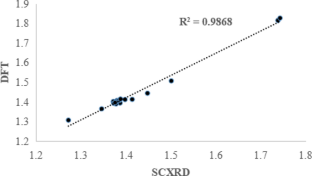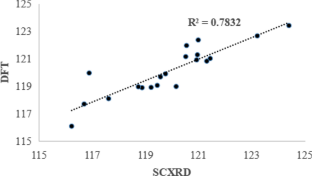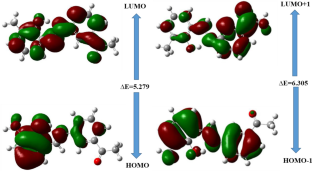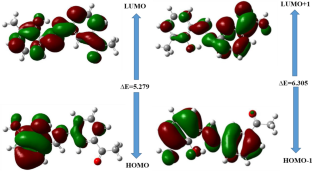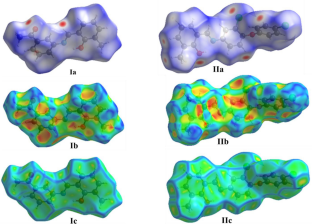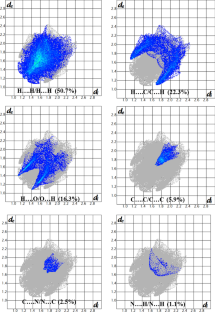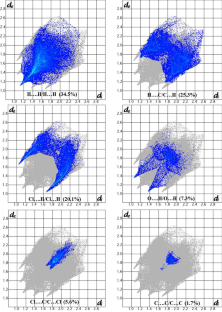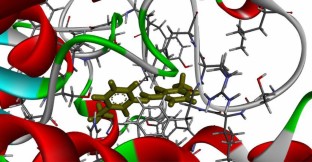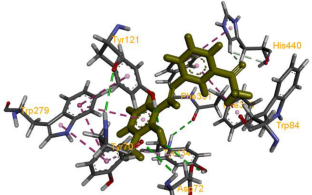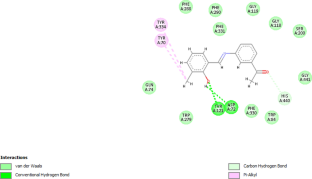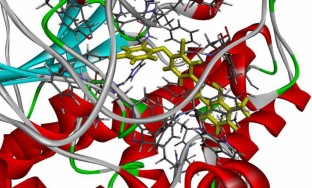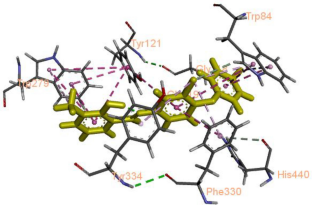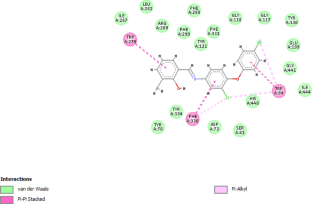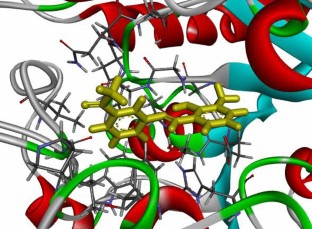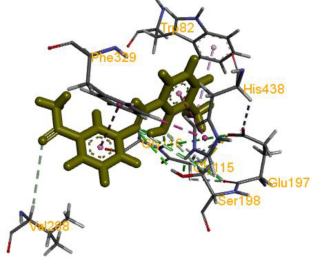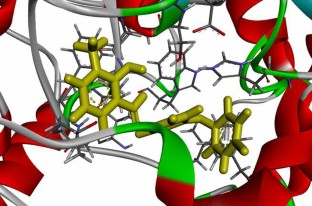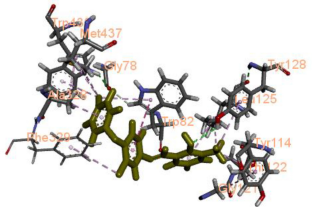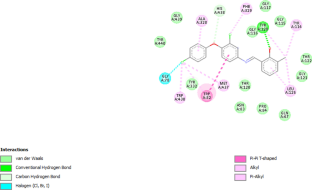 References
1.

K. Nicolaou, Organic synthesis: the art and science of replicating the molecules of living nature and creating others like them in the laboratory. Proc. R. Soc. A Math. Phys. Eng. Sci. 470(2163), 20130690 (2014)

2.

F. Nicotra, Synthetic organic chemistry. Org. Biomol. Chem. 1, 1–9

3.

A.M. Abu-Dief, I.M. Mohamed, A review on versatile applications of transition metal complexes incorporating Schiff bases. Beni-Suef Univ. J. Basic Appl. Sci. 4(2), 119–133 (2015)

4.

S.T. Tsantis, D.I. Tzimopoulos, M. Holynska, S.P. Perlepes, Oligonuclear actinoid complexes with Schiff bases as ligands—older achievements and recent progress. Int. J. Mol. Sci. 21(2), 555 (2020)

5.

I. Ledeţi, A. Alexa, V. Bercean, G. Vlase, T. Vlase, L.-M. Şuta, A. Fuliaş, Synthesis and degradation of Schiff bases containing heterocyclic pharmacophore. Int. J. Mol. Sci. 16(1), 1711–1727 (2015)

6.

K. Abhishek, J. Fernandes, K. Pankaj, Synthesis, antimicrobial and antiinflammatory studies of some novel schiff base derivatives. Int. J. Drug Dev. Res. 6, 165–167 (2014)

7.

P. Piotr, H. Adam, P. Krystian, B. Bogumil, B. Franz, Biological properties of Schiff bases and Azo derivatives of phenols. Curr. Org. Chem. 13(2), 124–148 (2009)

8.

V. Sumangala, B. Poojary, N. Chidananda, T. Arulmoli, S. Shenoy, Synthesis and biological evaluation of some Schiff bases of 4-amino-5-(4-methylsulfonyl) benzyl-2, 4-dihydro-3H-[1, 2, 4]-triazole-3-thione. Med. Chem. Res. 22(6), 2921–2928 (2013)

9.

H. Sachdeva, D. Dwivedi, K. Arya, S. Khaturia, R. Saroj, Synthesis, anti-inflammatory activity, and QSAR study of some Schiff bases derived from 5-mercapto-3-(4′-pyridyl)-4H-1, 2, 4-triazol-4-yl-thiosemicarbazide. Med. Chem. Res. 22(10), 4953–4963 (2013)

10.

X. Sun, Y. Bai, Y. Liu, B. Chen, Synthesis, structure and biological activities of 3-substituted phenoxymethyl-4-amino-1, 2, 4-triazol-5-thione Schiff bases. Acta Chim. Sin 68, 788–792 (2010)

11.

A. Kajal, S. Bala, S. Kamboj, N. Sharma, V. Saini, Schiff bases: a versatile pharmacophore. J. Catal. 2013, 1–14 (2013)

12.

C. Adamo, D. Jacquemin, The calculations of excited-state properties with time-dependent density functional theory. Chem. Soc. Rev. 42(3), 845–856 (2013)

13.

J. Neugebauer, T. Hickel, Density functional theory in materials science. Wiley Interdiscipl. Rev. Comput. Mol. Sci. 3(5), 438–448 (2013)

14.

P.J. Hasnip, K. Refson, M.I. Probert, J.R. Yates, S.J. Clark, C.J. Pickard, Density functional theory in the solid state. Philos. Trans. R. Soc. A Math. Phys. Eng. Sci. 372(2011), 20130270 (2014)

15.

S.H. Sumrra, I. Sahrish, M.A. Raza, Z. Ahmad, M.N. Zafar, Z.H. Chohan, M. Khalid, S. Ahmed, Efficient synthesis, characterization, and in vitro bactericidal studies of unsymmetrically substituted triazole-derived Schiff base ligand and its transition metal complexes. Monatshefte für Chemie-Chem. Mon. 151, 549–557 (2020)

16.

G.M. Sheldrick, SHELXT–Integrated space-group and crystal-structure determination. Acta Crystall. Sect. A Found. Adv. 71(1), 3–8 (2015)

17.

G.M. Sheldrick, Crystal structure refinement with SHELXL. Acta Crystall. Sect. C Struct. Chem. 71(1), 3–8 (2015)

18.

L.J. Farrugia, WinGX and ORTEP for windows: an update. J. Appl. Crystallogr. 45(4), 849–854 (2012)

19.

C. Stoe, X-AREA, Version 1.30, Program for the Acquisition and Analysis of Data (Stoe and Cie GmbH, Darmatadt, 2005).

20.

C. Stoe, X-RED, Data Reduction Program (STOE and Cie GmbH, Darmstadt, 1999).

21.

A.L. Spek, Structure validation in chemical crystallography. Acta Crystallogr. D Biol. Crystallogr. 65(2), 148–155 (2009)

22.

C.F. Macrae, P.R. Edgington, P. McCabe, E. Pidcock, G.P. Shields, R. Taylor, M. Towler, J. Streek, Mercury: visualization and analysis of crystal structures. J. Appl. Crystallogr. 39(3), 453–457 (2006)

23.

M. Frisch, G. Trucks, H. Schlegel, G. Scuseria, M. Robb, J. Cheeseman, G. Scalmani, V. Barone, B. Mennucci, G. Petersson, Gaussian 09; Gaussian, Inc, Wallingford, CT 32, pp. 5648–5652, (2009)

24.

A.D. Becke, Density-functional thermochemistry. I. The effect of the exchange-only gradient correction. J. Chem. Phys. 96(3), 2155–2160 (1992)

25.

C. Lee, W. Yang, R.G. Parr, Development of the Colle-Salvetti correlation-energy formula into a functional of the electron density. Phys. Rev. B 37(2), 785 (1988)

26.

P.C. Hariharan, J.A. Pople, The influence of polarization functions on molecular orbital hydrogenation energies. Theoret. Chim. Acta 28(3), 213–222 (1973)

27.

S. Wolff, D. Grimwood, J. McKinnon, M. Turner, D. Jayatilaka, M. Spackman, Crystal Explorer package, ver. 3.1, University of Western Australia, Perth, Australia (2013)

28.

K. Azouzi, B. Hamdi, R. Zouari, A.B. Salah, Synthesis, structure and Hirshfeld surface analysis, vibrational and DFT investigation of (4-pyridine carboxylic acid) tetrachlorocuprate (II) monohydrate. Bull. Mater. Sci. 40(2), 289–299 (2017)

29.

M.A. Raza, K. Fatima, Z. Saqib, J.K. Maurin, A. Budzianowski, Designing of diamino based esterases inhibitors; synthesis, characterization, density functional theory and molecular modeling. J. Mol. Struct. 1195, 712–722 (2019)

30.

P.D. Lyne, Structure-based virtual screening: an overview. Drug Discov. Today 7(20), 1047–1055 (2002)

31.

H.Y. Zhang, Y.M. Sun, X.L. Wang, Substituent effects on OH bond dissociation enthalpies and ionization potentials of catechols: a DFT study and its implications in the rational design of phenolic antioxidants and elucidation of structure-activity relationships for flavonoid antioxidants. Chem. A Eur. J. 9(2), 502–508 (2003)

32.

M.A. Raza, K. Fatima, Molecular modeling approach for designing of amino-derived anti-Alzheimer agents: a computational study. J. Phys. Org. Chem. 33, e4076 (2020)

33.

Z.H. Chohan, M. Hanif, Design, synthesis, and biological properties of triazole derived compounds and their transition metal complexes. J. Enzyme Inhib. Med. Chem. 25(5), 737–749 (2010)

34.

E. Tozzo, S. Romera, M.P. dos Santos, M. Muraro, H.D.A. Regina, L. Liao, L. Vizotto, E.R. Dockal, Synthesis, spectral studies and X-ray crystal structure of N, N′-(±)-trans-1, 2-cyclohexylenebis (3-ethoxysalicylideneamine) H2 (t-3-EtOsalchxn). J. Mol. Struct. 876(1–3), 110–120 (2008)

35.

A. Bartyzel, Synthesis, thermal study and some properties of N 2 O 4—donor Schiff base and its Mn (III), Co (II), Ni (II), Cu (II) and Zn (II) complexes. J. Therm. Anal. Calorim. 127(3), 2133–2147 (2017)

36.

T. Hökelek, S. Özkaya, H. Necefoğlu, Crystal structure and hirshfeld surface analysis of AquaBis (Nicotinamide-Κn 1) Bis (2, 4, 6-TriMethylBenzoato-Κ2 O, O′) Cadmium (II). Acta Crystallogr. E Cryst. Commun. 74, 246–251 (2018)
Ethics declarations
Conflict of interest
All authors declared that they have no conflict of interest.
About this article
Cite this article
Dege, N., Raza, M.A., Doğan, O.E. et al. Theoretical and experimental approaches of new Schiff bases: efficient synthesis, X-ray structures, DFT, molecular modeling and ADMET studies. J IRAN CHEM SOC (2021). https://doi.org/10.1007/s13738-021-02194-z
Received:

Accepted:

Published:
Keywords
Crystal structure

Density functional theory

Molecular modeling

Schiff base

ADMET