Abstract
Alport syndrome (AS) is a progressive kidney disease. Male cases with X-linked AS (XLAS) are reported to develop end-stage kidney disease (ESKD) at the age of around 20–30 years. One risk factor for developing ESKD at a young age is a genotype of having truncating variants in the COL4A5 gene. However, to date, other such factors have remained unclear. Here, we describe a 15-year-old Japanese boy with XLAS who had a missense variant in the COL4A5 gene. He presented with gross hematuria, severe proteinuria, oliguria, systemic edema, body weight gain, and hypertension after pharyngitis. Blood examination showed kidney dysfunction, hypocomplementemia, and elevated antistreptolysin-O level. We diagnosed him with poststreptococcal acute glomerulonephritis (PSAGN) and he was stopped treatment by lisinopril, and received supportive treatment. However, he showed an unusual clinical course for PSAGN and, consequently, developed ESKD 15 months after the onset of PSAGN without recovery from the kidney dysfunction. This case showed that the onset of PSAGN can be a risk factor for AS patients to develop ESKD at a young age.
This is a preview of subscription content, log in to check access.
Access options
Buy single article
Instant access to the full article PDF.
US$ 39.95
Price includes VAT for USA
Subscribe to journal
Immediate online access to all issues from 2019. Subscription will auto renew annually.
US$ 99
This is the net price. Taxes to be calculated in checkout.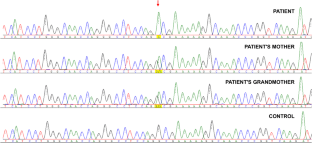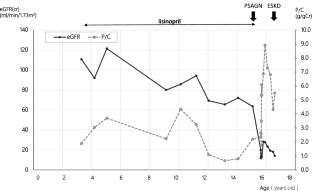 References
1.

Nozu K, Nakanishi K, Abe Y, Udagawa T, Okada S, Okamoto T, et al. A review of clinical characteristics and genetic backgrounds in Alport syndrome. Clin Exp Nephrol. 2019;23(2):158–68. https://doi.org/10.1007/s10157-018-1629-4.

2.

Gross O, Licht C, Anders HJ, Hoppe B, Beck B, Tonshoff B, et al. Early angiotensin-converting enzyme inhibition in Alport syndrome delays renal failure and improves life expectancy. Kidney Int. 2012;81(5):494–501. https://doi.org/10.1038/ki.2011.407.

3.

Gross O, Tonshoff B, Weber LT, Pape L, Latta K, Fehrenbach H, et al. A multicenter, randomized, placebo-controlled, double-blind phase 3 trial with open-arm comparison indicates safety and efficacy of nephroprotective therapy with ramipril in children with Alport's syndrome. Kidney Int. 2020. https://doi.org/10.1016/j.kint.2019.12.015.

4.

Bekheirnia MR, Reed B, Gregory MC, McFann K, Shamshirsaz AA, Masoumi A, et al. Genotype–phenotype correlation in X-linked Alport syndrome. J Am Soc Nephrol. 2010;21(5):876–83. https://doi.org/10.1681/ASN.2009070784.

5.

Gross O, Netzer KO, Lambrecht R, Seibold S, Weber M. Meta-analysis of genotype–phenotype correlation in X-linked Alport syndrome: impact on clinical counselling. Nephrol Dial Transplant. 2002;17(7):1218–27.

6.

Jais JP, Knebelmann B, Giatras I, De Marchi M, Rizzoni G, Renieri A, et al. X-linked Alport syndrome: natural history in 195 families and genotype–phenotype correlations in males. J Am Soc Nephrol. 2000;11(4):649–57.

7.

Lennon R, Stuart HM, Bierzynska A, Randles MJ, Kerr B, Hillman KA, et al. Coinheritance of COL4A5 and MYO1E mutations accentuate the severity of kidney disease. Pediatr Nephrol. 2015;30(9):1459–65. https://doi.org/10.1007/s00467-015-3067-9.

8.

Mencarelli MA, Heidet L, Storey H, van Geel M, Knebelmann B, Fallerini C, et al. Evidence of digenic inheritance in Alport syndrome. J Med Genet. 2015;52(3):163–74. https://doi.org/10.1136/jmedgenet-2014-102822.

9.

Hashimura Y, Nozu K, Kaito H, Nakanishi K, Fu XJ, Ohtsubo H, et al. Milder clinical aspects of X-linked Alport syndrome in men positive for the collagen IV α5 chain. Kidney Int. 2014;85(5):1208–13. https://doi.org/10.1038/ki.2013.479.

10.

Kashtan CE. Alport syndrome. An inherited disorder of renal, ocular, and cochlear basement membranes. Medicine (Baltimore). 1999;78(5):338–60.

11.

Hiki Y, Tamura K, Shigematsu H, Kobayashi Y. Superimposition of poststreptococcal acute glomerulonephritis on the course of IgA nephropathy. Nephron. 1991;57(3):358–64. https://doi.org/10.1159/000186288.

12.

Horita Y, Tadokoro M, Taura K, Suyama N, Taguchi T, Miyazaki M, et al. Histologically confirmed superimposition of post-streptococcal acute glomerulonephritis during IgA nephropathy. Clin Exp Nephrol. 2004;8(4):351–5. https://doi.org/10.1007/s10157-004-0311-1.

13.

Lim BJ, Suh KS, Na KR, Lee KW, Shin YT. Acute poststreptococcal glomerulonephritis superimposed on IgA nephropathy. Clin Nephrol. 2008;70(2):155–8. https://doi.org/10.5414/cnp70155.

14.

Masutani K, Mizumasa T, Iwanaga T, Shinozaki M, Yanagida T, Kashiwagi M, et al. Superimposition of post-streptococcal acute glomerulonephritis on the course of IgA nephropathy: predominance of Th1 type immune response. Clin Nephrol. 2002;58(3):224–30. https://doi.org/10.5414/cnp58224.

15.

Fujinaga S, Ohtomo Y, Mochizuki H, Murakami H, Shimizu T, Yamashiro Y, et al. Rapidly progressive acute post-streptococcal glomerulonephritis in a child with IgA nephropathy. Pediatr Int. 2009;51(3):425–8. https://doi.org/10.1111/j.1442-200X.2009.02826.x.

16.

Fujinaga S, Hirano D, Nishizaki N, Kanai H, Ohtomo Y, Kaneko K, et al. Unfavorable outcome in a child with megaureter-megacystis syndrome complicated by mild acute poststreptococcal glomerulonephritis. Pediatr Int. 2010;52(6):895–6. https://doi.org/10.1111/j.1442-200X.2010.03272.x.

17.

Naito-Yoshida Y, Hida M, Maruyama Y, Hori N, Awazu M. Poststreptococcal acute glomerulonephritis superimposed on bilateral renal hypoplasia. Clin Nephrol. 2005;63(6):477–80. https://doi.org/10.5414/cnp63477.

18.

Sheridan RJ, Roy S 3rd, Stapleton FB. Reflux nephropathy complicated by acute post-streptococcal glomerulonephritis. Int J Pediatr Nephrol. 1983;4(2):119–21.

19.

Tasic V, Ristoska-Bojkovska N, Gucev Z, Lozanovski VJ. Poststreptococcal glomerulonephritis in children with congenital anomalies of the kidney and urinary tract. Ren Fail. 2015;37(9):1440–3. https://doi.org/10.3109/0886022X.2015.1074488.

20.

Rawla P, Padala SA, Ludhwani D. Poststreptococcal Glomerulonephritis. In: StatPearls. Treasure Island, FL: StatPearls Publishing; 2020.

21.

Yano K, Suzuki H, Oda T, Ueda Y, Tsukamoto T, Muso E. Crescentic poststreptococcal acute glomerulonephritis accompanied by small vessel vasculitis: case report of an elderly male. BMC Nephrol. 2019;20(1):471. https://doi.org/10.1186/s12882-019-1663-9.

22.

van Driel ML, De Sutter AI, Keber N, Habraken H, Christiaens T. Different antibiotic treatments for group A streptococcal pharyngitis. Cochrane Database Syst Rev. 2013;4:CD004406. https://doi.org/10.1002/14651858.CD004406.pub3.

23.

Ralph AP, Holt DC, Islam S, Osowicki J, Carroll DE, Tong SYC, et al. Potential for molecular testing for group A streptococcus to improve diagnosis and management in a high-risk population: a prospective study. Open Forum Infect Dis. 2019;6(4):ofz097. https://doi.org/10.1093/ofid/ofz097.

24.

Tomson C, Tomlinson LA. Stopping RAS Inhibitors to minimize AKI: more harm than good? Clin J Am Soc Nephrol. 2019;14(4):617–9. https://doi.org/10.2215/CJN.14021118.
Acknowledgements
We would like to thank Edanz (www.edanzediting.co.jp) for editing the English text of a draft of this manuscript.
Ethics declarations
Conflict of interest
This study was supported by the Grants-in-Aid for Scientific Research (KAKENHI) from the Ministry of Education, Culture, Sports, Science and Technology of Japan (subject ID: 16K19642 to Tomohiko Yamamura and 17H04189 to Kazumoto Iijima, and 19K08726 to Kandai Nozu) and by the Japan Agency for Medical Research and Development (AMED) (Grant number JP19ek0109231h0003 to Kazumoto Iijima and Kandai Nozu).
Kandai Nozu and Kazumoto Iijima have filed a patent application on the development of antisense nucleotides for exon skipping therapy in Alport syndrome.
Kazumoto Iijima has received grant support from Daiichi Sankyo Co., Ltd.; consulting fees from Kyowa Kirin Co., Ltd., and Boehringer Ingelheim; and lecture fees from Kyowa Kirin Co., Ltd., Chugai Pharmaceutical Co., Ltd., Takeda Pharmaceutical Company, Integrated Development Associates, and Novartis Pharmaceuticals Corporation.
Kandai Nozu has received consulting fees from Kyowa Kirin Co., Ltd.; and lecture fees from Kyowa Kirin Co., Ltd., Novartis Pharmaceuticals Corporation, and Chugai Pharmaceutical Co., Ltd.
Informed consent
No information identifying the individual patient is published, and personal information is protected. The patient, his parents, and his grandmother provided informed consent for the publication of this case report.
Ethical approval
All procedures performed in studies involving human participants were in accordance with the ethical standards of the institutional research committee at which the studies were conducted (IRB approval number 301) and with the 1964 Helsinki Declaration and its later amendments or comparable ethical standards.
Human and animal rights
This article does not describe any studies with human participants or animals performed by any of the authors.
Additional information
Publisher's Note
Springer Nature remains neutral with regard to jurisdictional claims in published maps and institutional affiliations.
About this article
Cite this article
Araki, Y., Kawaguchi, A., Sakakibara, N. et al. Poststreptococcal acute glomerulonephritis can be a risk factor for accelerating kidney dysfunction in Alport syndrome: a case experience. CEN Case Rep (2020). https://doi.org/10.1007/s13730-020-00498-2
Received:

Accepted:

Published:
Keywords
COL4A5

AGN

PSAGN

Risk factor