Abstract
Spontaneous renal artery dissection (SRAD) is a rare entity causing muscle spasm due to acute low back pain, back pain, or flank pain symptoms or misleading clinical diagnosis such as renal colic. A 25-year-old Syrian male refugee presented to the emergency department with sudden onset of left-sided flank pain in the evening. Physical examination results were normal except left-sided costovertebral angle sensitivity. Abdominal, pelvic and thoracic contrast computed tomography angiography (CTA) was performed to evaluate aortic dissection, which was our urgent preliminary diagnosis. Left renal artery dissection was detected in CTA. The patient was treated with medical conservative treatment and spontaneous recovery was observed during the follow-up period. Early detection of SRAD in the emergency department can be difficult due to the fact that the clinical presentation is misleading.
This is a preview of subscription content, log in to check access.
Access options
Buy single article
Instant access to the full article PDF.
US$ 39.95
Price includes VAT for USA
Subscribe to journal
Immediate online access to all issues from 2019. Subscription will auto renew annually.
US$ 99
This is the net price. Taxes to be calculated in checkout.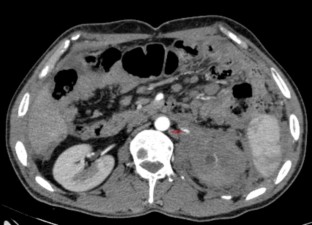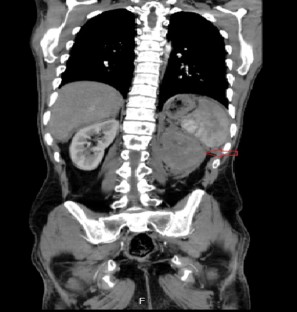 References
1.

Renaud S, Canaud B. Spontaneous renal artery dissection with renal infarction. Clin Kidney J. 2012;5(3):261–4.

2.

Bumpus HC. A case of renal hypertension. J Urol. 1944;52:295–9.

3.

Afshinnia F, Sundaram B, Rao P, Stanley J, Bitzer M. Evaluation of characteristics, associations and clinical course of isolated spontaneous renal artery dissection. Nephrol Dial Transplant. 2013;28(8):2089–98.

4.

Bucher J, Geib AJ. Spontaneous renal artery dissection presenting as an aortic dissection: a case report. J Med Case Rep. 2016;10(1):367.

5.

Emanuela C, Francesco C, Massimiliano PA, Andrea V, Manicourt DH, Piccoli GB. Spontaneous renal artery dissection in Ehler-Danlos Syndrome. Kidney Int Rep. 2019;4(11):1649–52.

6.

Kim HS, Min SI, Han A, Choi C, Min SK, Ha J. Longitudinal evaluation of segmental arterial mediolysis in splanchnic arteries: case series and systematic review. PLoS ONE. 2016;11(8):e0161182.

7.

Pillai AK, Iqbal SI, Liu RW, Rachamreddy N, Kalva SP. Segmental arterial mediolysis. Cardiovasc Intervent Radiol. 2014;37(3):604–12.

8.

Aoki Y, Sakai Y, Kimura T, Yamaoka T, Maekawa S, Maekawa J. Renal artery stenting recovered renal function after spontaneous renal artery dissection. Intern Med. 2019;58:2191–4.

9.

Im C, Park HS, Kim DH, Lee T. Spontaneous renal artery dissection complicated by renal infarction: three case reports. Vasc Spec Int. 2016;32(4):195–200.

10.

Gandhi SP, Patel K, Pal BC. Isolated spontaneous renal artery dissection presented with flank pain. Case Rep Radiol. 2015;2015:896706.
Ethics declarations
Conflict of interest
All the authors have declared that they have no competing interest.
Human and animal rights
This article does not contain any studies with human participants or animals performed by any of the authors.
Informed consent
Informed consent was obtained from all individual participants included in the study.
Additional information
Publisher's Note
Springer Nature remains neutral with regard to jurisdictional claims in published maps and institutional affiliations.
About this article
Cite this article
Korkut, M., Bedel, C. Aortic dissection or spontaneous renal artery dissection, a rare diagnosis?. CEN Case Rep 9, 257–259 (2020). https://doi.org/10.1007/s13730-020-00469-7
Received:

Accepted:

Published:

Issue Date:
Keywords
Spontaneous

Renal artery dissection

Emergency department