Abstract
Robotic-assisted laparoscopic partial nephrectomies (RAPN) have come up to standard treatment for small renal tumors, with a growing indication to accomplish this procedure. Although a horseshoe kidney is one of the most common congenital renal fusion anomalies, surgical planning for tumors is considered difficult because of its poor mobility and abnormal vascular supply. We showed our experience of RAPN in combination with conventional laparoscopic kidney mobilization and dissection for a patient with renal cell carcinoma in a horseshoe kidney. The patient was an otherwise healthy 66-year-old man with 26 mm right renal mass on the lower pole of the horseshoe kidney. Robotic assistance allows for proper tissue dissection, easy to aware unconfirmed vasculatures, and meticulous fine suturing and would overcome the potential challenges involved in the minimally invasive management of such complex anomalies as shown in the patient.
This is a preview of subscription content, log in to check access.
Access options
Buy single article
Instant access to the full article PDF.
US$ 39.95
Price includes VAT for USA
Subscribe to journal
Immediate online access to all issues from 2019. Subscription will auto renew annually.
US$ 99
This is the net price. Taxes to be calculated in checkout.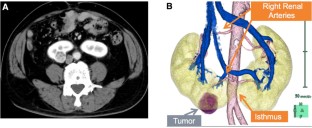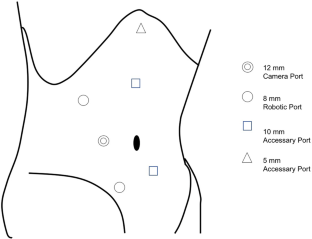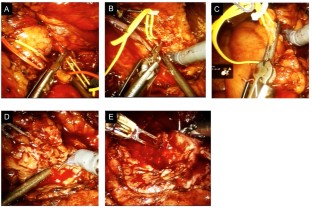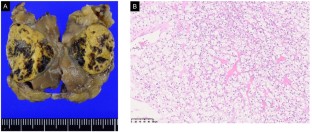 References
1.

Ohtake S, Kawahara T, Noguchi G et al (2018) Renal cell carcinoma in a horseshoe kidney treated with laparoscopic partial nephrectomy. Case Rep Oncol Med 2018:7135180 [Epub 2018/07/07]

2.

Raman A, Kuusk T, Hyde ER, Berger LU, Bex A, Mumtaz F (2018) Robotic-assisted laparoscopic partial nephrectomy in a horseshoe kidney. A case report and review of the literature. Urology 114:e3–e5 [Epub 2017/12/31]

3.

Nikoleishvili D, Koberidze G (2017) Retroperitoneoscopic partial nephrectomy for a horseshoe kidney tumor. Urol Case Rep 13:31–33 [Epub 2017/04/25]

4.

Kim H, Kim JR, Han Y, Kwon W, Kim SW, Jang JY (2017) Early experience of laparoscopic and robotic hybrid pancreaticoduodenectomy. Int J Med Robot 13(3). [Epub 2017/03/10]

5.

Benidir T, Coelho de Castilho TJ, Cherubini GR, de Almeida LM (2014) Laparoscopic partial nephrectomy for renal cell carcinoma in a horseshoe kidney. Can Urol Assoc J 8(11–12):E918–E920 [Epub 2015/01/02]

6.

Novara G, La Falce S, Kungulli A, Gandaglia G, Ficarra V, Mottrie A (2016) Robot-assisted partial nephrectomy. Int J Surg 36(Pt C):554–559 [Epub 2016/10/25]

7.

Rogers CG, Linehan WM, Pinto PA (2008) Robotic nephrectomy for kidney cancer in a horseshoe kidney with renal vein tumor thrombus: novel technique for thrombectomy. J Endourol 22(8):1561–1563 [Epub 2008/08/30]

8.

Kumar S, Singh S, Jain S, Bora GS, Singh SK (2015) Robot-assisted heminephrectomy for chromophobe renal cell carcinoma in L-shaped fused crossed ectopia: surgical challenge. Korean J Urol 56(10):729–732 [Epub 2015/10/27]
Funding
This work was supported by Grants-in-Aid for Scientific Research, Japan (Grant no.: 17K11121).
Ethics declarations
Conflict of interest
No competing financial interests exist for Kazuyuki Numakura, Yumina Muto, Ryohei Yamamoto, Atsushi Koizumi, Taketoshi Nara, Sohei Kanda, Mitsuru Saito, Shintaro Narita, Takamitsu Inoue, or Tomonori Habuchi.
Ethical approval and informed consent
In Akita University hospital, we announce that clinical studies are performed in this hospital and that their results are published. We explained him and got the written informed consent in accordance with the Declaration of Helsinki.
Additional information
Publisher's Note
Springer Nature remains neutral with regard to jurisdictional claims in published maps and institutional affiliations.
About this article
Cite this article
Numakura, K., Muto, Y., Yamamoto, R. et al. Robotic-assisted laparoscopic partial nephrectomy for renal cell carcinoma in horseshoe kidney: a hybrid technique with conventional laparoscopic surgery. Int Canc Conf J (2020). https://doi.org/10.1007/s13691-020-00420-8
Received:

Accepted:

Published:
Keywords
Robotic partial nephrectomy

Renal cell carcinoma

Hybrid technique

Horseshoe kidney