Abstract
Stress intervenes in the brain's capability to encode and regain information from a person, it alters the biochemical parameters in specific regions of the brain can cause long-term damage to various parts of brain. The present investigations aid in understanding the effect of the Prunus amygdalus nut extract on CUS induced memory deficits in rats. The methanolic extract with an antioxidant potential (~ 60%) and was selected for in vivo analysis. CUS was induced in rats using different stress paradigms for 10 days. On day 11 and 12, acquisition trials for memory evaluation were performed using Morris Water Maze. On day 13 and 10 days later on, i.e. day 23, short-term and long-term memory retrievals trials were evaluated, respectively. Treatment groups were given test methanolic extract an hour before the subjection of CUS. Biochemical estimations and histopathological studies were carried out using brain tissue homogenate and brain tissue section, respectively. CUS altered the Transfer Latency time in both acquisition and retrieval trials, indicating memory impairment, which was reduced significantly in extract-treated groups. Administration of P. amygdalus nut methanolic extract protected the rat brains against CUS-induced neuroinflammatory changes. The observed beneficial effects could be attributed to the antioxidant potential of P. amygdalus.
Graphic abstract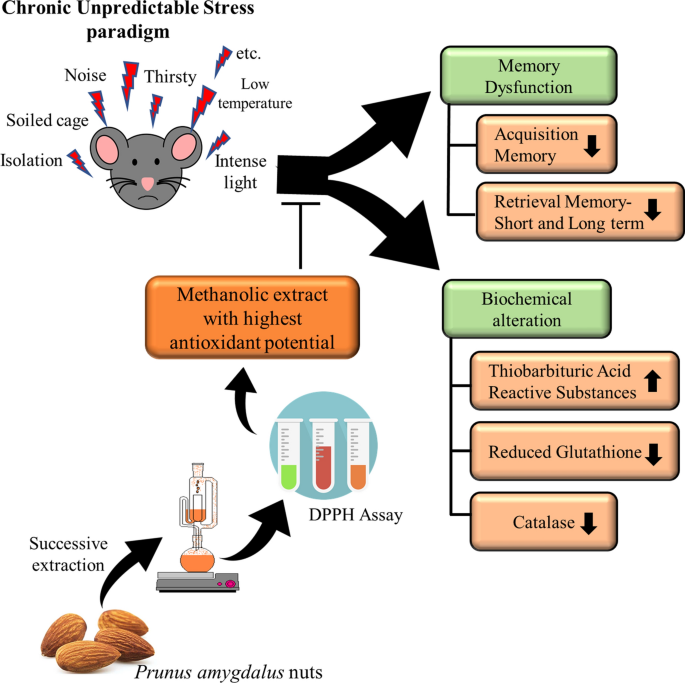 Access options
Buy single article
Instant access to the full article PDF.
US$ 39.95
Tax calculation will be finalised during checkout.
Subscribe to journal
Immediate online access to all issues from 2019. Subscription will auto renew annually.
US$ 79
Tax calculation will be finalised during checkout.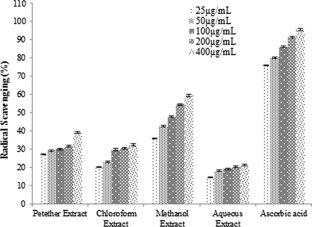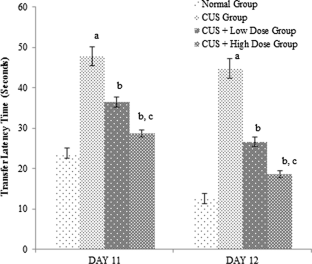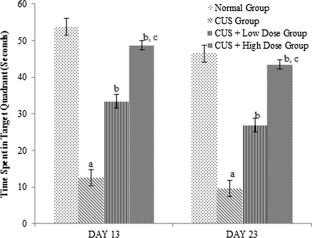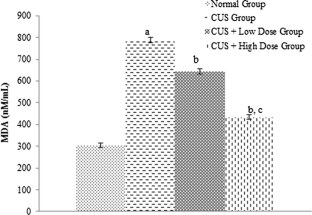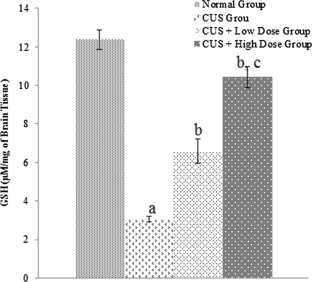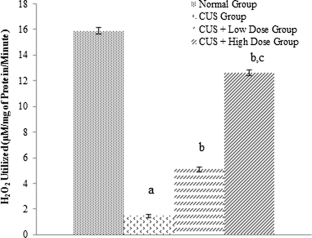 References
Akpinar D, Yargiçoǧlu P, Derin N, Alicigüzel Y, Aǧar A (2008) The effect of lipoic acid on antioxidant status and lipid peroxidation in rats exposed to chronic restraint stress. Physiol Res 57(6):893–901

Al-Ayadhi LY, Korish AA, Al-Tuwaijri AS (2006) The effect of vitamin E, l-arginine, N-nitro l-arginine methyle ester and Forskolin on endocrine and metabolic changes of rats exposed to acute cold stress. Saudi Med J 79:77–80

Biswas SK, McClure D, Jimenez LA, Megson IL, Rahman I (2005) Curcumin induces glutathione biosynthesis and inhibits NF-κB activation and interleukin-8 release in alveolar epithelial cells: mechanism of free radical scavenging activity. Antioxid Redox Signal 7:32–41. https://doi.org/10.1089/ars.2005.7.32

Desai SK, Desai SM, Navdeep S, Arya P, Pooja T (2011) Antistress activity of Boerhaavia diffusa root extract and a polyherbal formulation containing Boerhaavia diffusa using cold restraint stress model. Int J Pharm Pharm Sci 3:130–132

Dhanalakshmi S, Devi RS, Srikumar R, Manikandan S, Thangaraj R (2007) Protective effect of triphala on cold stress-induced behavioral and biochemical abnormalities in rats. Yakugaku Zasshi 127:1863–1867. https://doi.org/10.1248/yakushi.127.1863

Ellman GL (1959) Tissue sulfhydryl groups. Arch Biochem Biophys 82:70–77. https://doi.org/10.1016/0003-9861(59)90090-6

Fitzpatrick F, Christeff N, Durant S, Dardenne M, Nunez EA, Homo-Delarche F (1992) Glucocorticoids in the nonobese diabetic (NOD) mouse: basal serum levels, effect of endocrine manipulation and immobilization stress. Life Sci 50:1063–1069. https://doi.org/10.1016/0024-3205(92)90102-U

Frison-Norrie S, Sporns P (2002) Identification and quantification of flavonol glycosides in almond seedcoats using MALDI-TOF MS. J Agric Food Chem 50:2782–2787. https://doi.org/10.1021/jf0115894

Gareri P, Falconi U, De Fazio P, De Sarro G (2000) Conventional and new antidepressant drugs in the elderly. Prog Neurobiol 61(4):353–396. https://doi.org/10.1016/s0301-0082(99)00050-7

Gil Solsona R, Boix C, Ibáñez M, Sancho JV (2018) The classification of almonds (Prunus dulcis) by country and variety using UHPLC-HRMS-based untargeted metabolomics. Food Addit Contam Part A Chem Anal Control Expo Risk Assess 35(3):395–403. https://doi.org/10.1080/19440049.2017.1416679

Gupta YK, Gupta M, Kohli K (2003) Neuroprotective role of melatonin in oxidative stress vulnerable brain. Indian J Physiol Pharmacol 47:373–386

Haziyah A, Shafie NH, Mohd Esa N, Bahari H (2016) Nutritional, phytochemical and pharmacological properties of Mikania micrantha Kunth. Pertanika J Sch Res Rev 79:77–80

Hoveida R, Alaei H, Oryan S, Parivar K, Reisi P (2011) Treadmill running improves spatial memory in an animal model of Alzheimer's disease. Behav Brain Res 216:270–274. https://doi.org/10.1016/j.bbr.2010.08.003

Isfahlan AJ, Mahmoodzadeh A, Hassanzadeh A, Heidari R, Jamei R (2010) Antioxidant and antiradical activities of phenolic extracts from Iranian almond (Prunus amygdalus L.) hulls and shells. Turk J Biol 34:165–173. https://doi.org/10.3906/biy-0807-21

Joshi K, Tavhare S, Panara K, Kumar PA, Karra N (2016) Studies of Ashwagandha (Withania somnifera Dunal). Int J Pharm Biol Arch 7:1–11

Kelly GS (1999) Nutritional and botanical interventions to assist with the adaptation to stress. Altern Med Rev 4:249–265

Kioukia-Fougia N, Antoniou K, Bekris S, Liapi C, Christofidis I, Papadopoulou-Daifoti Z (2002) The effects of stress exposure on the hypothalamic-pituitary-adrenal axis, thymus, thyroid hormones and glucose levels. Prog Neuro-Psychopharmacol Biol Psychiatry 26:823–830. https://doi.org/10.1016/S0278-5846(01)00297-4

Levine S (2005) Developmental determinants of sensitivity and resistance to stress. Psychoneuroendocrinology 30:939–946. https://doi.org/10.1016/j.psyneuen.2005.03.013

Liu J, Wang X, Mori A (1994) Immobilization stress-induced antioxidant defense changes in rat plasma: effect of treatment with reduced glutathione. Int J Biochem 26:511–517. https://doi.org/10.1016/0020-711X(94)90008-6

Liu J, Wang X, Shigenaga MK, Yeo HC, Mori A, Ames BN (1996) Immobilization stress causes oxidative damage to lipid, protein, and DNA in the brain of rats. FASEB J 10:1532–1538. https://doi.org/10.1096/fasebj.10.13.8940299

McEwen BS (2007) Physiology and neurobiology of stress and adaptation: central role of the brain. Physiol Rev 87:873–904. https://doi.org/10.1152/physrev.00041.2006

Olivenza R, Moro MA, Lizasoain I, Lorenzo P, Fernández AP, Rodrigo J, Boscá L, Leza JC (2000) Chronic stress induces the expression of inducible nitric oxide synthase in rat brain cortex. J Neurochem 74:785–791. https://doi.org/10.1046/j.1471-4159.2000.740785.x

Ortiz J, Fitzgerald LW, Lane S, Terwilliger R, Nestler EJ (1996) Biochemical adaptations in the mesolimbic dopamine system in response to repeated stress. Neuropsychopharmacology 14:443–452. https://doi.org/10.1016/0893-133X(95)00152-4

Pittella F, Dutra RC, Junior DD, Lopes MTP, Barbosa NR (2009) Antioxidant and cytotoxic activities of Centella asiatica (L) Urb. Int J Mol Sci 10:3713–3721. https://doi.org/10.3390/ijms10093713

Pruett SB (2001) Quantitative aspects of stress-induced immunomodulation. Int Immunopharmacol 1:507–520. https://doi.org/10.1016/S1567-5769(00)00030-8

Roy MP, Kirschbaum C, Steptoe A (2001) Psychological, cardiovascular, and metabolic correlates of individual differences in cortisol stress recovery in young men. Psychoneuroendocrinology 26:375–391. https://doi.org/10.1016/S0306-4530(00)00061-5

Sapolsky RM, Krey LC, McEwen BS (1986) The neuroendocrinology of stress and aging: the glucocorticoid cascade hypothesis. Endocr Rev 7:284–301. https://doi.org/10.1210/edrv-7-3-284

Schloesser RJ, Manji HK, Martinowich K (2009) Suppression of adult neurogenesis leads to an increased hypothalamo-pituitary-adrenal axis response. NeuroReport 20:553–557. https://doi.org/10.1097/WNR.0b013e3283293e59

Sies H (1991) Oxidative stress: from basic research to clinical application. Am J Med 91:31–38. https://doi.org/10.1016/0002-9343(91)90281-2

Sinha AK (1972) Colorimetric assay of catalase. Anal Biochem 47:389–394. https://doi.org/10.1016/0003-2697(72)90132-7

Sohal RS, Weindruch R (1996) Oxidative stress, caloric restriction, and aging. Science (80-) 273:59–63. https://doi.org/10.1126/science.273.5271.59

Sumanth M, Mustafa SS (2009) Antistress, adaptogenic activity of Sida cordifolia roots in mice. Indian J Pharm Sci 71(3):323–324. https://doi.org/10.4103/0250-474X.56027

Sunanda, Shankaranarayana Rao BS, Raju TR (2000) Chronic restraint stress impairs acquisition and retention of spatial memory task in rats. Curr Sci 79:1581–1584

Tõnissaar M, Mällo T, Eller M, Häidkind R, Kõiv K, Harro J (2008) Rat behavior after chronic variable stress and partial lesioning of 5-HT-ergic neurotransmission: effects of citalopram. Prog Neuro-Psychopharmacol Biol Psychiatry 32:164–177. https://doi.org/10.1016/j.pnpbp.2007.08.001

Venihaki M, Gravanis A, Margioris AN (1997) Comparative study between normal rat chromaffin and PC12 rat pheochromocytoma cells: production and effects of corticotropin-releasing hormone. Endocrinology 138:698–704. https://doi.org/10.1210/endo.138.2.4916

Yadin E, Thomas E (1996) Stimulation of the lateral septum attenuates immobilization-induced stress ulcers. Physiol Behav. https://doi.org/10.1016/0031-9384(95)02184-1
Acknowledgements
Authors would like to acknowledge the help given by 'PK' and 'AB' for their help in plant identification and plant extraction process.
Funding
No funds, grants, or other support was received.
Ethics declarations
Ethical statement
Authors hereby declare that "Principles of laboratory animal care" (NIH publication No. 85-23, revised 1985) were followed. The care of laboratory animals was done as per guidelines of CPCSEA, Ministry of Forests & Environment; Government of India. The research protocol of this study was approved by Institutional Animal Ethics Committee (IAEC) of Khalsa College of Pharmacy, Amritsar.
Conflict of interest
Nitish Bhatia has no conflict of interest. Abhitinder Kumar has no conflict of interest. Parminder Kaur has no conflict of interest. Benu George has no conflict of interest. Narinder Kaur has no conflict of interest. Masih Uzaaman Khan has no conflict of interest. Ravi Kumar Dhawan has no conflict of interest.
Additional information
Publisher's Note
Springer Nature remains neutral with regard to jurisdictional claims in published maps and institutional affiliations.
About this article
Cite this article
Bhatia, N., Kumar, A., Kaur, P. et al. Protective effect of Prunus amygdalus nut extract on chronic unpredictable stress (CUS) induced memory deficits and biochemical alterations in rats. ADV TRADIT MED (ADTM) (2021). https://doi.org/10.1007/s13596-020-00545-4
Received:

Accepted:

Published:
Keywords
Prunus amygdalus

Chronic unpredictable stress

Memory deficits

Antioxidants

Stress