Abstract
One of the consequences of diabetes mellitus is deregulation in lipid metabolism, resulting in an increase in triglyceride and cholesterol levels in the blood. This study evaluated the effect of the Pycnoporus sanguineus hydroalcoholic extract on lipid metabolism in streptozotocin-induced diabetic rats. Rats received P. sanguineus extract for 4 weeks in the drinking water at a dose of 10 mg/Kg/day. Lipid profile, glucose and hepatic damage in normal and streptozotocin-induced diabetic rats were evaluated. Also, the chemical composition of P. sanguineus extract, cytotoxicity and HMG-CoA reductase activity in vitro were evaluated. The treatment significantly reduced triglyceride levels in the group of diabetic rats treated with the extract (DBT Pyc) compared to the group receiving water without extract (DBT H2O). For total cholesterol, reductions in the DBT Pyc group were also observed in relation to the DBT H2O group. The HMG-CoA reductase activity was not affected by P. sanguineus extract. Our findings demonstrated significant anti-hyperlipidaemic activity of P. sanguinues extract in diabetic rats. These results highlight the therapeutic potential of the P. sanguineus extract, which provides a new possibility for development of drugs to control hyperlipidaemia and provides impetus for further studies.
This is a preview of subscription content, log in to check access.
Access options
Buy single article
Instant access to the full article PDF.
US$ 39.95
Price includes VAT for USA
Subscribe to journal
Immediate online access to all issues from 2019. Subscription will auto renew annually.
US$ 99
This is the net price. Taxes to be calculated in checkout.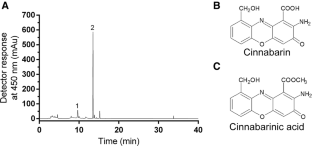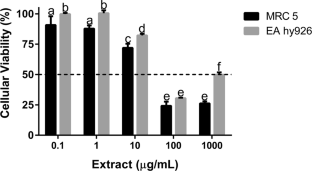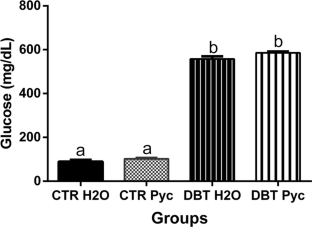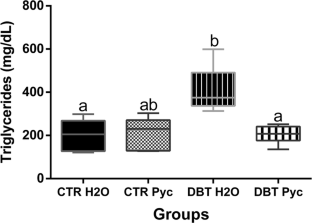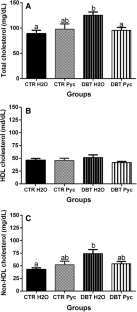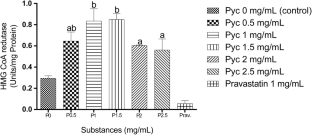 Availability of data and material
References
Al-Ansari M, Al-Humaid LA, Vijayaraghavan P et al (2019) Identification of phytochemical components from Aerva lanata (Linn.) medicinal plants and its in-vitro inhibitory activity against drug resistant microbial pathogens and antioxidant properties. Saudi J Biol Sci. https://doi.org/10.1016/j.sjbs.2019.02.010

Anandhi R, Annadurai T, Anitha TS et al (2013) Antihypercholesterolemic and antioxidative effects of an extract of the oyster mushroom, Pleurotus ostreatus, and its major constituent, chrysin, in Triton WR-1339-induced hypercholesterolemic rats. J Physiol Biochem 69:313–323. https://doi.org/10.1007/s13105-012-0215-6

Anyaegbu OC, Ajayi AM, Adedapo ADA (2017) Hypolipidemic and antioxidant effects of the Methanolic stem bark extract of Anacardium occidentale Linn. In triton-X 100 induced hyperlipidemic rats. Orient Pharm Exp Med 17:211–221. https://doi.org/10.1007/s13596-017-0262-1

Dias DA, Urban S (2009) HPLC and NMR studies of phenoxazone alkaloids from Pycnoporus cinnabarinus. Nat Prod Commun 4:489–498

Eeg-Olofsson K, Gudbjörnsdottir S, Eliasson B et al (2014) The triglycerides-to-HDL-cholesterol ratio and cardiovascular disease risk in obese patients with type 2 diabetes: an observational study from the Swedish National Diabetes Register (NDR). Diabetes Res Clin Pract 106:136–144. https://doi.org/10.1016/j.diabres.2014.07.010

Eggert C (1997) Laccase-catalyzed formation of cinnabarinic acid is responsible for antibacterial activity of Pycnoporus cinnabarinus. Microbiol Res 152:315–318. https://doi.org/10.1016/S0944-5013(97)80046-8

Eidi A, Eidi M, Esmaeili E (2006) Antidiabetic effect of garlic (Allium sativum L.) in normal and streptozotocin-induced diabetic rats. Phytomedicine 13:624–629. https://doi.org/10.1016/j.phymed.2005.09.010

Gambato G, Todescato K, Pavão EM et al (2016) Evaluation of productivity and antioxidant profile of solid-state cultivated macrofungi Pleurotus albidus and Pycnoporus sanguineus. Bioresour Technol 207:46–51. https://doi.org/10.1016/j.biortech.2016.01.121

Gambato G, Pavão EM, Chilanti G et al (2018) Pleurotus albidus Modulates mitochondrial metabolism disrupted by hyperglycaemia in EA.hy926 endothelial cells. Biomed Res Int 2018:1–10. https://doi.org/10.1155/2018/2859787

Garcia TA, Santiago MF, Ulhoa CJ (2006) Properties of laccases produced by Pycnoporus sanguineus induced by 2,5-xylidine. Biotechnol Lett 28:633–636. https://doi.org/10.1007/s10529-006-0026-3

Ikewuchi JC, Ikewuchi CC, Ifeanacho MO et al (2013) Moderation of hematological and plasma biochemical indices of sub-chronic salt-loaded rats by aqueous extract of the sclerotia of Pleurotus tuberregium (Fr) Sing's: implications for the reduction of cardiovascular risk. J Ethnopharmacol 150:466–476. https://doi.org/10.1016/j.jep.2013.09.002

Jahn MP, Gomes LF, Jacob MHVM et al (2011) The effect of dehydroepiandrosterone (DHEA) on renal function and metabolism in diabetic rats. Steroids 76:564–570. https://doi.org/10.1016/j.steroids.2011.02.006

Li I-C, Chen Y-L, Lee L-Y et al (2014) Evaluation of the toxicological safety of erinacine A-enriched Hericium erinaceus in a 28-day oral feeding study in Sprague–Dawley rats. Food Chem Toxicol 70:61–67. https://doi.org/10.1016/j.fct.2014.04.040

Liang B, Guo Z, Xie F, Zhao A (2013) Antihyperglycemic and antihyperlipidemic activities of aqueous extract of Hericium erinaceus in experimental diabetic rats. BMC Complement Altern Med 13:253. https://doi.org/10.1186/1472-6882-13-253

Liu S, You L, Zhao Y, Chang X (2018) Wild Lonicera caerulea berry polyphenol extract reduces cholesterol accumulation and enhances antioxidant capacity in vitro and in vivo. 107:73–83. https://doi.org/10.1016/j.foodres.2018.02.016

Lowe MM, Mold JE, Kanwar B et al (2014) Identification of cinnabarinic acid as a novel endogenous aryl hydrocarbon receptor ligand that drives IL-22 production. PLoS ONE 9:e87877. https://doi.org/10.1371/journal.pone.0087877

Manninen V, Tenkanen L, Koskinen P et al (1992) Joint effects of serum triglyceride and LDL cholesterol and HDL cholesterol concentrations on coronary heart disease risk in the Helsinki Heart Study. Implications for treatment. Circulation 85:37–45

Megson IL, Whitfield PD, Zabetakis I (2016) Lipids and cardiovascular disease: where does dietary intervention sit alongside statin therapy? Food Funct 7:2603–2614. https://doi.org/10.1039/c6fo00024j

Molina S, Rencoret J, del Río JC et al (2008) Oxidative degradation of model lipids representative for main paper pulp lipophilic extractives by the laccase–mediator system. Appl Microbiol Biotechnol 80:211–222. https://doi.org/10.1007/s00253-008-1547-6

Ochani PC, D'Mello P (2009) Antioxidant and antihyperlipidemic activity of Hibiscus sabdariffa Linn. leaves and calyces extracts in rats. Indian J Exp Biol 47:276–282

Padala S, Thompson PD (2012) Statins as a possible cause of inflammatory and necrotizing myopathies. Atherosclerosis 222:15–21. https://doi.org/10.1016/j.atherosclerosis.2011.11.005

Parhofer KG (2015) Interaction between glucose and lipid metabolism: more than diabetic dyslipidemia. Diabetes Metab J 39:353. https://doi.org/10.4093/dmj.2015.39.5.353

Polak J, Jarosz-Wilkolazka A, Szalapata K et al (2016) Laccase-mediated synthesis of a phenoxazine compound with antioxidative and dyeing properties – the optimisation process. N Biotechnol 33:255–262. https://doi.org/10.1016/J.NBT.2015.09.004

Rahman MA, Abdullah N, Aminudin N (2014) Inhibitory effect on in vitro LDL oxidation and HMG Co-A reductase activity of the liquid-liquid partitioned fractions of Hericium erinaceus (Bull.) persoon (Lion's Mane Mushroom). Biomed Res Int 2014:1–9. https://doi.org/10.1155/2014/828149

Ramachandran S, Faisal TK, Anjumary J et al (2017) Comparative evaluation of hypoglycemic and hypolipidemic activity of various extract of Anogeissus latifolia bark in streptozotocin-induced diabetic rats. J Complement Integr Med 14:. https://doi.org/10.1515/jcim-2016-0130

Ramasubbu K, Estep J, White DL et al (2008) Experimental and clinical basis for the use of statins in patients with ischemic and nonischemic cardiomyopathy. J Am Coll Cardiol 51:415–426. https://doi.org/10.1016/j.jacc.2007.10.009

Ramesh B, Viswanathan P, Pugalendi KV (2007) Protective effect of Umbelliferone on membranous fatty acid composition in streptozotocin-induced diabetic rats. Eur J Pharmacol 566:231–239. https://doi.org/10.1016/j.ejphar.2007.03.045

Roden M (2016) Diabetes mellitus: definition, classification and diagnose. Wien Klin Wochenschr 128:37–40. https://doi.org/10.1007/s00508-015-0931-3

Smânia A, Marques CJS, Smânia EFA et al (2003) Toxicity and antiviral activity of cinnabarin obtained from Pycnoporus sanguineus (Fr.) Murr. Phyther Res 17:1069–1072. https://doi.org/10.1002/ptr.1304

Sripradha R, Sridhar MG, Maithilikarpagaselvi N (2016) Antihyperlipidemic and antioxidant activities of the ethanolic extract of Garcinia cambogia on high fat diet-fed rats. J Complement Integr Med 13:9–16. https://doi.org/10.1515/jcim-2015-0020

Staels B, Fruchart J-C (2005) Therapeutic roles of peroxisome proliferator-activated receptor agonists. Diabetes 54:2460–2470

Sugatani J, Sadamitsu S, Wada T et al (2012) Effects of dietary inulin, statin, and their co-treatment on hyperlipidemia, hepatic steatosis and changes in drug-metabolizing enzymes in rats fed a high-fat and high-sucrose diet. Nutr Metab (Lond) 9:23. https://doi.org/10.1186/1743-7075-9-23

Sun B, Xie Y, Jiang J et al (2015) Pleiotropic effects of fenofibrate therapy on rats with hypertriglycemia. Lipids Health Dis 14:27. https://doi.org/10.1186/s12944-015-0032-3

Tai M-H, Chen P-K, Chen P-Y et al (2014) Curcumin enhances cell-surface LDLR level and promotes LDL uptake through downregulation of PCSK9 gene expression in HepG2 cells. Mol Nutr Food Res 58:2133–2145. https://doi.org/10.1002/mnfr.201400366

Takeuchi K, Ueshima K, Ohuchi T, Okabe S (1994) Induction of gastric lesions and hypoglycemic response by food deprivation in streptozotocin-diabetic rats. Dig Dis Sci 39:626–634. https://doi.org/10.1007/BF02088352

Ugwu DI, Okoro UC, Mishra NK, Okafor SN (2018) Novel phenoxazinones as potent agonist of PPAR-α: design, synthesis, molecular docking and in vivo studies. Lipids Health Dis 17:120. https://doi.org/10.1186/s12944-018-0764-y

Wang K, Bao L, Xiong W et al (2015) Lanostane triterpenes from the tibetan medicinal mushroom Ganoderma leucocontextum and their inhibitory effects on HMG-CoA reductase and α-glucosidase. J Nat Prod 78:1977–1989. https://doi.org/10.1021/acs.jnatprod.5b00331

Xavier HT, Izar MC, Faria Neto JR et al (2013) V Diretriz Brasileira de Dislipidemias e Prevenção da Aterosclerose. Arq Bras Cardiol 101:01–22. https://doi.org/10.5935/abc.2013S010
Acknowledgements
GG and RCF cultivated the mushroom and prepared the extract. AF and ER realized the analysis of the chemical composition of the extract. MCVD and MPJ were responsible for the treatment of the animals and performed and interpretation of the biochemical analyzes and the hematological profile. MCVD was a major contributor in writing the manuscript. Critical revision of the article was done by E.R, MC, MPJ and MS. Conception, experimental design, overall monitoring and final approval of the article was done by ER, MC, MPS and MS. All authors read and approved the final manuscript. This work was supported by the Coordination of Improvement of Higher Education Personnel (CAPES) (Grant Number 3255/2013) and National Council for Scientific and Technological Development (CNPq) (Grant Number 472153/2013-7), and the University of Caxias do Sul (UCS).
Ethics declarations
Ethical statement
The research was approved by the Ethics Committee of Animal Use of the University of Caxias do Sul (013/2015) and was performed according to the international guidelines for performing studies on animals.
Conflict of Interest
Maiza Cristina Von Dentz has no conflict of interest. Gabriela Gambato has no conflict of interest. Andreza Ferrari has no conflict of interest. Roselei Claudete Fontana has no conflict of interest. Eliseu Rodrigues has no conflict of interest. Mirian Salvador has no conflict of interest. Marli Camassola has no conflict of interest. Matheus Parmegiani Jahn has no conflict of interest.
Consent to participate
Not applicable.
Consent for publication
Not applicable.
Code availability
Not applicable.
Additional information
Publisher's Note
Springer Nature remains neutral with regard to jurisdictional claims in published maps and institutional affiliations.
About this article
Cite this article
Von Dentz, M., Gambato, G., Ferrari, A. et al. Antihyperlipidemic effect of the hydroalcoholic extract of Basidiomycete Pycnoporus sanguineus (Fr.) Murr. in streptozotocin-induced diabetic rats. ADV TRADIT MED (ADTM) (2020). https://doi.org/10.1007/s13596-020-00459-1
Received:

Accepted:

Published:
Keywords
Anti-hyperlipidaemic

Hyperlipidaemia

Pycnoporus sanguineus

Diabetes mellitus

Cinnabarin