Abstract
The present study aims at formulation development and pharmacological evaluation of fixed dose combination of Bombyx mori (Abresham) extract, Flaxseed oil and coenzyme Q10 (CoQ10) against doxorubicin induced myocardial toxicity in rats. Formulation (emulsion) was prepared using dry gum method (continental method), by using pestle and mortar. The formulation was characterized by performing stability studies which includes flocculation and creaming, cracking, phase inversion and accelerated studies (temperature and light). In-vivo pharmacological evaluation of Bombyx mori coccon shell extract, Flaxseed oil, CoQ10 and its fixed dose combination (FDC) were then performed. Results obtained indicates that developed FDC and extract, Oil, CoQ10 passed all stability tests and significantly prevented drug induced increase in serum levels of AST, ALT, LDH, Creatinine and lipid profile (TC, LDL, VLDL and TG) and increases the levels of HDL and antioxidant parameters—SOD, GSH and CAT (in heart tissue). It also lowered the doxorubicin induced increase in heart weight due to hypertrophy. These results were also confirmed by histopathology. The results of this study strongly indicate the cardioprotective effect of fixed dose combination of BME, Flaxseed oil and CoQ10 against doxorubicin induced myocardial toxicity.
This is a preview of subscription content, log in to check access.
Access options
Buy single article
Instant access to the full article PDF.
US$ 39.95
Price includes VAT for USA
Subscribe to journal
Immediate online access to all issues from 2019. Subscription will auto renew annually.
US$ 99
This is the net price. Taxes to be calculated in checkout.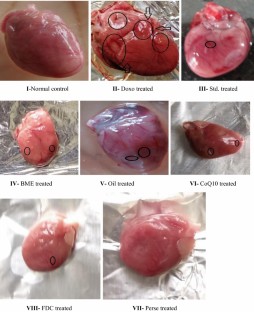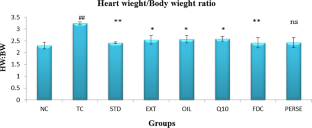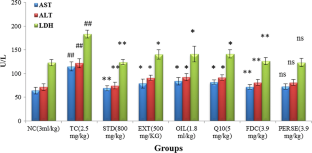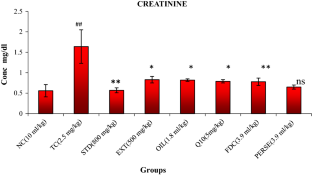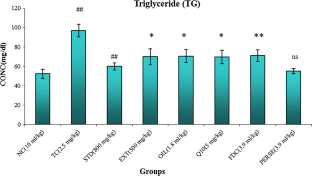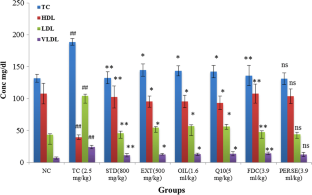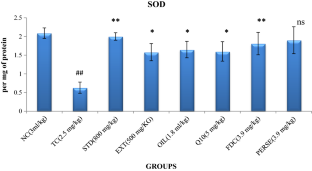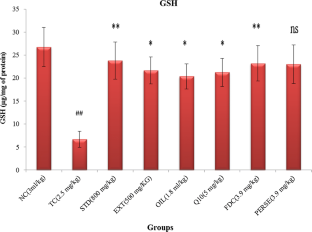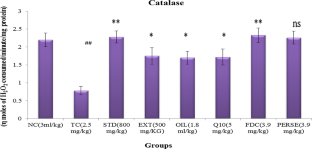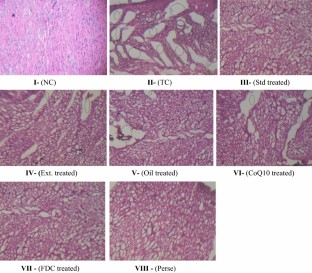 References
Ahsan F, Ansari TM, Usmani S, Bagga P (2018) An insight on silk protein sericin: from processing to biomedical application. Drug Res (Stuttg) 68:317–327. https://doi.org/10.1055/s-0043-121464

Akhtar S, Anjum FM, Rehman SU et al (2008) Effect of fortification on physico-chemical and microbiological stability of whole wheat flour. Food Chem 110:113–119. https://doi.org/10.1016/j.foodchem.2008.01.065

Ayaz SA, Bhandari U, Pillai KK (2005) Influence of DL α-lipoic acid and vitamin-E against doxorubicin-induced biochemical and histological changes in the cardiac tissue of rats. Indian J Pharmacol 37:294–299

Bonsnes WR, Taussky HH (1945) Determination of creatinine in plasma and urine. J Biochem 58:581–590. https://doi.org/10.1063/1.1762992

Burstein M, Scholnick HR, Morfin R (1970) Rapid method for the isolation of lipoproteins from human serum by precipitation with polyanions. J Lipid Res 11:583–595

Dhalla NS, Elmoselhi AB, Hata T, Makino N (2000) Status of myocardial antioxidants in ischemia-reperfusion injury. Cardiovasc Res 47:446–456. https://doi.org/10.1016/S0008-6363(00)00078-X

Dorairaj Jeemon P, Sharma M et al (2018) The changing patterns of cardiovascular diseases and their risk factors in the states of India: the Global Burden of Disease Study 1990–2016. Lancet Glob Heal 6:e1339–e1351. https://doi.org/10.1016/S2214-109X(18)30407-8

Ferrari R, Alfieri O, Curello S et al (1990) Occurrence of oxidative stress during reperfusion of the human heart. Circulation 81:201–211. https://doi.org/10.1161/01.CIR.81.1.201

Firoz M, Bharatesh K, Nilesh P et al (2011) Cardioprotective activity of ethanolic extract of Callistemon lanceolatus leaves on doxorubicin-induced cardiomyopathy in rats. Bangladesh J Pharmacol 6:38–45. https://doi.org/10.3329/bjp.v6i1.8154

Friedewald WT, Levy RI, Fredrickson DS (1972) Estimation of the concentration of low-density lipoprotein cholesterol in plasma, without use of the preparative ultracentrifuge. Clin Chem 18:499–502

Fu X, Ji R, Dam J (2009) Acute, subacute toxicity and genotoxic effect of Bio-Quinone® Q10 in mice and rats. Regul Toxicol Pharmacol 53:1–5. https://doi.org/10.1016/J.YRTPH.2008.09.003

Greenlee H, Shaw J, Lau YKI et al (2012) Lack of effect of coenzyme Q10 on doxorubicin cytotoxicity in breast cancer cell cultures. Integr Cancer Ther 11:243–250. https://doi.org/10.1177/1534735412439749

Gupta R, Gupta VP (1998) Lessons for prevention from a coronary heart disease epidemiological study in western India. Curr Sci 74:1074–1077

Jain K, Sharma N (2008) A text book of professional pharmacy, biphasic liquid dosage form. Vallabh Prakashan, New Delhi

James K (1965) The dehydrogenases or oxidoreductases—lactate dehydrogenase. Van Nostrand, London

Kaithwas G, Mukherjee A, Chaurasia AK, Majumdar DK (2011) Antiinflammatory, analgesic and antipyretic activities of Linum usitatissimum L. (flaxseed/linseed) fixed oil. Indian J Exp Biol 49:932–938

Krishnaswami S (1998) Observations on serial changes in coronary artery disease in Indians. Curr Sci 74:1064–1068

Lopez AD, Murray CCL (1998) The global burden of disease, 1990–2020. Nat Med 4:1241–1243. https://doi.org/10.1038/3218

Lowry OH, Rosebrough NJ, Farr AL, Randall RJ (1951) Protein measurement with the Folin phenol reagent. J Biol Chem 193:265–275. https://doi.org/10.1016/0304-3894(92)87011-4

Ma X, Ding Y, Wang Y, Xu X (2018) A doxorubicin-induced cardiomyopathy model in adult Zebrafish. J Vis Exp 136:e57567. https://doi.org/10.3791/57567

Mahmood ZA, Sualeh M, Mahmood SBZ, Karim MA (2010) Herbal treatment for cardiovascular disease the evidence based therapy. Pak J Pharm Sci 23:119–124

Misra HP, Fridovich I (1972) The role of superoxide anion in the autoxidation of epinephrine and a simple assay for superoxide dismutase. J Biol Chem 247:3170–3175

Mohan M, Patankar P, Ghadi P, Kasture S (2010) Cardioprotective potential of Punica granatum extract in isoproterenol-induced myocardial infarction in Wistar rats. J Pharmacol Pharmacother 1:32–37. https://doi.org/10.4103/0976-500X.64533

Moron MS, Depierre JW, Mannervik B (1979) Levels of glutathione, glutathione reductase and glutathione S-transferase activities in rat lung and liver. BBA Gen Subj 582:67–78. https://doi.org/10.1016/0304-4165(79)90289-7

Parekh AC, Jung DH (1970) Cholesterol determination with ferric acetate-uranium acetate and sulfuric acid-ferrous sulfate reagents. Anal Chem 42:1423–1427. https://doi.org/10.1021/ac60294a044

Rattana S, Katisart T, Sungthong B, Butiman C (2017) Acute and sub-acute toxicities of thai silkworm powder (Bombyx mori Linn.) from three races in male Wistar rats and in vitro antioxidant activities. Pharmacogn J 9:541–545. https://doi.org/10.5530/pj.2017.4.87

Reitman S, Frankel S (1957) A colorimetric method for the determination of serum glutamic oxalacetic and glutamic pyruvic transaminases. Am J Clin Pathol 28:104–110

Rice EW, Epstein MB, RoF Witter, Platt Herbert A (1970) Triglycerides ("Neutral Fat") In Serum *. Stand Methods Clin Chem 6:215–222

Rona G, Chappel C, Balazs T, Gaudry R (1959) An infarct-like myocardial lesion and other toxic manifestations produced by isoproterenol in the rat. Arch Pathol 67:443–455

Sedlak J, Lindsay RH (1968) Estimation of total, protein-bound, and nonprotein sulfhydryl groups in tissue with Ellman's reagent. Anal Biochem 25:192–205. https://doi.org/10.1016/0003-2697(68)90092-4

Singh S, Majumdar DK (1997) Evaluation of antiinflammatory activity of fatty acids of Ocimum sanctum fixed oil. Indian J Exp Biol 35:380–383. https://doi.org/10.21511/bbs.12(1-1).2017.11

Singh Ram B, Gurpreet SW, Rastogi A et al (1998) Randomized, double-blind placebo-controlled trial of coenzyme Q10 in patients with acute myocardial infarction. Cardiovasc Drugs Ther 10:347–353

Singh KK, Mridula D, Rehal J, Barnwal P (2011) Flaxseed: a potential source of food, feed and fiber. Crit Rev Food Sci Nutr 51:210–222. https://doi.org/10.1080/10408390903537241

Sinha BK, Katki AG, Batist G et al (1987) Adriamycin-stimulated hydroxyl radical formation in human breast tumor cells. Biochem Pharmacol 36:793–796. https://doi.org/10.1016/0006-2952(87)90164-X

Subhashini N, Nagaranjan G (2011) Cardioprotective effect of Garcinia cambogia an iso-induced myocardial infarction in albino rats. Pharm Prof 1:91–100

Takahara BS, Hamilton HB, Neel JV et al (1960) Hypocatalasemia: a new genetic carrier state. J Clin Invest 39:610–619. https://doi.org/10.1172/JCI104075

Togo T (2017) Cell membrane disruption stimulates cAMP and Ca2+ signaling to potentiate cell membrane resealing in neighboring cells. Biol Open 6:1814–1819. https://doi.org/10.1371/journal.pone.0042885

Vennila L, Pugalendi KV (2010) Protective effect of sesamol against myocardial infarction caused by isoproterenol in Wistar rats. Redox Rep Commun Free Radic Res 15:36–42. https://doi.org/10.1179/174329210X12650506623168
Acknowledgements
Author thanks Prof. Syed Waseem Akhtar, Hon. Chancellor and Prof. Aqil Ahmad, Hon. Vice Chancellor for providing excellent research facility in the university. The university has provided a manuscript communication number for further communication (IU/R&D/2018-MCN000507).
Ethics declarations
Ethical statement
The study protocols was approved by Institutional Animal Ethical Committee (IAEC), Faculty of Pharmacy, Integral University, Lucknow (Reg No. 1213/PO/Re/S/08/CPCSEA, 5th June 2008) having Approval No. IU/IAEC/18/17.
Conflict of interest
This manuscript described has not been published before; not under consideration for publication anywhere else; and has been approved by all co-authors.
Additional information
Publisher's Note
Springer Nature remains neutral with regard to jurisdictional claims in published maps and institutional affiliations.
About this article
Cite this article
Tarique, M., Badruddeen, Ahsan, F. et al. Formulation development and pharmacological evaluation of fixed dose combination of Bombyx mori coccon shell extract, Flaxseed oil and coenzyme Q10 against doxorubicin induced cardiomyopathy in rats. Orient Pharm Exp Med 19, 469–483 (2019). https://doi.org/10.1007/s13596-019-00360-6
Received:

Accepted:

Published:

Issue Date:
Keywords
Bombyx mori

Coenzyme Q10

Doxorubicin

Flaxseed oil

Myocardial infarction

Cardiomyopathy