Abstract
In the last few decades, different hyperthermia devices have been developed to kill Varroa destructor mites in the colony. Intriguingly, effects of hyperthermia on Varroa destructor and honeybee brood have hardly been investigated. We exposed honeybee brood to temperatures of 41°C to 45°C to investigate effects on Varroa destructor in the hive and on drone fertility of treated colonies. Drone fertility is an important issue in keeping healthy and viable honeybee populations. We show that temperatures of 42°C for 3 hours or higher kill all the Varroa destructor but, unfortunately, also part of the honeybee brood. Temperatures below 42°C are ineffective against adult Varroa destructor. A temperature of 41°C and 2 hours duration is highly effective against immature Varroa destructor and thus interrupts their reproduction without harming the viability or fertility of drones, while longer durations or higher temperatures kill the spermatozoa of the drones.
This is a preview of subscription content, log in to check access.
Access options
Buy single article
Instant access to the full article PDF.
US$ 39.95
Price includes VAT for USA
Subscribe to journal
Immediate online access to all issues from 2019. Subscription will auto renew annually.
US$ 99
This is the net price. Taxes to be calculated in checkout.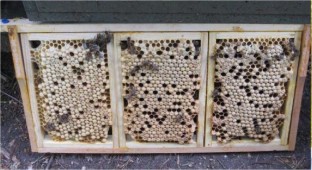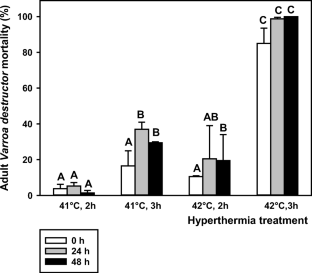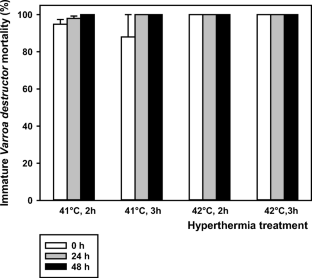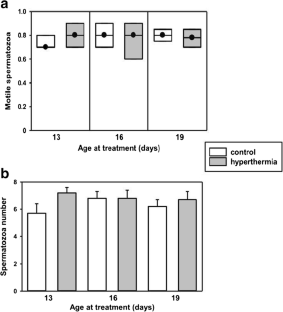 References
Brodsgaard C.J., Hansen, H. (1994) An example of integrated biotechnical and soft chemical control of Varroa in a Danish apiary. In: Matheson A. (ed.): New Perspectives on Varroa, pp. 101–105.

Büchler R., Berg S., Le Conte Y. (2010) Breeding for resistance to Varroa destructor in Europe, Apidologie 41, 393–408.

Bolli H. K., Bogdanov S., Imdorf A., Fluri P. (1993) Action of formic acid on Varroa jacobsoni Oud. and the honeybee (Apis mellifera L), Apidologie 24, 1, 51–57.

Bujok B., Kleinhenz M., Fuchs S., & Tautz J. (2002) Hot spots in the bee hive, Naturwissenschaften 89, 7, 299–301.

Chen Y. P., Siede R. (2007) Honey bee viruses, Adv. Virus Res. 70, 33–80.

Czekońska K., Chuda-Mickiewicz B., & Chorbiński P. (2013) The effect of brood incubation temperature on the reproductive value of honey bee (Apis mellifera) drones, J. Apic. Res. 52, 2, 96–105.

Elzen P. J., Eischen F. A., Baxter J. B., Pettis J., Elzen G. W., Wilson W. T. (1998) Fluvalinate resistance in Varroa jacobsoni from several geographic locations, Am Bee J 138, 9, 674–676.

Engels W. (1998) Efficiency of Biotechnical Control of Varroasis by means of Hyperthermia, Apiacta 33, 2, 49–55.

Fahrbach S. E., Dobrin S. (2009) The How and Why of Structural Plasticity in the Adult Honeybee Brain, in: Dukas R., Ratcliffe J. M. (Ed.), Cognitive ecology II. University of Chicago Press, Chicago, pp. 27–46.

Fuchs S. (1990) Preference for drone brood cells by Varroa jacobsoni Oud in colonies of Apis mellifera carnica, Apidologie 21, 3, 193–199.

Gallai N., Salles J.-M., Settele J., Vaissière B.E. (2009) Economic valuation of the vulnerability of world agriculture confronted with pollinator decline, Ecol. Econ. 68, 3, 810–821.

Goras G., Tananaki C.H., Gounari S., Dimou M., Lazaridou E., Karazafiris E., Kanelis D., Liolios V., El Taj H.F., Thrasyvoulou A. (2015) Hyperthermia -a non-chemical control strategy against Varroa, J Hell Vet Med Soc 66, 4, 249–256.

Groh C., Tautz J., Rössler W. (2004) Synaptic organization in the adult honey bee brain is influenced by brood-temperature control during pupal development, P Natl Acad Sci 101, 12, 4268–4273.

Hoppe H., Ritter W. (1987) Experiments using combined heat therapy to control Varroa disease, Apidologie 18, 383–385.

Hourcade B., Muenz T.S., Sandoz J.-C., Rössler W., Devaud J.-M. (2010) Long-term memory leads to synaptic reorganization in the mushroom bodies. A memory trace in the insect brain?, J Neurosci 30, 18, 6461–6465.

Huang Z. (2001) Mite zapper-a new and effective method for Varroa mite control, Am Bee J 141, 10, 730–732.

de Jong D., de Jong P.H., Goncalves L.S. (1982) Weight loss and other damage to developing worker honeybees from infestation with Varroa jacobsoni, J. Apic. Res. 21, 3, 165–167.

Karpov B., Zabelin B. (1978) Heat treatment for the control of Varroa jacobsoni infestation in bees [in Russian], Veterinariya Moscow 5, 121–122.

Khrust I. I. (1978) Thermal treatment during Varroatosis [in Russian], Pchelovodstvo 6, 5–8.

Kleinhenz M., Bujok B., Fuchs S., & Tautz J. (2003) Hot bees in empty broodnest cells: heating from within, J. Exp. Biol. 206, 23, 4217–4231.

Koeniger G., Ziegler-Himmelreich S., Koeniger N. (2006) Spermatozoa number of drones (Apis mellifera) depends on temperature during metamorphosis and sexual maturation, Apidologie 37, 620–621.

Komissar A.D. (1985) Heat-treatment of Varroa-infested honeybee colonies, Apiacta 20, 4, 113–117.

Le Conte Y., Arnold G., Desenfant P. (1990) Influence of brood temperature and hygrometry variations on the development of the honey bee ectoparasite Varroa jacobsoni (Mesostigmata: Varroidae), Environ. Entomol. 19, 6, 1780–1785.

Le Conte Y., Mondet F. (2017): Natural Selection of Honeybees Against Varroa destructor, in: Vreeland R., Sammataro D. (Ed.), Beekeeping – From Science to Practice, Springer, Cham.

Machado I. C., Freitas B.M., Pereira J.O.P. (2004) Solitary bees. Conservation, rearing and management for pollination, Brazil. Universidade Federal do Ceará

Muenz T. S., Groh C., Maisonnasse A., Le Conte Y., Plettner E., Rössler W. (2015) Neuronal plasticity in the mushroom body calyx during adult maturation in the honeybee and possible pheromonal influences, Dev Neurobiol 75, 12, 1368–1384.

Peng Y.-S., Fang Y., Xu S., Ge L. (1987) The resistance mechanism of the Asian honey bee, Apis cerana Fabr., to an ectoparasitic mite, Varroa jacobsoni Oudemans, J Invertebr Pathol 49, 1, 54–60.

Pettis J.S., Rice N., Joselow K., vanEngelsdorp D., Chaimanee V. (2016) Colony failure linked to low sperm viability in honey bee (Apis mellifera) queens and an exploration of potential causative factors,Plos One 11.

Ramsey S. D., Ochoa R., Bauchan G., Gulbronson C., Mowery J. D., Cohen A., Lim D. Joklik J., Cicero J. M., Ellis J. D., Hawthorne D., vanEngelsdorp D. (2019) Varroa destructor feeds primarily on honey bee fat body tissue and not hemolymph, PNAS 116, 5, 1792–1801.

Rosenkranz P. (1987): Apidologie 18, 4, 385–388

Rosenkranz P. (1988) Temperaturpräferenz der Varroa-Milbe und Stocktemperaturen in Bienenvölkern an Tropenstandorten (Acarina: Varroidae/Hymenoptera: Apidae), Entomologia Generalis 14, 2, 123–132.

Rosenkranz P., Aumeier P., Ziegelmann B. (2010) Biology and control of Varroa destrutor, J. Invertebr. Pathol. 103, 96–119

Ruttner H. (1977) Die Milbe Varroa jacobsoni Oudem., ein neuer Bienenparasit, J Pestic. Sci. 50, 11, 165–169.

Schneider P., Drescher W. (1987) The influence of Varroa jacobsoni Oud. on weight at emergence, development of weight and hypopharyngeal glands, and longevity of Apis mellifera L, Apidologie 18, 1, 101–110.

Schulz A. E. (1984) Reproduktion und Populationsentwicklung der parasitischen Milbe Varroa jacobsoni Oud. in Abhängigkeit vom Brutzyklus ihres Wirtes Apis mellifera L. (I. TEIL), Apidologie 15, 4, 401–420.

Soloveva L. F. (1983) Thermal treatment to control Varroa disease of honeybees [in Russian], Pchelovodstvo 1, 17–18.

Tarelho Z. (1981) Effects of low and high temperatures on the spermathogenesis of Apis mellifera L, Revista Brasilera de Genetica 4, 193–212.

Tautz J., Maier S., Groh C., Rössler W., Brockmann A. (2003) Behavioral performance in adult honey bees is influenced by the temperature experienced during their pupal development, P Natl A Sci 100, 12, 7343–7347.

VonPosern H. (1988) Stopping Varroa victory march, Am Bee Jo 128, 6, 425–428.

Wallner K. (1999) Varroacides and their residues in bee products, Apidologie 30, 2-3, 235–248.

WHO (1999) WHO laboratory manual for the examination of human semen and sperm-cervical mucous interaction, Cambridge University Press.

Williamson S.M., Baker D.D., Wright G.A. (2013) Acute exposure to a sublethal dosis of imidacloprid and coumaphos enhances olfactory learning and memory in the honeybee Apis mellifera, Invertebr. Neurosci. 13, 1, 63–70.

Zanni V., Degirmenci L., Annoscia D., Scheiner R., Nazzi F. 2018 The reduced brood nursing by mite infested honey bees depends on their accelerated behavioral maturation, J. Insect Physiol. 109, 47–54.
Acknowledgments
We like to thank all of the beekeepers at the Bavarian State Institute for Viticulture and Horticulture, Institute for Bee Research and Beekeeping for their great support and for providing us with the colonies.
Contributions
AK, SB, and SH conceived this research and designed experiments; RS participated in the interpretation of the data; AK performed experiments; AK and RS wrote the paper. All authors read the manuscript.
Ethics declarations
Conflict of interest
The authors declare that they have no conflict of interest.
Additional information
Le traitement par hyperthermie peut tuer les acariens Varroa destructor immatures et adultes sans réduire la fertilité des mâles.
Varroa destructor / Apis mellifera / température / viabilité du sperme.
Hyperthermie-Behandlungen können Entwicklungsstadien und adulte Milben von Varroa destructor töten ohne die Drohnenfertilität zu reduzieren.
Varroa destructor / Apis mellifera / Temperatur / Spermienvitalität.
Publisher's note
Springer Nature remains neutral with regard to jurisdictional claims in published maps and institutional affiliations.
Handling Editor: Yves Le Conte
About this article
Cite this article
Kablau, A., Berg, S., Härtel, S. et al. Hyperthermia treatment can kill immature and adult Varroa destructor mites without reducing drone fertility. Apidologie 51, 307–315 (2020). https://doi.org/10.1007/s13592-019-00715-7
Received:

Revised:

Accepted:

Published:

Issue Date:
Keywords
Varroa destructor
Apis mellifera

Temperature

Sperm viability