Abstract
Priming is considered a potential strategy to counteract the adverse effects of environmental stress factors via the exogenous application of chemicals to improve plant tolerance. In this context, herein, the priming of pepper seeds (Capsicum annuum L. Tunisian var. 'Baklouti Medenine') using different concentrations of hydrogen peroxide (H2O2; 1–100 mM) was carried out in in vitro culture subjected to abiotic stress. Seed germination was carried out on Murashige and Skoog (MS) medium, supplemented with stress-inducing agents: sodium chloride (NaCl 85.55 mM) or polyethylene glycol (PEG 6000, 3%) for induction of salt or drought conditions, respectively. The results revealed that depending in priming concentration and medium culture, H2O2 priming enables faster germination for both salt- or drought-stressed seeds, associated with the decline of mean germination time (MGT), time taken for cumulative germination to reach 50% of its maximum (t50) and germination rate (GR), and the increase in germination index (GI). The primed seeds showed great uniformity, reflected by a reduction in time interval between 25% and 75% of viable seeds to germinate (U7525). Under both stress-free and drought stress conditions, priming at 10 mM H2O2 showed a significant decrease of MGT, t50, and GR and an increase in GI. Similarly, the best uniformity (U7525) was obtained at this priming level. Following salinity stress, application of a low concentration of H2O2 (1 mM) reduced t50 and increased GI, versus no significant changes for MGT and GR and a regression in uniformity. No positive effect was noted for H2O2 priming in the final germination percentage and seedling vigor for all cultures. This study suggests that H2O2 priming invigorates pepper seed germination and alleviates the negative effects of salt and drought via the enhancement of seed tolerance.
This is a preview of subscription content, log in to check access.
Access options
Buy single article
Instant access to the full article PDF.
US$ 39.95
Price includes VAT for USA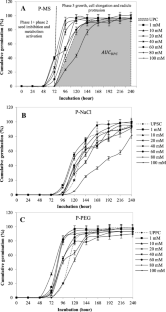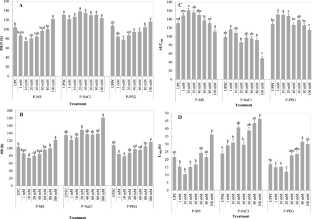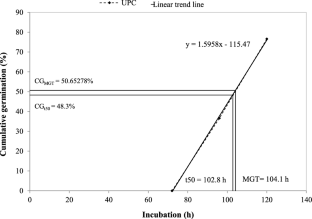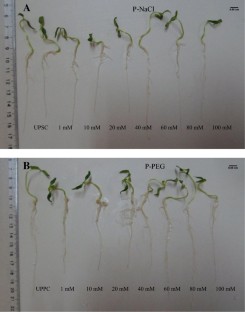 References
Abdul-baki AA, Anderson JD (1973) Vigor determination in soybean by multiple criteria. Crop Sci 13:630–633

Afzal I, Rauf S, Basra SMA, Murtaza G (2008) Halopriming improves vigour, metabolism of reserves and ionic contents in wheat seedlings under salt stress. Plant Soil Environ 54:382–388

Aloui H, Souguir M, Latique S, Hannachi C (2014) Germination and growth in control and primed seeds of pepper as affected by salt stress. Cercetar Agron Moldova 47:83–95

AOSA (1983) Seed vigor testing hand book. Contribution N°32. Association of Official Seed Analysis (AOSA), Springfield, Illinois, USA

Ashraf M (2004) Some important physiological selection criteria for salt tolerance in plants. Flora 199:361–376

Azevedo Neto AD, Prisco JT, Enéas-Filho J, Medeiros JVR, Gomes-Filho E (2005) Hydrogen peroxide pre-treatment induces salt stress acclimation in maize plants. J Plant Physiol 162:1114–1122

Bagheri M, Gholami M, Baninasab B (2019) Hydrogen peroxide-induced salt tolerance in relation to antioxidant systems in pistachio seedlings. Sci Hortic 243:207–213

Bakht J, Shafi M, Jamal Y, Sher H (2011) Response of maize (Zea mays L.) to seed priming with NaCl and salinity stress. Span J Agric Res 9:252–261

Beckers GJM, Conrath U (2007) Priming for stress resistance: from the lab to the field. Curr Opin Plant Biol 10:425–431

Bewley JD, Bradford KJ, Hilhorst HWM, Nonogaki H (2013) Seeds: physiology of development, germination and dormancy, 3rd edn. Springer, New York

El-Kassaby YA, Moss I, Kolotelo D, Stoehr M (2008) Seed germination: mathematical representation and parameters extraction. Forest Sci 54:220–227

Elouaer MA, Hannachi C (2012) Seed priming to improve germination and seedling growth of safflower (Carthamus tinctorius) under salt stress. Eur J Biosci 6:76–84

Eskandari H (2013) Effects of priming technique on seed germination properties, emergence and field performance of crops: a review. Int JAgron Plant Prod 4:454–458

Farooq M, Basra SMA, Khan MB (2007a) Seed priming improves growth of nursery seedlings and yield of transplanted rice. Arch Agron Soil Sci 53:315–326

Farooq M, Basra SMA, Rehman H, Ahmad N, Saleem BA (2007b) Osmopriming improves the germination and early seedling growth of melons (Cucumis melo L.). Pak J Agric 44:529–536

Farooq M, Wahid A, Kobayashi N, Fujita D, Basra SMA (2009) Plant drought stress: effects, mechanisms and management. Agron Sustain Dev 29:185–212

Fattori V, Hohmann MSN, Rossaneis AC, Pinho-Ribeiro FA, Verri WA (2016) Capsaicin: current understanding of its mechanisms and therapy of pain and other pre-clinical and clinical uses. Molecules 21:844

Gammoudi N, San Pedro T, Ferchichi A, Gisbert C (2018) Improvement of regeneration in pepper: a recalcitrant species. Vitro Cell Dev Biol Plant 54:145–153

Gammoudi N, Zerria K, Nagaz K, Ferchichi A (2019) Enhancement of capsaicinoids in vitro production by abiotic elicitors in placenta-derived callus of Capsicum annuum L. Tunisian var. 'Baklouti Medenine'. Biologia 74:725–732

Gao Y, Guo YK, Lin SH, Fang YY, Bai JG (2010) Hydrogen peroxide pretreatment alters the activity of antioxidant enzymes and protects chloroplast ultrastructure in heat-stressed cucumber leaves. Sci Hortic 126:20–26

Gechev T, Gadjev I, Van Breusegem F, Inzé D, Dukiandjiev S, Toneva V, Minkov I (2002) Hydrogen peroxide protects tobacco from oxidative stress by inducing a set of antioxidant enzymes. Cell Mol Life Sci 59:708–714

Gómez JM, Hernández JA, Jiménez A, del Río LA, Sevilla F (1999) Differential response of antioxidative enzymes of chloroplasts and mitochondria to long-term NaCl stress of pea plants. Free Rad Res 31:S11–S18

Gondim FA, Gomes-Filho E, Lacerda CF, Prisco JT, Azevedo Neto AD, Marques EC (2010) Pretreatment with H2O2 in maize seeds: effects on germination and seedling acclimation to salt stress. Braz J Plant Physiol 22(2):103–112

Hachicha M, Ben Aissa I (2014) Managing salinity in Tunisian oases. J Life Sci 8(9):775–782

Hassan NS, Shaaban LD, El-Sayed AH, Seleem EE (2004) In vitro selection for water stress tolerant callus line of Helianthus annus L. cv. Myak. Int J Agric Biol 6:13–18

Hazman MY, Brown KM (2018) Progressive drought alters architectural and anatomical traits of rice roots. Rice 11:62

He L, Gao Z, Li R (2009) Pretreatment of seed with H2O2 enhances drought tolerance of wheat (Triticum aestivum L.) seedlings. Afr J Biotechnol 8:6151–6157

Hossain MA, Bhattacharjee S, Armin SM, Qian P, Xin W, Li HY, Burritt DJ, Fujita M, Tran LS (2015) Hydrogen peroxide priming modulates abiotic oxidative stress tolerance: insights from ROS detoxification and scavenging. Front Plant Sci 6:420

Joosen RV, Kodde J, Willems LA, Ligterink W, van der Plas LH, Hilhorst HW (2010) Germinator: a software package for high-throughput scoring and curve fitting of Arabidopsis seed germination. Plant J 62:148–159

Karmous I, Trevisan R, El Ferjani E, Chaoui A, Sheehan D (2017) Redox biology response in germinating Phaseolus vulgaris seeds exposed to copper: evidence for differential redox buffering in seedlings and cotyledon. PLoS One 12:e0184396

Khan HA, Pervez MA, Ayub CM, Ziaf K, Bilal RM, Shahid MA, Akhtar N (2009) Hormonal priming alleviates salt stress in hot pepper (Capsicum annuum L.). Soil Environ 28:130–135

Kibinza S, Bazin J, Bailly C, Farrant JM, Corbineau F, El-Maarouf-Bouteau H (2011) Catalase is a key enzyme in seed recovery from ageing during priming. Plant Sci 181:309–315

Korkmaz A, Şirikçi R (2011) Improving salinity tolerance of germinating seeds by exogenous application of glycinebetaine in pepper. Seed Sci Technol 39:377–388

Kubala S, Garnczarska M, Wojtyla Ł, Clippe A, Kosmala A, Żmieńko A, Lutts S, Quinet M (2015) Deciphering priming-induced improvement of rapeseed (Brassica napus L.) germination through an integrated transcriptomic and proteomic approach. Plant Sci 231:94–113

Lauchli A, Grattan SR (2007) Plant growth and development under salinity stress. In: Jenks MA, Hasegawa PM, Mohan JS (eds) Advances in molecular breeding towards drought and salt tolerant crops. Springer, Berlin, pp 1–32

Mittova V, Tal M, Volokita M, Guy M (2002) Salt stress induces up-regulation of an efficient chloroplast antioxidant system in the salt-tolerant wild tomato species Lycopersicon pennellii but not in the cultivated species. Physiol Plant 115:393–400

Murashige T, Skoog F (1962) A revised medium for rapid growth and bioassays with tobacco tissue cultures. Physiol Plant 15:473–497

Nandi M, Pervez Z, Alam MS, Islam MS, Mahmud MR (2017) Effect of hydrogen peroxide treatment on health and quality of chilli seed. Int J Plant Pathol 8:8–13

Niu L, Liao W (2016) Hydrogen peroxide signaling in plant development and abiotic responses: crosstalk with nitric oxide and calcium. Front Plant Sci 7:230

Paparella S, Araújo SS, Rossi G, Wijayasinghe M, Carbonera D, Balestrazzi A (2015) Seed priming: state of the art and new perspectives. Plant Cell Rep 34:1281–1293

Pena-Valdivia CB, Sanchez-Urdaneta AB, Trejo C, Aguirre JR, Cardenas E (2005) Root anatomy of drought sensitive and tolerant maize (Zea mays L.) seedlings under different water potentials. Cereal Res Commun 33:705–712

Prasad TK, Anderson MD, Stewart CR (1994) Acclimation, hydrogen peroxide, and abscisic acid protect mitochondria against irreversible chilling injury in maize seedlings. Plant Physiol 105:619–627

Racchi ML (2013) Antioxidant defenses in plants with attention to Prunus and Citrus spp. Antioxidants 2:340–369

Rajjou L, Duval M, Gallardo K, Catusse J, Bally J, Job C, Job D (2012) Seed germination and vigor. Ann Rev Plant Biol 63:507–533

Ranajit KS, Shafiqur R, Afandi A (2013) Bioactive compounds in chilli peppers (Capsicum annuum L.) at various ripening (green, yellow and red) stages. Ann Biol Res 4:27–34

R'Him T, Radhouane L (2015) Growth and yield responses of two Tunisian pepper (Capsicum annuum L.) varieties to salinity and drought stress. IJISR 14:159–167

Rosental L, Nonogaki H, Fait A (2014) Activation and regulation of primary metabolism during seed germination. Seed Sci Res 24:1–15

Rubio-Casal AE, Castillo JM, Luque CJ, Figueroa ME (2003) Influence of salinity on germination and seeds viability of two primary colonizers of mediterranean salt pans. J Arid Environ 53:145–154

Sathiyaraj G, Srinivasan S, Kim YJ, Lee OR, Balusamy SDR, Khorolaragchaa A et al (2014) Acclimation of hydrogen peroxide enhances salt tolerance by activating defense-related proteins in Panax ginseng C.A. Meyer. Mol Biol Rep 41:3761–3771

Slama F (2004) La salinité et la production végétale. Centre de Publication Universitaire, Tunis, p 163

Smith PT, Cobb BG (1991) Physiological and enzymatic activity of pepper seeds (Capsicum annuum) during priming. Physiol Plantarum 82:433–439

Sofo A, Scopa A, Nuzzaci M, Vitti A (2015) Ascorbate peroxidase and catalase activities and their genetic regulation in plants subjected to drought and salinity stresses. Int J Mol Sci 16:13561–13578

Soltani E, Ghaderi-Far F, Baskin CC, Baskin JM (2015) Problems with using mean germination time to calculate rate of seed germination. Aust J Bot 63:631–635

Tanou G, Fotopoulos V, Molassiotis A (2012) Priming against environmental challenges and proteomics in plants: update and agricultural perspectives. Front Plant Sci 3:216

Terzi R, Kadioglu A, Kalaycioglu E, Saglam A (2014) Hydrogen peroxide pretreatment induces osmotic stress tolerance by influencing osmolyte and abscisic acid levels in maize leaves. J Plant Interact 9(1):559–565

Türkan I, Demiral T (2009) Recent developments in understanding salinity tolerance. Environ Exp Bot 67:2–9

Vasellati V, Oesterheld M, Medan D, Loreti J (2001) Effects of flooding and drought on the anatomy of Paspalumdilatatum. Ann Bot 88:355–360

Wahid A, Perveen M, Gelani S, Basra SMA (2007) Pretreatment of seed with H2O2 improves salt tolerance of wheat seedlings by alleviation of oxidative damage and expression of stress proteins. J Plant Physiol 164:283–294

Wang Y, Li X, Li J, Bao Q, Zhang F, Tulaxi G, Wang Z (2016) Salt-induced hydrogen peroxide is involved in modulation of antioxidant enzymes in cotton. Crop J 4:490–498

Wojtyla Ł, Lechowska K, Kubala S, Garnczarska M (2016) Different modes of hydrogen peroxide action during seed germination. Front Plant Sci 7:66

Yadav PV, Kumari M, Ahmed Z (2011) Seed priming mediated germination improvement and tolerance to subsequent exposure to cold and salt stress in Capsicum. Res J Seed Sci 4:125–136

Zunun-Pérez AY, Guevara-Figueroa T, Jimenez-Garcia SN, Feregrino-Pérez AA, Gautier F, Guevara-González RG (2017) Effect of foliar application of salicylic acid, hydrogen peroxide and a xyloglucan oligosaccharide on capsiate content and gene expression associated with capsinoids synthesis in Capsicum annuum L. J Biosci 42:245–250
Acknowledgements
We would like to thank the anonymous reviewers for their valuable and constructive comments. This research was supported by Arid and Oases Cropping Laboratory, Arid Lands Institute, Medenine, Ministry of Agriculture, Water Resources and Fishing of Tunisia.
Funding
This research did not receive any specific grant from funding agencies in the public, commercial, or not-for-profit sectors.
Ethics declarations
Conflicts of interest
The authors declare that they have no conflict of interest in the publication.
Additional information
Publisher's Note
Springer Nature remains neutral with regard to jurisdictional claims in published maps and institutional affiliations.
Communicated by Jun Gu Lee, Ph.D.
About this article
Cite this article
Gammoudi, N., Karmous, I., Zerria, K. et al. Efficiency of pepper seed invigoration through hydrogen peroxide priming to improve in vitro salt and drought stress tolerance. Hortic. Environ. Biotechnol. (2020). https://doi.org/10.1007/s13580-020-00260-8
Received:

Revised:

Accepted:

Published:
Keywords
Capsicum

Drought

Germination

H2O2 priming

Salinity

Tolerance