Abstract
Ginseng, a semi-shade perennial plant, is greatly affected by light. However, light quality has only been studied in a few papers involving growth tests under monochromatic light or based on hairy root cultures. A plant factory with light-emitting diodes (LEDs) may provide high precision and standardization of ginseng seedlings for transplanting, and plant responses to light quality should be investigated for designing the optimal lighting conditions for this environment. In this study, various ratios of red light (R):blue light (B) were set from 100:0 to 0:100% at the same photosynthetic photon flux density of 75 μmol m−2 s−1. As R increased, the shoot length became longer from R75B25, resulting in the single treatment of R being 1.68 times that of B. Compared to monochromatic R or B treatments, the overall growth of ginseng seedlings in R50B50 treatment increased. In the mesophyll structure, mixed light as R50B50 or while LEDs increased starch grains, and only R treatment led to dense chloroplasts in palisade and spongy parenchyma cells. Increasing R ratios had negative effects on CO2 assimilation rate (AN), light-saturated net photosynthesis rate (Asat), and chlorophyll parameters. The higher the R ratio, the higher the ginsenoside content in leaves, while roots were less affected by spectral changes. Monochromatic R induced malformation and senescence of ginseng leaves, while the addition of 25% B was sufficient to prevent the abnormal development of leaves and dysfunctional photosynthetic operation of ginseng seedlings. The results suggest that combinations of R and B should be considered when designing artificial lighting systems for a closed-type plant factory since R affects the morphological characteristics and ginsenoside content of ginseng seedlings.
This is a preview of subscription content, log in to check access.
Access options
Buy single article
Instant access to the full article PDF.
US$ 39.95
Price includes VAT for USA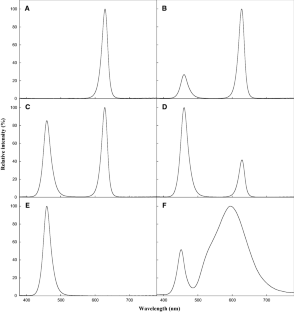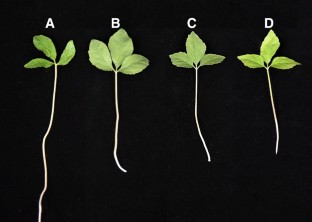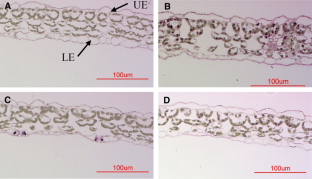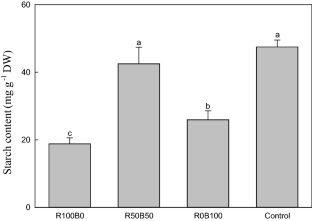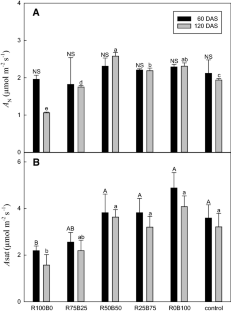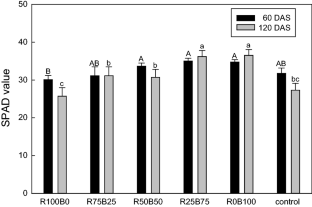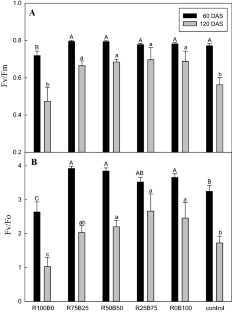 References
Ahmad M, Grancher N, Heil M, Black RC, Giovani B, Galland P, Lardemer D (2002) Action spectrum for cryptochrome-dependent hypocotyl growth inhibition in Arabidopsis. Plant Physiol 129:774–785

Ahn SI, Kim SK, Yang BW, Lee ES, Kang CS, Hahm YT (2016) Analysis of ginsenosides and non-saponin components of red ginseng from landraces and new varieties. Hortic Sci Technol 34:790–798

Björkman O, Demmig B (1987) Photon yield of O2 evolution and chlorophyll fluorescence characteristic at 77 K among vascular plant of diverse origins. Planta 170:489–504

Braun SS, Schleiff E (2007) Movement of endosymbiotic organelles. Curr Protein Pept Sci 8:426–438

Clément C, Burrus M, Audran JC (1996) Floral organ growth and carbohydrate content during pollen development in Lilium. Am J Bot 83:459–469

Dougher TAO, Bugbee B (2001) Differences in the response of wheat, soybean and lettuce to reduced blue radiation. Photochem Photobiol 73:199–207

Eo J, Mo HS, Park KC (2018) Abiotic factors influencing growth and ginsenoside content of Panax ginseng roots. Hortic Sci Technol 36:681–690

Folta KM, Childers KS (2008) Light as a growth regulator: controlling plant biology with narrow-bandwidth solid-state lighting systems. HortScience 43:1957–1964

Fournier AR, Proctor JTA, Gauthier L, Khanizadeh S, Bélanger A, Gosselin A, Dorais M (2003) Understory light and root ginsenosides in forest-grown Panax quinquefolius. Phytochemistry 63:777–782

Frechilla S, Zhu J, Talbott LD, Zeiger E (1999) Stomata from npq1, a zeaxanthin-less Arabidopsis mutant, lack a specific response to blue light. Plant Cell Physiol 40:949–954

Fukuda N, Ajima C, Yukawa T, Olsen JE (2016) Antagonistic action of blue and red light on shoot elongation in petunia depends gibberellin, but the effects on flowering are not generally linked to gibberellin. Environ Exp Bot 121:102–111

Haralampidis K, Bryan G, Qi X, Papadopoulou K, Bakht S, Melton R, Osbourn A (2001) A new class of oxidosqualene cyclases directs synthesis of antimicrobial phytoprotectants in monocots. Proc Natl Acad Sci USA 98:13431–13436

Hernández R, Kubota C (2016) Physiological responses of cucumber seedlings under different blue and red photon flux ratios using LEDs. Environ Exp Bot 121:66–74

Hoffmann AM, Noga G, Hunsche M (2015) High blue light improves acclimation and photosynthetic recovery of pepper plants exposed to UV stress. Environ Exp Bot 109:254–263

Hogewoning SW, Trouwborst G, Maljaars H, Poorter H, Ieperen W, Harbinson J (2010) Blue light dose-responses of leaf photosynthesis, morphology, and chemical composition of Cucumis sativus grown under different combinations of red and blue light. J Exp Bot 61:3107–3117

Jang IB, Lee DY, Yu J, Park HW, Mo HS, Park KC, Hyun DY, Lee EH, Kim KH, Oh CS (2015) Photosynthesis rates, growth, and ginsenoside contents of 2-yr-old Panax ginseng grown at different light transmission rates in a greenhouse. J Ginseng Res 39:345–353

Kang S, Min H (2012) Ginseng, the 'immunity boost': the effects of Panax ginseng on immune system. J Ginseng Res 36:354–368

Kang KB, Jayakodi M, Lee YS, Nguyen VB, Park HS, Koo HJ, Choi IY, Kim DH, Chung YJ, Ryu B et al (2018) Identification of candidate UDP-glycosyltransferases involved in protopanaxadiol-type ginsenoside biosynthesis in Panax ginseng. Sci Rep 8:11744

Kim GS, Hyun DY, Kim YO, Lee SE, Kwon H, Cha SW, Park CB, Kim YB (2010) Investigation of ginsenosides in different parts of Panax ginseng cultured by hydroponics. Korean J Hortic Sci Technol 28:216–226

Kim HJ, Kim P, Shin CY (2013) A comprehensive review of the therapeutic and pharmacological effects of ginseng and ginsenosides in central nervous system. J Ginseng Res 37:8–29

Kriedemann PE, Graham RD, Wiskich JT (1985) Photosynthetic dysfunction and in vivo changes in chlorophyll a fluorescence from manganese-deficient wheat leaves. Aust J Agric Res 36:157–169

Lee JG, Oh SS, Cha SH, Jang YA, Kim SY, Um YC, Cheong SR (2010) Effects of red/blue light ratio and short-term light quality conversion on growth and anthocyanin contents of baby leaf lettuce. J Bio-Environ Con 18:431–435

Lee MJ, Park SY, Oh MM (2015) Growth and cell division of lettuce plants under various ratios of red to far-red light-emitting diodes. Hortic Environ Biotechnol 56:186–194

Lee JW, Jo IH, Kim JU, Hong CE, Bang KH, Park YD (2019) Determination of mutagenic sensitivity to gamma rays in ginseng (Panax ginseng) dehiscent seeds, roots, and somatic embryos. Hortic Environ Biotechnol 60:721–731

Matsuda R, Ohashi-Kaneko K, Fujiwara K, Kurata K (2007) Analysis of the relationship between blue-light photon flux density and the photosynthetic properties of spinach (Spinacia oleracea L.) leaves with regard to the acclimation of photosynthesis to growth irradiance. Soil Sci Plant Nutr 53:459–465

Park H, Lee MK, Ahn SD (1989) Effect of light quality on the growth of Panax ginseng in a phytotron with natural light. Korean J Ginseng Sci 13:165–168

Park EK, Choo MK, Han MJ, Kim DH (2004) Ginsenoside Rh1 possesses antiallergic and anti-inflammatory activities. Int Arch Allergy Immunol 133:113–120

Rai D, Bhatia G, Sen T, Palit G (2003) Anti-stress effects of Ginkgo biloba and Panax ginseng: a comparative study. J Pharmacol Sci 93:458–464

Seo KH, Mohanan P, Yang DU, Kim YJ, Kwon WS, Yang DC (2019) Interspecies hybrids of Panax ginseng Meyer new line 0837 and Panax quinquefolius generated superior F1 hybrids with greater biomass and ginsenoside contents. Hortic Environ Biotechnol 60:573–583

Son KH, Oh MM (2013) Leaf shape, growth, and antioxidant phenolic compounds of two lettuce cultivars grown under various combinations of blue and red light-emitting diodes. HortScience 48:988–995

Spalding EP, Folta KM (2005) Illuminating topics in plant photobiology. Plant Cell Environ 28:39–53

Tanaka M, Takamura T, Watanabe H, Endo M, Yanagi T, Okamoto K (1998) In vitro growth of Cymbidium plantlets cultured under superbright red and blue light-emitting diodes (LEDs). J Hortic Sci Biotechnol 1:39–44

Wang J, Lu W, Tong Y, Yang Q (2016) Leaf morphology, photosynthetic performance, chlorophyll fluorescence, stomatal development of lettuce (Lactuca sativa L.) exposed to different ratios of red light to blue light. Front Plant Sci 7:250

Watcharatanon K, Ingkaninan K, Putalun W (2019) Improved triterpenoid saponin glycosides accumulation in in vitro culture of Bacopa monnieri (L.) Wettst with precursor feeding and LED light exposure. Ind Crop Prod 134:303–308

Wei W, Wang P, Wei Y, Liu Q, Yang C, Zhao G, Yue J, Yan X, Zhou Z (2015) Characterization of Panax ginseng UDP-glycosyltransferases catalyzing protopanaxatriol and biosynthesis of bioactive ginsenosides F1 and Rh1 in metabolically engineered yeasts. Mol Plant 8:1412–1424

Yang DJ, Yu HS, Yun JJ (1987) Investigation on the photooxidation of pigment in leaf-burning disease of Panax ginseng 1. Phenomenological observation and analysis on the chlorophyll bleaching phenomenon. J Ginseng Res 11:91–100

Yu KW, Murthy HN, Hahn EJ, Paek KY (2005) Ginsenoside production by hairy root cultures of Panax ginseng: influence of temperature and light quality. Biochem Eng J 23:53–56

Zhao X, Yu X, Foo E, Symons GM, Lopez J, Bendehakkalu KT, Xiang J, Weller JL, Liu X, Reid JB et al (2007) A study of gibberellin homeostasis and cryptochrome-mediated blue light inhibition of hypocotyl elongation. Plant Physiol 145:106–118
Acknowledgements
This work was carried out with the support of "Cooperative Research Program for Agriculture Science & Technology Development (Project No. PJ01352601)", Rural Development Administration, Republic of Korea.
Ethics declarations
Conflict of interest
The authors declare that they have no conflict of interest.
Additional information
Publisher's Note
Springer Nature remains neutral with regard to jurisdictional claims in published maps and institutional affiliations.
Communicated by Young Yeol Cho, Ph.D.
About this article
Cite this article
Jang, I., Do, G., Suh, S. et al. Physiological responses and ginsenoside production of Panax ginseng seedlings grown under various ratios of red to blue light-emitting diodes. Hortic. Environ. Biotechnol. (2020). https://doi.org/10.1007/s13580-020-00255-5
Received:

Revised:

Accepted:

Published:
Keywords
Panax ginseng

Light quality

Photosynthesis

Red light stress

Ginsenosides