Abstract
Activation of hepatic stellate cells (HSCs) is a prominent driver of liver fibrosis. This study was designed to investigate the effect of exosomes derived from natural killer (NK) cells on HSC activation and liver fibrosis. The exosomes were isolated from NK-92MI cells (NK-Exo) and identified by transmission electron microscopy, nanoparticle tracking analysis, and western blot. Then NK-Exo was administered into TGF-β1-treated LX-2 cells (human HSC line) and mice with CCl4-induced liver fibrosis. LX-2 cell proliferation was determined by CCK-8 assay. The levels of α-SMA and CoL1A1 were measured by qRT-PCR and western blot to evaluate HSC activation. Serum levels of AST and ALT were measured. Hematoxylin–eosin, Masson staining, and Sirius Red staining were performed to assess the pathological changes and collagen deposition. Cell supernatant derived from NK-92MI cells inhibited TGF-β1-induced HSC proliferation and activation in LX-2 cells, and this effect was counteracted by the exosome inhibitor GW4869. Further assays confirmed that NK-Exo treatment significantly inhibited TGF-β1-induced HSC proliferation and activation. Moreover, NK-Exo administration alleviated CCl4-induced liver fibrosis in mice. NK-Exo inhibited TGF-β1-induced HSC activation and CCl4-induced liver fibrosis.
This is a preview of subscription content, log in to check access.
Access options
Buy single article
Instant access to the full article PDF.
US$ 39.95
Price includes VAT for USA
Subscribe to journal
Immediate online access to all issues from 2019. Subscription will auto renew annually.
US$ 99
This is the net price. Taxes to be calculated in checkout.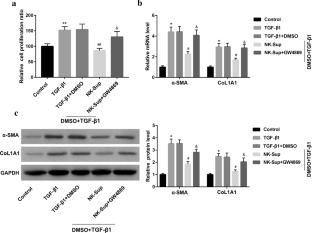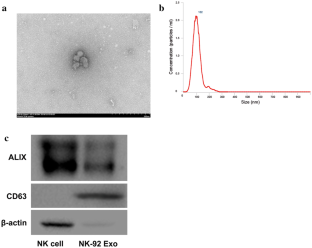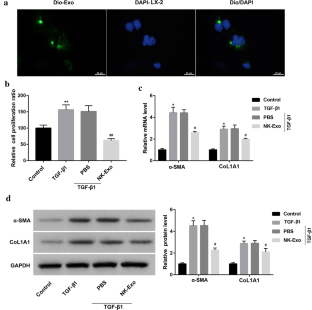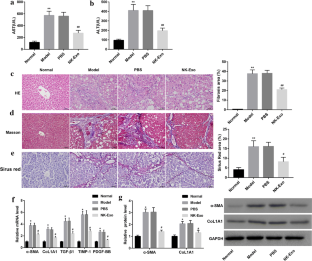 Ethics declarations
Conflict of interest
The authors declare no conflicts of interest.
Ethical standards
All animal experiments were conducted under university guidelines and approved by the ethical committee for Animal Care and Use of the Xiangya Hospital of Central South University.
Additional information
Publisher's Note
Springer Nature remains neutral with regard to jurisdictional claims in published maps and institutional affiliations.
About this article
Cite this article
Wang, L., Wang, Y. & Quan, J. Exosomes derived from natural killer cells inhibit hepatic stellate cell activation and liver fibrosis. Human Cell 33, 582–589 (2020). https://doi.org/10.1007/s13577-020-00371-5
Received:

Accepted:

Published:

Issue Date:
Keywords
Liver fibrosis

Hepatic stellate cell activation

Natural killer cell

Exosome