Abstract
Dysregulation of microRNAs (miRNAs) is frequently found in the tumorigenesis of osteosarcoma (OS). miR-376a was found to play tumor suppressive roles in human cancers. However, the role of miR-376a in OS remains unclear. The expression of miR-376a was analyzed by quantitative real-time PCR (qRT-PCR) in OS cell lines. Cell proliferation assay, cell invasion assay, and cell apoptosis assay were performed to detect the biological function of miR-376a after synthetic miRNA transfection. The target of miR-376a was predicted by TargetScan and miRDB, and further validated by luciferase activity reporter assay and western blot. miR-376a expression was revealed to be decreased in OS cell lines. In vitro experiments showed that overexpression of miR-376a inhibits OS cell proliferation and invasion but promotes apoptosis. Luciferase activity reporter assay and western blot assay showed F-box protein 11 (FBXO11) was a direct target of miR-376a. Furthermore, FBXO11 mediated the role of miR-376a on the proliferation, invasion, and apoptosis of OS cells. Collectively, these results revealed miR-376a functions as a tumor suppressor by targeting FBXO11 in OS. It may be developed as a therapeutic target for OS patients.
This is a preview of subscription content, log in to check access.
Access options
Buy single article
Instant access to the full article PDF.
US$ 39.95
Price includes VAT for USA
Subscribe to journal
Immediate online access to all issues from 2019. Subscription will auto renew annually.
US$ 99
This is the net price. Taxes to be calculated in checkout.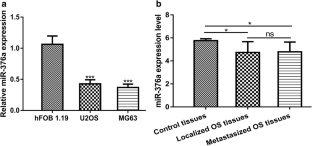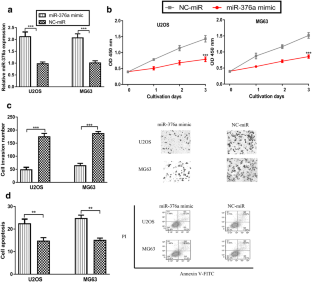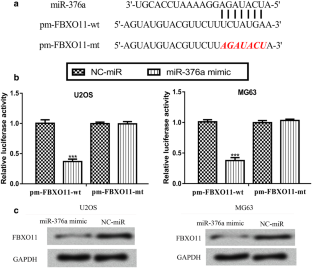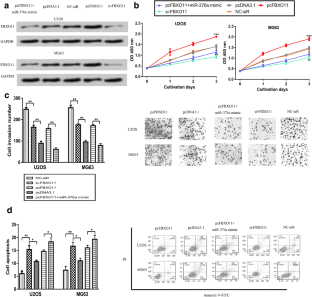 References
1.

Valery PC, Laversanne M, Bray F. Bone cancer incidence by morphological subtype: a global assessment. Cancer Causes Control. 2015;26:1127–39.

2.

Zhou W, Hao M, Du X, Chen K, Wang G, Yang J. Advances in targeted therapy for osteosarcoma. Discov Med. 2014;17(96):301–7.

3.

Gill J, Ahluwalia MK, Geller D, Gorlick R. New targets and approaches in osteosarcoma. Pharmacol Ther. 2013;137(1):89–99.

4.

Zhu KP, Zhang CL, Ma XL, Hu JP, Cai T, Zhang L. Analyzing the interactions of mRNAs and ncRNAs to predict competing endogenous RNA networks in osteosarcoma chemo-resistance. Mol Ther. 2019;S1525–0016:30002–4.

5.

Wang C, Jing J, Cheng L. Emerging roles of non-coding RNAs in the pathogenesis, diagnosis and prognosis of osteosarcoma. Invest New Drugs. 2018;36:1116–32.

6.

Romero-Cordoba SL, Salido-Guadarrama I, Rodriguez-Dorantes M, Hidalgo-Miranda A. miRNA biogenesis: biological impact in the development of cancer. Cancer Biol Ther. 2014;15:1444–55.

7.

Ullah S, John P, Bhatti A. MicroRNAs with a role in gene regulation and in human diseases. Mol Biol Rep. 2014;41:225–32.

8.

Li Y, Wu Y, Sun Z, Wang R, Ma D. MicroRNA-376a inhibits cell proliferation and invasion in glioblastoma multiforme by directly targeting specificity protein 1. Mol Med Rep. 2018;17:1583–90.

9.

Wang Y, Cong W, Wu G, Ju X, Li Z, Duan X, Wang X, Gao H. MiR-376a suppresses the proliferation and invasion of non-small-cell lung cancer by targeting c-Myc. Cell Biol Int. 2018;42:25–33.

10.

Zhang L, Chen Y, Wang H, Zheng X, Li C, Han Z. miR-376a inhibits breast cancer cell progression by targeting neuropilin-1 NR. Onco Targets Ther. 2018;11:5293–302.

11.

Zhang C, Liang Y, Ma MH, Wu KZ, Zhang CD, Dai DQ. Downregulation of microRNA-376a in gastric cancer and association with poor prognosis. Cell Physiol Biochem. 2018;51:2010–8.

12.

Svoronos AA, Engelman DM, Slack FJ. OncomiR or tumor suppressor? The duplicity of MicroRNAs in cancer. Cancer Res. 2016;76:3666–70.

13.

Hanahan D, Weinberg RA. Hallmarks of cancer: the next generation. Cell. 2011;144:646–74.

14.

Cook JR, Lee JH, Yang ZH, Krause CD, Herth N, Hoffmann R, Pestka S. FBXO11/PRMT9, a new protein arginine methyltransferase, symmetrically dimethylates arginine residues. Biochem Biophys Res Commun. 2006;342:472–81.

15.

Ju U, Park JW, Park HS, Kim SJ, Chun YS. FBXO11 represses cellular response to hypoxia by destabilizing hypoxia-inducible factor-1α mRNA. Biochem Biophys Res Commun. 2015;464:1008–15.

16.

Jin Y, Shenoy AK, Doernberg S, Chen H, Luo H, Shen H, Lin T, Tarrash M, Cai Q, Hu X, Fiske R, Chen T, Wu L, Mohammed KA, Rottiers V, Lee SS, Lu J. FBXO11 promotes ubiquitination of the Snail family of transcription factors in cancer progression and epidermal development. Cancer Lett. 2015;362:70–82.

17.

Ma Y, Deng F, Li P, Chen G, Tao Y, Wang H. The tumor suppressive miR-26a regulation of FBXO11 inhibits proliferation, migration and invasion of hepatocellular carcinoma cells. Biomed Pharmacother. 2018;101:648–55.

18.

Xue J, Chi Y, Chen Y, Huang S, Ye X, Niu J, Wang W, Pfeffer LM, Shao ZM, Wu ZH, Wu J. MiRNA-621 sensitizes breast cancer to chemotherapy by suppressing FBXO11 and enhancing p53 activity. Oncogene. 2016;35:448–58.
Ethics declarations
Conflict of interest
The authors declare that they have no conflict of interest.
Data availability
All data are included in this published article. Any additional information related to this study is available from the author for correspondence upon reasonable request.
Additional information
Publisher's Note
Springer Nature remains neutral with regard to jurisdictional claims in published maps and institutional affiliations.
This article has been retracted by the editors because the data are unreliable. It appears that the images in Figure 4c have been re-used but labelled as different conditions. The authors were asked to provide raw data for this figure, but were unable to do so. Author Jianyang Chen stated on behalf of all co-authors that they agree to this retraction.
About this article
Cite this article
Xu, Q., Cheng, L., Chen, J. et al. RETRACTED ARTICLE: miR-376a inhibits the proliferation and invasion of osteosarcoma by targeting FBXO11. Human Cell 32, 390–396 (2019). https://doi.org/10.1007/s13577-019-00256-2
Received:

Accepted:

Published:

Issue Date:
Keywords
miR-376a

FBXO11

Osteosarcoma

Tumor suppressive miRNA