Abstract
Mining jurisdictions avid to attract international investments to find and exploit their mineral deposits contend for international capitals. This led to policymakers, analysts, and companies to think about the factors affecting the competitiveness of mining districts. The traditional paradigm states that the capacity of a country or jurisdiction to attract investments and develop its local industry is a function exclusively of the quantity and quality of the ore deposits within its territory. On the other hand, the alternative view suggests that the previous conception is incomplete, because companies not only look for a good geologic potential but also for a favorable investment climate (Tilton 1992). Through cross-country econometric models covering the years 1996 to 2014, this work supports the alternative paradigm of mining competitiveness and tries to contribute to a better understanding of the relationship between the geological potential and the investment climate when determining the attraction of mining investments. The study concludes that, in order to develop a local mining industry, a country should have a wealthy natural endowment, but also it must offer a good investment climate. In addition, it shows that both variables are related through a multiplicative effect, but once public policies and other contextual variables reach certain reasonable levels (the "investment climate threshold"), jurisdictions compete almost exclusively based on its natural endowment. These results have significant implications for the implementation of public policies, especially in periods when mining contribution to social welfare is under scrutiny.
This is a preview of subscription content, log in to check access.
Access options
Buy single article
Instant access to the full article PDF.
US$ 39.95
Price includes VAT for USA
Subscribe to journal
Immediate online access to all issues from 2019. Subscription will auto renew annually.
US$ 99
This is the net price. Taxes to be calculated in checkout.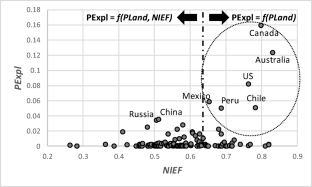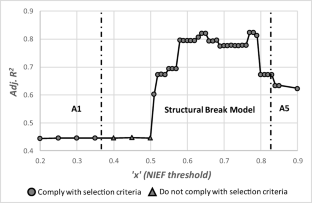 Notes
1.

These documents are different versions of the same research.

2.

The country's share on exploration budgets/expenditures could be good proxy of mining competitiveness (Jara et al. 2008).

3.

There have been several examples of this situation during the last decades; civil war in the former Yugoslavia (1991–2001), Chad (2005–2010), Afghanistan (1978-) or Sudan (2013-); authoritarian and corrupt governments in some African and Latin American countries.

4.

The yearly dataset has slightly changed over time; however, these modifications have no impact on the conclusions of the study.
References
CIA (2015) The world Factbook 2014. Central Intelligence Agency, United States http://www.cia.gov/library/publications/the-world-factbook/

Fraser Institute (several years). Annual Survey of Mining Companies. Fraser Institute, Canada. http://www.fraserinstitute.ca/

Gómez F, Guzmán JI, Tilton JE (2007) Copper recycling and scrap availability. Resour Policy 32(4):183–190

Heckscher, E. (1949). The effect of foreign trade on the distribution of income 1919. Blakiston

Heritage Foundation (2014) Index of economic freedom. Heritage Foundation, Washington http://www.heritage.org/Index/

Jara JJ (2017) Determinants of country competitiveness in attracting mining investments: an empirical analysis. Resour Policy 52:65–71

Jara JJ, Lagos G, Tilton JE (2008) Using exploration expenditures to assess the climate for mineral investment. Resour Policy 33(4):179–187

Johnson CJ (1990) Ranking countries for minerals exploration. Nat Resour Forum 1990:178–186

Khindanova I (2005) The location of investment in non-fuel minerals exploration: intercountry comparisons. Colorado School of Mines, Golden working paper, 2005

Khindanova I (2006) The location of investment in non-fuel minerals exploration: intercountry comparisons. Colorado School of Mines, Golden working paper, 2006

Khindanova I (2007) The location of investment in non-fuel minerals exploration. Colorado School of Mines, Golden working paper, 2007

Khindanova I (2011) Location factors for non-ferrous exploration investments. J Appl Bus Econ 12(1):38–45

MEG (2003) Corporate exploration strategies 2002. Metals Economics Group, Halifax

MEG/SNL (several years). Corporate Exploration Strategies. Metals Economics Group, Canada / SNL Market Intelligence, US.

Peterman A, Guzmán JI, Tilton JE (2007) Mining and corruption. Resour Policy 32(3):91–103

Tilton JE (1983) Comparative advantage in mining. International Institute for Applied Systems Analysis, Laxenburg. Unpublished working paper, pp 83–91

Tilton JE (1992) Mineral endowment, public policy and competitiveness: a survey of issues. Resour Policy 18(4):237–249

Tilton JE (2002) Creating wealth and competitiveness in mining. Colorado School of Mines working paper, 2002

World Bank (2019) Worldwide Governance Indicators. World Bank, Washington https://info.worldbank.org/governance/wgi/
Acknowledgments
This paper is an updated version of the MSc thesis developed by SD. This work was part of a contract research between Minera Los Pelambres (MLP) and the Pontificia Universidad Católica de Chile. The authors would like to acknowledge Mr. Magnus Ericsson, Editor-in-Chief of Mineral Economics and two anonymous reviewers for their helpful comments on an earlier version of this manuscript, which considerably improved it. JJJ and GL would like to thanks MLP and Antofagasta Minerals S.A. (AMSA) for their financial support and the access to SNL data that was critical to this study, in particular, to Christian Brea (Fundación MLP) and Rodrigo Moya (AMSA) for their kind support. JJJ acknowledges the support of a Doctoral Scholarship from Conicyt.
Additional information
Publisher's note
Springer Nature remains neutral with regard to jurisdictional claims in published maps and institutional affiliations.
About this article
Cite this article
Jara, J.J., Delucchi, S., Peters, D. et al. Attracting mining investments: the relationship between natural endowments and public policies. Miner Econ (2020). https://doi.org/10.1007/s13563-020-00230-7
Received:

Accepted:

Published:
Keywords
Competitiveness

Geologic potential

Investment climate

Cross-country models

Exploration expenditures

Index of economic freedom